The market's pillars
Over 30,000 artists sell publicly, but the market essentially turns on the top 100.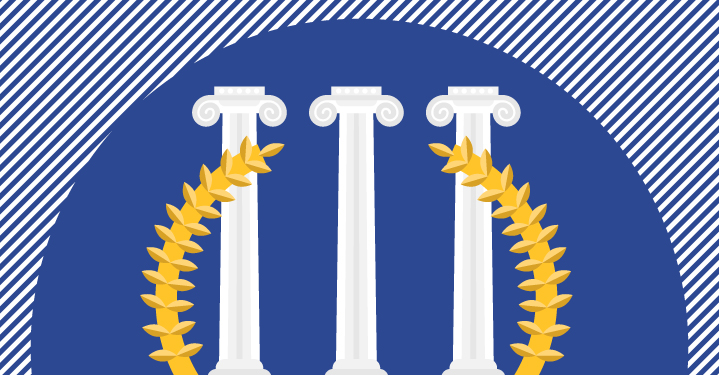 The big names in Contemporary Art attract crowds to museums and lend credibility and prestige to collections, whether public or private. With works valued at tens of millions of dollars, much of the market's interest is focused on these high-end signatures. In fact, three-quarters of global auction turnover in the Contemporary Art segment is generated by just 100 artists, out of more than 30,000 whose works make it to auction. In other words, the economic health of the Contemporary Art Market relies on 0.3% of the artists it represents!
Together, Basquiat and Koons account for 12% of the global turnover.
Moreover, this turnover concentration becomes evermore apparent at the summit of the top 100: in 20 years, Basquiat, Koons, Hirst and Wool generated $4.4 billion, or nearly 20%, of the Contemporary market's total global turnover. Basquiat was already the most sought-after and the most expensive artist in the year 2000. What has changed are the price levels.
The market heavyweights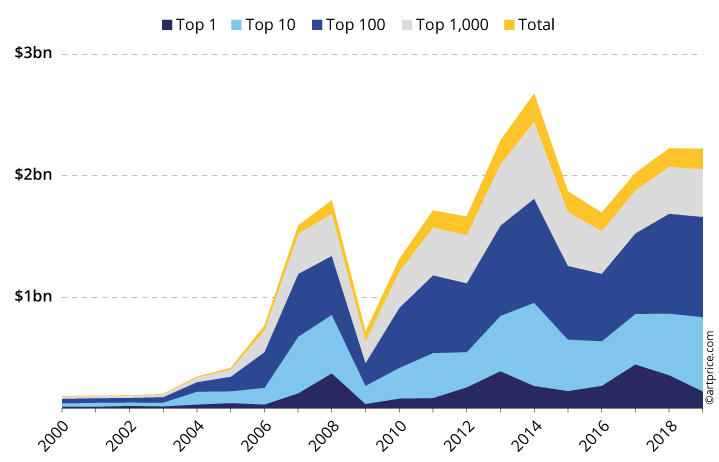 The same artists as 20 years ago, but not at the same prices
The Basquiat locomotive
The start of the Contemporary Art Market's price inflation dates back to 1998 when the segment posted its first 7-digit auction result. Less than 20 years later, the segment had a result of over $110 million on its books, a level that even a few months before would have been unimaginable for a work created in the 1980s. Both paintings were created by Jean-Michel BASQUIAT, an artist whose works now change hands at price levels that were previously reserved for Claude Monet and Pablo Picasso.
An African-American graffiti artist from the Bronx, an outspoken critic of a society sick with racism, Basquiat has become an emblem of multiculturalism. Thirty years after his death, his work still attracts tremendous enthusiasm. For the Contemporary Art Market, he has become what Picasso is to the Modern Art Market; but it wasn't always like that. In 1988, his friends and early collectors, Lenore and Herbert Schorr, offered to donate a painting of their late protégé to the MoMA, which refused the gift. Was it the lack of prestige of a canvas valued between $10,000 and $30,000 at the time, or was it lack of storage space? The museum considered Basquiat a "detail" and failed to anticipate the turning tide. And yet a certain agitation was already evident in auctions; one of his works – «Red rabbit» (1982) – fetched $100,000 at Sotheby's in November 1988. His first million-plus result was reached 10 years later, and it took another 10 years to reach the level of 10 million. Thirty years after his death the market pushed Basquiat beyond the $100 million threshold.
Value depends above all on the financial health of motivated buyers.
With globalization and the growing number of high net worth individuals around the world, the number of Basquiat buyers sharply increased and demand diversified. His collectors are from China, India, Russia, the Middle East, South America and Japan as well. His works have been acquired by the French collector Bernard Arnault, the American Eli Broad, the Greek Philip Niarchos, by celebrities like Robert De Niro, Johnny Depp, Jay-Z and Leonardo DiCaprio. But it was the wealthy Japanese businessman Yusaku Maezawa who tendered the highest bid. Maezawa caused a sensation by buying a large canvas dated 1982 for $57.3 million in May 2016 at Christie's. A year later, he paid $110.5 million for another work from 1982, against a starting price set by Sotheby's at $60 million … $50 million below his final bid. Of course at this price level, we are no longer really talking about 'values' per se, but rather about a powerful man with a strong desire for satisfaction. Ultimately the value of an artwork depends, above all, on the financial health of those who wish to obtain it.
Total auction turnover from Contemporary Art filtered by the dates the works were created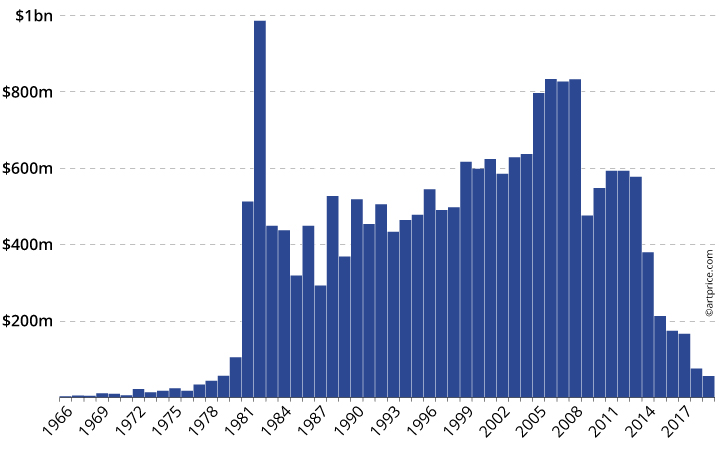 Artists active in the 1980s lead the Art Market with Basquiat at the helm
By exceeding the symbolic threshold of $100 million, Basquiat confirmed his status as a market legend, just like the iconic Pablo Picasso before him. However, the markets of these two immense artists have very different structures: Basquiat, having died prematurely at the age of 27, produced a little less than 3,000 works between 1980 and 1988, compared with Picasso's tens of thousands of works. The scarcity factor has played a leading role in the progression of Basquiat's prices as purists are looking for a very specific period, that of 1981-1982, which further limits their field.
Major works by Basquiat regularly return to the Market, upping their prices by a few million dollars. In cases where his works have been resold (or flipped) relatively quickly, sometimes the speed of resale has impressed and other times the size of the capital gain. For example, the painting Orange Sports Figure (1982) went to auction three times: in the early 90s it sold for $66,000; in 2012 it fetched $6.4 million and in 2015 it went for $8.8 million at Sotheby's. However, the most impressive example takes us back to the record of $110.5 million hammered in 2017 at Sotheby's New York. The painting in question (Untitled《无题》, 1982) was purchased for $19,000 in 1984 and was resold 33 years later for 5,800 times that amount!
Basquiat's legend takes root in the market… like Picasso's before him.
Basquiat has literally dominated the entire Contemporary market. In the most prosperous years, public sales of his works represented up to 15% of the global Contemporary Art auction turnover… 15% alone… versus the 25 to 30 thousand Contemporary Artists whose works were sold during the year. Only one other artist comes anywhere near Basquiat's performances at Contemporary Art auctions… his creative antithesis, Jeff Koons.
Koons and the subjects of a new cult…
The second decisive figure of the Contemporary Art Market is also American. A former Wall Street broker,Jeff KOONS dreamed of art and created his first art fabrication works in the 1980s. In an attempt to expose the mechanisms by which "consumer products can be glorified", he took as his subjects household appliances, toys, party favors, heroes of popular culture including Popey, the Hulk and Michael Jackson. Koons invented luxury kitsch, an art that is both popular and ostentatious. Adored by some, hated by others, the ambassador of American neo-pop was recently consecrated as the most expensive living artist on the planet. Behind his American-style success, he expanded not just the methods used to create art, but also the ways in which it is distributed, astutely navigating between the spheres of art, industry and business.
Creations that are both highly technical and highly popular
Party balloons and giant hearts, a 15-ton dog covered with tens of thousands of plants, Koons' works are by no means 'easy' to build. Designed by him, they are studied by scientists and technicians before being constructed by the hundred or so assistants in his workshop.
For Bernard Blistène, Director of National Museum of Modern Art in Paris, "It is rewarding to understand Koons' projects, which, using totally ordinary and derisory objects, rediscover the emblematic and symbolic power of know-how combined with professional and technical skill". Indeed, these three elements are highly present in Jeff Koons works, which are always ambitious from this point of view. In search of excellence, the artist is obsessed with perfection and with details. The works he produces involve collaboration with top craftsmen and technicians. Among the first remarkable creations, his Equilibrium series (1985) was a real technical puzzle. To keep basketballs suspended in water tanks – a delicate balance defying the laws of physics – Koons consulted with the American Nobel Prize winner in physics, Richard P. Feynman.
Koons has expanded the methods used to create art and the ways it is distributed, astutely navigating between art, industry and business.
The creation of each sculpture is a challenge requiring several years of work, resulting in a particularly limited production of around 200 pieces in total. For the works in his Celebration series (Balloon Dogs, Hanging Hearts, Tulips, etc.) which he began in the mid-90s, Koons stretched the limits of sculptural creation. Behind the apparent simplicity of a giant aggregate of colored material, the sculpture Play-Doh (1994-2014), for example, required 20 years of work with various scientists, metallurgists and model makers. For this work of three by four meters, named after a famous brand of modeling clay, 27 painted aluminum sections were assembled with no other means of attachment than perfect interlocking with the help of gravity. He also sought to meticulously recreate the colors adopted by the Play-Doh brand in 1994, and had each piece entirety painted (including the non-visible sides). In all, five versions of it were made, each with its own unique color configuration.
The illusion is perfect. The color composition appears random… hastily thrown together. Play-Doh– is nevertheless an extremely elaborate piece, with impeccable finishes, studied down to the slightest "imperfections" in the material. In May 2018, Christie's sold one of the five versions in New York for $22.8 million.
The same goes for one of his most famous sculptures: the giant Balloon Dog measuring three meters tall and weighing a ton in chrome-plated stainless steel "with a transparent color coating". It took six years to complete the work, available in five colors (blue, magenta, yellow, orange and red). No detail was ignored in the creation of the Balloon Dogs (1994-2000), even the slight puckering of balloons was faithfully reproduced. On 12 November 2013, the orange version of Balloon Dog reached $58.4 million at a Christie's auction in New York ("Balloon Dog (orange)").
Who signed the period's Top 100 results?
Basquiat, Koons, Doig and Wool account for ¾ of the Top 100 results
The world's most expensive living artist…
Jeff Koons' celebrity and the prices of his works have grown steadily over the past 20 years. It all started in May 2000 with the sale of a porcelain work, Woman in Tub (1988, edition 3/3, for $1.7 million. The same work fetched a million more the following year ($2.9 million, edition 1/3, Christie's, May 2001). In June 2008, Koons reached a new level when his Balloon Flower (Magenta) (1995/2000) sold for a new personal record at just under $26 million, a result that temporarily gave him the title of 'most expensive living artist'.
The 2008 record was hammered just a few months before a very striking retrospective of Koons' work at the Palace of Versailles near Paris. The exhibition received mixed reactions. Members of the Versailles Heritage Defense Collective went as far as to demand the event be banned and dozens of people demonstrated in front of the palace gates. Koons is a controversial artist, especially in France, where denigrators of Contemporary Art are relatively numerous. But beyond the reactions aroused by the works themselves, Koons upsets by what he embodies: a perceived form of Art Market capitalist triumphalism. In any case, eleven years after the high-profile Versailles show, Koons is clearly at the height of his financial success. In 2019, he regained the status of world's most expensive living artist thanks to a sculpture which sold for $91 million. The object of the new record was Rabbit《兔子》 (1986) – considered the most iconic of his works and, by extension, one of the most iconic works in the entire canon of Contemporary Art. Indeed, the notion of "iconic" is key to understanding this success, and Christie's clearly understood this, displaying the word ICON in neon letters on the facade of its premises at the Rockefeller Center before the sale.
The ambassador of American neo-pop recently consecrated as the most expensive living artist on the planet.
Convinced its sale would mark an important moment in Art Market history, Christie's invested colossal means to ensure the promotion of Jeff Koons' chrome rabbit, going so far as to set up an exhibition room under the building's rotunda. As an "Icon of Contemporary Art", Koons' Rabbit evokes the Playboy logo as well as Bugs Bunny and kids' birthday parties. In Rabbit Koons effectively appropriates an art of sampling that was common since the 60s and Pop Art, but, in this case, the aesthetic thrill is in its formal perfection. The work's shining surface will not tolerate the slightest mark or imperfection… not the slightest accidental ding or scuff.
Advocating a visual culture of pleasure, popular in its imagery, sophisticated in its construction, Koons has opened a path that new artists continue to explore, and new collectors continue to be attracted to. With $938 million of artworks sold at auction in 20 years, Jeff Koons is the world's most successful contemporary artist behind Basquiat. Koons is however a far cry from Basquiat's expressive rage. Opposites, these two artists from the same generation embody the divergent trends of the same era.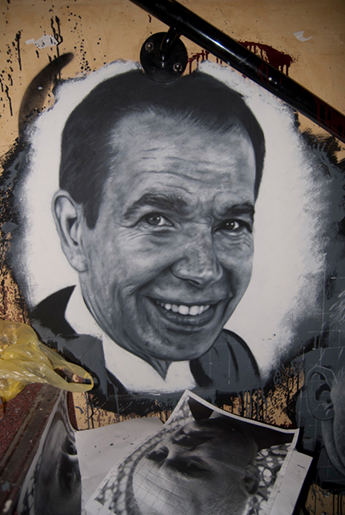 Portrait of Jeff Koons at the Abode of Chaos
© thierry Ehrmann, Courtesy Musée l'Organe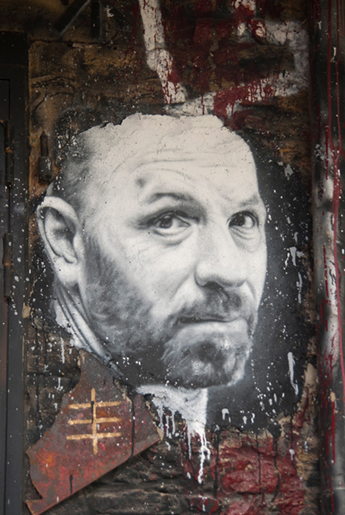 Portrait of Peter Doig at the Abode of Chaos
© thierry Ehrmann, Courtesy Musée l'Organe
Jeff Koons auction records since 2000
Basquiat / Koons at auction: key figures
1998: first million+ result at auction for a work by Basquiat
$110.5 million: record price for a Contemporary artwork (2017), again by Basquiat.
3,000: the number of recognised works Basquiat created during his lifetime.
$91 million: in 2019 Koons recovered 'world's most expensive living artist' title.
12%: Basquiat and Koons generate 12% of global Contemporary Art turnover.
$2.175 billion of Basquiat works sold in 20 years vs. $938 million for Koons.
Christopher Wool's career
"Like it or not, Christopher Wool (…) is probably the most important American painter of his generation." So said Peter Schjeldahl writing for The New Yorker about Wool's 2013 Guggenheim retrospective (Writing on the Wall: A Christopher Wool Retrospective, 28 October 2013). Having participated in the 2011 Venice Biennale, Wool was already an important signature fetching high prices. But his price index rose substantially after the Guggenheim retrospective.
A contemporary of Jean-Michel Basquiat and Cindy Sherman on the New York art scene of the 1980s, WOOL sought to invent a new painting. He achieved this by playing with words (he began his "word paintings" in 1987) and floral motifs, which, like Koons' works, share an obsession with the banality of everyday life. He used graffiti techniques (stencils and spray paint) and screen-printing techniques.
Whether we like it or not, Christopher Wool (…) is probably the most important American painter of his generation. (Peter Schjeldahl)
In 1984 and 1986, Wool was awarded his first solo exhibitions at the Cable Gallery in New York. The first museum presentation of his work took place at the San Francisco Museum of Modern Art in 1989, the year of his appointment as a member of the American Academy in Rome. Despite this art world recognition, the value of his paintings remained relatively flat, selling for somewhere between five and twenty thousand dollars. Nowadays, even his screenprints fetch a lot more…
Wool's first 7-digit result («Rundogrundogrun», $1.2 million, at Christie's, New York) came at a key moment in his career. It was November 2005, just five months before the opening of his first solo exhibition at Larry Gagosian's Beverly Hills gallery in March 2006. That result and the following show was a turning point for Wool, who subsequently attracted the market's top competitors. Indeed, the Gagosian show was clearly a major boost to his career, resulting in an immediate value accretion and capital gains of hundreds of thousands of dollars on resales of his work:
«Run Dog eat Dog»  sold for $273,500 in 2002, then more than 1 million in 2006.
A black version of Untitled (Fool)  sold for $420,500 in 1999. In 2010, a blue version of the same dimensions exceeded $5 million.
While the high-end of the Contemporary Art segment is clearly dominated by a small number of artists compared to the multitude, its financial strike power is also controlled by a small number of influential players.
Christopher Wool's Price Index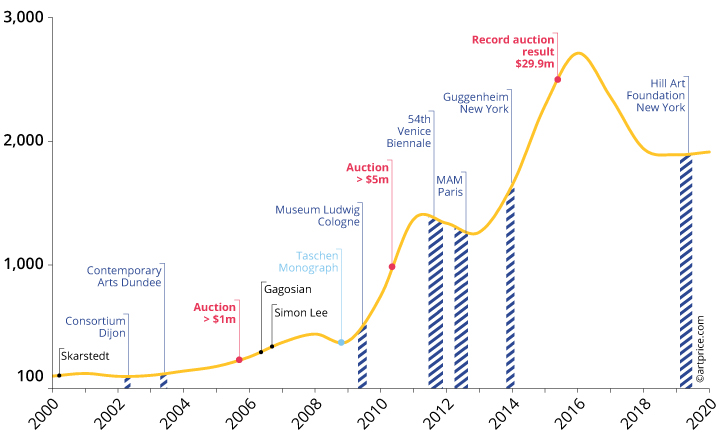 The high-end market's strike force lies with a small number of influential players
Thereafter Christopher Wool's presence on Contemporary Art's A-list was repeatedly confirmed. In 2010, his auction results were already close to those of Basquiat, Chen Yifei, Richard Prince and Jeff Koons. Nowadays, Wool has a $30 million auction record to his name (Sotheby's hammered $29.9 million for his Untitled (Riot), (1990) on 12 May 2015), and his prices show one of the best progressions of our times: +2,000% in 20 years. With nearly $624 million in auction turnover, Wool ranks 4th in the 2000-2020 global rankings, behind Basquiat, Koons and Hirst.
Change in annual turnover for market's top performers (2000 – 2019):
Keith Haring: from $1.5 million to $34.5 million.
Jeff Koons: from $5.2 million to $96.3 million.
Basquiat: from $10.5 million to $108.7 million.
George Condo: from $264,000 to $29.8 million.
Richard Prince: from $1 million to $25 million.
Albert Oehlen: from $55,500 to $25.9 million.
Rudolf Stingel: from $12,000 to $21.4 million.
Martin Kippenberger: from $586,000 to $11.4 million.
Mark Tansey: from $100,000 to $13.4 million.