The Contemporary Art rush
At the start of the 21st century, the global art world changed substantially as large numbers of new millionaire buyers joined the Market, and China decided to develop its own market.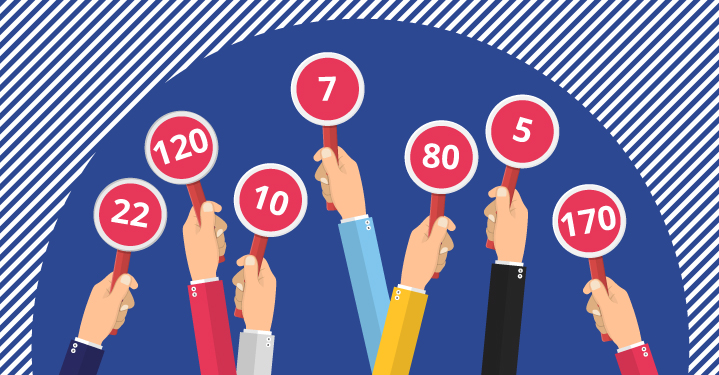 The Contemporary Art Market is not what it was 20 years ago. It has undergone profound structural changes, with evermore artists (from 5,400 artists to nearly 32,000 today) and evermore artworks (from 12,000 lots offered to 123,000) and it has grown and expanded geographically, from 39 to 64 countries active in auctions. It has accelerated with the fluidification of remote transactions and is now the most dynamic and profitable segment of the entire Art Market. In 20 years, the number of auction houses participating in the Contemporary Art Market has almost doubled, the number of specialized sessions has tripled, and the number of lots sold has multiplied by six.
Growth figures
2000
2010
2019
Auction turnover
$92m
$1,145m
$1,993m
Top auction result
$2.2m
$16.9m
$91.1m
Average price
$7,430
$30,400
$25,140
Lots sold
12,355
37,670
79,290
Lots presented
19,180
61,885
122,875
Unsold rate
36%
39%
35%
Sales
1,794
2,960
5,874
Artiste
5,425
18,284
31,918
Cities
359
377
539
Coutry
39
58
64
Auction house
467
618
843
Buyers' premium
14.4%
16.9%
20%
Market share
2.9%
8.6%
14.9%
Best performing artist
Basquiat
© artprice.com
The Contemporary Art Market has gained $2 billion in 20 years
Formerly a very small segment of the overall Art Market, the Contemporary segment now accounts for 15% of the global Art Market. Worth just under $2 billion in auction turnover – versus less than $92 million in 2000 – it has now overtaken both the Old Masters and 19th century. Recently a work by Jean-Michel BASQUIAT beat the world record for an art auction result in the year 2000 by fetching over $100 million, starkly illustrating the change in the market's value scales. Basquiat could well cross this price threshold again in the future, and he may not be the only one. Moreover, the works of a handful of our Contemporary creators have already been consecrated as "historical assets"… as important, in monetary terms, as the greatest Modern artists like Monet or Picasso.
In the 21st century, Contemporary Art has become the primary growth driver of the global Art Market.
Basquiat holds the first and the latest auction records of the last 20 years. He created the first Contemporary work to fetch over $1 million (in 1998) and the most expensive Contemporary work ever sold (in 2017). Between the two dates, Basquiat's auction record rose from $1.7 million to over $110 million, a multiplication by 65 in 20 years. Over this same period, the average price of a Contemporary Artwork has tripled (going from $7,430 to $25,040), the strongest progression in any creative period. This growth has made Contemporary Art the primary growth engine of the global Art Market in 21st century.
Contemporary Art 2000-2020: the key figures…
6 times more artists and 6 times more lots.
A +2,100% increase in auction turnover.
Basquiat holds the segment's world auction record at $110 million (in 2017).
Contemporary Art now represents 15% of the global Art Market vs. 3% 20 years ago.
China and the United States generate 68% of the global auction turnover.
In value terms, Contemporary artworks have generated $22.7 billion since 2000.
Over 60% of the Contemporary market is hammered for paintings.
Global Contemporary Art sales: turnover and lots sold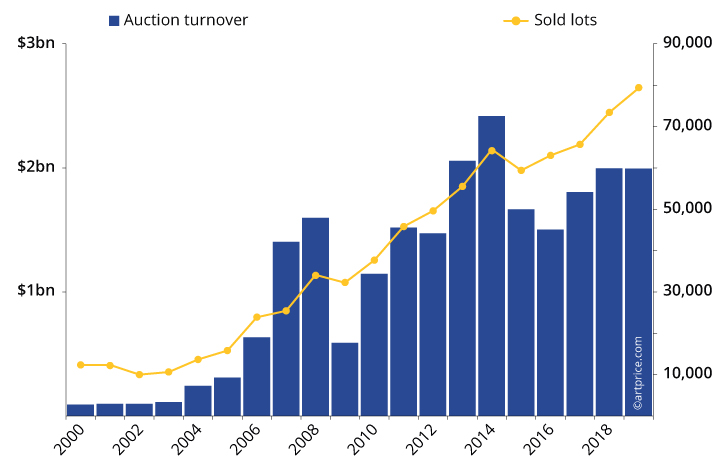 Six times more Contemporary works sold in 2019 than 20 years ago
The first billion in 2007
In 2007, the Contemporary Art segment generated over $1 billion in annual turnover reaching 15% of the global Art Market, a share that has remained more or less constant to this day. One of the primary factors in its growth was the relatively sudden accession of Chinese buyers to the market, whose arrival also fundamentally transformed it. With the explosion of the Chinese economy, wealthy entrepreneurs began taking an interest in art collecting, while others started buying artworks to diversify their investments. The emergence in China of an 'art business' sector was both rapid and impressive, and it included the appearance of specialized art investment funds. Mimicking stock market practices, 'shares' in works were offered with a view to making significant capital gains, quickly if possible… Large sums of money were directed primarily into works by Chinese artists, inflating their prices considerably. In 2011-2012 China's auction market sold twice as many Contemporary works above the $100,000 threshold than the whole of Europe.
A primary factor in its growth was the relatively sudden accession of Chinese buyers to the market.
Over the years, a number of Chinese buyers became formidable collectors, such as Jack Ma (founder of e-commerce giant Alibaba), Adrian Cheng and Lin Han, who also collected non-Chinese artists. Some of these collectors have created private museums to house what are now considerable collections, like Budi Tek with his Yuz Museum in Shanghai.
But the growth of the Contemporary Art Market was not just China driven. It emerged as a general consequence of the ongoing globalization of the Art Market. Prices were rocketing for leading Indian artists (Anish KAPOOR, Subodh GUPTA), for artists from the Middle East (Christie's has been operating in Dubai since 2006), and, of course for Western artists. New York and London started seeing an extraordinary succession of new records with Andy WARHOL's Green car crash fetching $71.5 million (double Christie's high estimate), Damien Hirst's Lullaby Spring selling for $19 million (vs. an estimate of $6-8 million), Peter Doig's White Canoe going for $11 million (vs. Sotheby's estimate of $2 million) making Doig the second most expensive Contemporary painter behind Jean-Michel Basquiat, and of course, Jeff Koons achieving the status of most expensive living artist after his Hanging Heart (Magenta / gold) sculpture fetched $23.5 million.
At the end of 2007, some believed the Contemporary Art Market had reached its peak. They were wrong. Jeff Koons went on to break his own record seven times in the following years.

Ren Zhong
Nine dragons and sea, 2018
Ink on silk
138.5 x 357 cm
© Ren Zhong, Courtesy Wang Wen
2008, a pivotal year
Before its first growth peak in 2008, turnover from Contemporary Art rose by +1,640% (2000-2008), but then subsequently contracted in the wake of the American subprime crisis and its global repercussions. From growth to contraction, 2008 had two distinct stages: art prices were buoyant through the summer sales, but the market plunged in September, just after Sotheby's organised a sale exclusively dedicated to works by Damien Hirst.
The financial crisis had a sharp but brief impact on the Art Market
The Art Market euphoria so apparent in 2007 continued during the first half of 2008 despite the financial and economic shock waves triggered by the subprime crisis. It was pretty much business as usual with art still benefiting from its safe-haven status and excellent results until mid-September 2008. Christie's and Sotheby's both set new sales records for artists belonging to the Modern, the Post-war and the Contemporary periods. Christie's sold a Bassin aux Nymphéas by Claude Monet for $71.8 million; a painting by Mark Rothko for $50 million (No. 15, 1952, up from $11 million in 1999); another by Lucian Freud for $33 million (Benefits Supervisor Sleeping, 1995) and a sculpture by Jeff Koons at close to $26 million (Balloon Flower (Magenta), 1995/2000).
Sotheby's did even better, selling a major triptych by Francis Bacon for more than $86 million on 14 May. The buyer was Russian oligarch Roman Abramovich, the new owner of Lucian Freud's Benefits Supervisor Sleeping acquired the previous day. The American auction house also hammered new records for Contemporary Artists Richard Prince (Overseas Nurse, $8.4 million), Antony Gormley (Angel of the North, $4.5 million), Anish Kapoor (Untitled, $3.8 million) and Takashi Murakami. After the summer, it recorded 21,000 visitors to its exhibition of work by Damien Hirst titled "Beautiful inside my Head forever", and the Market only faltered after the extremely successful eponymous same.
Murakami, a Japanese artist in New York
The meteoric rise of Takashi MURAKAMI was emblematic of the rapid transformations of the Contemporary Art Market. Almost absent from radars in 2000, he had already joined the world's top 10 (by annual auction turnover) in 2008. A precursor of his success, the price of his Mr Dob sculptures multiplied by 10 between the end of the 90s and the beginning of the 2000s. But Murakami's works didn't start reaching the market peaks until the sale of My Lonesome Cowboy (Sotheby's). A savvy mixture of trash and kawaii, this 'grand ejaculator' sculpture inspired by manga and Otaku, opened the doors of the American market to Murakami when it sold for $13.5 million, 10 times its estimate. Present in the room to witness his own record on 14 May 2008, the artist took the opportunity to buy an important sculpture by his friend and compatriot Yoshitomo NARA, Light my Fire (2001), for $1.1 million. With the sale of My Lonesome cowboy and the purchase of the Nara work, Murakami had just brought Contemporary Japanese Art into the battle for capitalism, alongside the American Jeff Koons and the British artist Damien Hirst, both skilled at using the codes of mass communication and marketing to their advantage.
Hirst & Sotheby's, a before-&-after event
In mid-September 2008, the figurehead of the so-called Young British Artists (YBAs) managed to get his name indelibly engraved in Art Market history by a) selling his works directly through Sotheby's, bypassing the usual gallery circuit, and b) doing so at a critical moment in global financial history. Over 200 works were taken directly from Damien HIRST's studio to the auction room and the overall results were astonishing: 1.5% of the lots failed to sell… but the sale generated no less than 45 results above the million-dollar threshold including exceptional results for freshly constructed formaldehyde works ($18.5 million for The Golden Calf (2008), $17.1 million for The Kingdom (2008), $5.3 million for Here Today, Gone Tomorrow (2008) and $4.7 million for The Black Sheep with the Golden Horn (2008)). This series of animals (sheep, fish, sharks, calves) immersed in formalin aquariums was initiated by Hirst in 1992 and funded at the time by Charles Saatchi. Other emblematic works went for several million dollars, including his famous medicine cabinets. The event made Hirst's fortune and further consolidated his fame, being the first artist to play such a decisive role in the commercialization of his works.
And… the sale was a resounding success despite an alarming financial/economic context as it just happened to coincide with the collapse of Lehman Brothers on 15 September 2008. Immediately afterwards the global Art Market contracted sharply. With buyers feeling nervous, Sotheby's failed to sell five important YBA works on 11 November. Two others sold, but under their low estimates. Between September and December 2008, Hirst's unsold rate shot up from 11% to 55% and his price index contracted sharply (-65% between 2008 and 2010). Of course, he was not the only artist to suffer the repercussions of the financial crisis.
Contemporary Art lost a third of its auction turnover…
The post-subprime financial crisis had a strong, but brief, impact on the Art Market. In the months following the Beautiful Inside My Head Forever sale, 65% of Contemporary Artworks sold below their low estimates (compared to roughly 50% in previous years). Having posted phenomenal growth rates, the contraction of financial markets and the resulting economic impact, precipitated a wave of redundancies throughout the art world as banks stopped lending to collectors for the purchase of artworks and auction house turnover inevitably contracted. The Contemporary Art segment lost two thirds of its auction turnover in 2009 ($588,000 compared to $1.6 million in 2008). But the fall was as sharp as it was brief, and the market's indicators quickly started to recover. At the end of 2010, Contemporary Art had rebounded to approximately $1.1 billion and it subsequently reached $1.5 billion in 2011 (versus $1.59 billion in 2008). As confidence returned.. so did the opulence, and the market reached a second peak in 2014.
Damien Hirst's market never regained quite the euphoria generated by his Beautiful Inside My Head Forever sale, but his market has since stabilized. His 'major' works sell for over a million (notably his Spot paintings and Medicine cabinets)… but at a slower pace: between January 2019 and July 2020, Hirst's work has generated five million-plus results, compared with 65 in 2008. Nevertheless, over the past 20 years, Hirst has established himself as the third most successful Contemporary Artist (with a total of $695 million on the secondary market), behind Basquiat and Koons.
New peak in 2014 with rapid expansion of the Chinese Art Market
The year 2014 saw unprecedented activity on the global Art Market with a record number (over 100,000) of Contemporary works offered in auctions around the world, of which 64,000 (also a record) found buyers… and the segment's global turnover gained $1 billion in two years, reaching $2.4 billion. This new peak was reflected in the entire Art Market (all creative periods combined) which generated an annual turnover of $16.4 billion.
Hong Kong established itself as a major player on the global Art Market
Meanwhile, China began to play a much more active role in the global market. Driven by frenetic economic growth, it became the new counterbalance to the United States (which it overtook for the first time in 2010). The Chinese eldorado became more and more attractive to international investors, including the world's leading auction operator, Christie's, which decided to focus its sales on Shanghai. Presented as an event that was as important as its opening in New York in 1977, Christie's first sale in mainland China was strategically timed to coincide with Shanghai facilitating temporary entry and exit operations of artworks on its territory (end September 2013) thanks to a new free trade policy facilitating the import and export of artworks (SHFTZ, Shanghai Free Trade Zone). Sotheby's for its part made a short attempt to develop sales in Beijing (between 2013 and 2015). But it was in Hong Kong – where artworks can enter freely – that the heart of the Asian market was beating the strongest.
Contemporary Art sales in Hong Kong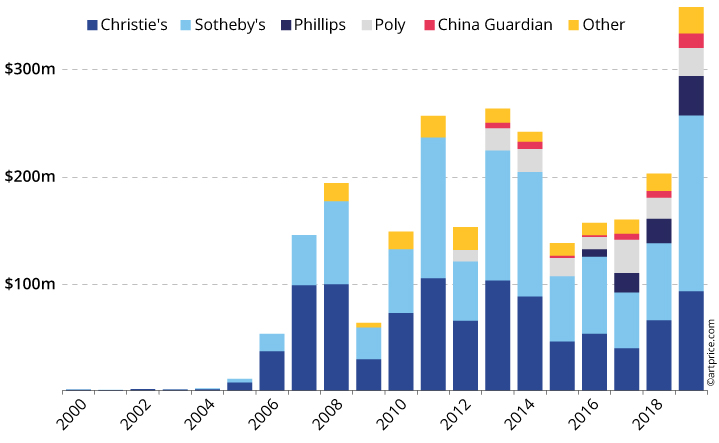 Sotheby's dominated the Hong Kong market, with 50% of its turnover
A minor marketplace before 2000, Hong Kong rapidly became an unavoidable hub for the global Art Market. In 2014, the peninsula generated 10% of global Contemporary Art auction turnover, a figure still relevant today. For Sotheby's, activity in Hong Kong was particularly intense that year with two stars of the Asian market, Zhang Xiaogang and Fang Lijun, reaching exceptional price levels. The former, whose works sold for around $5,000 in 2000, reached a new record at $12.1 million for Bloodline: Big Family No.3 (1995), double the amount paid for it six year earlier (2008, already a prosperous year for Chinese artists). The latter, FANG Lijun, reached a new summit at $7.6 million, double the mid-range estimate, with Series 2 No. 4 (1992).
Christie's and Sotheby's Hong Kong turnover initially rocketed on the back of demand for works by Chinese artists. However, it didn't take long for that success to spread to the big name Western artists as well. In 2011, the two rivals generated $236 million from sales of Contemporary Artworks in Hong Kong, compared with just $558,000 in 2000. Their cumulative turnover therefore increased by 4,200% in ten years. As of 2016, Phillips decided to join the lucrative bandwagon.
In 2019, the activity of the three companies accounted for 86% of Hong Kong's art auction turnover with Sotheby's holding a clear lead after generating half of the peninsula's Contemporary Art auction turnover ($164.3 million). Hammering 10% of global Contemporary Art auction turnover, Hong Kong is today the third marketplace for the sale of Contemporary Art behind New York and London.
Indice
The Contemporary Art rush