Multiple choice…
Contemporary Artists have reached millions of people by offering their works in 2-D, 3-D or even virtual editions. Somewhat paradoxically, this new 'commercialism' has played an essential role in making art more democratic.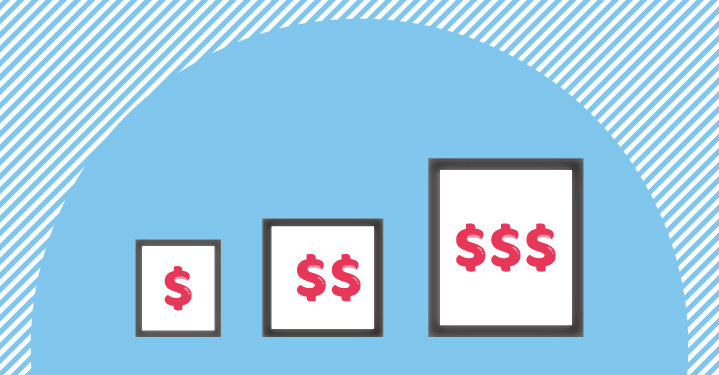 Murakami, Nara, Hirst, Koons, Banksy, Shepard Fairey and recently Kaws … these artists are effectively the best-selling artists around the world. Each one has sold somewhere between 2,000 and 6,000 lots at auction over the past 20 years. Following the example of Keith Haring, these artists have created series of works and/or objects that are more affordable than the works usually presented in galleries. Pushing back the boundaries between art and mass commerce, they appeal to all segments of buyers, from early-stage beginners to wealthy collectors.
A more democratic art
Some of the roots of this democratic and commercial art can be traced back to Keith HARING who in 1986 opened the doors of his Pop Shop in Manhattan. This low-cost art store aimed to reach the same type of people as his wild designs on the subway: "not just collectors," Haring said, "but the children of the Bronx too". The objective was to create an alternative market intended for the greatest number. Haring remains one of the most popular, in-demand and best-selling artists of our time. In terms of auction transactions he is the global number two with a volume of 4,806 in 20 years (generating $304.4 million in all).
Thirty years after the Pop Shop, BANKSY launched his own shop (in 2019) called Gross Domestic Product™. But the codes have changed since Keith Haring's day. The militant street artist works via correspondence from an online-only store. From the £10 spray-can to the £850 bulletproof vest, his "products", as he calls them, are made from recycled items in his workshop, not in a factory. The money from the sales is used to finance rescue missions for migrants in the Mediterranean. Sold out in record time, the "products" may well return to the secondary market considering the phenomenal popularity of the artist. In our 20-year turnover ranking, Banksy ranks 38th in the world with 2,800 lots sold for $100.4 million since 2000.
The other new street art mega-star is of course KAWS (alias Brian Donnelly) who claims to have been directly influenced by activist Keith Haring. In an interview with Steph Harmon for The Guardian on 19 September 2019 titled "It has created a sense of hostility: how Kaws made the art world pay attention" he confides "Keith was like a bridge for me… When I was younger, I wasn't going to galleries, I wasn't going to museums … There was a lot of 'this is fine art' or 'this is not fine art'; 'this is commercial', 'this is high art'. In my mind I thought, art's purpose is to communicate and reach people. Whichever outlet that's being done through is the right one".
Alongside the intense demand for his work (see Kawsmania), Kaws uses large-scale production facilities to produce T-shirts (he has his own streetwear label), screen prints, and a hundred varieties of Art toys (mainly cartoon-inspired figurines) sold in limited and unlimited editions to fans and collectors.
But the artist took a further step in 2020, by creating an edition of virtual works with the company Acute Art, specialized in augmented reality. The principle is simple: once the virtual figurine has been chosen and payment has been made, the image of a Companion can be embedded in your home, so to speak, in an intuitive-navigation virtual environment. Twenty-five large Companions (each 1.8 meters tall) were available at $10,000 each, while small Companions could be rented for $6.99 a week or $29.99 a month… whatever time you needed to take some selfies with your virtual companion and spread them over social networks to create a buzz.
Kaws also launched a 'world exhibition in augmented reality' – Expanded Holiday – with 12 monumental sculptures 'virtually embedded' into 12 carefully selected spots around the world, on all continents, including in front of the Museum of Islamic Art in Doha, the National Gallery of Victoria in Melbourne, the Louvre in Paris, as well as spots in New York, London, Hong Kong, Tokyo, Seoul, Taipei and Sao Paulo. This ambitious project allowed him to be the only artist 'exhibited' all over the planet in March 2020. Whether physical or virtual, this ability to adapt his work to the almost infinite has enabled him to reach millions of people and has further consolidated his global notoriety.
Top Contemporary Artists by number of lots sold (2000-2019)
Artist
Lots sold
Average price
1
Takashi MURAKAMI (b. 1962)
5,512
$40,618
2
Keith HARING (1958-1990)
4,806
$63,345
3
Damien HIRST (b. 1965)
4,244
$163,893
4
Shepard FAIREY (b. 1970)
2,989
$2,513
5
BANKSY (b. 1974)
2,815
$35,677
6
Robert COMBAS (b. 1957)
2,798
$14,907
7
ZHU Xinjian (1953-2014)
2,755
$22,634
8
Yoshitomo NARA (b. 1959)
2,727
$120,178
9
KAWS (b. 1974)
2,104
$78,784
10
Jeff KOONS (b. 1955)
1,902
$493,470
11
Marco LODOLA (b. 1955)
1,821
$1,459
12
Hiroshi SUGIMOTO (b. 1948)
1,804
$37,784
13
Günther FÖRG (1952-2013)
1,708
$39,035
14
Robert MAPPLETHORPE (1946-1989)
1,705
$22,673
15
Peter HOWSON (b. 1958)
1,657
$3,747
16
FANG Chuxiong (b. 1950)
1,483
$31,480
17
Jean-Michel BASQUIAT (1960-1988)
1,480
$1.5m
18
Thomas RUFF (b. 1958)
1,450
$24,808
19
Sandro CHIA (b. 1946)
1,358
$15,124
20
Jörg IMMENDORFF (1945-2007)
1,317
$17,358
21
Cindy SHERMAN (b. 1954)
1,284
$111,528
22
Mark KOSTABI (b. 1960)
1,276
$3,451
23
William KENTRIDGE (b. 1955)
1,269
$29,762
24
Nan GOLDIN (b. 1953)
1,255
$7,212
25
Mimmo PALADINO (b. 1948)
1,240
$19,313
26
WANG Mingming (b. 1952)
1,159
$62,822
27
Robert LONGO (b. 1953)
1,116
$41,184
28
Richard PRINCE (b. 1949)
1,110
$455,921
29
Vik MUNIZ (b. 1961)
1,085
$39,705
30
ZHOU Chunya (b. 1955)
1,067
$277,272
© artprice.com
Several of the big names in the Street Art field dominate the market by sheer volume of transactions. Apart from the works of Keith Haring and Kaws, those of Banksy and Shepard Fairey are particularly popular. The number of Banksy lots sold has multiplied by 12 in ten years, and Fairey's total has multiplied by 33 over the same period. Shepard FAIREY is one of the five best-selling Contemporary artists of our time (nearly 3,000 lots since 2000), with lots of affordable lithographs selling for just a few tens of dollars. Essentially composed of editions whose prices rarely exceed $1,000, his market is primarily French (more than 80% of lots sold in 2019), where Street Art enjoys a very buoyant market.
Art + popularity + commerce
As we mentioned earlier, Japanese culture makes no distinction between High culture and Low culture, between museum art and folk art. Takashi MURAKAMI has always been enthusiastic about merging Fine Arts and the "commercial thing", as his mentor Andy Warhol used to say. Why separate what is part of a whole? Especially today when the circulation of images has no borders. Murakami's art has crept in everywhere. His production is not limited to the sculptures, paintings, prints, objects and derivative products that can be found on the secondary market. He has launched a whole series of collaborations: with the luxury brand Louis Vuitton; with the streetwear brand Supreme; with the singer and businessman Kanye West and with the Californian singer Billie Ellish (65.7 million followers on Instagram) while maintaining an extremely coherent universe.
Murakami is literally "a production machine". He is an artist as well as a business manager, and manages a large team of assistants at his Kaikai Kiki Co. facility. This company, created in the mid-1980s, is a 21st century Factory, a bee-hive engaged in the production, sale and direction of animated films. The best-selling artist on the planet (5,512 lots since 2000), he is also one of the most affordable thanks to his numerous editions.
The best-selling artist on the planet, Murakami is one of the most popular and affordable.
The artistic/commercial dynamic created by Jeff KOONS is not so very far from that created by Murakami. Part of his production is very commercial in order to reach as many people as possible. This is in fact one of his great strengths… having appropriated the mechanisms and infrastructures of industrial production to create both ostentatious masterpieces and popular "products". His Puppies and Balloon Dogs, manufactured in thousands of copies, sell for prices between a few hundred dollars, to tens of thousands, depending on the edition.
The porcelain Balloon Dogs (2,300 copies) are currently trading around $15,000 versus $1,000 less than 20 years ago. Prices climb to around $60,000 for Balloon Monkey/Balloon Rabbit/Balloon Swan, a set of three sculptures made with the Bernardaud house in Limoges (sold through the Leon Gallery in Makati, Philippines, 14 September 2019). This amounts to $20,000 per piece compared with around $10,000 when they were put on sale by Bernardaud in 2017. The average price of a sculpture produced by the Limoges factory has therefore doubled in two years. That of a porcelain Puppy vase (3,000 copies plus 50 artist's proofs) has been multiplied by ten in 15 years (approximately $10,000 now). Even when diluted to thousands of copies, Koons' work will have been an excellent investment.
Balloon dog by Koons, Companion by Kaws, Mr. Dob by Murakami … the most popular "Hi-Lite" artists have created recurring characters with an instantly recognizable childish and satirical aesthetic. In short, they have each managed to create their own trademark.