Digital agility
In the overall scheme of digital things, the Art Market is lagging behind. With the coronavirus crisis it was forced to stop… very probably to better accelerate.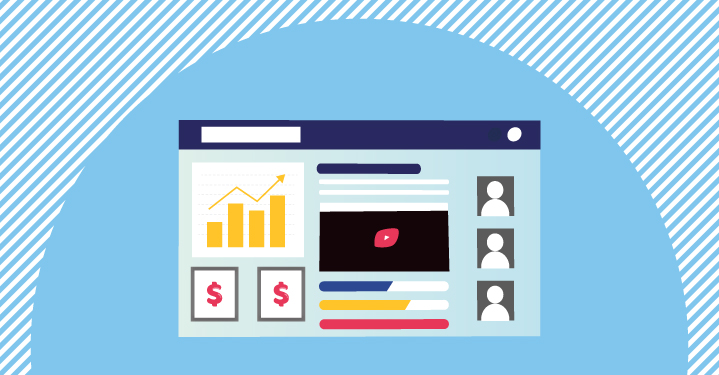 The year 2020 will remain etched in everyone's memories. Shortly before the spring, all "normal" activity found itself totally paralyzed in the turmoil of an unprecedented health crisis. This is not the first crisis the Art Market has had to absorb. That linked to the first Gulf War led to a freeze on purchases and a sharp drop in art prices for three years. Between 1990 and 1993 negotiated prices fell by half. The second crisis, linked to subprime loans, hit the Art Market in the fall of 2008 immediately after the collapse of Lehman Brothers, and, although it didn't lead to a purchasing freeze as it did in the early 1990s, it did result in a significant drop in prices (-27.1% over 2008, followed by a drop of -4.4% over the first half of 2009) and a considerable turnover shortfall for the auctioneers. In 2009, a year after the subprime crisis, the number of works exceeding $10 million fell by 75%; but the contraction was brief, with a return to growth observed in 2010.
The Art Industry has never, however, been confronted with a crisis comparable to the Covid-19 crisis. Museums, fairs, galleries, cultural centers and auction houses were all obliged to comply with government recommendations in order to contain the spread of the virus, by closing their doors to the public after March 11, 2020. The consequences have been catastrophic for lots of galleries, some of which have seen their turnover collapse (sometimes by more than 90%). On the secondary market side, the health emergency led to the postponement or even the outright cancellation of physical sales.
The art world is lagging behind if you compare it to other retail sectors. (David Zwirner)
Half-year turnover figures on the Contemporary Art segment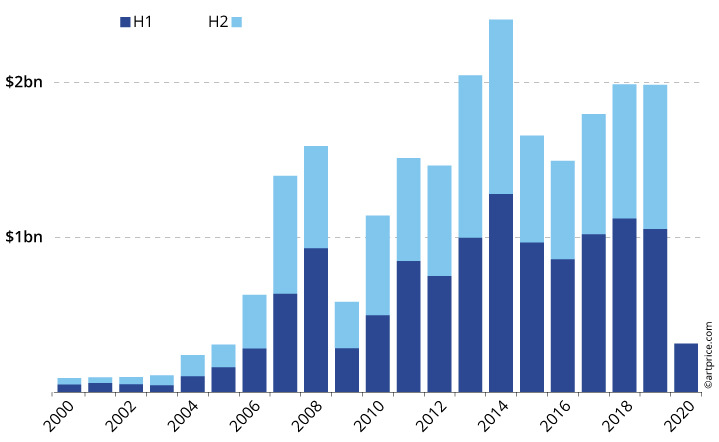 The Covid health crisis has had a major impact on Contemporary Art Market turnover
New initiatives
If the Covid crisis has been bad news for the business of galleries and auction houses, it has also been a moment of reflection and exploration around how to find new ways to engage art professionals in dialogues with their audiences… and quickly. Following the cancellation of its physical event, Art Basel Hong Kong launched an online substitute for its fair. This initiative attracted an impressive number of virtual visitors: 250,000, compared to less than 90,000 physical visitors for the edition of Art Basel Hong Kong in 2019.
Exhibitors were thus able to present their works and make several big sales, including a sculpture by Antony GORMLEY for nearly $500,000 at Continua and a painting by Marlene DUMAS for $2.6 million at David Zwirner. It should be noted that Zwirner's online presence, with its highly advanced digital "viewing rooms", quickly accustomed its network of clients to digital visits and online purchases. The gallery even has a department dedicated to digital development and online sales, a department with 12 people, four of whom were hired during the first quarter of 2020.
In mid-March, David Zwirner told the New York Times: "The art world is late if you compare it to other retail sectors" (Art Galleries Respond to Virus Outbreak With Online Viewing Rooms, cited by Robin Pogrebin, March 16, 2020). For art fairs, as for gallery owners and auction houses, it took an emergency situation to give digital development a serious boost.
Buying habits are already changing.
For their part, the auction houses avoided a worst-case scenario – that of a total market shutdown – by urgently upgrading their websites to increase online sales… the only channel that could pursue the auction activity and maintain contact with collectors.
At the start of the crisis, Sotheby's got ahead of the competition by putting online sales at the heart of its development strategy. Its takeover by media and telecommunications mogul Patrick Drahi in 2019 seems to have encouraged this development. After rising 25% in 2019, Sotheby's online sales made another step forward in 2020. Already, for the month of March, the American company sold 10 times more works than its rival Christie's. In April, it generated $6.4 million, a record for its online sales. More than half of the lots sold exceeded their high estimate. From their screens, and despite a period of major uncertainty, buyers were placing bids far beyond expectations. By the summer, purchasing habits had already shifted: between 30 and 35% of the bidders in Sotheby's online sales have been "new bidders".
The first million-plus result was obtained with a George CONDO painting that reached $1.3 million, at double its estimated price (Antipodal Reunion, 2005). This was the highest price ever paid for a painting in an online sale organized by the American company. The result appears to have inspired Sotheby's to raise the quality of the works offered, and the price level of the bidding rapidly increased over the following weeks.
On June 29, Sotheby's reached a new milestone, by selling – again online – a major triptych by Francis BACON for $84.5 million (Inspired by the Oresteia of Aeschylus, 1981). In this unprecedented context, the auction house had just proved that the high-end art business had not died with the health crisis and that even in a period of very severe economic fragility, it is able to convince collectors to consign high caliber artworks. The sale of that triptych effectively brought the Art Market into a new era, that of prestige virtual sales.
The 10 best-selling Contemporary works online
Artist
Artwork
Result
Date
Auction house
1
Jean-Michel BASQUIAT (1960-1988)
Untitled (Head) (1982)
$15.2m
29 Jun. 2020
Sotheby's, New York
2
Jean-Michel BASQUIAT (1960-1988)
Untitled (Return of the Central Figure) (1983)
$2.9m
29 Jun. 2020
Sotheby's, New York
3
Matthew WONG (1984-2019)
The Realm of Appearance (2018)
$1.8m
29 Jun. 2020
Sotheby's, New York
4
George CONDO (b. 1957)
Woman With Golden Hair (2018)
$1.6m
28 May. 2020
Sotheby's, London
5
Takashi MURAKAMI (b. 1962)
Flower Matango A (2001-2006)
$1.4m
29 Jun. 2020
Sotheby's, New York
6
Sean SCULLY (b. 1945)
If (1986)
$1.3m
29 Jun. 2020
Sotheby's, New York
7
Richard PRINCE (b. 1949)
Untitled (Cowboy) (2015)
$1.3m
29 Jun. 2020
Sotheby's, New York
8
George CONDO (b. 1957)
Antipodal Reunion (2005)
$1.3m
21 Apr. 2020
Sotheby's, London
9
Christopher WOOL (b. 1955)
Untitled (1988)
$1.2m
14 May. 2020
Sotheby's, New York
10
ZHANG Xiaogang (1958) (b. 1958)
Heaven No.4 (2010)
$1.1m
25 Jun. 2018
Asta Guru, Mumbai
© artprice.com
In both online and physical sales, Basquiat comes out top
Christie's augments reality
After two months of implementation and testing, Christie's stepped up a gear in May, doubling its online sales. It subsequently redoubled its efforts and ingenuity to restart its high-end market in July with a major international 'event' entitled "ONE: A Global Sale of the 20th Century". The first of its kind – described as an "unprecedented event" in the auction house's press release – ONE joined together four prestige sessions, in Hong Kong, Paris, London and New York. Four cross-border sales rolled into one, playing astutely with time-zones and distance, the live performances were relayed via Internet. No less than 80 exceptional pieces were sold across the world: 10 in Hong Kong, 15 in Paris, 21 in London and 34 in New York, generating $420 million. George Condo marked the first Asian leg of the sale with $6.9 million for his canvas Force Field (2010). New stars of the Contemporary painting segment like Jonas WOOD and Nicolas PARTY both attracted 7-digit results with two still lifes. The most Contemporary work of the New York "session", Stranger #34 (2008) by Glenn LIGON, sold for $1.8 million.
The Art World is at last going virtual.
"ONE" was an experimental sale in many ways: in addition to exploiting the phenomenal ubiquity of the digital medium, it also used augmented reality (AR). QR codes associated with the works made it possible to virtually project them into the living room of future bidders. An 'immersive' operation in tune with the times, which the artist KAWS had already anticipated in March with downloadable virtual companions to smartphones. In 2020, the Art World is at last getting to grips with the idea of dematerialisation – and thereby removing one of its last major hurdles to development… distance.
Until recently, new technologies applied to the Art Industry made it possible to explore a work in great detail… to zoom in on its every brushstroke. Henceforward, we can now hang an artwork (virtually) on our walls, and the quality of total immersion is naturally bound to develop in the future. These new tools can help motivate buyers. For many buyers still, physical contact with an artwork is essential for decision-making… but it will no doubt be much less important for the "digital natives" arriving on the market.
Evolution of online turnover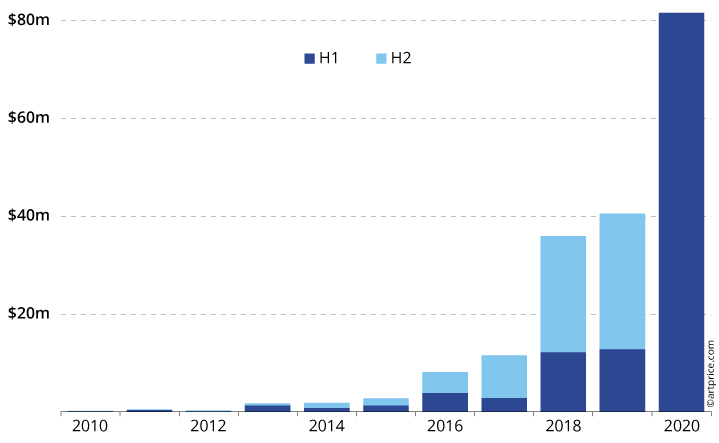 Agile and resilient, auction houses have significantly developed their online sales during the Covid crisis.