In search of novelty
At the beginning of the 21st century, the relative popularity of different artists seems supremely volatile in a sector always eager for novelty.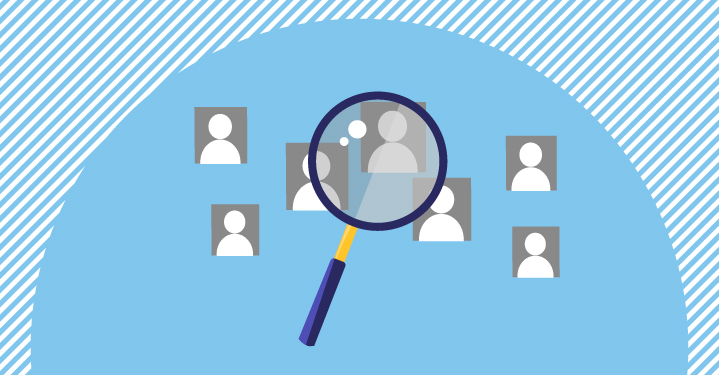 Galleries are always in search of young talents, of new and original work, of uniqueness and of efficiency. All it takes is the engagement of one of the major galleries (or not so major) for an artist to immediately step out of anonymity and for demand to inflate like a balloon. Prices on the auction market can literally rocket overnight especially if collectors are on the waiting lists of prestigious galleries. There's no shortage of super-rapid success stories and their number has multiplied in recent years. We take a look at just a couple of interesting cases.
The career of Irish artist Genieve FIGGIS is unique in the extent of its dependence on social networks. The story of her discovery dates back to 2014 on Twitter. Seduced by her unique style and macabre humor, Richard Prince bought her works and subsequently showed them to Almine Rech. It was the start of a fruitful collaboration between the gallery owner and the young unknown artist. Genieve Figgis's punchy work encountered immediate success. Sought-after by collectors from New York, London and Hong Kong, all of her works have sold since her auction debut in 2018.
In different styles, the French artist Julie CURTISS (born in 1982), the Belgian Harold ANCART (born in 1980) and the Brazilian Lucas ARRUDA (born in 1983) are currently among the most in-demand young artists on the Market. Julie Curtis's prices inflated with her first solo show at the Anton Kern Gallery in New York. None of her works had ever been sold at auction before that exhibition and yet, after the show, in November 2019, one of her pieces fetched $420,000. Meanwhile… Lucas Arruda attracted a bid of $312,500 in 2019 for an interior scene (30.2 x 37.1 cm) acquired shortly beforehand from David Zwirner in New York and estimated at around $100,000 by Sotheby's. His works have entered the collections of the Fondation Beyeler in Switzerland, the Getty Museum in Malibu, the Rubell Family in Miami and François Pinault.
The success of the Californian artist Jonas WOOD further illustrates the immediacy and efficiency of the Contemporary Art Market. Unknown on the auction market ten years ago, Wood is among the 100 most successful artists in the world in 2020, all periods and categories of creation combined. His work started appearing in auctions in 2015, the year of a first exhibition in the Hong Kong branch of the Gagosian network. Driven by such a powerful player, Wood's auction record was multiplied by 10 when his Studio hallway (2010), sold for more than $556,000 on 10 February 2015 at Sotheby's London. A few months later, it was Christie's turn to record a new high: nearly $840,000 on 16 October 2015 for a large canvas (Untitled (MV Landscape) that was shown at the Saatchi gallery in London during the exhibition Abstract America: New Painting and Sculpture in 2009. The artist has since participated in the group exhibitions Human Interest: Portraits from the Whitney's Collection at the Whitney Museum in New York (2016) and One Day at a Time: Manny Farber and Termite Art at the MOCA in Los Angeles. He also had a first major museum retrospective at the Dallas Museum of Art (DMA, 2019), which presented him as "one of the most influential and exciting artists of our time". His prices could rise further, depending on the quality of his upcoming exhibitions.
But while some artists enjoy superbly positive career developments, others suffer from exceptionally volatile demand.
Zombies and Sharks
As with all volatile markets, some people have made careers out of exploiting the possible gains, and a small number of clever business people have managed to accelerate the price growth of certain young artists to very high levels… very quickly. Naturally such cases are difficult to identify clearly as they involve power and networks, unconventional practices (if not illicit) and a fuzzy number of beneficiaries, but suffice to say that the soaring prices of very young artists are often indicative of the excesses of a market polluted by speculation.
Stefan Simchowitz – dubbed "the contemporary art shark" (in Le Monde of 9 June 2015) – is now on the blacklist of several galleries who refuse to sell him works. This collector-advisor-dealer has certainly played an active role in the careers of dozens of artists, but his methods do not appeal to everyone. The press call him a "predator", a "cynic", a "speculator", accusing him of buying at a low price and reselling quickly, making as much profit as possible by treating artworks as merchandise… accusations which the man defends himself against, insisting on his role as a patron of the arts. On the other hand, his clients see him as a genius of capitalist opportunism.
In any case, he has played an active role in escalating the prices of several artists, starting with buying and selling dozens of works by Sterling RUBY, Joe BRADLEY, Tauba AUERBACH, Cory ARCANGEL and Oscar MURILLO in the mid-2000s, works valued between approximately $5,000 and $10,000 at the time. Today, Tauba Auerbach has become one of the secondary market's most sought-after and profitable thirty-year olds; Sterling Ruby has exceeded $1 million several times at auction (2013-2014), Joe Bradley seven times (2014-2017), and Oscar Murillo has been in auction orbit since joining the powerful David Zwirner Gallery. However, several artists have suffered from an accelerated resale of their works.
Turnover from sales of 'recent' works (< 5 years since creation)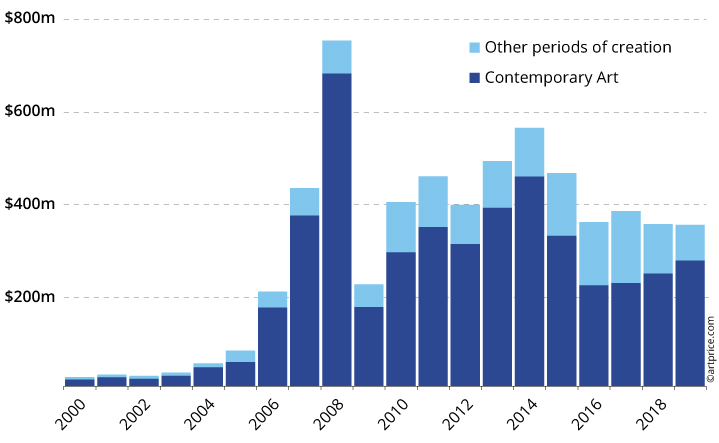 The Art Market increasingly absorbs 'recent' works, sometimes completed a few weeks before they appear at auction
Zombie Formalism
According to certain sources, Stefan Simchowitz is at the epicenter of the 2012-2014 speculative bubble that focused on young artists with an abstract style that became known as Zombie Formalism. This term, coined by art critic Walter Robinson, describes paintings that closely resemble the American abstraction championed by Clement Greenberg. The appellation is amusing, but not devoid of insight. The "zombie" element refers to a reincarnation of the somewhat forgotten (rejected) aesthetics of works by Pollock, Morris Louis and Frank Stella, etc., and "formalism" in reference to the attractive elegance of a reductivist (even essentialist) style of painting, but without any new artistic intentions… (see Robinson's article Flipping and the Rise of Zombie Formalism on Artspace, 3 April 2014). According to Robinson this Zombie Formalism could be applied to artists like Jacob Kassay, Alex Israel, Lucien Smith, Oscar Murillo and Seth PRICE, the latter reaching $785,000 at auction in 2014 (in his 41st year) for a work (Vintage Bomber (2006)) estimated between $50,000 and $70,000 at Christie's New York. Seth Price has never returned to such high prices. Another example is the Brazilian artist Christian ROSA, who reached $209,000 in 2014 (he was 32 at the time) for a work carrying a high estimate of $80,000 (Christie's New York). Their prices have since returned to normal, with equivalent paintings selling for around $20,000.
Who cares? you might say… Indeed… but the truth is that market distortions of this kind damage market confidence: so-called "new" trends in abstract art pumped by investors trying to make quick bucks is not good for the Art Market as whole. Indeed, after a period of overheating, prices hit a critical point, the market imploded, and a young meteor's results collapsed in 2016… as quickly as they had soared. For those artists who have not yet acquired the support of powerful and committed galleries, it is hard to recover from such volatility.
Turnover meltdown of 'Zombie Formalism' artists between 2014 and 2016:
Dan COLEN ↘ -97%
Lucien SMITH ↘ -95%
Alex ISRAEL ↘ -94%
Jacob KASSAY ↘ -89%
Oscar MURILLO ↘ -85%
Christian ROSA ↘ -82%
The new African fashion
A year before the collapse of the 'zombies', Simchowitz had already turned to what was to become the next big trend: the young African scene. In 2015, he bought works by Tschabalala SELF (born in 1990) for $6,000 each. In 2019, he went through Phillips to sell three of her paintings: the canvas Lilith doubled its high estimate in March ($164,000); Leda quadrupled its high estimate in June ($301,000) and in October her Florida fetched $338,000 at 4.5 times its high estimate.
The speculative game seemed to be back in the marketplace… and it was confirmed at the start of 2020 with the reactions to the auction result hammered for Amoako BOAFO  (born 1984). In February 2020, his canvas The Lemon Bathing Suit – completed by the young Ghanaian artist eight months earlier – fetched $881,000 at Phillips in London. An astonishing result given the estimated range of $39,000 – $65,000, and, above all, considering it was Boafo's auction debut. Stefan Simchowitz had acquired the work for a little less than $25,000 the previous summer from the Jeffrey Deitch gallery (the work was consigned to Phillips by the Roberts Projects gallery). The financial gain on the work was around $680,000 in less than a year.
This rapid resale, for a huge profit, seems to have embarrassed gallery owner Jeffrey Deitch who was not expecting this stab in the back, having sold the work thinking it was joining an important private collection of Contemporary African art, and that it would remain there. Amoako Boafo was equally embarrassed, deploring that his work should be diverted for speculative purposes. Artists have no control over the secondary market and Boafo has not made any direct profit from the resale of his painting. On the contrary, he has expressed concern that his work has been exploited in this manner. Being more attached to the reputational longevity afforded by institutional exposure than to money, Boafo naturally prefers to see his work in museums rather than as objects of speculation (Hot New Artist Laments That His Work Is Being Flipped for Profit, Katya Kazakina for Bloomberg, 12 February 2020). Amoako Boafo believes in the intangible value of his work, that which reveals itself over time, after the 'cultural authorities' have pronounced their critical verdicts and confirmed their validation.
For Stefan Simchowitz, everything is linked, with the museums and the financial powers both supporting the market. He repeatedly highlights the "hypocrisy" of his detractors and seems to enjoy the somewhat diabolical image he has acquired. In a way, this new-generation influencer seems to have taken over from Charles Saatchi who created the movement (and the market for) the Young British Artists in the 1990s.
Top 10 works by artists under 35 (2000-2019)
Hi-lite and Street culture
In November 2019, Christie's hosted a sale in Hong Kong it called "Hi-Lite". With just 16 lots, the sale successfully captured one of the major trends animating the Art Market: a neo-pop aesthetic of uninhibited kitsch, led by artists whose works are 'light' ('lite'), as in, easy to understand and enjoy.
Christie's catalog for the sale brought together works by artists "whose neo-pop aesthetic and connection to commercial art, cartoons and street culture have gained them a global cult following. Many of the pieces selected for this sale employ a similar visual style featuring bold flattened forms, bright colors and clean lines, referencing images appropriated from popular media and fashion, music, graffiti and animation."
First observation… the Hi-Lite movement has no geographic borders; it's a cosmopolitan trend bringing together the Japanese artists Ayako ROKKAKU, Aya TAKANO, MR, MADSAKI, Osamu TEZUKA, the Europeans Erik Parker and Nicolas Party, Chinese stars like LIU Ye, and Americans, including Kaws. It's a global dynamic in which Hong Kong has played a leading role in terms of valuation. The trend clearly resonates with Asian buyers and the 16 lots in Christie's sale all reached their estimates… and most went beyond. Exceptionally popular with a very broad audience, Hi-lite and Street Culture artists perfectly illustrate the globalization of the Art Market.
Christie's Hi-lite session in Hong Kong put a name to one of the first great movements of the 21st century.
At its core, the movement has essentially three signatures… three of the most successful artists of the secondary market: Kaws, Takashi Murakami and Yoshitomo Nara. All three have enjoyed exceptional value accretion over the past ten years, driven by impressively high-profile public popularity and global demand. Contrary to what one might think, the best auction market performer of the three is not Murakami, but NARA. In 20 years, his works have generated $327.7 million giving him 9th position in the global ranking, ahead of Keith HARING (Murakami is 15th).
In October 2019, Nara set a stunning new auction record during a Contemporary Art sale organized by Sotheby's in Hong Kong. Eleven years after crossing the million-dollar threshold for the first time (Light my Fire (2001) fetched $1.1 million in 2008), one of his paintings (Knife Behind Back, 2000) sold for nearly $25 million. Since 2008, Nara's manga-punk universe has become cult… won awards… been exhibited in major museums, is supported by the Marianne Boesky gallery in New York and by Blum & Poe in Los Angeles, is distributed through goodies. He has sold more than 2,700 works at auction in 20 years and his price index has increased by around +1,000% over the same period.
Kawsmania
In terms of speed, the current valuation of American "Street artist" KAWS was built even faster than Nara's, and it all happened during the last decade. The new darling of the Art Market worked for 11 years with Emmanuel Perrotin who seems gifted at anticipating cultural phenomena. The French gallery exhibited Kaws for the first time in 2008, the year of his auction debut. At the time, the artist's top price was $8,750 for a Companion (his favorite character) measuring about 120 cm and produced in an edition of 100. The same piece today would cost around $100,000.
Emmanuel Perrotin exhibited Kaws everywhere: Paris, Tokyo, Hong Kong, Seoul, Shanghai, New York … And Kaws made himself famous by collaborating with Kanye West, Dior, Nike, Sesame Street and Uniqlo. In a few years, he had become the new phenomenon of pop and urban culture, worn by stars like Justin Bieber and Pharrell Williams, who give him superb publicity.
Kaws has reshaped how we interact with the art world.
Kaws set his current auction record on 1 April 2019 at Sotheby's in Hong Kong. The work in question, The Kaws Album (2005), appropriates both the Simpsons and the Beatles and its final price illustrates the frenzy surrounding this hyper-popular signature. Estimated at $1 million, the painting sold for almost 15 times that price at $14.8 million. Of course, the work was consigned for sale at a particularly perfect moment, the artist having ensured an unprecedented buzz by floating a giant inflatable sculpture more than 30 meters long in the port of Hong Kong during Art Basel Hong Kong. Two weeks later in New York, an acrylic painting titled The Walk Home and inspired by 'SpongeBob SquarePants' sold for $5.95 million against a high estimate of $800,000 (Phillips). With around 20 of his works fetching beyond the million-dollar threshold in 2019 alone and a total turnover of $165.7 million since his auction debut, Kaws is among the top 20 most successful Contemporaries in the world. Sought-after from Asia to the United States, Kaws embodies the dominant neo-pop aesthetic of the globalized Art Market.
Collected by stars, followed by 3 million on Instagram (10 times more than Jeff Koons), Kaws has developed his own collaborations and his own network 'outside the box'. He has effectively reshaped the way we interact with the art world, or, at the very least, opened up a whole new set of channels. His astonishing career trajectory is now attracting the attention of artistic institutions. The National Gallery of Victoria in Melbourne recently dedicated a major retrospective to him (Companionship in the Age of Loneliness). Another is scheduled for 2021 at the Brooklyn Museum.