A new landscape
The arrival of new artists is linked to the market's geographic expansion.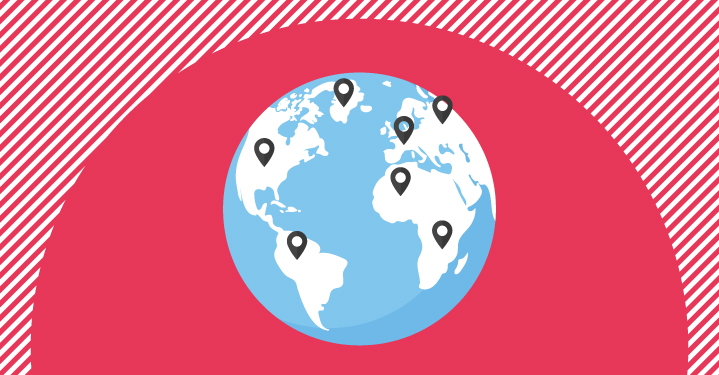 In the early 2000s, the Art Market industry set out to discover new scenes, new artists and new clients in Brazil, Russia, India, China and the Middle East (amongst others regions of the world). The initial reaction to these moves (primarily the major auction houses setting up new branches, either temporarily or permanently) was strong speculative buying in one country after another… until the markets in these areas reached a certain maturity. After the euphoria of discoveries resulting from a form of international "zapping", the auction operators started to work in a more reasonable and more inclusive manner. From the geographic expansion of the major auction houses there emerged a diversification of the contents of sales organized in Asia and the creation of a number of specialized departments dedicated to non-Western art in both London and New York. By going beyond its Western 'auto-focus', the Art Market has revealed artists who were still unknown 20 years ago.
In the early 2000s, Artprice listed 467 auction operators selling Contemporary Art around the world. Today there are 843. The number of players supplying the market has therefore almost doubled in 20 years. During this period, the principal British and American auction houses – Christie's, Sotheby's, Phillips and Bonhams – sought to extend their activities to new sources of growth, from Asia to the Middle East. One of the notable consequences of these moves has been the creation of an extremely dynamic global market for artists like Jean-Michel Basquiat, George Condo and Kaws.
The three main Anglo-Saxon auction houses continue to dominate the international Contemporary Art Market… on a global scale: Sotheby's with 30% of the segment's global turnover over 20 years), Christie's with 28% and Phillips with 11%. But one of the major differences with the early 2000s is that they are now followed in the ranking by seven Chinese auction operators, led by China Guardian and Poly International.
China was present for the first time at the Venice Biennale in 2005. Poly International was founded the same year. At the time, Chinese buyers arrived en masse on the Market and provided very strongly support for the works of their compatriots at auctions. However, they soon started to diversify their collections acquiring works by major Western signatures. Very quickly, China took the 3rd place in the global market (23% of global turnover), which it kept for three years before taking first place (between 2010 and 2014). In 20 years, the growth of Chinese turnover in the Contemporary Art segment has been phenomenal: multiplied by 65. Including Hong Kong (10%), China generated 33%($659 million) of the global market in 2019) versus 35% ($695 million) for the United States. Together, the two powers – China and the United States – generated 68% of the segment's total auction business.
2000 vs 2019: country performances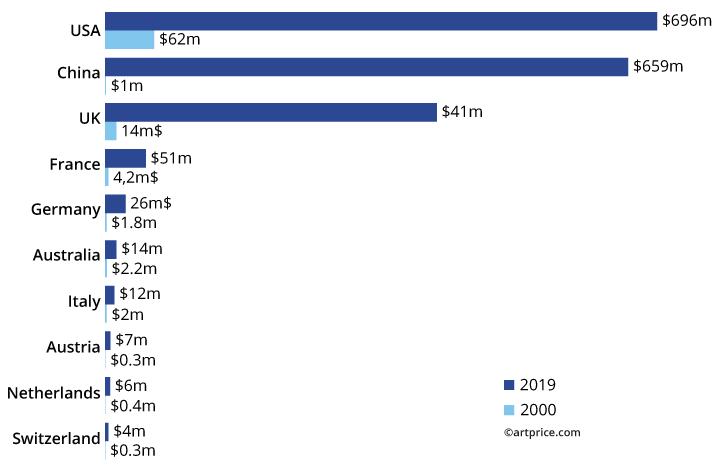 America's turnover has multiplied by more than 10. China's by 659…
Turnover growth in the market's principal countries since 2000.
USA: +1,023%
China (including Taiwan and Hong Kong) : +64,170%
United Kingdom: +2,870%
France: +1,107%
Germany: +1,300%
Australia: +537%
Italy: +488%
Belgium: +3,400%
Austria: +2,540%
Netherlands: +1,635%
Japan: absent in 2000. 6th in 2019 ($22.9 million annually)
South Africa: absent in 2000. 12th in 2019 (nearly $6 million annually)
Hong Kong
Hong Kong represents not only China but also India and the entire South-East Asia zone where many of the new collectors of the early twenty-first century are concentrated.
The peninsula has attracted leading Western galleries, major foreign auction companies and, from 2013, the famous Art Basel fair. Over time, the Hong Kong market has opened up to some of the charismatic signatures of Western art, notably thanks to Anglo-Saxon auction houses who have educated and advised local collectors. Over 20 years, several Western artists have ended up establishing themselves as regulars in the major Hong Kong sales. In 2019 new auction records were hammered in Hong Kong for the American artists Julie Mehretu ($5.6 million… more than doubling the high estimate for Black Ground (Deep Light), (2006)) and Kaws ($14.8 million for The Kaws Album (2005) versus a high estimate of $1 million). Yet a further strength of the major Hong Kong art sales, the mixture of Asian and Western signatures is also gaining ground in mainland China.
Top auction houses by turnover (2000-2019)
© artprice.com
Auction turnover
Lots sold
1
Christie's
30%
7%
2
Sotheby's
28%
5%
3
Phillips
11%
4%
4
Poly
5.5%
2.0%
5
China Guardian
3.3%
1.4%
6
Beijing Council
1.3%
0.4%
7
Beijing Hanhai
1.2%
1.0%
8
Ravenel
0.8%
0.5%
9
RomBon
0.9%
1.1%
10
Xiling Yinshe
0.6%
0.4%
11
Bonhams
0.6%
1.8%
12
Artcurial
0.6%
1.9%
13
Seoul Auction
0.6%
0.5%
14
Sungari
0.5%
0.4%
15
Nanjing Classic
0.4%
0.7%
16
Shanghai Hosane
0.4%
0.3%
17
Yubao Jiahe
0.3%
0.1%
18
Hangzhou Jiashi
0.3%
0.1%
19
Beijing Huachen
0.3%
0.3%
20
Zhong Cheng
0.3%
0.3%
21
Shanghai DuoYunXuan
0.3%
0.4%
22
Borobudur
0.2%
0.3%
23
A & F Auction
0.2%
0.1%
24
Beyaz Art
0.2%
0.7%
25
Grisebach
0.2%
0.7%
26
Beijing Jiuge
0.2%
0.2%
27
Beijing Tranthy
0.2%
0.2%
28
Holly
0.2%
0.2%
29
Beijing ChengXuan
0.2%
0.2%
30
Bukowskis
0.2%
0.9%
31
Dorotheum
0.2%
0.9%
32
Mainichi
0.2%
2.1%
33
Ketterer
0.2%
0.4%
34
Cornette de Saint-Cyr
0.2%
0.8%
35
Meeting Art
0.2%
3.3%
36
Shanghai Tianheng
0.2%
0.1%
37
Rongbaozhai
0.2%
0.2%
38
Guangzhou Huangma
0.2%
0.4%
39
Lempertz
0.2%
0.6%
40
Van Ham
0.2%
1.0%
41
SBI Art
0.2%
0.7%
42
K-Auction
0.2%
0.3%
43
Canton Treasure
0.2%
0.3%
44
Farsetti
0.2%
0.8%
45
Heritage
0.1%
1.0%
46
33 Auction
0.1%
0.3%
47
Stockholms Auktionsverk
0.1%
0.7%
48
Joe Jubilee Beijing
0.1%
0.0%
49
Menzies Art Brands
0.1%
0.2%
50
Tajan
0.1%
0.2%
Sotheby's, Christie's and Phillips are followed by seven Chinese companies
Shanghai
Once an eldorado for young Chinese artists who opened studios in huge wastelands, Shanghai has become a new destination for cultural tourism. China's financial center and by far the wealthiest city on the mainland, the Chinese government clearly decided to make culture one of the principal assets of the bustling megalopolis. In a context conducive to the development of artistic activities, private museums opened one after the other. Between 2014 and 2019, the number of museums more than doubled, from around 30 to over 70.
A new market landscape took shape.
In 2019, Contemporary Art enjoyed a particularly dense newsflow, starting with an important exhibition by Yayoi Kusama at the Fosun Foundation (All About Love Speaks Forever), a retrospective by Zhou Chunya at the Long Museum (the private museum of collector Wang Wei, whose two spaces total more than 40,000 m²), the inauguration of the Shanghai Pompidou Center open with a 5-years renewable lease (2019-2024 at the West Bund Art Museum), the opening of a 1,200 m² gallery by the French gallerist Emmanuel Perrotin (first exhibitions with Pierre Soulages and Jean-Michel Othoniel) and, lastly, the fifth edition of the West Bund Art & Design fair, bringing together some of the most powerful international galleries including Ben Brown fine arts, Sadie Coles, Gagosian, Hauser & Wirth, David Zwirner, Gladstone and the Marlborough.
In the auctions sphere, China Guardian organized its first sale in Shanghai in 1994 when the representative offices of Christie's and Sotheby's opened in the city. When it obtained its license to run auctions there (in 2013), Christie's mixed Western art with Asian art in line with the Hong Kong model. In October 2016, Christie's sold, for the first time in Shanghai, a work by KAWS – Untitled (2013) – for $248,640, and another by Olafur ELIASSON – Black Activity Sphere (2009) – for $17,600 alongside a number of unavoidable Chinese signatures including Zeng Fanzhi. The sale generated $8.3 million from just 14 works. In terms of annual turnover totals, Christie's Contemporary Art activity in Shanghai peaked in 2014 ($19.4 million), but has since contracted ($2.9 million in 2019) and been frozen until further notice.
Christie's auction turnover in Shanghai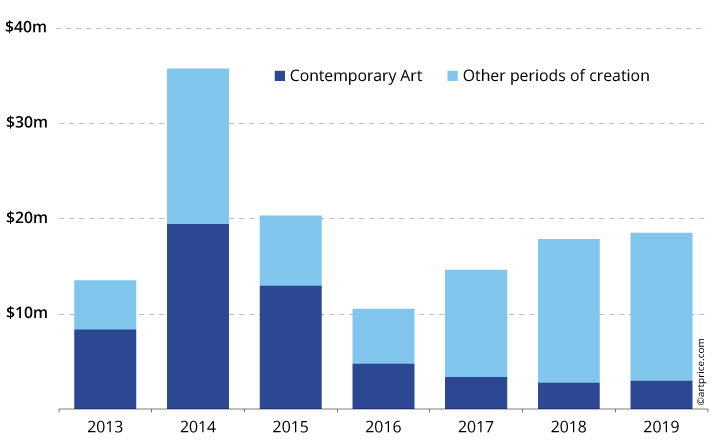 Contemporary Art sales are running out of steam after an activity peak in 2014.
From Dubai to Doha
In the early 2000s, Dubai and Abu Dhabi began investing colossal resources to become major cultural destinations. Art fairs were created (Art Dubai and Abu Dhabi Art Fair, both in 2007) in the slipstream of a number of major cultural projects. Abu Dhabi built its Louvre museum designed by Jean Nouvel, a Guggenheim museum designed by Frank Gehry, an art and design center designed by Zaha Hadid, and a maritime museum designed by Tadao Ando.
Dubai attracted Christie's in 2006. Bonhams followed in 2008, a prosperous year after which the city became the capital of the Middle Eastern Art Market. Contemporary Art sales experienced strong growth (+70% in 2008). Globally, the entire Qatar and United Arab Emirates area was experiencing a golden age in 2008, but the market quickly ran out of steam and several artists from the Middle East started showing serious price deflation. Najat MAKKI particularly illustrates the excesses of the Dubai Market in 2007: after selling his canvas What happens behind closed Doors for $52,000, five times the estimate, Christie's Dubai couldn't get more than $19,000 for the same work five years later (18 April 2012). The market appeared to have melted away and Bonhams completely stopped its auctions in the city in 2012.
At the time, it seemed better to focus on Doha, which is what Sotheby's did with a first sale in 2009. Doha, the capital of Qatar, had the Art Market on tenterhooks since its decision to build its new cultural identity. The Emirates became a major client of auction houses in its quest to build up the collections of its museums (there were around 20 museum projects of all kinds at the end of the 2000s). The Qatari royal family is credited with some of the most spectacular transactions of the 2000s. Their annual acquisition budget was said to have been close to a billion euros, dwarfing those of the largest New York museums (around three times the acquisition budget of the MoMA at the time). In addition to Modern and Post-War staples (including Roy Lichtenstein and Andy Warhol), Qatar was interested in the stars of Contemporary Art. An interest confirmed by major exhibitions inaugurated in Doha by Sheikha Al-Mayassa, including those of Louise Bourgeois (Conscious and Unconscious, 2012), Takashi Murakami (Murakami-Ego, 2012) and Damien Hirst (Relics, 2013 – 2014).
Auctions in the Arabian Peninsula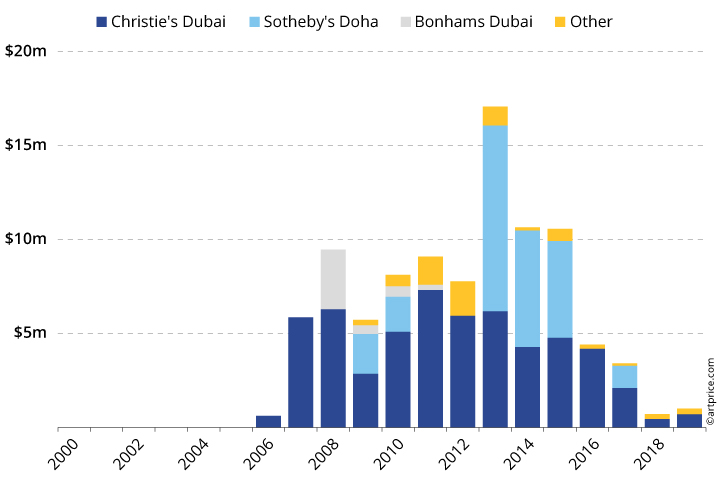 In Dubai, Bonhams sales lasted 4 years, compared with 9 years for Sotheby's.
During its inaugural sale in Doha in March 2009 ($4.3 million), Sotheby's tested Damien Hirst on the Qataris without much success: the three works on offer failed. Perhaps local buyers weren't ready yet? The Contemporary market was contracting notably under the influence of the subprime crisis and its consequences. Sotheby's continued to organize low-density sales, focusing on substantial diversity of nationalities with artists such as Dia Azzawi, Nabil Nahas, Wim Delvoye, El Anatsui, Rudolf Stingel and Christopher Wool. The company posted conclusive results by adapting to local cosmopolitanism. In April 2013, it took more than $15 million with a mixed sale of good quality. Some works could have been presented at a prestigious New York auction. A painting titled Rising Down (2008) by Julie MEHRETU sold for $3 million, an important work by Donald Judd sold for $3.5 million (Bernstein Bros. Inc. 90-01) and a monumental work by the Egyptian Chant AVEDISSIAN (Icons of the Nile) reached $1.5 million, the highest bid for a living Arab artist. In 2015, despite 11 records, turnover fell by half ($7.5 million from its sale on 21 April 2015). The activity continued to slow down in the following years and Sotheby's stopped its Doha sales in 2018, preferring to develop its department dedicated to the Middle East in London ("Contemporary Arab, Iranian & Turkish Art").
Top 15 Contemporary Chinese Artists (2000-2019)
Zeng Fanzhi, Zhang Xiaogang and Chen Yifei generated over $1 billion.
Chinese dream
In the mid-2000s: Beijing and Shanghai became the new "villages of the cultural industry", as expressed by the Chinese government. In a relatively short timespan a number of Chinese artists acquired a 'star' status and their high-profile success was celebrated throughout the realm.
The first sensational results at ten-times presale estimates were recorded in November 2005. Driven by incandescent national and international demand, the prices of Chinese Contemporary Art rocketed. In 2007 the principal object of China's Contemporary Art fervour, ZHANG Xiaogang, generated a higher annual turnover than Jeff Koons. In London, the same year, ZENG Fanzhi generated his first million-dollar result, multiplying the low estimate by eleven. Thereafter Fanzhi became the spearhead of Contemporary Chinese creation and the Chinese artist best placed to counter the performances of the most popular Western artists. Collectors and investors scrambled to obtain his works. In 2008 his diptych Mask series 1996 No.6 (1996) fetched $9.6 million, five times its mid-range estimate (Christie's Hong Kong). After 2010, Zeng Fanzhi was supported by a number of influential galleries including the Gagosian which gave him an exhibition in Hong Kong in 2011, and Hauser & Wirth which exhibited his work concomitantly in Hong Kong, Zurich and London in 2018. Between the two dates, China's leading Contemporary Artist was shown at the Museum of Modern Art of the City of Paris and at the Louvre (among other institutional venues).
Nationalities of the Top 1,000 Contemporary Artists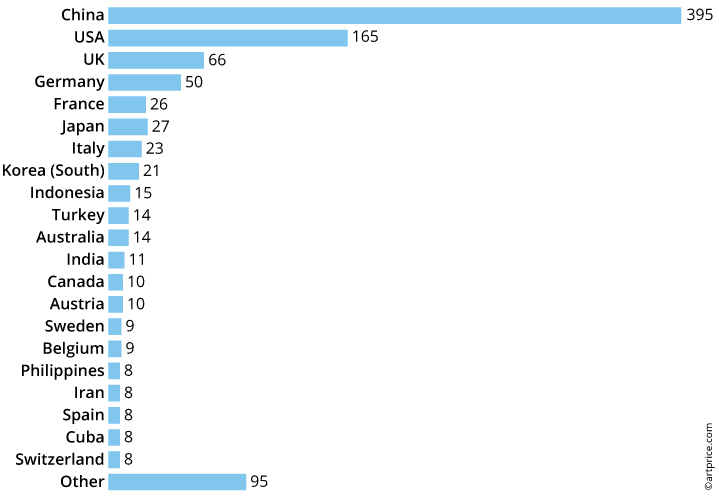 In 2008, a majority of the world's most expensive Contemporary Artists was Chinese
So… back to 2008, Chinese Contemporary Artists actually represented the largest group in the segment's top performers, and the country had caught up with the West in record time. After this highly prosperous period – sometimes excessive – some artists saw their prices crumble… but not Zeng Fanzhi, whose prices climbed even higher. Resold in 2017, his Mask Series 1996 No. 6  (1996) fetched $13.5 million at Poly Auction Hong Kong. Become almost an emblem of the success of Chinese art, it added $3.9 million to its first auction appearance in 2008, an increase of 40% in nine years.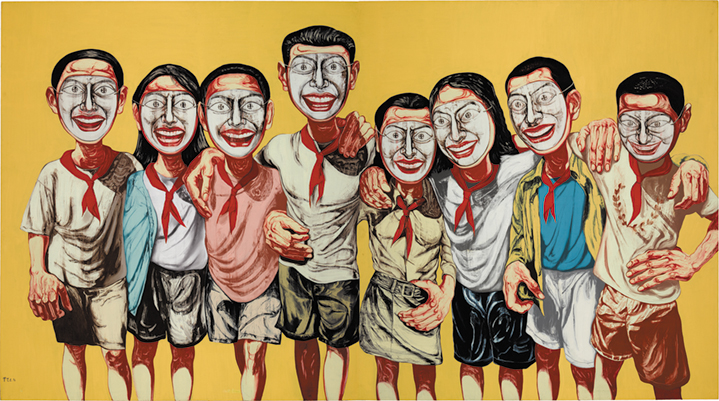 Zeng Fanzhi
Mask Series 1996 no. 6, 1996
Oil on canvas (diptych) 200 x 360 cm © 2020 Zeng Fanzhi, Courtesy The Fanzhi Foundation
Today – in terms of annual auction turnover – Zeng Fanzhi is 5th among international Contemporaries, behind Basquiat, Koons, Hirst and Wool. In 20 years, his works have generated $518.5 million at auction. He is also the leading Chinese artist of the 32 in our Top 100 ranking. Nowadays these 32 artists are fetching similar prices to the recognized stars of European and American Contemporary Art.
Moreover, this ratio – roughly a third of Chinese artists in the Top 100 – is even higher the Top 1,000, which today contains 395 Chinese versus 165 Americans. In other words, after 20 years of auctions, Chinese domination of the segment is overwhelming, and the results these artists fetch represent a major part of Chinese and non-Chinese auction turnover totals for the Contemporary Art segment as a whole.
Price index of Zeng Fanzhi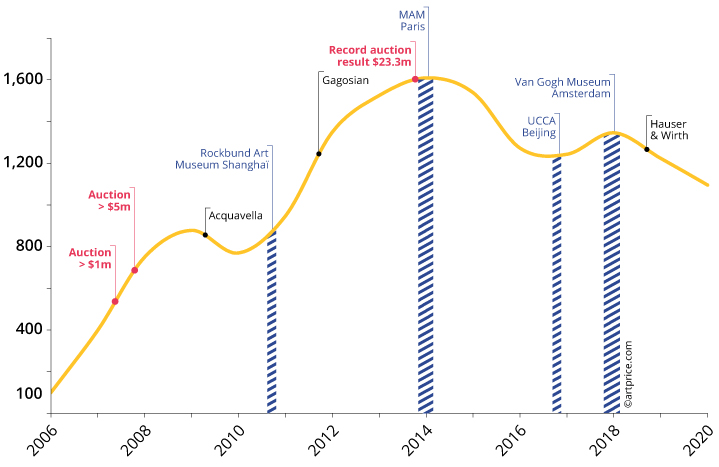 Zeng Fanzhi's prices jumped after his exhibition at the Gagosian gallery.