Post-War Art, the grand entry of the United States into Art History
(Post-War Art: artists born between 1920 and 1945)
In 2019, as in 2018, ZAO Wou-Ki (1921-2013) was the world's most successful Post-War artist. But the biggest price progressions in the Post-War classification were recorded by American painters, driven by strong demand on their domestic market. The list of Post-War American painters now selling within a price bracket reserved for the market's elite is getting longer. Indeed, the growing number of paintings that have sold above the $10 million threshold reflects the predominance of the United States in Art History since the end of World War II.
Top 10 records for Post-War artists in 2019
Artist
Artwork
Price ($)
Sale
1
Robert RAUSCHENBERG
Buffalo II (1964)
88,805,000
15 May Christie's New York
2
Ed RUSCHA
Hurting the Word Radio #2 (1964)
52,485,000
13 Nov. Christie's New York
3
Frank STELLA
Point of Pines (1959)
28,082,500
15 May Christie's New York
4
Brice MARDEN
Number Two (1983/84)
10,920,600
14 nov. Sotheby's New York
5
Ellsworth KELLY
Red Curve VII (1982)
9,809,000
13 Nov. Christie's New York
6
Wayne THIEBAUD
Encased Cakes (2011)
8,464,800
14 nov. Sotheby's New York
7
ZHOU Yansheng
Spring (2016)
8,141,700
11 Aug. Holly Int. Canton
8
Yayoi KUSAMA
Interminable Net #4  (1959)
7,953,200
1 Apr. Sotheby's Hong Kong
9
Alex KATZ
Blue Umbrella I (1972)
4,151,400
2 Oct. Phillips London
10
Ruth ASAWA
Untitled (S.387) (c.1955)
4,095,000
14 Nov. Christie's New York
© Artprice.com © AMMA
The American dream
In 2018, auctions bidding flared up for a whole 'family' of abstract expressionists: Willem de Kooning ($69 million), Robert Diebenkorn ($24 million), Joan Mitchell ($17 million), Arshile Gorky ($ 14 million), Robert Motherwell ($13 million), Helen Frankenthaler ($3 million), among others. In 2019, Philip GUSTON (1913-1980) and Lee KRASNER (1908-1984) also recorded new auction records at $26 million and $12 million respectively. But the trend now seems to be returning towards Pop Art… starting with the artist who makes the best connection with Abstract Expressionism, Robert RAUSCHENBERG (1925-2008).
In the 1960s, the USA asserted itself as the dominant power on planet Earth – and beyond – since the American flag was planted on the Moon in 1969. It was of course a period of unparalleled economic growth that Robert Rauschenberg celebrated with Buffalo II, a canvas-collage featuring a portrait of John F Kennedy, a bald eagle's head, images of space conquest and the Vietnam War… all together. Exhibited at the Venice Biennale in 1964 and sold the following year by Leo Castelli in New York, Buffalo II appeared for the first time on the auction market in 2019, two years after a Rauschenberg retrospective at the MoMA. On 15 May 2019, the work fetched the fifth best auction result ever hammered for an American artist, at $88.8 million.
Many great collectors grew up and prospered in post-war America. They made their fortunes in oil, media and transportation. How could they not be sensitive to the work by Ed RUSCHA (1937)  that elevates American culture to the rank of a symbol? Ruscha's paintings take 'things' as their subjects, but they symbolise and crystalise the American Dream: petrol pumps, billboards, cinemas, etc.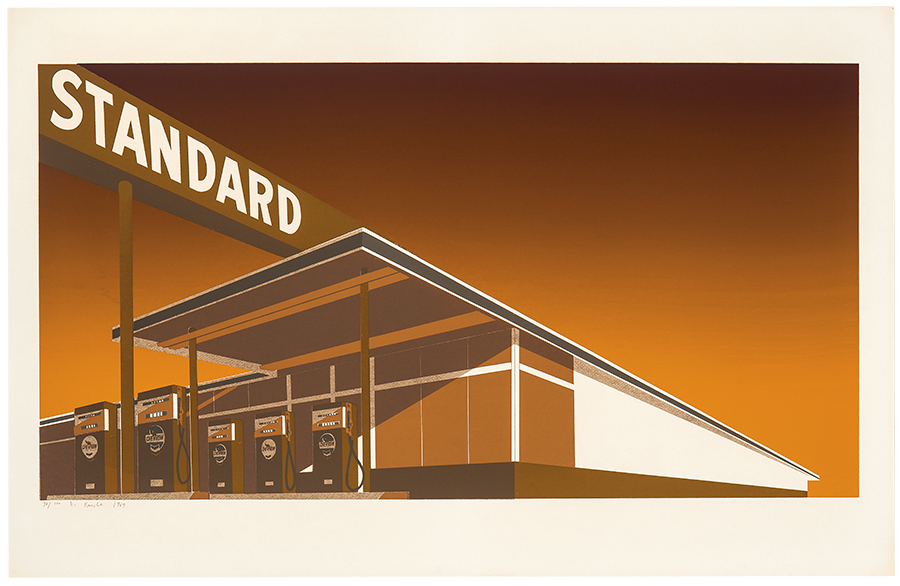 Ed Ruscha – Mocha Standard (1969) – Ed. 70/100
$168,750 – 17 February 2019 – Los Angeles Modern Auction
Ruscha's Hurting the Word Radio #2, which fetched $52 million on 13 November at Christie's in New York, concentrates all the characteristics of Pop Art: clean lines, flat areas of gleaming colour and a direct reference to popular culture. This aesthetic is one to which many 21st century artists are returning (see the HI-LITE movement in the Contemporary Art chapter).
Another particularly clear example of this trend is recent demand for works by Alex KATZ (1927), since his six best results were all recorded in 2019… for works produced in the 1970s and 80s. Dark Glasses is the only one of these six paintings that had already been auctioned. In November 1999, Sotheby's sold it for $85,000 in New York; 20 years later, the same auction house hammered it down for $1,220,000.
Price indices for Alex Katz and Tom Wesselmann – Base 100 January 2000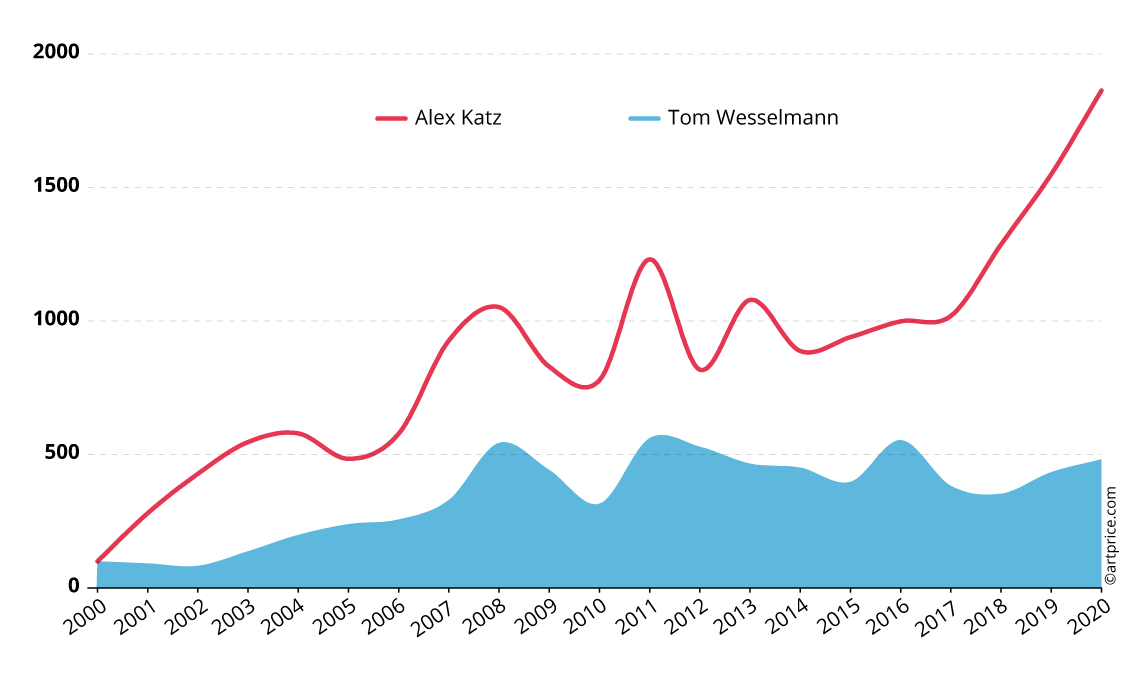 Minimalism, Land Art and Estates
Minimalism also appeared to be among major collectors' preferences in 2019. A square by Carl ANDRE (1935) sold for nearly $3 million and Kenneth Noland's « Blue » (1960) fetched $3.5 million. In addition, Ellsworth Kelly's Red Curve VII almost reached $10 million and Frank Stella's Point of Pines climbed to $28 million. In the light of the 2020 programming at a number of major museums, the trend will probably continue. In March 2020, the MoMA will open a Donald JUDD (1928-1994) retrospective and the Pompidou Center is hosting an exhibition dedicated to CHRISTO (1935) and Jeanne Claude.
Similarly, the growing number of foundations and parks dedicated to sculpture could give new visibility to movements like Land Art. Already, Larry Gagosian has taken a close interest in the work of two artists intimately linked to this movement, Michael HEIZER (1944) and Walter DE MARIA (1935-2013). In auction rooms, it is mainly preparatory drawings and prints that circulate, because Land Art is not easy to trade. However, works of Land Art are occasionally put up for sale, such as Robert Smithson's superb Double Nonsite, California and Nevada (1968-1969) last year. In 1998, the installation was sold for $266,500. It is now worth over $1.8 million.
In 2017, Adam Sheffer, President of the Art Dealers Association of America Foundation, told The Art Newspaper "Collectors and dealers are looking for works that have historic artistic merit and that have not yet reached their full potential on the market" . This phenomenon has become even more marked in the last two years and the competition has notably intensified between the galleries to represent artists from the Post-War period:
Hauser & Wirth: Günther Förg, Eva Hesse
Gagosian: Simon Hantaï, Tom Wesselmann, Franz West
David Zwirner: Diane Arbus, Joan Mitchell
Perrotin: Georges Mathieu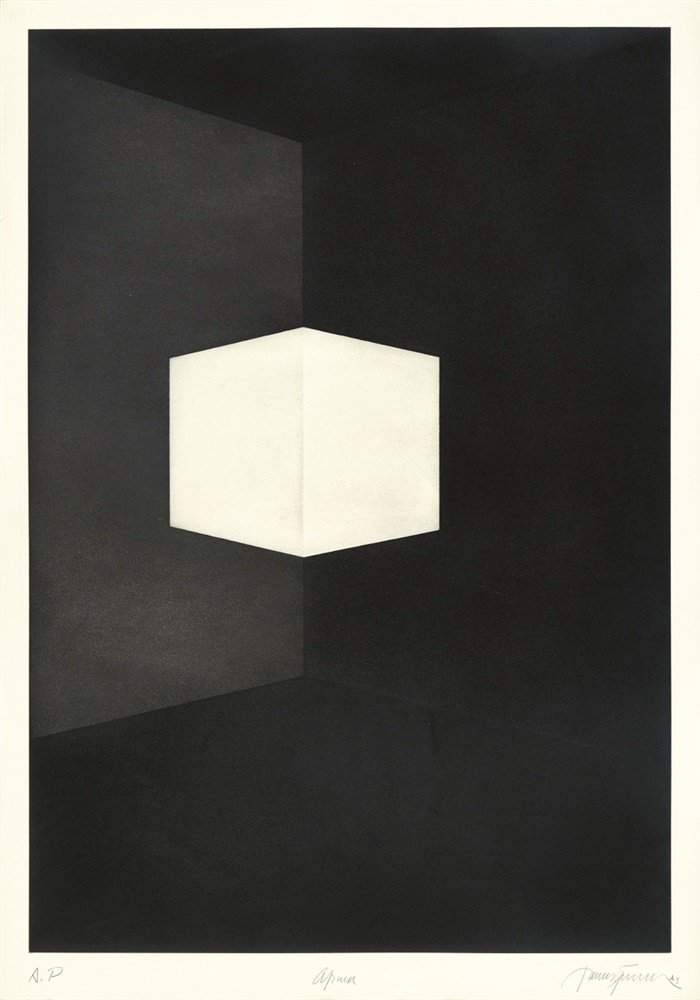 James Turrell – Afrum (from: First Light) (1989) – Ed. 30
$12,000 – 2 June 2019 – Lempertz
Asian fervor versus European constancy
With a total auction turnover of $232 million over twelve months, Zao Wou-Ki beat all the big names of the Post-War period, even the American superstar, Andy Warhol. The Sino-French painter ended 2019 in 3rd place in Artprice's annual auction turnover ranking (all periods combined) behind Picasso and Monet. The strength of his market relies first and foremost on the excellent buoyancy of Hong Kong, which accounted for 76% of his total turnover. While maintaining strong ties with France (9%), his market is now extending to mainland China (8%) and Taipei (6%), while London and New York account for less than 1%.
It was also Hong Kong that hammered a new record for Japanese artist Yayoi KUSAMA (1929) at just under $8 million for her Interminable Net #4  (1959). The 700 Kusama works sold last year – for an average price of $140,000 – make Kusama the most successful female artist in the world, all periods of creation combined. But Gerhard RICHTER (1932) and David HOCKNEY (1937) both generated over $130 million each and therefore remain the best-selling living artists in the art market. The former generated 25 results above $1 million and the latter 12, but with a peak at $49.5 million.
Geographical distribution of Yayoi Kusama's auction turnover in 2019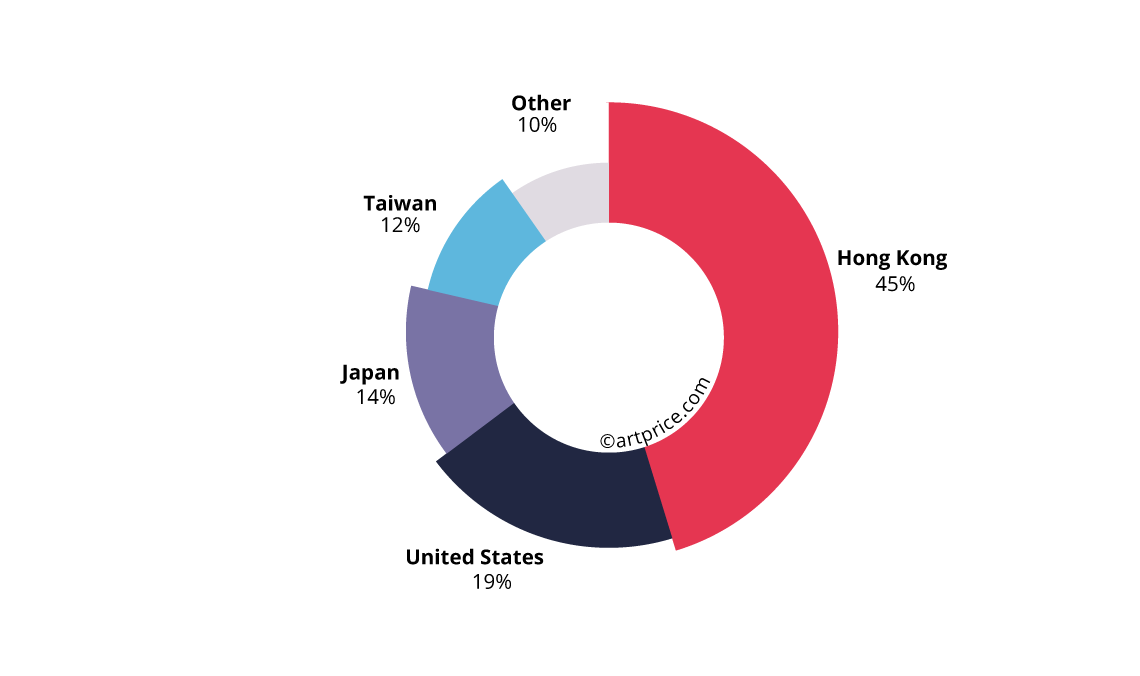 The prices of many European Post-War artists are continuing to rise, although they remain generally lower than those of their American counterparts.
In Austria and Germany, record auction turnover was recorded for Günther FÖRG (1952-2013) ($12.5 million), Imi KNOEBEL (1940) ($4.8 million), Arnulf RAINER (1929) ($3.3 million) and Hermann NITSCH (1938) ($1.9 million). In France, Sotheby's dispersion of the François-Xavier & Claude LALANNE (1956) Collection totalled more than $100 million and three Camouflages paintings by Alain JACQUET (1939-2008) each fetched over $300,000 on 23 October in Paris.
However, French artist Daniel Buren saw his auction record extended in New York when his Peinture aux formes indéfinies (1966) fetched $2.2 million. This result shows that the New York marketplace plays a decisive role in the process of international recognition of Post-War and Contemporary artists, regardless of their origin.
Indice
Post-War Art, the grand entry of the United States into Art History