Chinese Oil Painting and Contemporary Art, the highest auction turnover ever
In 2019, Chinese Oil Painting and Contemporary Art confirmed the 2018 historic performance and even continued the growth, despite the decline of the overall Chinese Art Market. The Oil Painting and Contemporary Art sector accumulated more than 7,000 sold lots for $1.29 billion, up by +3.3%.
The Region of Hong Kong played an important role in this growth, where the Oil Painting and Contemporary Art market remains very strong, with 2,220 sold lots worth $819 million. This sector recorded a +9.9% increase despite the complex situation and the social unrest (the Region of Hong Kong recorded a -7.8% drop in the total auction turnover during the second half). Among the ten most expensive sold lots by Liu Ye, the most successful Chinese Contemporary artist in 2019, seven were hammered in the Region of Hong Kong.
Evolution of Chinese Oil Painting and Contemporary Art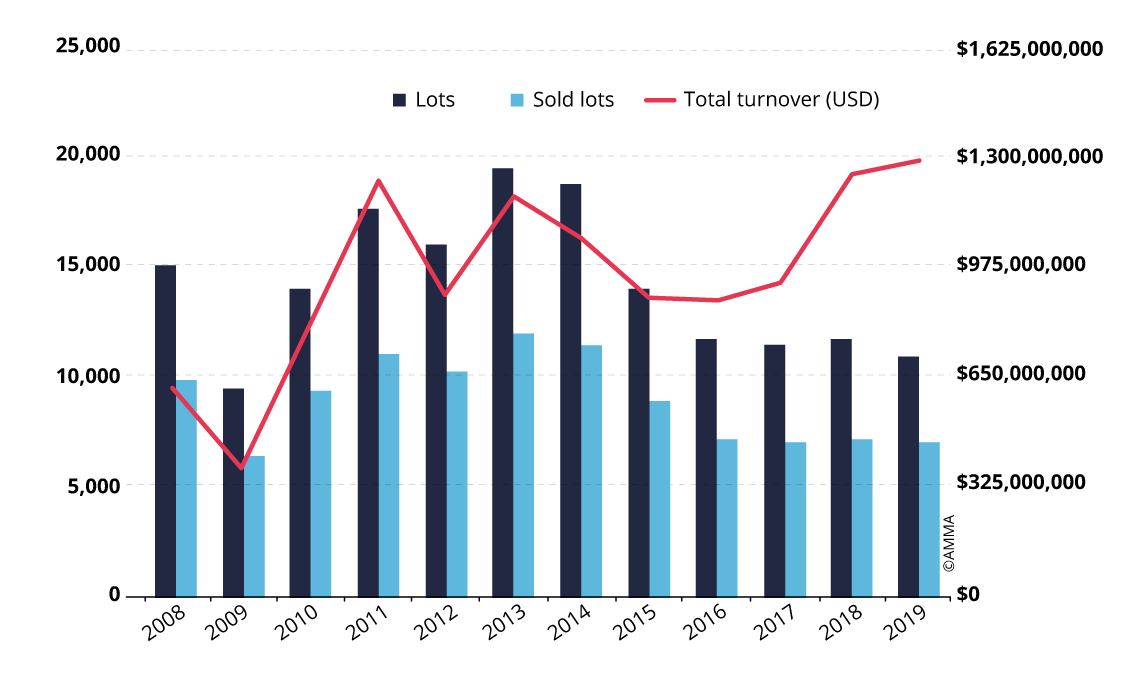 In Mainland China, Oil Painting and Contemporary Art sold for a total of $394 million. It decreased by -9.4% and have enlarged a little bit more the gap with the same sector in the Region of Hong Kong. In addition, the most popular artists as well as the aesthetic tastes are very different in Mainland China and in the Region of Hong Kong. Recent auction results show that the Region of Hong Kong is more and more emerging as a "international" capital on the Art Market, with artworks from all over Asia and even from the rest the world, while Mainland China is building a more "local" Art Market, with Chinese artists.
Auction turnover in China's main regions for Oil Painting and Contemporary Art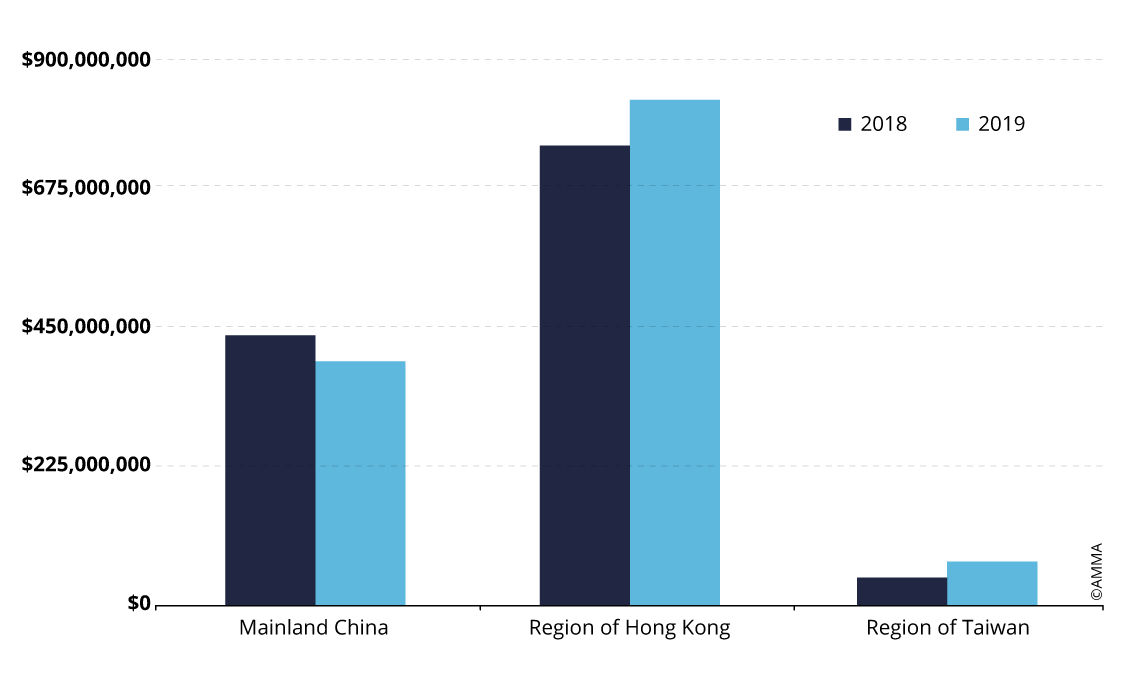 Among the 100 most expensive 20th Century Oil Paintings artworks sold in 2019, Zao Wou-Ki has 17 paintings in the list, seven of which exceeded $10 million. San Yu has also seven of his works in the list, with three sold more than $10 million each. This includes Five nudes (五裸女) (1950') that sold for $38.85 million at Christie's autumn auction in the Region of Hong Kong. This sale not only set a new world auction record for San Yu, but it also became the second most expensive Oil Painting ever sold in Asia. This year, San Yu's works led the Chinese Oil Painting and Contemporary Art segment, which had been dominated by Zao Wou-Ki for the past few years.
Liu Ye is undoubtedly the best-selling Chinese Contemporary artist in 2019, with a sold rate as high as 94%. 51 of his artworks were auctioned and 48 of them sold for a total turnover of $47.4 million, a staggering year-on-year growth of +410%. In addition, Liu Ye recorded an impressive new auction record with his painting Smoke (2001-02) in October 2019. It sold for $6.6 million at Sotheby's in the Region of Hong Kong. Liu Ye's artworks have recently gained greater popularity, thanks to a combination of several factors, including academic recognition, greater visibility and the new success of pop culture. There is no doubt that Liu Ye also benefited from the prestigious name of the David Zwirner Gallery, which he joined in 2019.
Over the past two years, more international galleries have entered the Chinese Art Market and have been extensively working with Chinese Contemporary artists. In Spring 2019, for example, artists Jia Aili and Hao Liang both recorded a new auction record after joining the world renowned Gagosian Gallery. This particular art dealer has contributed to accelerate the process of internationalization of the Asian market. Today, China has few domestic galleries able to take part in the global Contemporary Art Market, that is the reason why Western super-galleries promoting Chinese contemporary artists become more and more usual. However, in order to benefit from the market growth driven by those super-galleries, Chinese artists have to create artworks in line with the contemporary aesthetic as well as have exhibition shows of greater academic value.
Indice
Chinese Oil Painting and Contemporary Art, the highest auction turnover ever