19th Century & Modern Art… few masterpieces
(19th Century & Modern Art: artists born from 1760 to 1920)
Masterpieces from the 19th century and the first half of the 20th century are increasingly rare commodities; but when the opportunity arises, collectors are willing to pay high prices to acquire them. Experiencing a clear imbalance between supply and demand, the lack of exceptional pieces by Picasso or Modigliani – the two signatures that fetched results above the $100 million in 2018 – had a generally dampening effect on sales. Only a painting by Claude MONET (1840-1926) crossed the $100 million threshold.
Top 10 artists of the 19th Century and Modern periods in 2019
Artist
Auction Revenue ($)
Sold Lots
Unsold Lots
1
Pablo PICASSO (1881-1973)
346,177,600
3,54
21%
2
Claude MONET (1840-1926)
298,413,400
36
8%
3
ZHANG Daqian (1899-1983)
177,808,500
511
29%
4
WU Guanzhong (1919-2010)
148,722,500
178
22%
5
QI Baishi (1864-1957)
129,751,600
416
28%
6
René MAGRITTE (1898-1967)
127,797,100
153
22%
7
Francis BACON (1909-1992)
115,322,600
127
22%
8
LI Keran (1907-1989)
112,135,100
176
29%
9
SAN Yu (1901-1966)
109,322,200
79
19%
10
Mark ROTHKO (1903-1970)
106,456,300
15
12%
© Artprice.com © AMMA
The market therefore turned to other signatures capable of impacting the results of an entire season. In Paris, this was the case of an important painting by Nicolas De Staël entitled Parc des Princes (Les grands footballeurs) which sold for more than $22 million, generating almost half of Christie's turnover from its Paris sale on 17 October dedicated to the Parisian avant-garde.
Meanwhile the shortage of emblematic works had a negative impact on New York's performances at the end of the year and their November sales of 19th Century and Modern Art generated almost a third less (-38 %) than their equivalent sales in November 2018 ($842 million versus $1.37 billion). Christie's Impressionist & Modern Art sale on 11 November 2019 took just $192 million, whereas the same session a year earlier had taken a total of $279 million. The lower totals did not however indicate a sluggish market, since the sold rate was 90%. Ultimately, the results were in line with the quality of the works offered.
The pillars of Western art
The 'father' of Modern Art, Paul Cézanne, the 'inventor' of abstraction Wassily Kandinsky, the Surrealist master, René Magritte, or even the leading Futurist, Umberto Boccioni, were just some of the key figures in Western art who scored excellent results in 2019, generating substantial capital gains and setting new records, but also reflecting a growing interest in works that are considered "late" …
In the absence of masterpieces from the Blue, Pink, Cubist or 1930s periods, later works by Pablo PICASSO (1881-1973) elicited considerable interest from collectors. Sotheby's benefited from this with the sale of Femme au chien, a portrait of Jacqueline Roque, painted in 1962. The work doubled its low estimate to reach $55 million, a record for a 1960s Picasso, but a natural evolution for the world most in-demand artist (with 3,200 lots sold in 2019).
Over the long term, the value accretion of Pablo Picasso's work has been exceptionally solid. The price of his Femme dans un fauteuil (Françoise) rose by $10 million between 2000 ($3.3 million) and 2019 ($13.3 million). Likewise regarding Paul CÉZANNE (1839-1906) whose canvas Kettle and fruit (1888-1890) doubled in value in just 20 years, from $29 million in 1999 to $59 million last year.
The best art auction result of the year rewarded an Impressionist painting by Claude Monet which sold for $111 million at Sotheby's in New York.  Since its last appearance at auction in 1986 (when it fetched $2.5 million) the superb Meules painting (dated 1890) multiplied in value by no less than 44 times. The result was not only a record for Monet, it was a new record for the entire Impressionist movement and represented the 10th best art auction result of all time. The sale crowned an extremely dynamic market in 2019, with a particularly low unsold rate: less than one in ten works by Claude Monet remained unsold. The low end of his market exchanges drawings for around $20,000.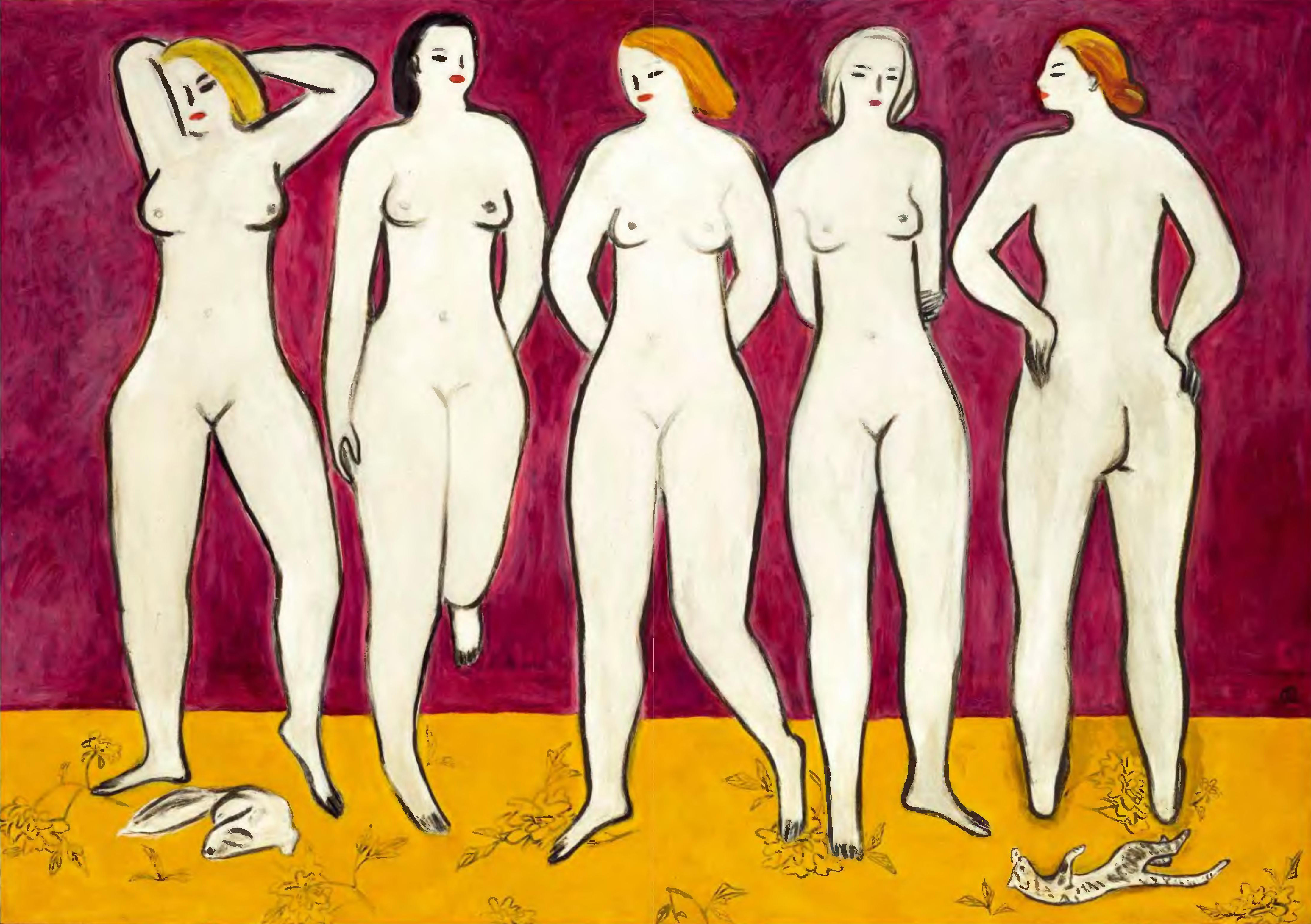 Sanyu – Five Nudes (五裸女) (1950)
$16.5 million – 30 May 2011 – Ravenel
Strong demand for iconic works
BALTHUS (1908-2001) doubled his auction record when one of his most famous paintings, Thérèse sur une banquette (1939), sold for $19 million at Christie's in May. For the second consecutive year, Umberto BOCCIONI (1882-1916) ranked among the top 200 artists thanks to a new record at $16 million for the most emblematic futuristic sculpture ever created… Forme uniche della continuità nello spazio (Unique Forms of Continuity in Space)《空间中连续性的唯一形体》. Numerous bidders competed to acquire this rare and prestigious work, editions of which are owned by the MET, the MoMA and the Tate.
In November, one of René MAGRITTE (1898-1967)'s most famous paintings – and by extension one of the most famous paintings of the entire Surrealism movement – was offered at Christie's New York.  Representing a waning moon crescent hanging in a tree in the middle of the night, Le seize septembre (九月十六日) almost doubled its high estimate, fetching just under $20 million. It was the year's second best result for the Belgian painter whose works have enjoyed particularly strong demand (22 canvases, 26 drawings, 86 prints and 4 sculptures were sold in 2019) setting a new annual turnover record for the artist.
Annual evolution of René Magritte's auction turnover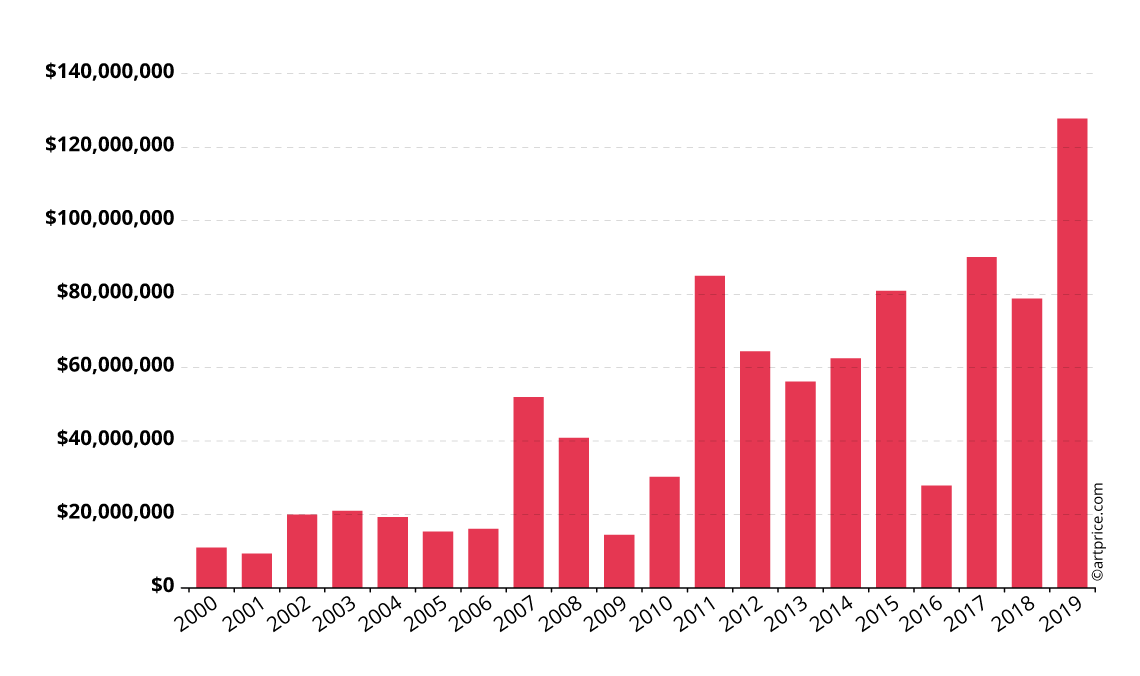 The Chinese avant-garde
The great figures of Chinese Modernity have been catching up with their European counterparts for ten years. Driven by an extremely robust domestic market, the two great masters Zhang Daqian ($154 million) and Wu Guanzhong ($ 141 million) rose to the global top 10 with auction totals that exceeded those of stars of the Anglo-Saxon market like Francis BACON (1909-1992) ($113 million) and Mark ROTHKO (1903-1970) ($106 million).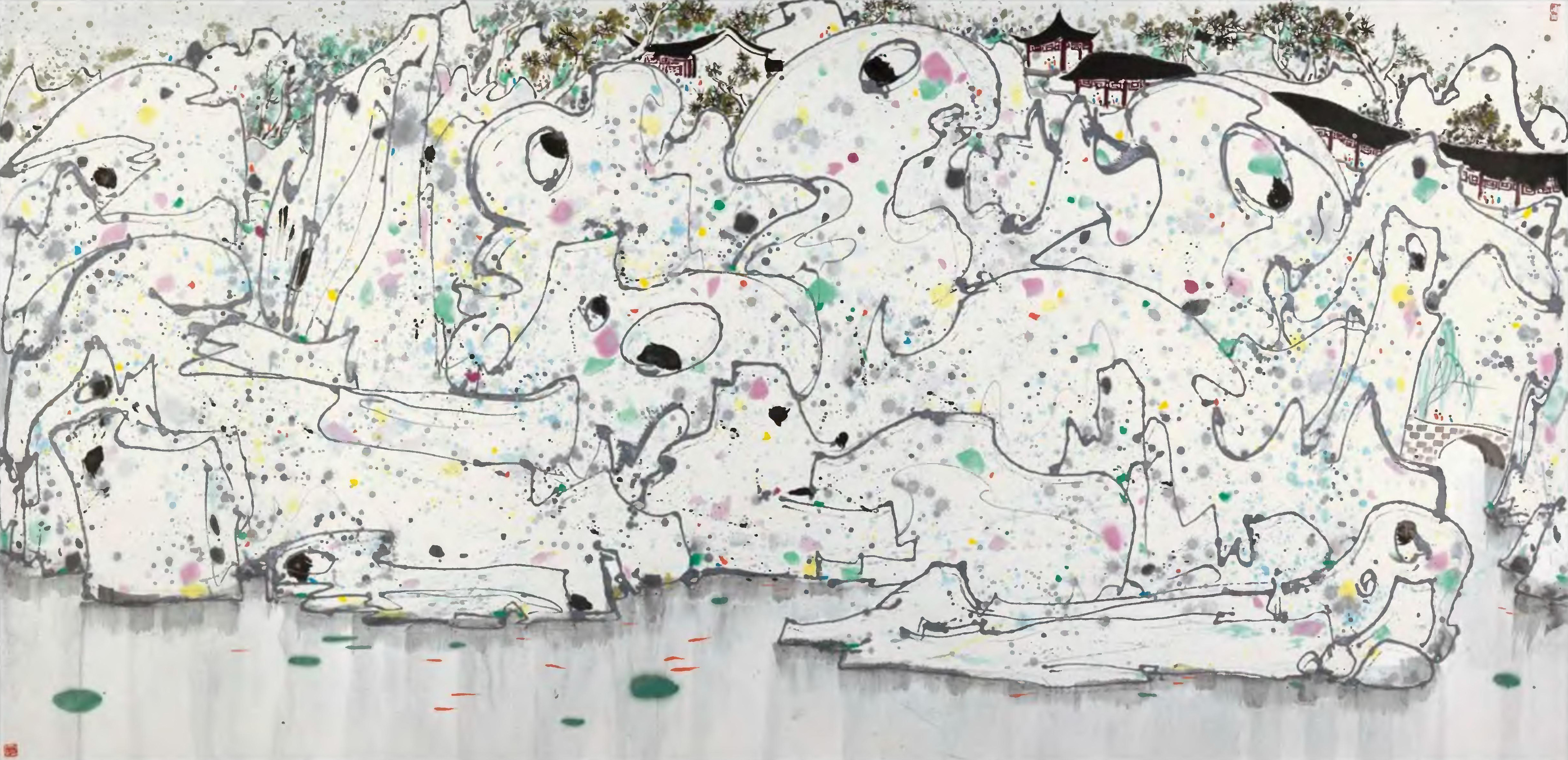 Wu Guanzhong  – Lion grove garden (狮子林)
$20.8 million – 2 June 2019 – China Guardian Beijing
In 2011, ZHANG Daqian (1899-1983) upset the global ranking of artists, dominated until then by Western names, by suddenly taking first place with turnover of over $550 million, an absolute record at that time. However, since then, the number of transactions on his work has been divided by three and his annual totals have substantially decreased. The artist that Picasso considered the best Chinese painter of his century arrived in fifth place this year, with 511 lots generating a total of $178 million.
Just behind him in the 2019 ranking is his compatriot WU Guanzhong (1919-2010) whose success on the secondary market illustrates the appetite of Asian collectors for artists who modernized Chinese painting. Wu Guanzhong produced innovative work at the crossroads of his own native traditions and the Impressionism he discovered in France. In 2011, when the Chinese art market was at its peak, his painting Lion grove garden (狮子林) was acquired for $18 million from Poly. It resold last year for $21 million at China Guardian,  proving that the artist's place among the global top 10 is firmly anchored.
The rise of the Chinese avant-garde was also visible with SAN Yu (1901-1966) who was also at the heart of what is now recognised as Modern art and who also fused Chinese and Western culture. Arriving in Paris aged 20, Sanyu remained in France more or less all his life  although his paintings sold poorly there. Nowadays, the "Chinese Matisse" fascinates the whole world. His remarkable Five Nudes (1950) attracted bidders from 50 countries and reached a superb result of $39 million. Since his death, Sanyu's works have been leaving France en masse for China Mainland, Hong Kong and Taïwan, which now accounts for 99% of his auction turnover. In 1966, Five Nudes was still in France and was sold at Drouot. However, in 1993, it was sold by Sotheby's in Taipei. It reappeared in 2011 at Ravenel in Hong Kong, which sold it for $16 million. Its value has more than doubled over the past eight years and French collectors are now struggling to get their hands on Sanyu works…
Geographical breakdown of Sanyu auction turnover in 2019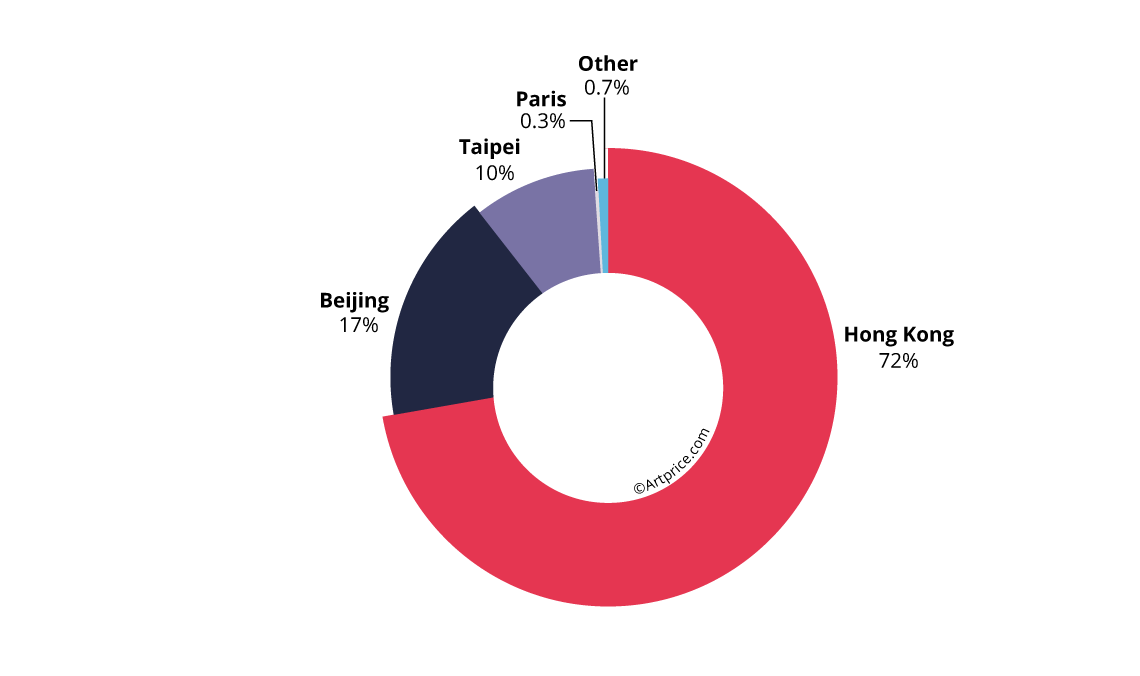 Indice
19th Century & Modern Art… few masterpieces