Trends in Contemporary Art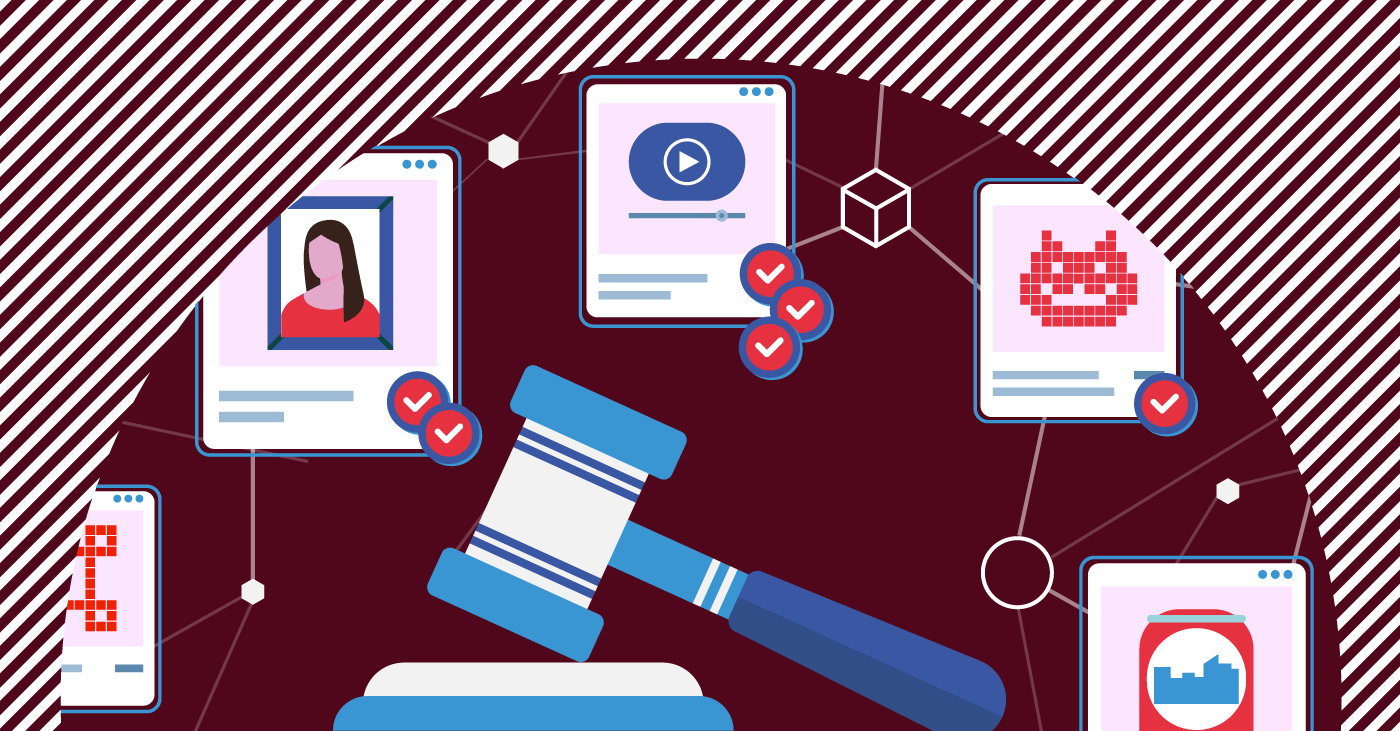 Among the strong trends driving the art auction market, we have seen demand growing for works in the veins of Naive art (Albert Willem, Scott Kahn, Robert Nava), Surrealist art (new records for Magritte, Max Ernst) and Post-Surrealist art (Anna Weyant, Jordi Ribes, Issy Wood, Emily Mae Smith, Ewa Juszkiewicz), but also for Ultra-Contemporary creation.
Galloping demand
At the beginning of autumn 2022, Artprice published a report on the Ultra-Contemporary Art Market that sought to explain and elucidate the mechanisms underlying the extraordinary valuations of works by artists still in their thirties, or younger. Our analysis showed that in just twenty years the number of under-40 artists selling at auction has quintupled, while the number of auction transactions on their works has multiplied by seven and the turnover they generate has multiplied by 26. In 2022, Ultra-Contemporary artists generated 2.7% of global Fine Art auction turnover (all periods combined) versus 0.5% in 2002, thanks to the extraordinary prices that some of them are already fetching. Indeed, in this age group (under 40) the level of auction records has rocketed since the beginning of the millennium: in 2000, the auction record for an artist under 40 peaked at $732,000 for a work by Jean-Michel Basquiat. Today, some young artists in their thirties are selling for three or even six million dollars per canvas: $3.6 million in March 2022 in the case of Flora YUKHNOVICH and $5.9 million in May for a work by Matthew WONG.
In the report, Artprice also shows that, in this Ultra-Contemporary segment, women artists are generally more successful and better valued (in auction terms) than men, which is a tremendous first in the history of auctions and perhaps signals a profound paradigm shift. But this conscious and engaged valorization of women artists is not alone; it is being accompanied by a generalized opening to art created by formerly marginalized communities. Indeed, a growing number of collectors are focusing their purchases on works by Indigenous, Black and People of Color (IPOC) and LGBTQ+ artists.
Auction turnover from Contemporary Art sales per city (2022)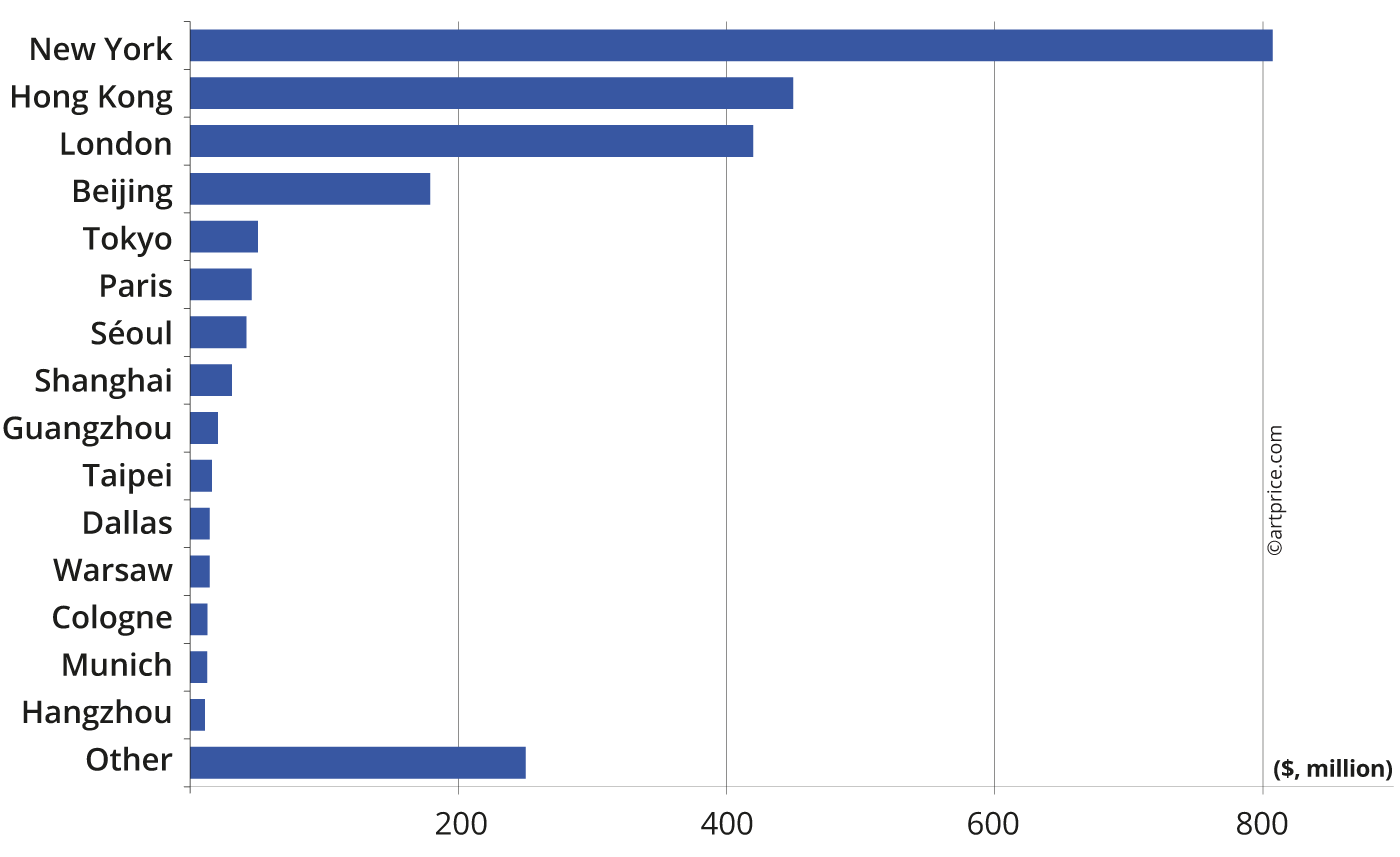 → Demand for Contemporary Art is rocketing in several Asian cities, starting with Hong Kong – whose results have exceeded London on this segment for two consecutive years – and then Beijing and Tokyo, where Sotheby's opened an office last year. Seoul is also experiencing strong growth in the Contemporary segment thanks to young, passionate collectors who are active in both the primary and secondary markets.
In this booming Contemporary Art market undergoing diversification, the most assertive trend in terms of transaction volumes remains Street art, whose popularity is continuing to grow and whose artists generate demand by producing highly affordable multiples which change hands frequently and enthusiastically at auction. Among the 10 Contemporary artists totaling the largest number of annual transactions, there are now some six creators affiliated with urban art: BRAINWASH and BRAIN ROY joining the already well-established KAWS, BANKSY, FAIREY and HARING.
Top 10 contemporary artists by number of lots sold at auction in 2022
Artist
Turnover
Lots Sold
Unsold
Record Price
1
Takashi MURAKAMI (b. 1962)
$19,144,503
1,352
231
$4,905,665
2
KAWS (b. 1974)
$15,306,750
1,335
476
$1,105,409
3
BANKSY (b. 1974)
$67,251,941
1,047
490
$6,509,407
4
Damien HIRST (b. 1965)
$43,730,289
969
311
$5,609,900
5
Shepard FAIREY (b. 1970)
$1,496,903
911
600
$735,000
6
Keith HARING (1958-1990)
$28,555,908
682
266
$5,820,000
7
David SHRIGLEY (b. 1968)
$1,328,330
671
262
$44,100
8
Yoshitomo NARA (b. 1959)
$98,232,634
485
118
$14,270,912
9
MR BRAINWASH (b. 1966)
$1,681,682
332
128
$400,000
10
BRAIN ROY (b. 1980)
$316,738
325
277
$3,702
© Artprice
Women artists attracting greater attention
In recent years, women artists, both past and present, have enjoyed much better visibility in art galleries and museums, and this greater visibility has directly enhanced interest and demand for their works on the art market. Their enhanced presence, with stronger support from galleries, has aroused growing interest among collectors. In 2022, several non-contemporary female artists moved substantially up the art market's price ladder: the auction record of American Impressionist Mary Cassatt was revised to nearly $7.5 million; works by Abstract artists Mary Heilman and Etel Adnan became increasingly sought-after and expensive; Elaine de Kooning crossed the million-dollar threshold for the first time; Louise Nevelson confirmed her newly hammered 7-digit price level with a second million-plus result and Elaine Sturtevant achieved her best-ever annual auction turnover ($7million).
Collectors are also remarkably enthusiastic for Contemporaries like Christine AY TJOE (1973), Katherine BERNHARDT (1975), Shara HUGHES (1981), María BERRÍO (1982) and even more so for other artists who have not yet reached their forties, like Christina QUARLES (1985), Danielle ORCHARD (1985), Cristina BANBAN (1987), Flora YUKHNOVICH (1990), Lucy BULL (1990), Lauren QUIN (1992), Issy WOOD (1993) and Anna WEYANT (1995). Far from being a brake on sales, their youth seems to act as a powerful stimulant, and their prices soared in 2022.
The NFT market matures with modesty
After the strong speculation and media frenzy of 2021, the extremely tense climate of 2022 has reinforced the distrust of traditional collectors vis-à-vis the disruptive NFT market. At the heart of this tension, the bear market in crypto assets – starting with Bitcoin losing 63% of its value in 2022 and Ethereum losing 82% since its all-time high in November 2021– significantly undermined the attractiveness of this market.
After the surge following its eruption into the world of regulated auctions in 2021, the NFT market has therefore completely cooled and its underperformance has been commensurate with the crypto-crash: from a staggering total of $232.7 million hammered in 2021, total auction turnover from art-NFTs fell to just $13.9 million in 2022 … a contraction of 94%.
Price levels have deeply eroded with only a single million-plus result in 2022 (hammered for a work by Refik ANADOL) compared with 25 hammered during 2021, including the initiatory and sensational $69.3 million for BEEPLE's Everydays: The first 5000 Days.
Top 10 artists by NFT auction turnover in 2022
Artist
Turnover
Lots Sold
Unsold
Record Price
1
Refik ANADOL (b. 1985)
$1,480,800
2
0
$1,380,000
2
Dmitri CHERNIAK (XX-XXI)
$882,000
1
4
$882,000
3
Robbie BARRAT (b. 1999)
$841,317
1
1
$841,317
4
WORLD OF WOMEN (2022)
$755,079
1
0
$755,079
5
Tyler HOBBS (XX-XXI)
$689,648
2
1
$362,048
6
TSAI Jacky (b. 1984)
$665,803
5
1
$321,025
7
XCOPY (1981)
$630,000
1
1
$630,000
8
PAK (XX-XXI)
$504,198
3
1
$252,000
9
SOPHIA (b. 2015)
$433,049
1
0
$433,049
10
Jia AILI & Raoul MARKS (XX-XXI)
$417,535
1
0
$417,535
© Artprice
Nevertheless, auction houses have noted a slight acceleration in transactions: 373 in 2022 compared with 284 in 2021, despite the major depression in cryptocurrencies. The market is above all less speculative: buyers have favored NFTs selling for under $5,000 (42% of transactions in the sector in 2022 versus only 8% in 2021) and have mostly ignored those valued at more than $100,000. Six-digit art-NFT results only represented 7.7% of transactions in 2022, compared with 36% in 2021. While prices have shrunk, players in this revolutionary market have remained mobilized. They are aware that interest in digital art and non-fungible tokens is only in its infancy, and that it takes patience to build the future on solid and healthy foundations.
Already, essential solutions for the future of NFTs are being implemented. First, the decarbonized protocol of the Ethereum blockchain since the operation The Merge in September 2022 allowing the transition from "Proof of Work" to "Proof of Stake". Instead of using tens of thousands of computers (miners) working at the same time to ensure the proper functioning of the network, it uses validators, chosen by a random selection process. This modification has drastically reduced the energy costs of Ethereum, by more than 99.9%.
In the context of the global energy crisis, this progress is considerable. It also removes a huge brake from the development of crypto-art and the market for artworks in the form of NFTs, which were singled out for their energy-intensive nature. In an interview published by Le Parisien, Joseph Lubin, co-creator of Ethereum, reported that "many digital artists and art collectors were reluctant to acquire digital works that involved burning so much fossil fuel to produce them."
In addition to the historic solution provided by Ethereum's The Merge operation, the company is aiming for further major improvements, notably via an operation baptized The Surge, an update aimed at streamlining transactions and reducing gas fees. Vitalik Buterin, Founder of Ethereum, wants to go from 15,000 to 100,000 transactions per second: a spectacular increase in power planned for deployment in the spring of 2023.
These leaps forward have started to create a new climate of trust, at a time when most major art institutions are already turning to NFTs. At the beginning of this year (2023) the Pompidou Center in Paris became the first French public institution to include NFTs in its collections and the MoMA has already set up a large fund to invest in art NFTs, thanks to the auction of masterpieces from the collection of William S. Paley at Sotheby's last September, generating a total of $84 million. The sale of major paintings by Pablo Picasso, Francis Bacon and Joan Miro enabled the MoMA to reach its initial objective of $70 million, part of which is reserved for the migration of its collections towards digital art in the form of NFTs. Indeed, as regards the future of NFTs, we can be sure that many other milestones will be passed this year.
Indice
Trends in Contemporary Art