Foreword by Thierry Ehrmann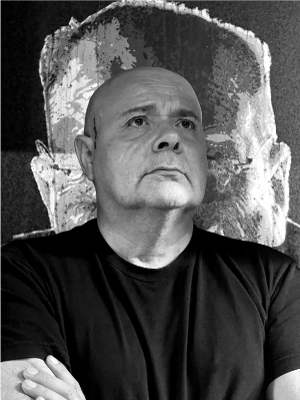 "The art market increasingly reflects the world we live in: a world evermore aware of the value of beauty and rarity, of things that may soon be gone forever and that we must constantly reinvent by creating new forms to enrich our souls."
Foreword by thierry Ehrmann, CEO of Artmarket.com and Founder of Artprice
This year, which marks its 25th anniversary – the equivalent of a century on the Internet – Artprice is particularly proud to publish the Global Art Market Report with its long-standing partner, Artron.
Our analysis – which has been ongoing for a quarter of a century – reveals a new phase of acceleration, driven by a growing number of collectors wishing to participate in the art market via exchanges that express an essential part of our humanity. This acceleration essentially stems from shorter holding periods, which return historic pieces to auction more frequently and hasten the arrival of new creations by young artists.
Thus, despite a 19% contraction of the S&P 500 index in 2022 and a generally precarious global context in terms of public health and energy costs, more than one million artworks appeared at auctions in 2022, of which almost two thirds (65%) found buyers. Among these, 56% sold for less than $1,000 (including fees) and these lots included a record number of prints and photographs, but also drawings and paintings at affordable prices.
Of course, 2022 was clearly marked by the six works that each fetched over $100 million at Christie's, setting a historic new record for the auction house and ensuring  New York's position as by far the strongest capital of the ultra high-end market. But, we have also seen the emergence of new market places all over the globe, from Seoul to Cape Town, via Sydney, Dallas and Tokyo. This Annual Report also highlights the evermore inclusive nature of the art market thanks to a belated but nevertheless growing recognition of women artists and a better representation of artists from all walks of life and all movements.
In this context, the NFT market epitomizes the value placed on art forms long neglected by collectors. Despite a temporary weakening of cryptocurrencies, a higher volume of NFT lots were exchanged at public auctions in 2022. Indeed, the year saw some significant technical improvements, in particular with Ethereum's The Merge operation. It has also enabled museum institutions to open their collections to this new medium of creation. The future of the NFT market obviously depends on its acceptance by a very large number of players.
Meanwhile as their supply thins, Modern and Post-War masterpieces are increasingly subject to economic and soft-power competition which allows auction houses to guarantee their best pieces at staggering prices. This mechanism somewhat blurs the balance between supply and demand, but it nevertheless allows the circulation of museum-quality pieces from the most prestigious collections.
Artprice is very enthusiastic about all the transformations we discuss in this report, which this year is compiled in collaboration with Artron in order to ensure even greater coverage of Fine Art and NFT auctions all over the world.
Indice
Foreword by Thierry Ehrmann