The pillars of the Western market
In 2022, Andy Warhol, Claude Monet and Pablo Picasso were the top-3 selling artists in the world with turnover totals of $590 million, $539 million and $494 million respectively. That's $1.6 billion in total, which represents one-tenth of the year's global art auction turnover. The performance of these three artists was based on the exceptional character of a small number of works that elicit the strongest acquisitive aspirations of the world's most powerful collectors.
Andy Warhol – the market's big leader
This year, two canvases by Andy WARHOL hit the headlines. His White Disaster (White Car Crash 19 Times), which passed through the Zurich gallery of Thomas Ammann at the end of the 1980s, sold for $85.3 million at Sotheby's, six months after the extraordinary record of $195 million obtained for his Shot sage blue Marilyn (1964) when the Ammann collection was dispersed at Christie's. Nearly half of Warhol's annual turnover total came from these two exceptional canvases among a total of over 2,000 lots by the artist (including many prints) that sold during the year.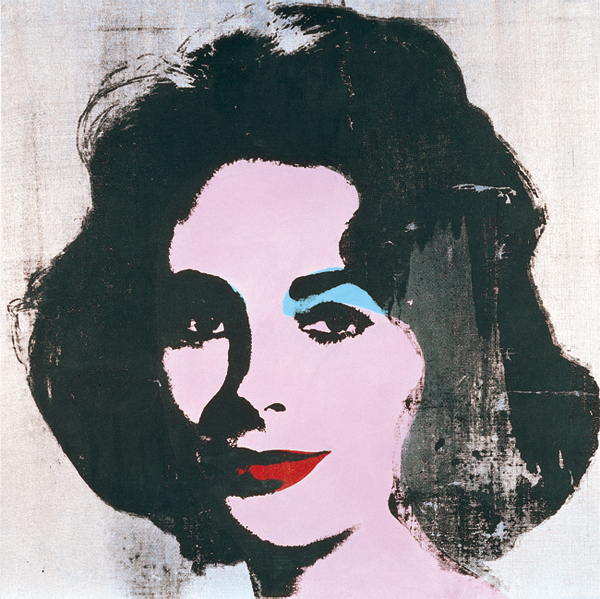 Andy WARHOL
(1928-1987). Synthetic polymer and screen printing inks on canvas, 101.6 x 101.6 cm
Silver Liz Ferus Type (1963)
$20.8 million on 30 March 2022 at Shinwa Auction Co. in Tokyo
→ Andy Warhol was the most successful artist of the year. Collected all over the world, this portrait of Liz Taylor rocked the Japanese market when it fetched $20.8 million at Shinwa Auction in March, a record price for any artwork ever sold on Japan's auction market.
Claude Monet – best-ever annual total
While Claude MONET's name regularly features among the top three annual auction performances, his presence has never been stronger than in 2022 with the market getting the opportunity to bid for all of the artist's major subjects and all of his major periods.  Indeed, for Monet enthusiasts, the offer was an extremely rare godsend with a total of 26 paintings including 14 absolutely major works arriving on the market via the dispersals of major American collections. Among these, there was Waterloo Bridge, soleil voilé (1899-1903) which fetched $56 million at the Paul G. Allen sale, and then three Monet masterpieces which sold for a total of $168 million (almost a third of the artist's 2022 turnover) in the Anne H. Bass sale: Le Parlement, soleil couchant (1900-1903) fetched $75.96 million; Peupliers au bord de l'Epte, automne (1891) fetched $36.4 million and his Nymphéas (1907) sold for $56.49 million. With an annual total of $539 million, 2022 was the French Impressionist's best-ever year on the auction market thanks to his exceptional popularity with major American collectors.
Pablo Picasso – a typical year with no particular surprises
Picasso was the number 1 artist on the auction market in 2021 with an auction turnover of $671 million from 3,452 lots sold. Although the number of transactions remained perfectly stable last year, his annual result fell sharply to $494 million. The reason: the number of works valued at over $10 million was halved versus the previous year. In 2022, a PICASSO work – Femme nue couchée (1932), depicting his lover and muse Marie-Thérèse Walter – nevertheless generated the year's third best result for a work of Modern art (behind works by Klimt and Magritte) when it sold for $67.5 million in May at Sotheby's.
Artists' Podium by Annual Auction Revenue in 2022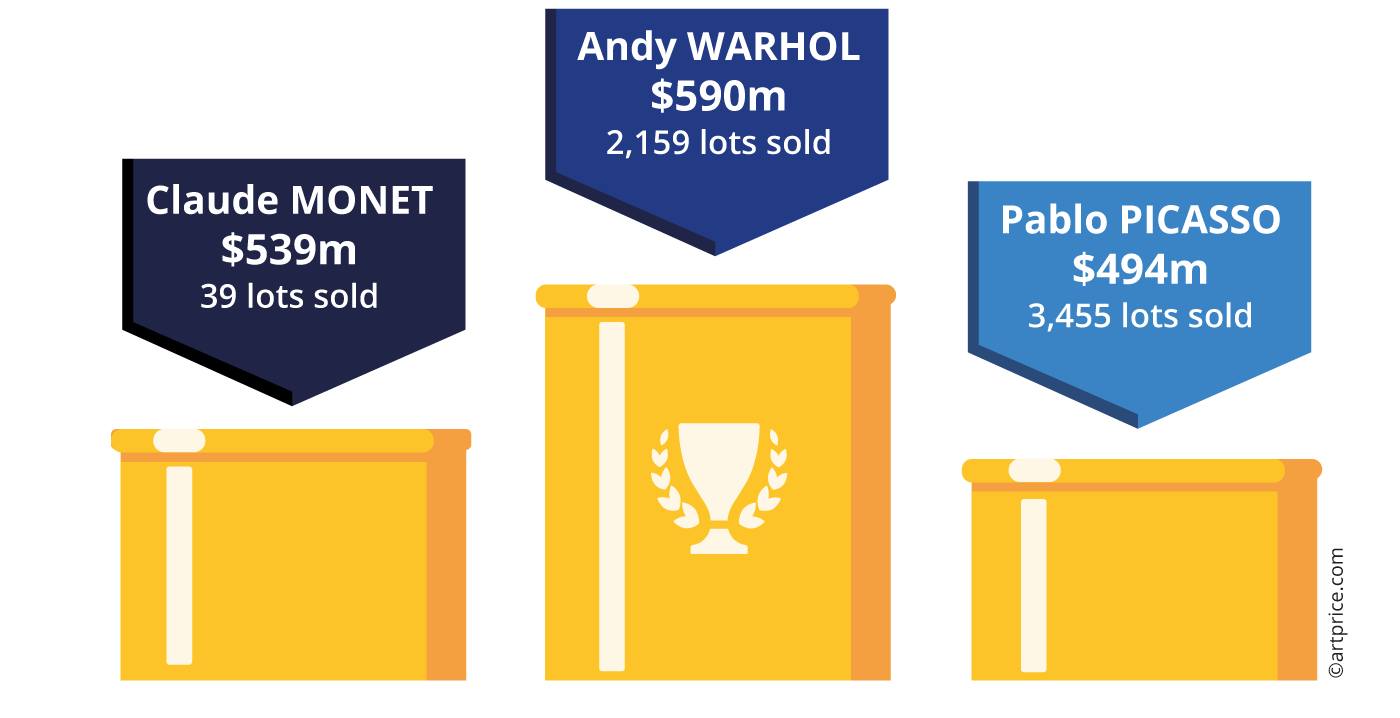 Indice
The pillars of the Western market