Notable developments in Asia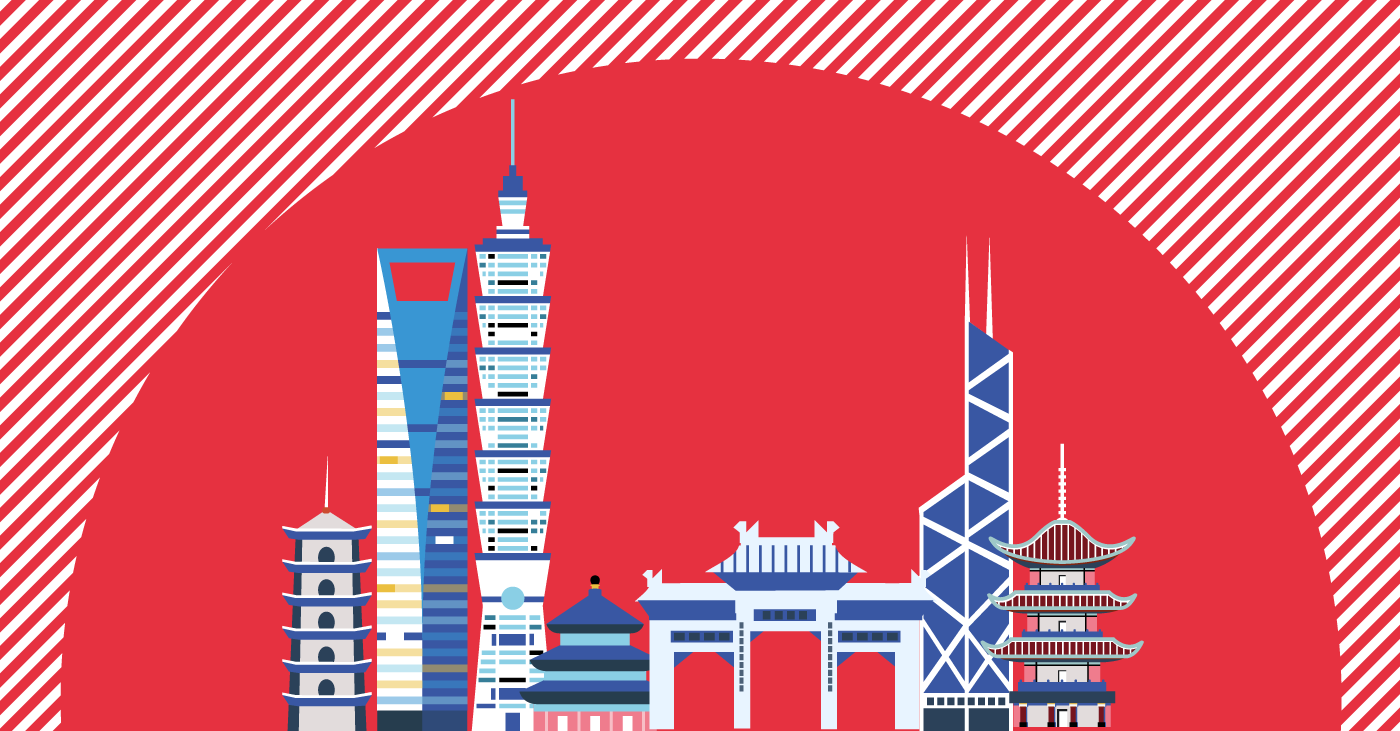 In 2022, the Covid pandemic disrupted Asian art markets, but there was still growth in several different regions, notably Tokyo, Singapore and Seoul, where demand exceeded local supply. Beijing was still the heart of the Asian art market with an auction turnover exceeding $2 billion in 2022. However, five- and six-figure results were rarer than usual. Asia's most high-end and most international market is clearly settling in China Hong Kong which hosted the three best Asian results in 2022, each above $25 million, for works by Zhang Daqian, Zao Wou-Ki and Gerhard Richter.
Top 10 Cities in Asia by Fine Art and NFT Auction Turnover (2022)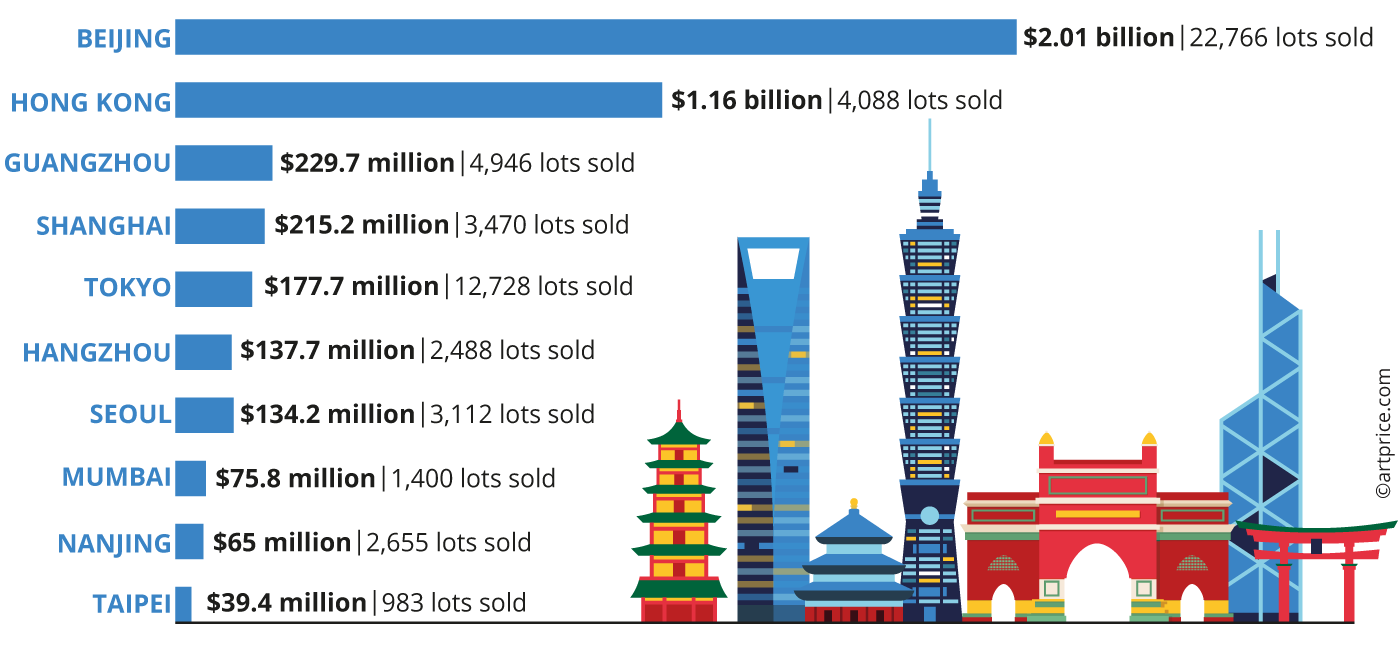 China Hong Kong, an eldorado for the top three
China Hong Kong is the new Eldorado of the world's top three auction houses: Christie's hammered 8% of its global fine art auction turnover there, and the proportions were 12% and 13% for Sotheby's and Phillips respectively. The three auction houses together hammered over a billion dollars in Hong Kong in 2022, representing 90% of the total hammered in the planet's fourth-largest art marketplace.
Five Hong Kong results were among the global top 100 last year. The best result was hammered for a landscape by China's favorite classical artist, ZHANG Daqian, that fetched $47.2 million, Sotheby's best-ever result for a Chinese artwork, and the second highest price for any artwork sold by Sotheby's in Asia.
The second-best Hong Kong result rewarded a work by the Sino-French artist ZAO Wou-Ki whose oeuvre represented a cultural bridge between Asia and the West. His 29/09/64 fetched $35.4 million at Christie's in April, adding $15.8 million to its previous auction price five years ago (2017, at Christie's HK).
Among Hong Kong's top three results, there was also $25.5 million for Gerhard RICHTER's Abstraktes Bild (1990) at Sotheby's, and Picasso's Buste d'homme dans un cadre (1969) fetched $22.3 million, the second highest price ever hammered for a PICASSO work in Asia. Finally, a bewitching bronze spider by Louise BOURGEOIS sold for $16.5 million, the best result ever hammered for a sculpture in Asia. This particular Spider IV  added two million dollars to its 2017 price at Sotheby's New York (I6 November 2017), proof that Asian collectors are enthusiastic art buyers with competitive spirits.
Annual evolution of fine art and NFT auction turnover and transactions in Hong Kong (2008-2022)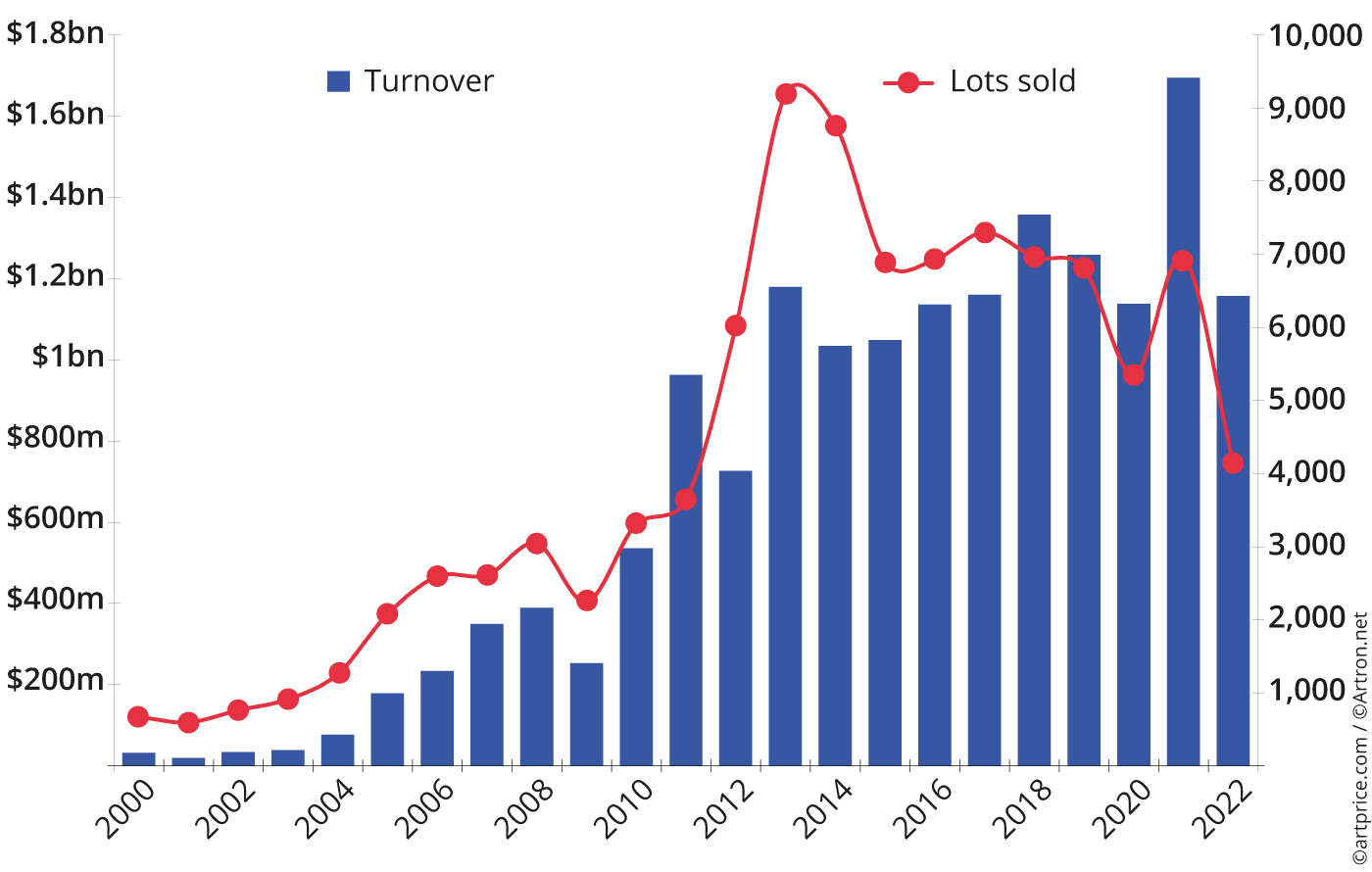 However, the most surprising factor in Hong Kong's market is undoubtedly the efficiency of its sales of Contemporary art. No less than a third of its art auction turnover comes from Contemporary or Ultra-Contemporary (under 40) artists, and the city has established itself for two years as the second largest marketplace in the world, ahead of London, in this category of exchanges.
Several young American artists are the darlings of Hong Kong sales. Loie HOLLOWELL is one, and her canvas Lick Lick in Orange and Blue (2015) strongly revalued from $137,500 to $963,500 between its sale in New York and its subsequent sale in Hong Kong three years later (Christie's NY, September 2019, then Sotheby's HK, April 2022). Other examples are Shara HUGHES, Avery SINGER and Lucy BULL, who respectively owe 16%, 39% and 64% of their annual auction turnovers to the power of the Hong Kong market. In 2022, the price spikes observed for the most sought-after Western artists came less from New York than from Christie's and Sotheby's Hong Kong branches.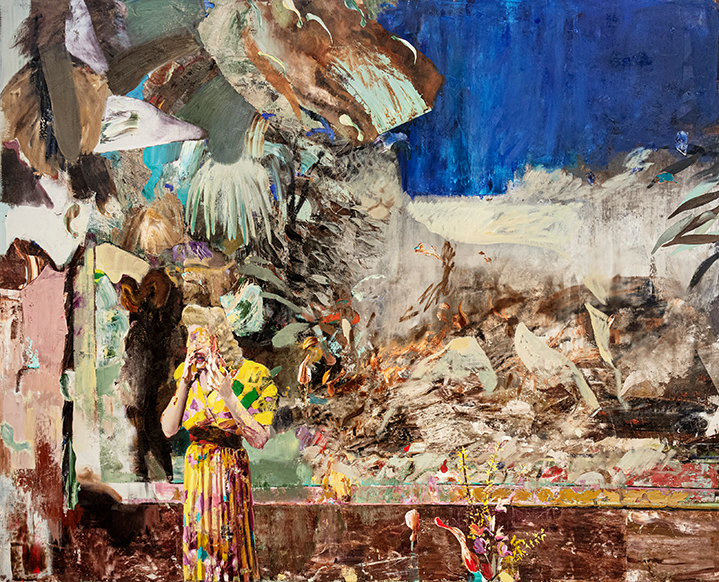 Pie Fight Interior 12 (2014), Oil on canvas, 284 x 350 cm
$10.3 million on 26 May 2022 at Christie's HK's 20th/21st Century Art Evening Sale
→ Sold for over $10 million at Christie's in Hong Kong, this painting set Adrian Ghenie's latest auction record. By offering such an important work by one of the greatest Contemporary Western artists, Christie's is helping Hong Kong become one of the principal marketplaces for masterpieces of our time. In 2022, Adrian Ghenie also posted his best-ever annual auction turnover and was among the Top 50 artists in the world with an annual auction turnover total of approximately $50 million.
Christie's restarts in Shanghai
After two years of suspension, Christie's resumed its activity in Shanghai  with excellent results for works by major Western artists. On the strength of repeated successes in Hong Kong, the first BASQUIAT painting ever offered in mainland China (Il Duce, 1982) came close to $15 million in Shanghai, while Zao Wou Ki, Kees Van Dongen, Pablo Picasso, Marc Chagall, but also the famous 38-year-old Ghanaian artist, Amoako BOAFO, all found buyers at Christie's Shanghai at prices above the million-dollar threshold. Indeed, Christie's posted its best-ever turnover total in the Chinese city.
A historic year in Japan
Seoul in South Korea and Tokyo in Japan are emerging as two new Asian art market hubs, where demand concerns Asian artists as much as their Western counterparts. In 2022 Japan ranked 7th in the global art market by annual auction turnover with a new annual record of $185 million (+11%) despite fewer transactions, which reflects an upward trend in prices and therefore a fairly strong competitive spirit among Japanese bidders. The year's best results rewarded works by Japanese contemporaries Yayoi KUSAMA, Ayako ROKKAKU, Yoshitomo NARA, as well as by great Western classical artists Pierre-Auguste RENOIR and Paul DELVAUX. However the top price was paid for a portrait of Liz Taylor by Andy WARHOL, which set a new record for a work at public auction in Japan at $20.8 million.
Annual evolution of fine art and NFT auction turnover and transactions in Tokyo (2008-2022)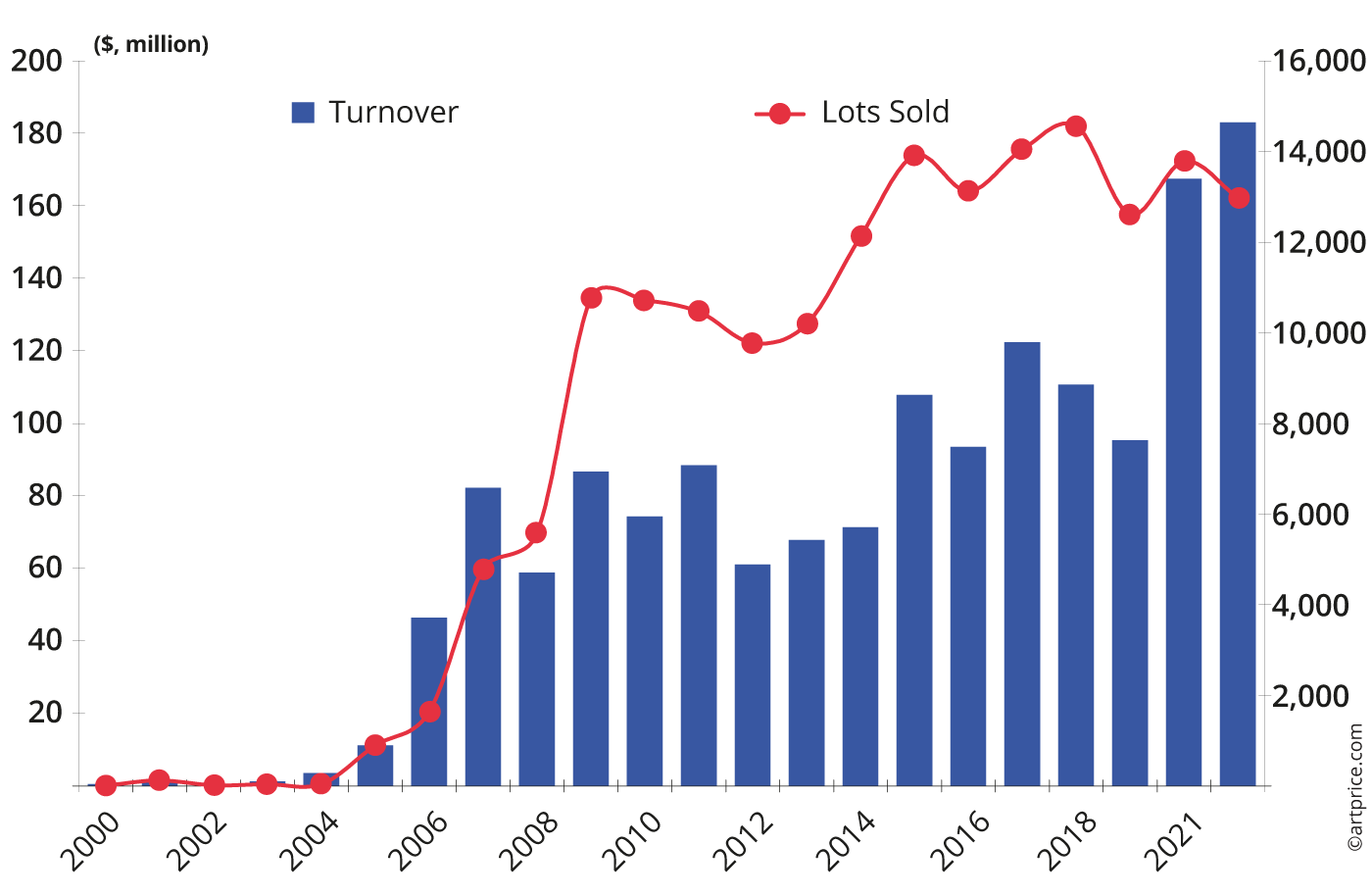 Seoul proves its worth
The South Korean art auction market posted a spectacular level of activity in 2021 with turnover growing almost fivefold. Despite a lower turnover total in 2022, the country has posted remarkable growth of +140% since 2019 before the pandemic. Whereas in Australia it took more than 18,000 sales to generate $118 million, South Korea generated $139 million from some 3,000 works alone, and takes ninth place in the global ranking of countries by their annual art auction turnovers.
In Seoul, art auctions are rare but high-level as collectors are willing to shell out big bucks to acquire the works of the best artists. Their preferences tend towards their most talented compatriots like Ufan LEE, Whan-Ki KIM and KunYong LEE, but their favorite remains Yayoi Kusama, who owes almost 10% of her annual auction turnover to sales hosted in Seoul. Koreans are also chasing the same Western signatures as those offered in Hong Kong: American artists like Shara HUGHES and Emily Mae SMITH, and the Spaniard, Javier CALLEJA, whose Kawaii style is currently all the rage in Asia.
The vitality of Seoul's art auctions confirms South Korea's role as a key marketplace for art in Asia. Moreover, the success of the first edition of the 'unmissable' Frieze art fair in Seoul, along with the establishment of several major international galleries, are other very positive signals. In 2022, Emmanuel Perrotin, Lehmann Maupin, Pace and Thaddaeus Ropac all strengthened their presence in Seoul by inaugurating new spaces, proof of their confidence in the development potential of the Korean market.
Annual evolution of fine art and NFT auction turnover and transactions in Seoul (2008-2022)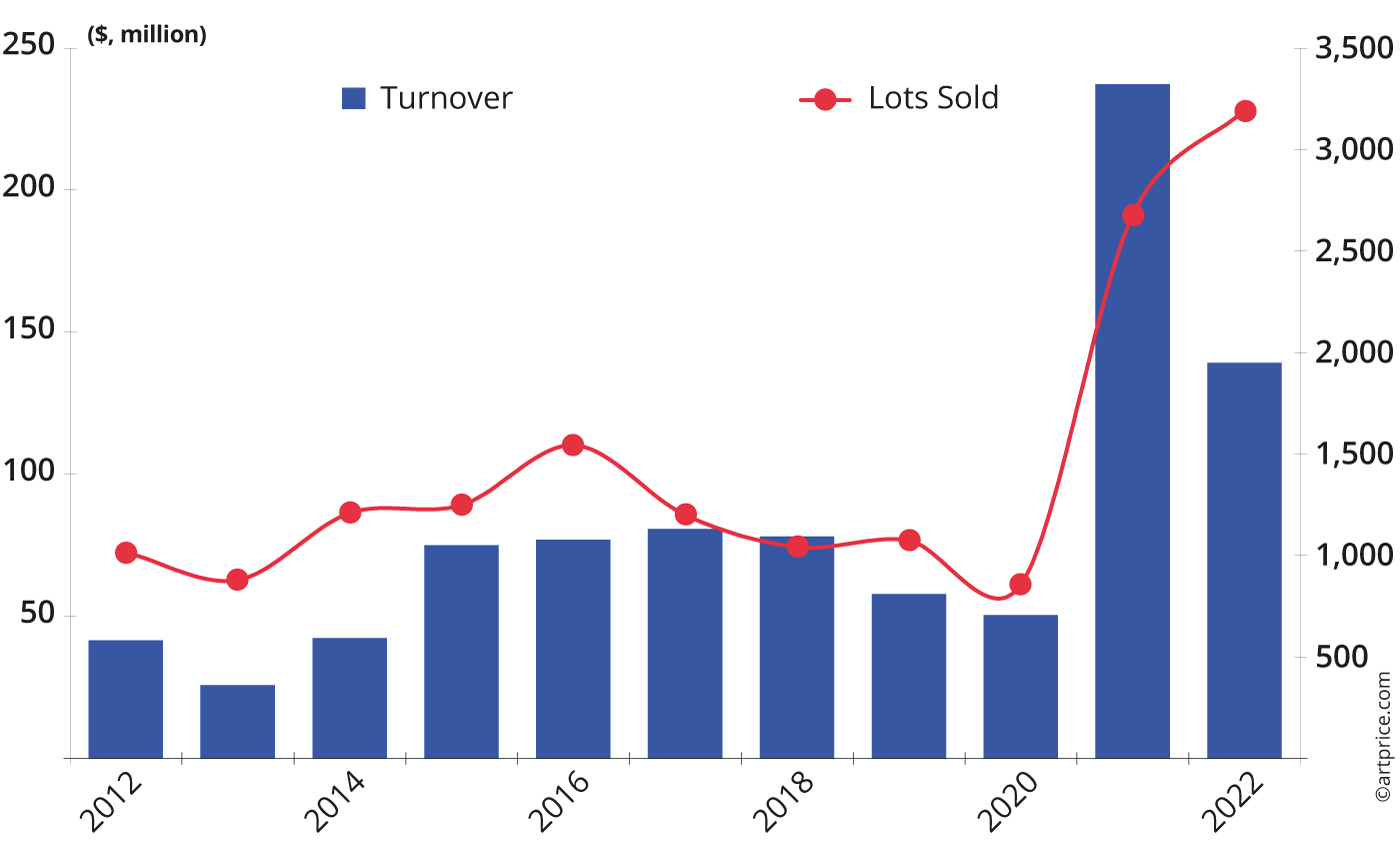 Indice
Notable developments in Asia