Notable auction records in 2022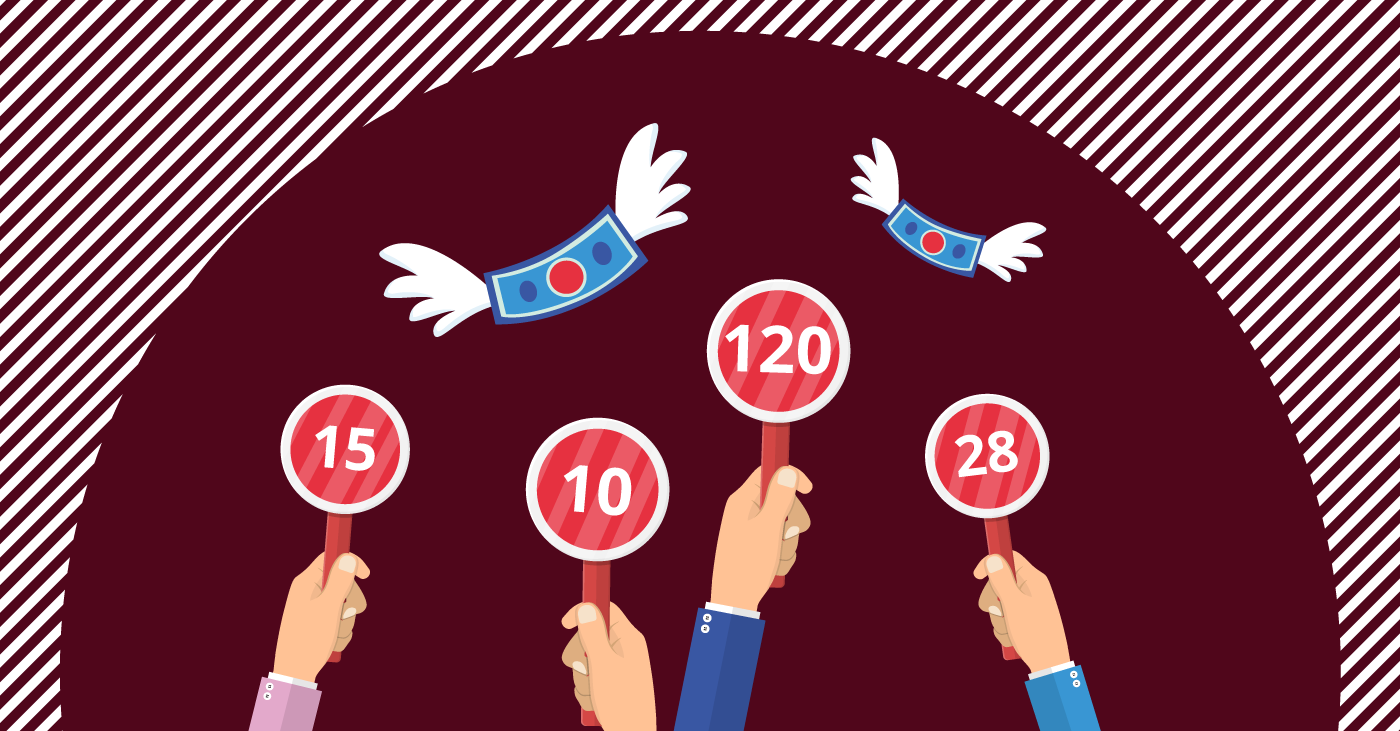 Among the many records of the year, Artprice has made a selection of remarkable results obtained for works created in various different periods and using various creative techniques. Before discovering them, we focus on the 20 new auction records set during the sale of the Paul G. Allen Collection where five works fetched results above 100 million dollars.
Artist records set during the dispersal of the Paul G. Allen Collection, the most successful sale in auction history
→ Les Poseuses, Ensemble (petite version) (1888) is one of the very best examples of pointillism. Carrying the highest estimate in the sale of the Paul G. Allen Collection, it reached $149.24 million. The bidding started at $75 million and doubled that sum in just one minute. Seurat's previous record dates back to 1999 when his Paysage, l'île de la Grande Jatte (1884) sold for $33.3 million.
Michelangelo – a drawing from his early twenties
A beautiful early drawing (33 x 20 cm), very well preserved and recently recognized as an original work by MICHELANGELO by the specialist Furio Rinaldi, dwarfed the previous auction record for the great genius of the Italian Renaissance. This masterpiece, temporarily classified as a national treasure by France, fetched $24.3 million at Christie's in Paris, setting a new auction record at double the value of the previous record held since 2000 by a study for Christ Risen, sold at Christie's in London.
Jean-Baptiste Simeon Chardin and his famous Basket of wild strawberries
An essential 'milestone' in the history of Western painting, Jean-Baptiste Siméon CHARDIN's Le panier de fraises des bois set three new records by selling for $26.8 million at Artcurial in Paris: a new auction record for the artist, another for an 18th century French paintings at auction, and yet another for Artcurial's "Old Masters & 19th Century Art" department. The result was also the third highest for a painting sold in France, after two exceptional canvases from the Pierre Bergé and Yves Saint Laurent Collection sold in 2009: Henri Matisse's Les coucous, tapis bleu et rose (1911) for $46 million, and Piet Mondrian's Composition avec bleu, rouge, jaune et noir (1922) for $27.6 million.
Franz Marc joins the global Top 50
A masterpiece inspired by Orphism and Futurism, The Foxes (1913) is one of the most remarkable examples of Franz MARC's work. Its sale at the exceptional price of $56.8 million places the German Expressionist painter among the global Top 50 artists by annual auction turnover. Despoiled during World War II, in 2021 The Foxes was returned by the city of Düsseldorf to the heirs of the Jewish banker and businessman Kurt Grawi and his wife Else, before its sale at Christie's London in March 2022.
René Magritte, an iconic painting fetches over $79 million
The famous works in L'empire des lumières – seventeen oil paintings created between 1949 and 1961 – have made René MAGRITTE the most expensive Surrealist artist on the art market. On 2 March 2022, Sotheby's sold one of them in London at the high price of $79.3 million. The work is an exceptional canvas, one of the largest (114.5 x 146 cm) and most cinematic in The Empire of Lights series, a splendid depiction of the twilight zone. That result added over $50 million to Magritte's auction record, from $26.8 million to $79.3 million in just four years. His annual auction turnover total of $226 million in 2022 propelled him to fifth place in our global ranking, and the inflation of Magritte's prices stands out as one of the most remarkable, around +1,300% in twenty years!
René Magritte's auction price index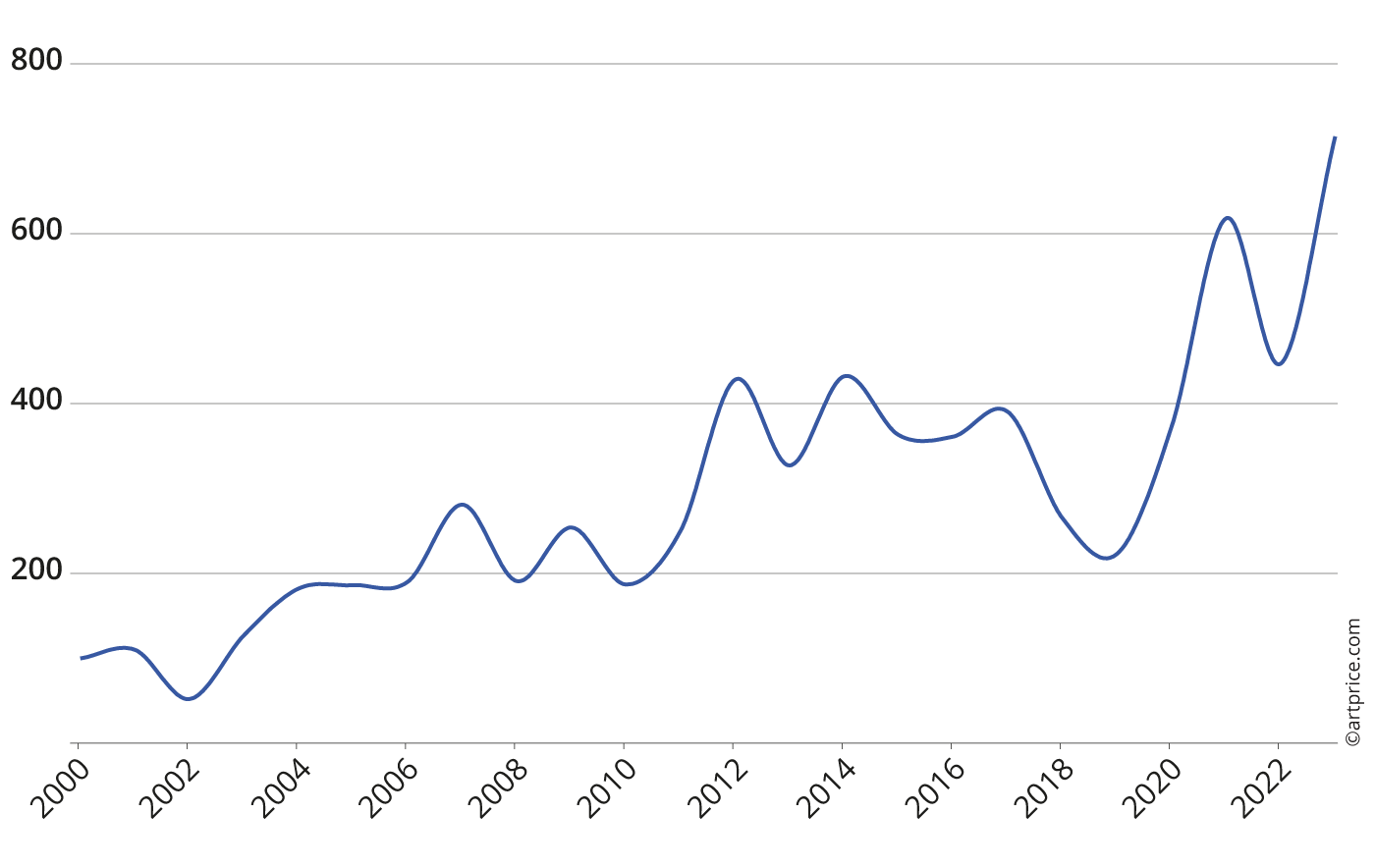 Francis Picabia crosses the $10 million threshold for the first time
Francis PICABIA's latest auction record was hammered at Sotheby's Paris for one of his most famous 'Transparencies', Pavonia. The work was designed in 1929 as part of a major project to decorate the Parisian apartment of art dealer Léonce Rosenberg. Estimated at between six and eight million dollars, it reached $10.9 million on 16 March 2022, setting a new auction record for the internationally sold artist.
Piet Mondrian: new record at $51 million
On 14 November Sotheby's offered Dutch artist Piet Mondrian's Composition No. II, a canvas produced in 1930 while the artist was living in Paris. According to Sotheby's Europe President, Oliver Barker, the work is "an undeniable masterpiece by the artist, bearing the signature of Mondrian's elementary and revolutionary approach to composition". One of Piet MONDRIAN's most important works ever to come to auction, it set the artist's new auction record by fetching $51 million, almost half a million more than his previous high achieved in 2015 (Christie's) for a very similar canvas.
Edgar Degas' La Petite danseuse fetches over $41 million
DEGAS' most famous sculpture, La Petite danseuse de 14 ans, soared to $41.6 million in May 2022 at Christie's against a high estimate of $30 million. This is the highest price ever obtained at auction for a work by the French artist. One of the most audacious sculptures of the end of the 19th century, La Petite danseuse de quatorze ans had remained in private hands until it was acquired by American collector, Anne Bass, patron of several major museums in the United States, and therefore enjoyed perfect provenance. The original wax is exhibited at the National Gallery of Art in Washington and there are 29 bronze copies in museums around the world.
Emanuel Leutze's auction record multiplied by ten
A large ink drawing by American history painter Emanuel LEUTZE depicting  Washington Crossing the Delaware (1905) elicited intense bidding up to $45 million, multiplying his previous record tenfold. Just two bidders were in the running for this iconic image reproduced in history textbooks and on American postage stamps. For several decades, the aura of this Washington Crossing the Delaware had been reinforced by its exhibition at the White House.
Andy Warhol becomes second most expensive artist in the world
WARHOL's Shot sage blue Marilyn became the most expensive 20th century artwork ever sold at auction. Offered in the sale of the collection of Swiss dealers and collectors Thomas and Doris Ammann, the work fetched $195 million at Christie's, becoming the most expensive work on the auction market behind Leonardo da Vinci's Salvator Mundi (sold for $450 million in 2017 by the same auction house).
Ernie Barnes multiplies estimate by 75
The Sugar Shack (1976) by American artist and athlete Ernie Barnes sparked a rare bidding frenzy, activating 22 phone lines for more than 10 minutes. The painting finally reached $15.27 million, no less than 76 times its high estimate ($200,000) and around 28 times BARNES's previous auction record ($550,000) set at Christie's in November 2021 with Ballroom Soul. A historical testimony of racial segregation in North Carolina, The Sugar Shack is an emblematic work that featured on the cover of Marvin Gaye's 1976 album "I Want You" .
Lucian Freud's record adds $30 million
At the time of its creation, Large Interior, W11 (after Watteau) (1981-1983) was Lucian FREUD's largest painting (almost two meters) and the first to feature more than two models. This monumental canvas remained in the personal collection of Freud's dealer, James Kirkman, for fifteen years before being acquired by Paul G. Allen. Even before its completion, the painting featured on the catalog cover for Lucian Freud's first major solo exhibition hosted by Lawrence Gowing in 1982.
Valued at $5.8 million at Sotheby's New York sale in 1998, the work saw its price revised to $86.2 million last November at Christie's. In twenty-four years, after passing through one of the world's most prestigious collections, the painting's value added the astronomical sum of $80.4 million. Freud's previous record dated back to 2015 when his spectacular nude Benefits Supervisor Resting (1994) fetched $56.1 million.
Best results by country (2022)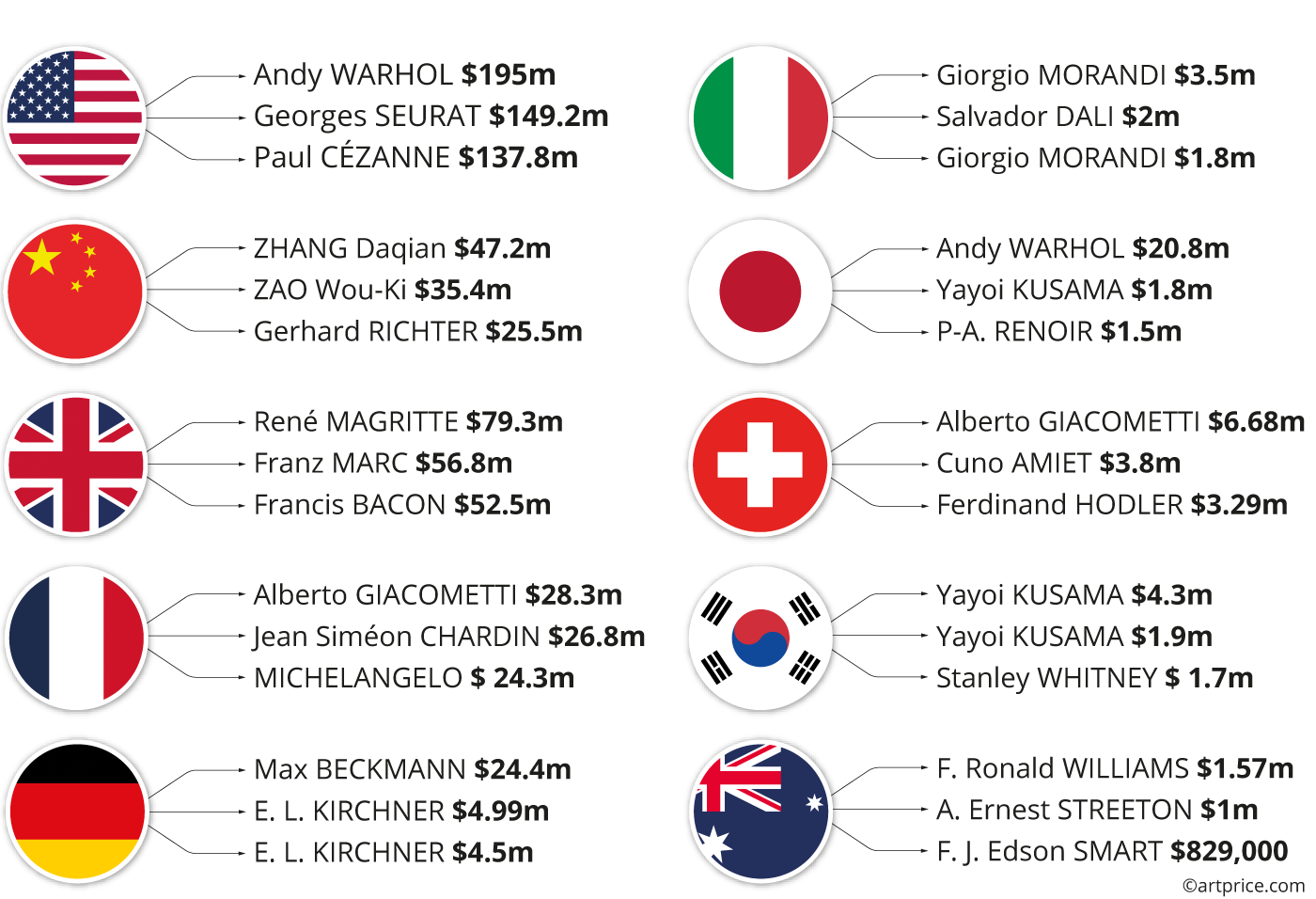 Georg Baselitz crosses $10 million threshold for the first time
2022 was an exceptional year for Georg Baselitz, whose work is now valued –  during his lifetime – at over 10 million dollars. His latest auction record was hammered at Sotheby's New York for a five-foot tall yellow-painted wooden sculpture that fetched over $11 million against an estimate of $4 million (Dresdner Frauen – Besuch aus Prag [Women of Dresden – Visit from Prague]). BASELITZ sculptures are extremely rare at auction and this one is certainly the most powerful ever offered. It comes from the collection of Hardie Beloff, who held the largest collection of works by Georg Baselitz in private hands. With a record annual sales turnover of $51.6 million in 2022, the German artist entered the Top 50 most successful artists in the world for the first time.
Pablo Picasso: new record for a sculpture
In May 2022, Christie's managed to revise the great Picasso's auction record in sculpture by selling his Tête de femme (Fernande) for $48.48 million, nearly $20 million more than his previous three-dimensional record (Head of Dora Maar, 1941), which sold for $29.1 million at Sotheby's in 2007. If Fernande Olivier was PICASSO's first love, the record price for his sculpted portrait was more motivated by the work's place in the history of Cubism, in which it represents a key moment, than by the role of its model in the artist's biography. Head of Fernande has another major advantage: its provenance, coming from the prestigious collection of the Metropolitan Museum of Art, which deaccessioned the work for the benefit of its Acquisition Fund, as it owns another copy.
Best auction results per artistic medium (2022)
Man Ray, historic sale of an iconic photograph
A record was expected for the best print of Man Ray's Violon d'Ingres ever to come to market, but the scale of the result hammered in May at Christie's exceeded all expectations: estimated between 5 and 7 million dollars – a very high estimate for a photograph – after ten minutes of sustained bidding, this unique silver print went for $12.4 million, a world record for MAN RAY, but also an absolute record for a photograph at auction, since Cindy Sherman's record at $6.7 million and Andreas Gursky's previous record at $4.3 million. This new summit illustrates the incredible demand for iconic 20th century photographs.
Alighiero Boetti: new records for his "tapestries"
Alighiero Boetti's auction record was revised three times in 2022 with the last revision taking the Italian artist to $8.8 million for his superb Mappa (1989-1991) measuring nearly six meters wide. Presented for the first time in Boetti's major 2011-2012 retrospective, Game Plan, which traveled to the Museum of Modern Art in New York, the Reina Sofia in Madrid and finally the Tate Modern in London, this masterpiece is the most monumental example ever to come to auction from his most acclaimed series. With an annual auction total of $33.7 million, 2022 was a record year for BOETTI whose work has allowed the ancestral techniques of embroidery and tapestry to occupy a legitimate space in Contemporary creation.
Evolution of Alighiero Boetti's auction record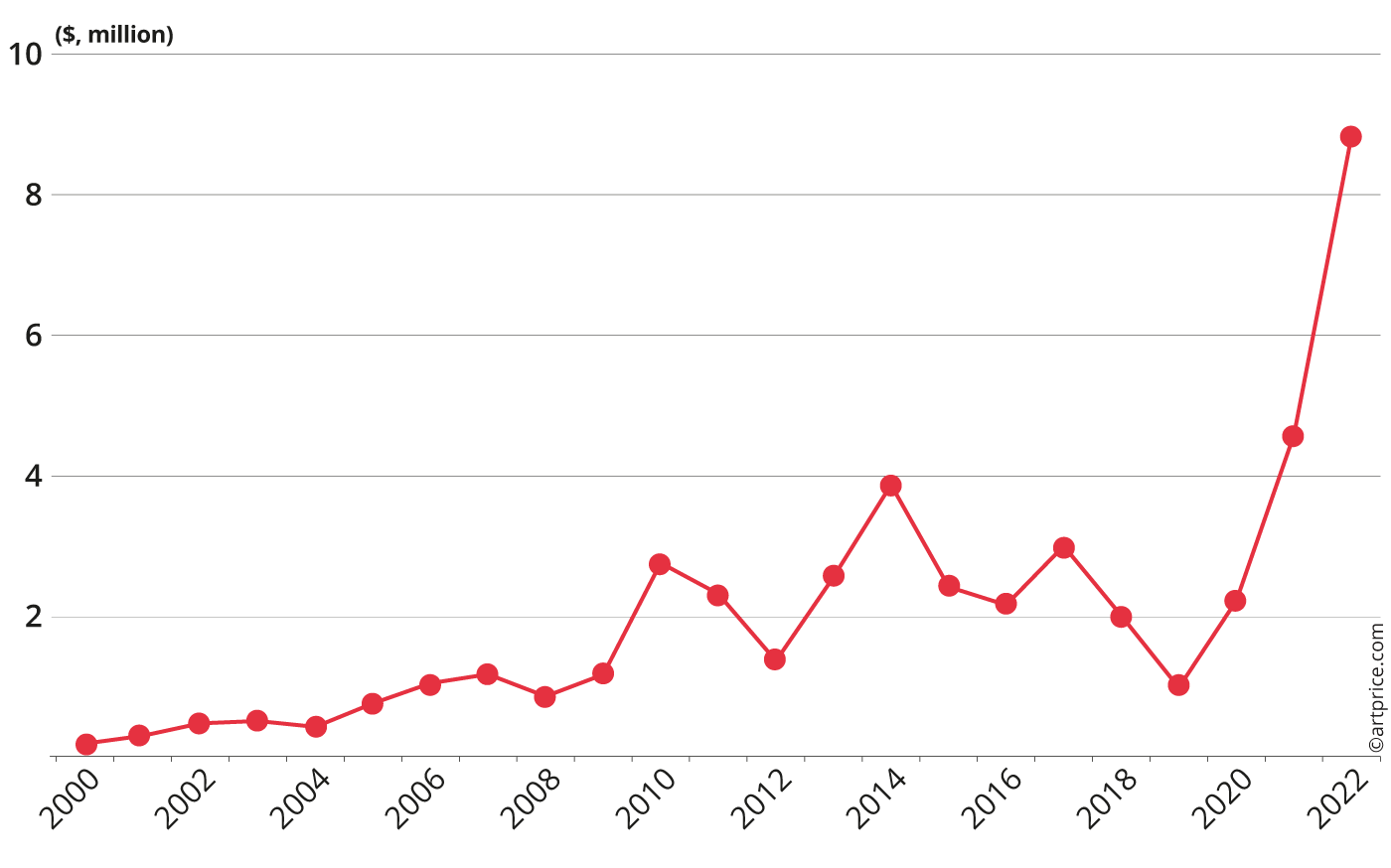 Indice
Notable auction records in 2022