Key figures for 2022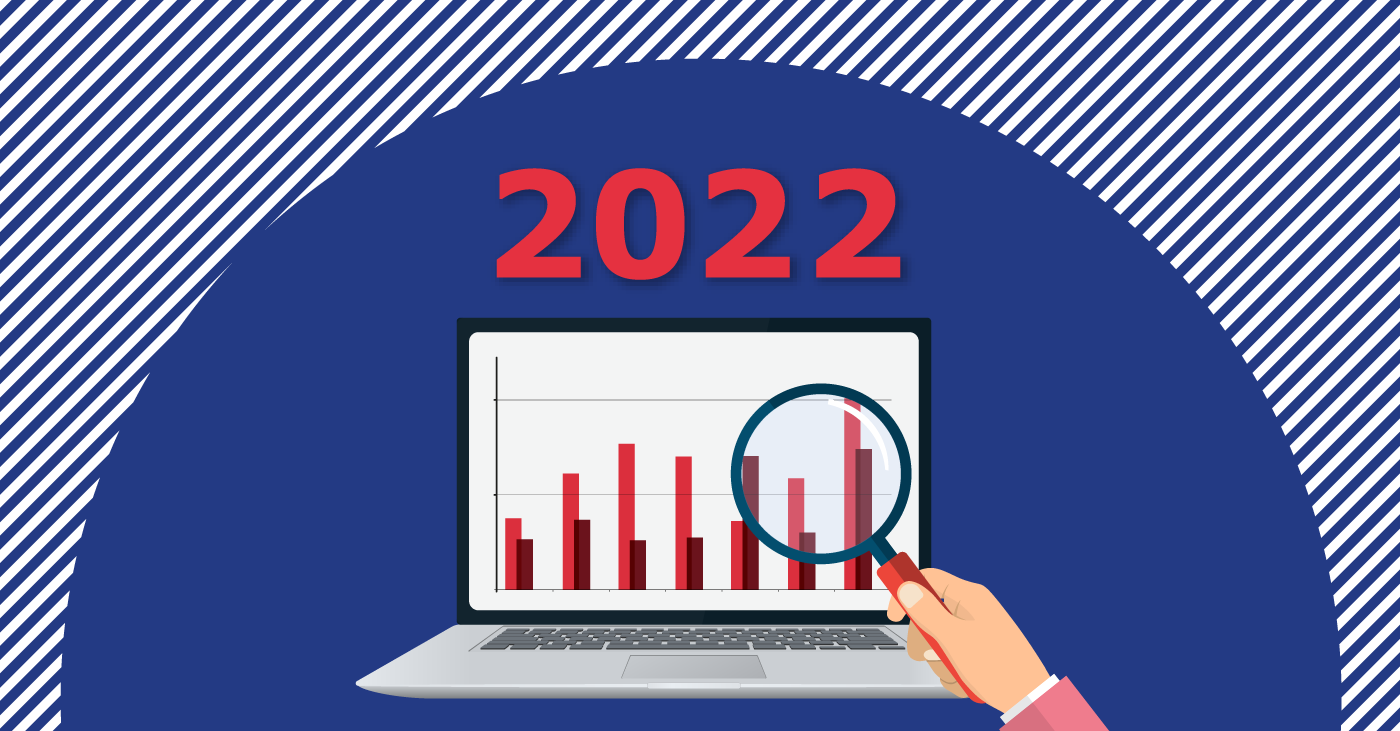 Key figures for auctions of Fine Art and NFT works worldwide (2022)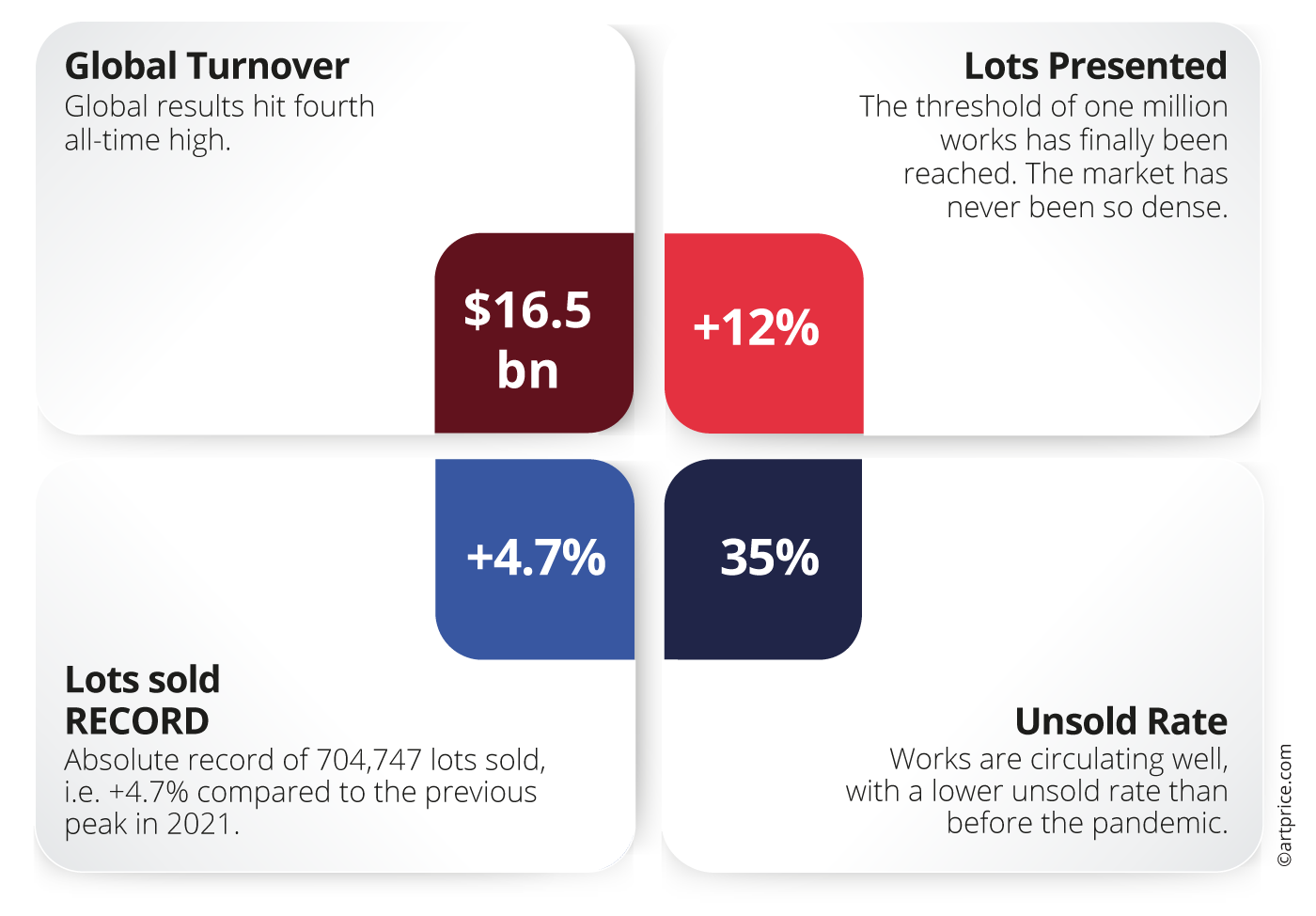 In a world shaken by significant geopolitical tensions, notably relating to the war in Ukraine, but also to climatic, health, economic and social issues, the art market seems to be showing resistance. In fact, considering the historic turnover achieved by the auction houses and by the content of the private collections presented for sale this year, one might be forgiven for thinking that the world's problems have had no impact on the art auction market. Indeed, for certain masterpieces of art history, the year 2022 saw more intense competition than ever before – Chardin's Basket of Wild Strawberries and Magritte's Empire of Lights are just two examples – and the sale of exceptional works from the Paul Allen, Macklowe, Thomas Ammann, Yusaku Maezawa and Hubert de Givenchy collections account for a major proportion of the total art auction turnover generated during the year, one of the most successful in the history of the art market.
Asia… and the rest of the world
Global fine art auction turnover amounted to $16.5 billion, the fourth best annual total in history, after the highs of 2011 ($18.5 billion), 2014 ($18 billion) and 2021 ($17 billion). But 2022 saw an unusual and unprecedented imbalance between Asia, where business contracted sharply, and the West, where it peaked.
The reality of the art market is far from smooth and, in any given context, not all of its major global marketplaces react the same way. In 2022, turnover shrank substantially in some countries while remaining stable or growing generously in others. In Asia, Japan's annual total added $18 million while South Korea's lost $100 million. However the most spectacular drop occurred in China, the core of the Asian market, which lost two billion dollars, notably due to the postponement of many sales initially planned for 2022. After resisting the impact of the pandemic in 2020 and 2021, in 2022 the value of China's art market contracted by 34% to just $3.9 billion. This was the first time China's  annual art auction turnover total has been below the four billion dollar threshold for more than a decade.
Meanwhile, the rest of the world posted remarkable growth of +16% thanks to a splendid performance in the United States, which generated $1.5 billion more than in 2021 (+26%). Driven by growing demand and, above all, by the presence of exceptional works from remarkable private collections, the American market was the locomotive of a global market which, excluding China, has doubled its turnover versus 2020 when the West was impacted by the COVID-19 crisis. In 2022, excluding China, global art auction turnover reached its highest ever annual level with a total of $12.6 billion, i.e. 76% of the global art market.
Evolution of Fine Art and NFT auction proceeds (2022)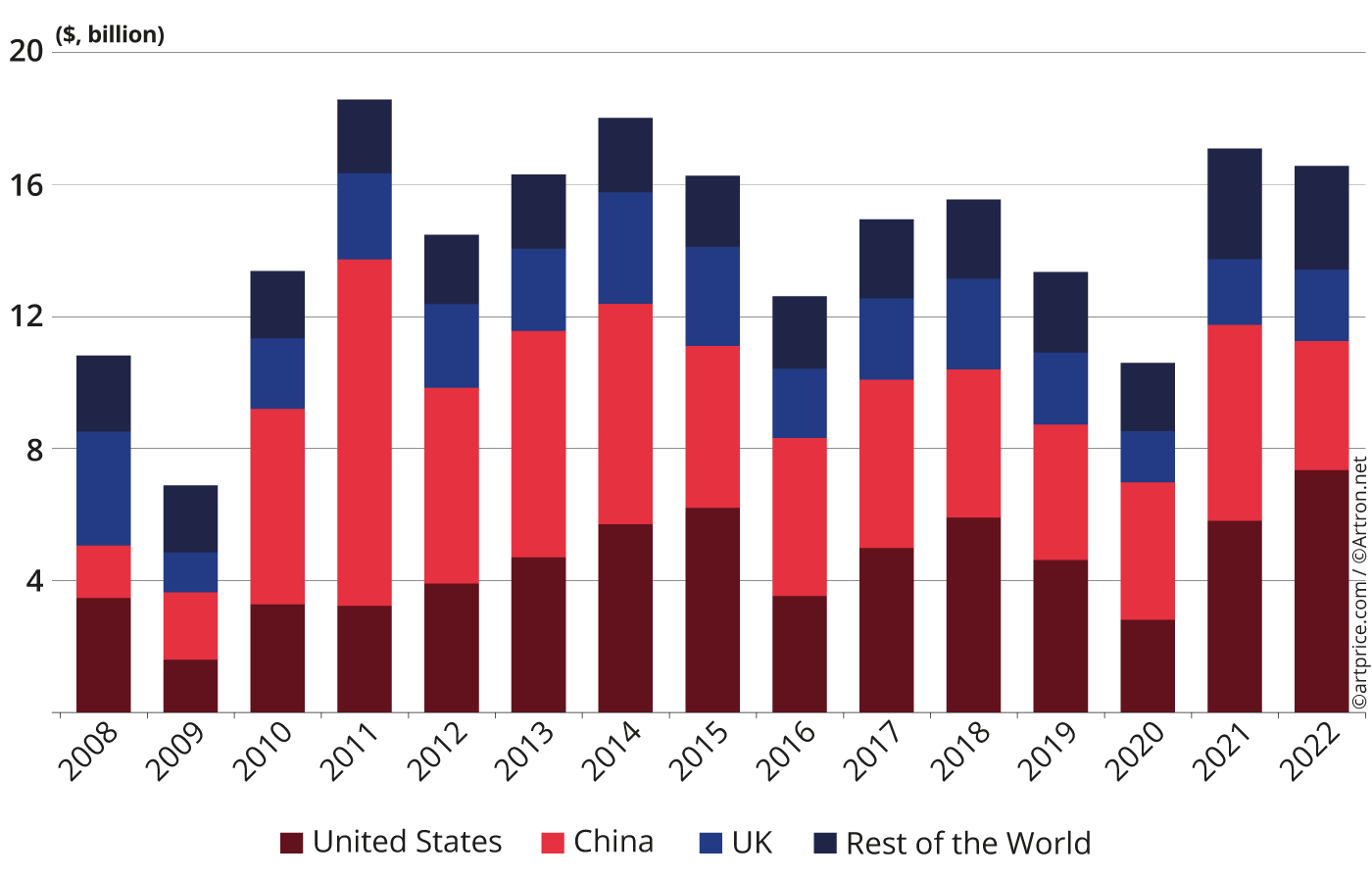 → The United States, China and the United Kingdom accounted for 81% of the value of the global art auction market, but the three countries posted substantially different developments: the Chinese Art Market contracted sharply, losing two billion dollars, while the American market gained one and a half billion to reach an all-time high of $7.3 billion. The British market returned to its pre-pandemic level, with a total of $2.1 billion.
Artistic mediums and their relative weights
In a more than ever dynamic market, with over one million works presented at auction last year, most traditional media (paintings, sculptures, prints), as well as photographs and NFTs, posted record levels of transactions, but only paintings and prints posted record turnovers.
Painting, which accounted for 70.9% of global turnover in 2022 (from just 37% of the transactions), remained the leading medium and the economic core of the art market. Around the globe, highly demanding collectors have considerably fueled transactions in this medium over the last decade (+73% in ten years) and, in market terms, painting is clearly the most prosperous medium as it hosts the most coveted masterpieces in the history of Western art. The 25 best results of the year 2022 were all for paintings, most of them masterpieces from the end of the 19th and the beginning of the 20th centuries, by artists like Cezanne, Van Gogh, Gaugin, Monet, Picasso, Klimt and Seurat, notably thanks to the dispersal of the Paul G. Allen Collection at Christie's New York in November. Alongside these great figures of European art, there are the icons of American art – Warhol in first place (with a result at nearly $200 million for a canvas) – but also Jean-Michel BASQUIAT, Mark ROTHKO, Jasper JOHNS and Jackson POLLOCK, each having generated at least one result above the $50 million threshold last year.
Drawing, the second largest medium after painting, accounted for 14% of global art auction turnover and 21% of global art auction transactions. In China, this segment has been suffering from a contraction of the very high-end market in favor of painting, a phenomenon that began even before the pandemic. The number of 7-digit transactions (in US dollars) has been shrinking since 2015 and their number (249 in 2022) is roughly half what it was in the years between 2010 and 2017. That said, the Chinese art market for drawings is still dominated by the country's major artists: Cui Ruzhuo, Xu Beihong and Qi Baishi each generated a result above the $10 million threshold, and a work by ZHANG Daqian fetched over $47 million this year. Among Western artists, the year's best results were hammered for drawings by Miquel-Angelo, George Weatherill, Jean-Michel Basquiat, Pablo Picasso and Edgar Degas, whose best drawings fetched between $8.9 million and $24.3 million.
Global annual auction turnover from the drawing medium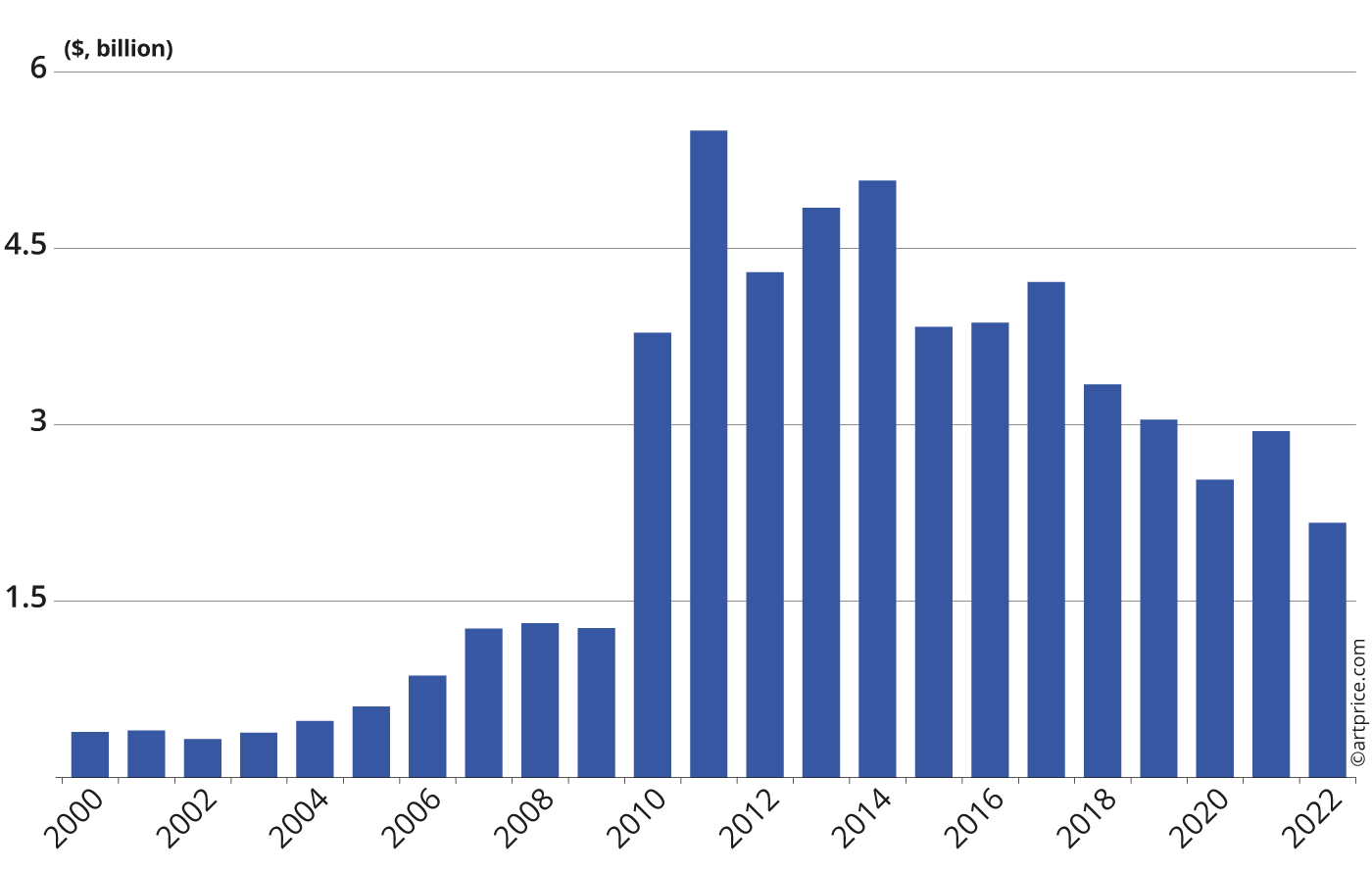 In 2022, the sculpture medium (accounting for 9% of global annual art auction turnover) posted a total more in line with its best years, notably thanks to three impressive results for bronze sculptures by Pablo Picasso, Henry Moore and Alberto Giacometti. PICASSO revised his three-dimensional record with a copy of Tête de femme (Fernande) (1909) from the prestigious collection of the Metropolitan Museum of Art, sold for $48.48 million. A monumental work by Henry MOORE, Reclining Figure: Festival (1951), originally commissioned by the Arts Council of Great Britain for the 1951 Festival of Britain, fetched $31 million. The third most valuable sculpture of the year was a work by Alberto GIACOMETTI. An edition of Femme qui marche [I] (1932/36), Christie's sold the statue as part of the Hubert de Givenchy collection in Paris last June. Reaching $28.3 million, this slender silhouette generated France's sixth best-ever art auction result.
Besides these multi-millionaire results, the sculpture medium is also a segment offering numerous affordable multiples of Contemporary artists (Kaws, Murakami, Koons, Kusama, etc.), whose productions largely contributed to a numerical record of approximately 59,000 transactions during the year. Sales of sculptures, including multiples, have been increasing every year for the past 10 years, posting a hefty increase of +151% since 2012.
Transactions are also progressing in the prints medium, a segment where exchanges accelerated during the pandemic while they shrank in other creative mediums. Over the last decade, both the volume of auction transactions and the turnover from sales of prints have doubled, the latter largely exceeding the $500 million threshold for the second consecutive year. The prints segment naturally appeals for its affordability (in 2022 more than 90,000 lots sold for prices under $500) and it allows access to all the great signatures of Old Master art (included artists like Rembrandt and Dürer), Modern art (Picasso, Miro, Matisse, Calder, etc), Post-War art (Lichtenstein, Warhol, etc.) and Contemporary art (Banksy, Nara, Hirst, etc.). Major and/or 'important' prints are nevertheless expensive, and last year saw a record 21 prints fetch 7-digit prices, mainly screen prints by Andy Warhol, but also prints by Pablo Picasso, whose latest personal auction record in this medium has just been set at $8 million for his famous Le repas frugal (1904), the second most expensive print in the world after David Hockney's Piscine De Medianoche.
On the other hand, the auction market for photography is less successful than ten years ago, although the number of transactions has accelerated. Although there does not appear to be a disaffection for the medium, there has been a repositioning towards the most affordable works. Indeed, sales of photographs reached a record volume of over 24,000 lots sold last year, an increase of +75% in ten years, but the share of photographs sold for under $500 has quadrupled since 2012, while the number of photographs valued at over $100,000 has almost halved. This market is therefore less ostentatious than in the past, although it is still capable of very high auction prices for works by 'historical' and Modern photographers, as indeed we saw with the recent records for Edward STEICHEN (The Flatiron, 1904: $11.8 million) and MAN RAY (Le Violon d'Ingres, 1924: $12.4 million).
Breakdown of Fine Art and NFT auction turnover by medium (2022)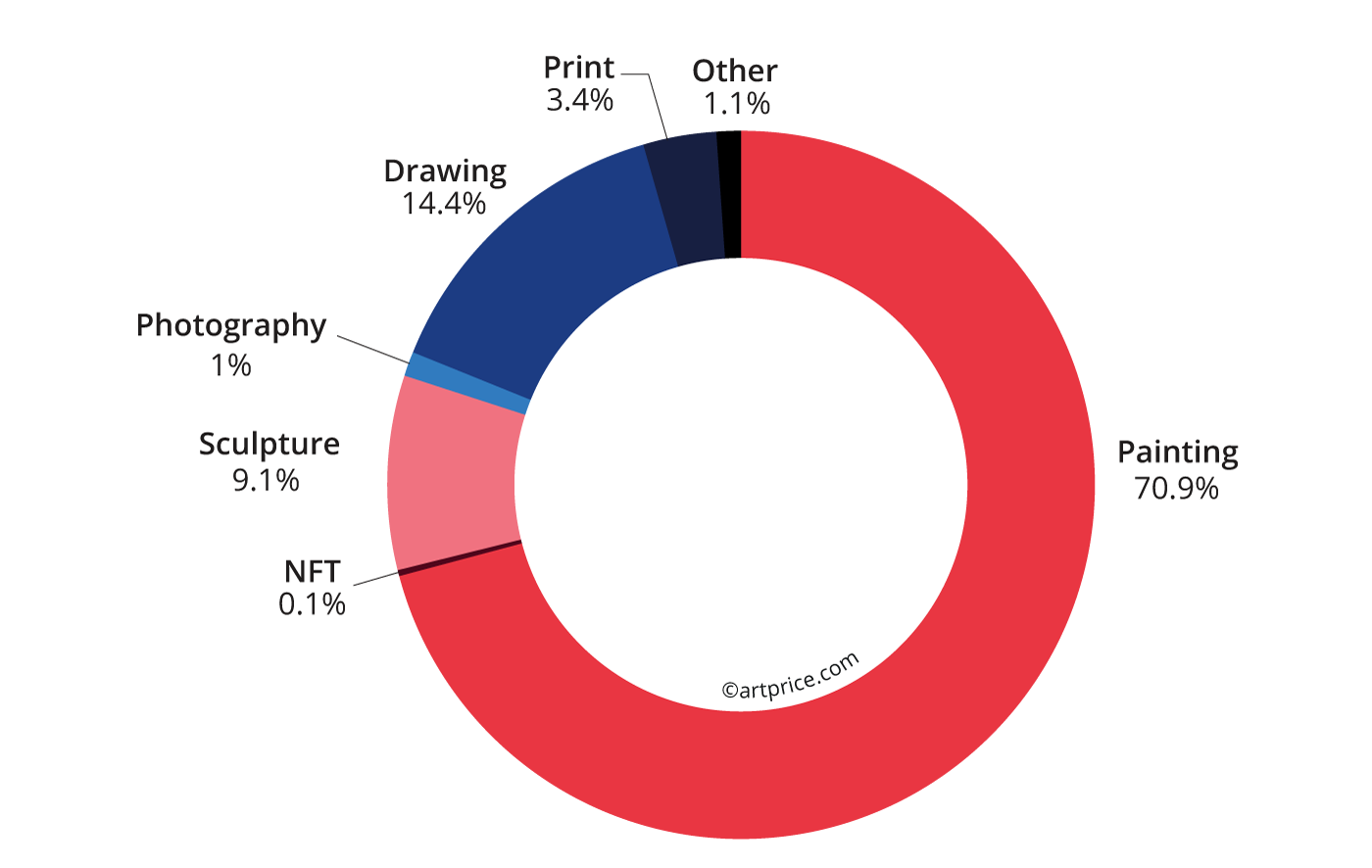 → Driven by major works of European Modern art and American Post-War art, the auction turnover on paintings reached its highest-ever level, exceeding the annual ten billion dollar threshold. On the other hand, the high-end drawing market was less well supplied: the scarcity of important works, particularly on the Chinese market, has led to a drop in turnover in recent years. It nevertheless remained an extremely dynamic sector with transactions at the highest level: around 150,000 last year. Transaction volumes also grew for sculpture, photography, prints and, more modestly, for NFTs whose sales turnover nevertheless plunged by -94% following the bear market in crypto assets.