From the most expensive to the most affordable, a breakdown by price segment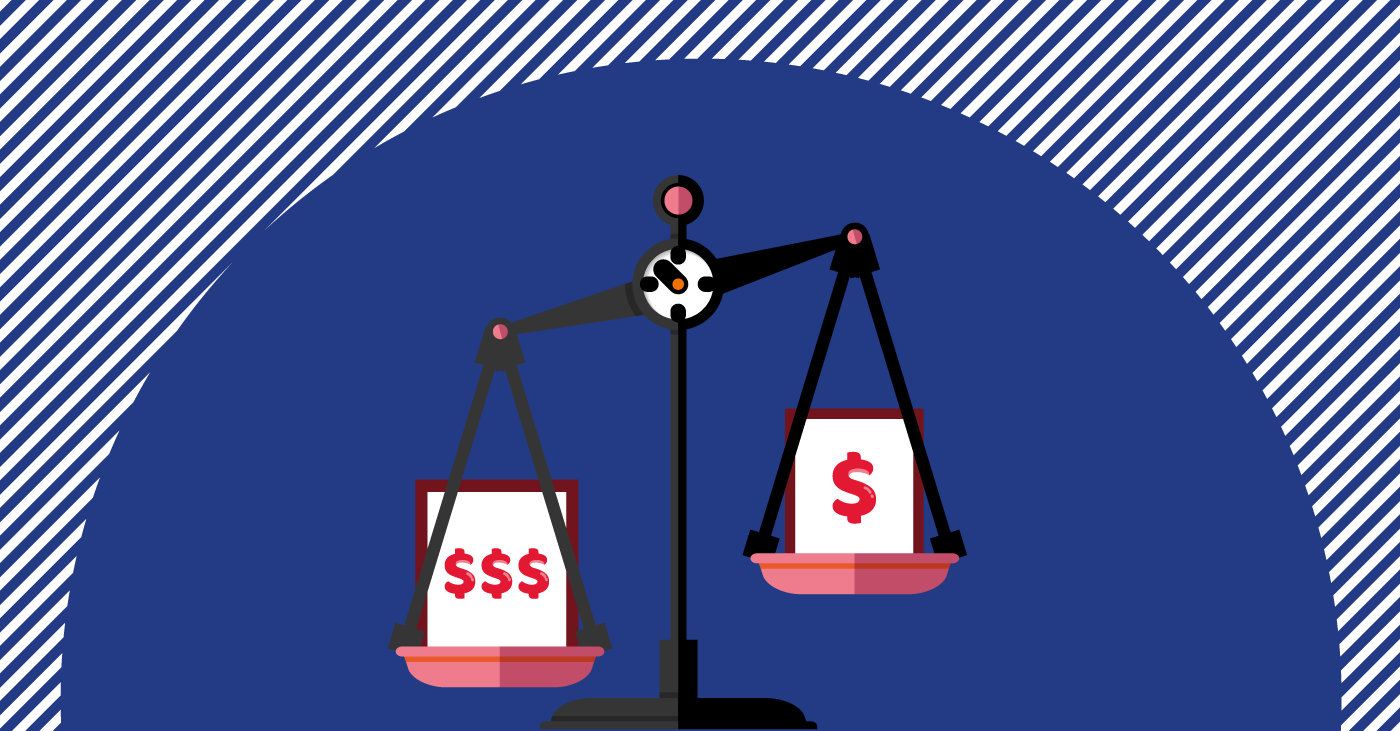 In 2022, the high-end segment of the art market was fueled by the formidable collections discussed above, which generated no less than 24 results above the $50 million threshold versus a previous record of 15 in 2021. But aside from these mega-results, the high-end art market also turned over hundreds of lots at 7-digit prices from all periods of creation. In total 1,682 lots fetched results above the million-dollar threshold, a figure that has already been exceeded in previous years.
7-digit ($million+) transactions have in fact remained fairly relatively stable over the last decade. While accelerating for Post-War and Contemporary creations they are decelerating for Old Masters, whose most remarkable works are becoming increasingly rare, despite an almost constant increase in the volume of Old Master works offered over the last decade. Among the 100 top results of the year, there were only four Old Master works, two by BOTTICELLI, a canvas by CHARDIN and a drawing by MICHELANGELO, while Post-War works represent a third of the Top 100 results.
Evolution of price indices for each period of creation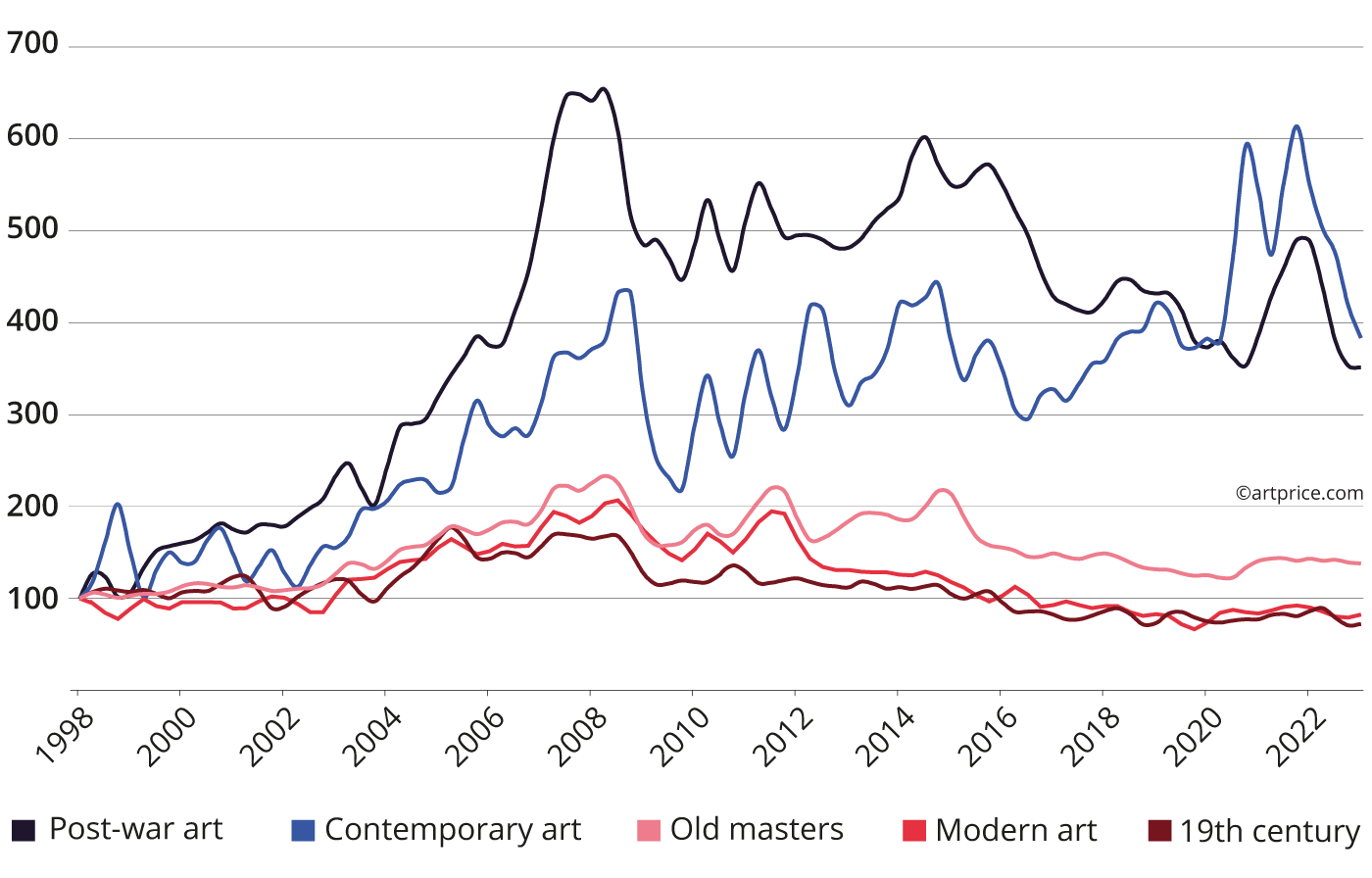 → Sales of major collections can generate sensational new records in the 19th Century and Modern art segments, but important works in these segments remain rare. Meanwhile, over the past ten years, the market has refocused on Post-War and Contemporary creations which explains the recent strong growth in their price indices. Today price evolution for the most recent creations stands out as the most dynamic.
$100 million: a new scale of value?
Art prices have evolved very substantially: 20 years ago, no works reached the $100 million threshold at auction. Today, this price threshold has been crossed 23 times, including six times in 2022, which had never happened before, the previous record being three times in 2017.
The first time an artwork reached the auction price of $100 million was in 2004 with Picasso's Garçon à la pipe (Boy with a Pipe). In 2015, Picasso's record was revised when his Les femmes d'Alger (Version 'O') fetched over $179 million! There followed a dizzying escalation with the sale in 2017 of Leonardo Da Vinci's Salvator Mundi at $450.3 million. That result so much dwarfed previous art auction records that it had the effect of 'normalizing' the symbolic threshold of 100 million dollars for any true masterpiece.
In 2022, the six lots that crossed the $100 million threshold are an iconic canvas by Warhol plus five major works  by Seurat, Cézanne, Van Gogh, Gauguin, and Klimt from the Paul G. Allen Collection. These are all museum-quality works that are extremely rare because of their quality and their remarkable provenance. But, what looks like a profusion of records is basically due to the exceptional quality of a few works that came to market in 2022. In essence, the proportion of 7-digit results is still very marginal on the scale of the entire art auction market (0.24% of lots sold worldwide), but their economic weight is extremely important for the market as they generated approximately half of global art auction turnover in 2022.
The media hype accompanying major sales should not make us forget that the highest prices only represent a fraction of what is a mostly 'affordable' global art market.
The global Fine Art and NFT auction market by price range (2022)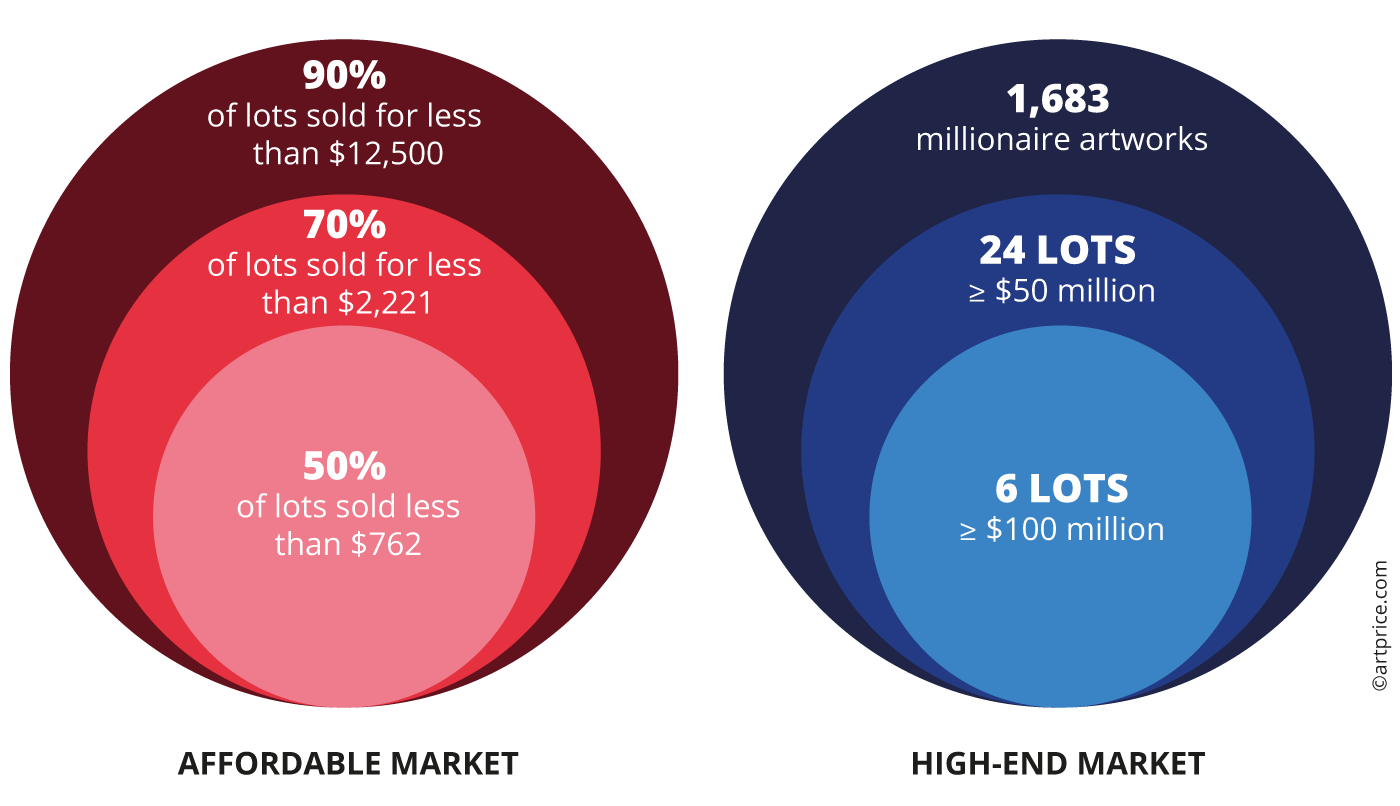 → The year 2022 will be remembered as the most prosperous in art auction history for the number of works that exceeded the $100 million threshold. But the other reality of the art market is the phenomenal quantity of very affordable works sold around the world, more than half of which were acquired for under $800.
Half of all artworks sold at auction fetched under $800
Works valued between $50,000 and $1 million represent approximately 12,000 lots, or less than 2% of the entire market. The lower you go in the price ranges, the greater the volume of transactions: 5% of the lots fetched between $20,000 and $50,000; 11% fetched between $5,000 and $20,000; 25% concerned sales between $1,000 and $5,000, and approximately 50% were transactions under the $800 threshold.
Breakdown by decile of Fine Art and NFT auctions in 2022
x% of lots sold for less than
100%
$195 040 000
99%
$229 264
98%
$99 820
97%
$61 022
96%
$43 390
95%
$32 661
94%
$25 500
93%
$20 683
92%
$17 220
91%
$14 520
90%
$12 500
80%
$4 459
70%
$2 221
60%
$1 247
50%
$762
40%
$494
30%
$313
20%
$188
10%
$94
© Artprice
Indeed, transactions are continuing to intensify in the least expensive price range. Increasingly numerous and increasingly young collectors, now convinced that art can be a pleasurable and risk-free purchase, are actively participating in the market for prints and three-dimensional multiples, a market which provides access to works by famous artists, often for just a few hundred dollars.
To meet this growing demand, auction houses have expanded their affordable offer and their transactions below $500 are growing much faster than in any other price bracket. Today, works sold for less than $500 constitute the largest volume of transactions on the market (41%). If we include works sold between $500 and $1,000, nearly 400,000 lots sold last year below the $1000 threshold, i.e. more than half of the total volume of global art auction transactions. The segment of works sold under $1,000 has jumped +52% since the pre-pandemic period.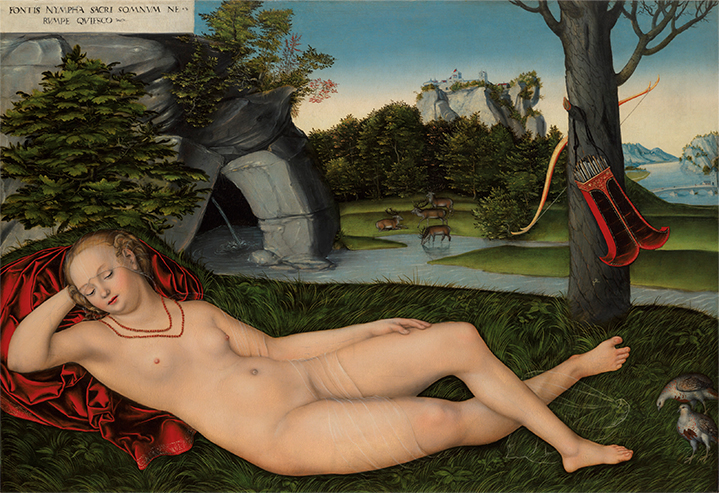 The Nymph of the Spring. Oil on panel, 82.1 x 120.5 cm
$11.3 million on 7 July 2022 at Christie's Old Masters Evening Sale in London
→ Painted between 1540 and 1545, this work by Lucas Cranach the Elder is the largest and arguably the most ambitious of the twelve existing paintings of nymphs by the German painter. Sold for $11.3 million at Christie's Old Masters sale in London, it fetched the artist's second auction result after his The Mouth of Truth which sold for $14.5 million in July 2015 at Sotheby's.
Indice
From the most expensive to the most affordable, a breakdown by price segment