Taipei Dangdai and Frieze New York Fairs
[12/05/2023]

Certain collectors will be moving around the globe in May with two leading art fairs almost back to back at opposite ends of the planet: the Taipei Dangdai in Taiwan, and the Frieze in New York. We take a quick look at some of the things you can expect to see at the young Asian show (4th edition) and at the American show (11th edition).
Taipei Dangdai, 12 – 14 May
For its fourth edition, the Taiwanese fair is hosting 90 international galleries including 30 new participants and deploying a whole panoply of proposals with two special focus sections, "Engage", reserved for artists of historical importance and "Edge" for work by emerging artists. There will also be a sector dedicated to monumental and immersive works (Nole), an Ideas Forum open to a dozen curators to explore the notion of extra-territoriality, various workshops and a series of Pop-up events.
Exhibitors include blue-chip dealers like the Gagosian, David Zwirner, Lehmann Maupin, Ota Fine Arts, Gana Art and Galleria Continua. The galleries take great care with their selections of works and their proposals are often highly 'curated'.
At the DE SARTHE gallery, for example, new works by Contemporary artists Lin Jingjing, Mak2, Wang Jiajia, Wang Xin and Zhong Wei. Under the title "Perceptible Escapes", it is about exploring online culture, simulated fantasies in immaterial worlds, the evolution of existence in the technological age. With the rapid development of new technologies and the constant influx of new information, living – or escaping – in the metaverse has become a source of inspiration as much as a creative tool for artists.
David Zwirner's gallery focuses on essential Western artists with important works by Robert Ryman and Merrill Wagner next to works by Josef Albers, Giorgio Morandi and Al Taylor in a focused exploration of abstraction and minimalism, alongside works by Katherine Bernhardt, Michaël Borremans, Alice Neel, Thomas Ruff and Wolfgang Tillmans, among others.
The Hong Kong WOW gallery will be taking 25 works by 12 Contemporary painters to Taipei Dangdai 2023. It has adapted to the current demand of collectors by building its offer around three themes: "Adventures through the new realm of the Surrealist" (with Charlie Roberts, Ryan Travis Christian, James Ulmer and Jonathan Casella); "Nature Reborn" (with Tim Irani, Kurt Lightner and Sean P. McGaughey); and "The Reimagined Portrait" (with June Oson, Kila Cheung, Heesoo Kim, Felix Treadwell and Jon Burgerman). These three main themes – Surrealist aesthetics, nature and portraiture – being undeniably the three most sought-after genres on the art market at the moment.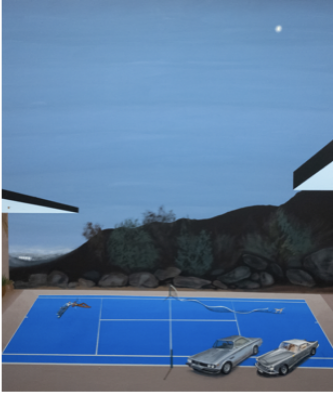 Charlie Roberts. Night Court, 2023. Acrylic. Courtesy of the artist and the WOAW GALLERY
For Magnus Renfrew, co-founder and co-director of the fair, "Taiwan continues to play a vital role in the growing Asian art market, where regional fairs are increasingly important in supporting the overall art environment. At its core, Taipei Dangdai is an exceptional showcase of the quality of the local and regional art scene and a central meeting point in East Asia for internationally engaged collectors."
See the full list of Taipei Dangdai exhibitors: https://taipeidangdai.com/exhibitors/
Frieze New York, 17 – 21 May
A major staple in the world of art fairs, Frieze New York, which was launched in 2012, is now under the direction of Christine Messineo. After last year's sold-out edition, the fair will return to The Shed in Manhattan with some sixty major galleries, including a strong representation of New York dealers. This 11th edition nevertheless brings together galleries from 27 different countries. The Gagosian, Hauser & Wirth, Xavier Hufkens, Casey Kaplan, Victoria Miro, Tanya Bonakdar, James Cohan, La Pace and Perrotin galleries are among them. A "Focus" section also supports galleries that have been operating for twelve years or less, with solo exhibitions of artists considered to be the most important of the moment.
Christine Messineo recalls in a press release that "New York is the undisputed center of the international art market and art lovers and collectors will be able to immerse themselves in the global perspectives that the fair brings to the city. Additionally, a key part of our mission is discovery, not just at the fair but throughout New York, providing a platform for nonprofit organizations that have been the foundation of the city's arts community and its continued vitality."
It is true that the vitality of the New York proposals during the Frieze would make any art enthusiast dizzy. Major institutional exhibitions include "Cecily BROWN: Death and the Maid" at the Metropolitan Museum of Art; "Daniel Lind-Ramos: El Viejo Griot — Una historia de todos nosotros", the largest museum show of the Puerto Rican artist to date, presented at MoMA PS1; , a major solo exhibition of work by Wangechi MUTU – "Intertwined" – at the New Museum; "Georgia O'KEEFFE: To See Takes Time" and "Chosen Memories", a group exhibition of Contemporary works by Latin American artists at the MoMA; the first New York retrospective of work by Jaune Quick-to-See SMITH, and "Young Picasso in Paris" at the Solomon R. Guggenheim Museum, part of a worldwide program of exhibitions commemorating the 50th anniversary of the artist's death.
See the full list of Frieze New York exhibitors:https://www.frieze.com/fairs/frieze-new-york/galleries