Outsider art soon to be celebrated in New York
[28/02/2023]

The 31st annual Outsider Art Fair – the only fair championing self-taught artists from around the world – will be hosted from 2 March to 5 March 2023 at the Metropolitan Pavilion in Manhattan. By bringing together some sixty exhibitors from eight countries this year, the fair promises a wide variety of unusual creations, by creators with very different backgrounds from those encountered within the "mainstream" art community.

Remember that what brings so-called 'Outsider' artists together is their creative independence from the "conventions of classical or fashionable art", as the artist Jean Dubuffet, who helped define Art Brut in the late 1940s, put it.

Among the self-taught, 'folkloric', 'naive' and 'outsider' artists represented at the Outsider Art Fair, the Donald Ellis gallery will be offering drawings by the Inuit artist PARR (the majority of whose works sell for under $5,000 at auction); Kishka Gallery & Library will be proposing drawings by Denver Ferguson (born 1985), a climate refugee who began drawing while working as a cashier at a Connecticut gas station after Hurricane Irma; the Shrine gallery will be presenting the work of David BUTLER (1898-1997) and Mark T. SMITH (1904-1995), two figures in the Southern tradition of "yard shows", where black artists decorated their homes to convey messages that they could not deliver openly.

Works by Greg Burak, Minnie Evans, Tony Fitzpatrick, William Hawkins, Chris Johanson, Pam Lins, Eleanor Ray, Fred Tomaselli and Bill Traylor are highlighted in particular in the We Are Birds section, with a selection of works chosen on the theme of birds. Andrew Edlin, President of the fair and co-curator of this poetic section focused on birds, observes with satisfaction that Outsider art is conquering an ever wider public, and that there are more and more passionate collectors. The success he observes also extends to the auction market, where certain 'marginal' artists achieve interesting prices, thanks to collectors who are all the more competitive since there are not so many works at auction.

Bill Traylor: number of lots sold at auction (copyright Artprice.com)

Take the example of Bill TRAYLOR, whose works are not numerous enough in auction rooms to meet demand: last year a record 17 of his works sold at auction and none of his lots remained unsold, illustrating the level of demand for his creations and their popularity. With an auction record of $507,000 for a drawing sold by Christie's New York during the 2020 Outsider Art Fair (Man on White, Woman on Red / Man with Black Dog), in January 2023 a small graphite drawing measuring roughly twenty centimeters sold for $252,000… that's a higher price than most drawings of this format by Pablo Picasso!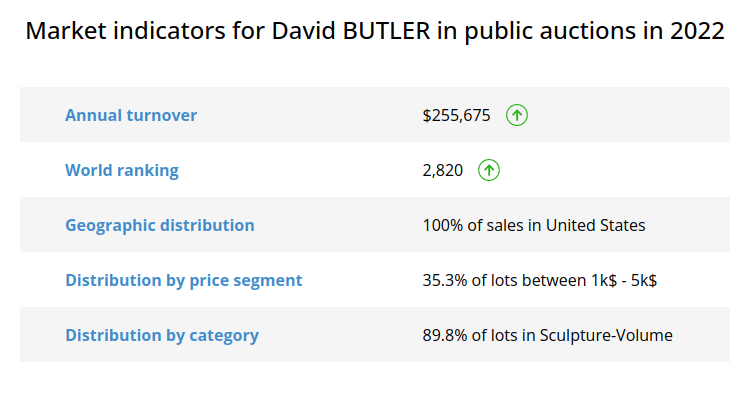 Another example is that of David BUTLER, all of whose works presented at auction in 2022 found buyers. Butler has just had a record year with 34 works sold in 2022, generating a total exceeding $255,000. Last year, one of his creations – a sculpture titled Walking Stick with Figure (c.1975) – crossed the $50,000 threshold for the first time, setting Butler's auction record at $62,500, ten times its mid-range estimate. This work was also sold by Christie's during the 2022 Outsider Art Fair.
Although the magnetic effect of the Outsider Art Fair has had a very positive impact on the auction sphere in the past, this year (2023) Christie's chose to organize its Outsider and Vernacular Art sale much earlier in the calendar. It was held on 18 January 2023 and generated $2 million, including a best result at $302,400 for a painting (The Black Cat) measuring approximately thirty centimeters in height by Outsider artist Winfred REMBERT, again, a new auction record for the artist.