Old master drawings catch fire: the Northern school example.
[03/07/2002]

  Drawing was formerly considered a secondary skill, of use mainly in preliminary studies for painting, sculpture or architecture. But enthusiasts were not long in seeing that such early sketches had their own expressive qualities and their own financial value. Among the main beneficiaries of recent price rises have been drawings by the Northern schools: up 67% since June 2001.

These drawings made spectacular gains in 1999, rising more than 130% between June and December, thanks largely to the auctions held in Amsterdam on the 9 & 10 November that year. Although Christie's and Sotheby's usually keep their best pieces for New York, the autumn sales in Amsterdam still bring together a vast array of lots and can sometimes trigger a leap in prices, with a few records along the way. In November 1999 a gouache by Cornelis TROOST was sold for NLG (Dutch guilders) 310,000 (EUR140,672), more than six times its low estimate. The next most expensive Troost drawing since 1997 had gone for just EUR5,793.
The surge in prices in winter 1999 was confirmed at the start of 2000 with two spectacular sales of REMBRANDT VAN RIJN drawings: for USD3,400,000 and USD2,300,000 at the same January auction in New York.
After a fallback in prices in late 2000 and early 2001, perhaps a correction to the massive gains of 1999, Northern school drawings have now returned to the fore. Prices have gained nearly 40% since January 2002. At the same time, the bought-ins ratio has also risen, to 37.9% in 2001, as high-quality old master drawings have become harder to find. Collectors have become more selective, particularly as this type of work tends to be fragile. A good state of preservation, high-quality drawing and an expressive line are often more crucial in sales than a big-name artist. One implication is that drawings by second-rank artists can command higher prices than those of recognised masters.

On the 9 & 10 July 2002, London drawing-enthusiasts can choose from a selection of handsome sketches at Sotheby's and Christie's. The Christie's auction features some twenty drawings from the Northern school, including a major ink work by David VINCKBOONS, "Petrus Plancius instructing Students in the Science of Navigation", (The Light of Navigation), expected to fetch GBP 50-60,000. Note, too, a drawing by Herman SAFTLEVEN whose price index rose 85% between 2000 and 2001. A day later Sotheby's presents a number of studies for "The Massacre of the Innocents, after Rubens" by Van Dyck (Anthonius VAN DYCK), a taster for the exceptional Rubens canvas that goes under the hammer that same evening at Sotheby's.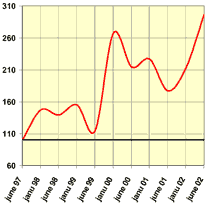 Artprice index for the drawings
of the North European School
of the 17th century
base 100 in june 1997