London & New York: star lots announced
[20/09/2022]

The next major prestige art auctions will be held in October. In recent days, the auction houses have been revealing their star lots to whet collectors' appetites.

The complete catalogs are not yet available online, but, as usual, the auction houses are giving some clues about the forthcoming Impressionist, Modern and Contemporary art sales in London and New York, a moment that is always eagerly awaited as it sets the tone for the art market's resumption of activities after the summer recess. Here are the first key dates and signatures to look forward to.
12 October: a major Foujita at Bonhams
Nu Assis (Jacqueline Barsotti-Goddard) is an exceptional painting by Tsuguharu FOUJITA (picture below) on several levels: by the incomparable grace of Jacqueline Barsotti-Goddard, who was also muse and model for Picasso, Matisse and Giacometti; by its dimensions (c.65 x 100 cm) which make it one of the largest works ever marketed in the series of Nudes by Foujita; by its exceptional provenance and finally its reappearance on the market after a lapse of 100 years ( the work has been part of the same private collection since 1929).
Presented in preview in Taipei, Hong Kong and Paris before returning to London for its sale on 12 October, this flagship lot of Bonhams' Impressionist & Modern Art sale is being offered in an estimated range of $900,000 – $1.4 million. The best Nudes by the artist can reach much higher: up to $5 million for a Nu Au Chat (1930) sold in 2016 at Sotheby's Hong Kong.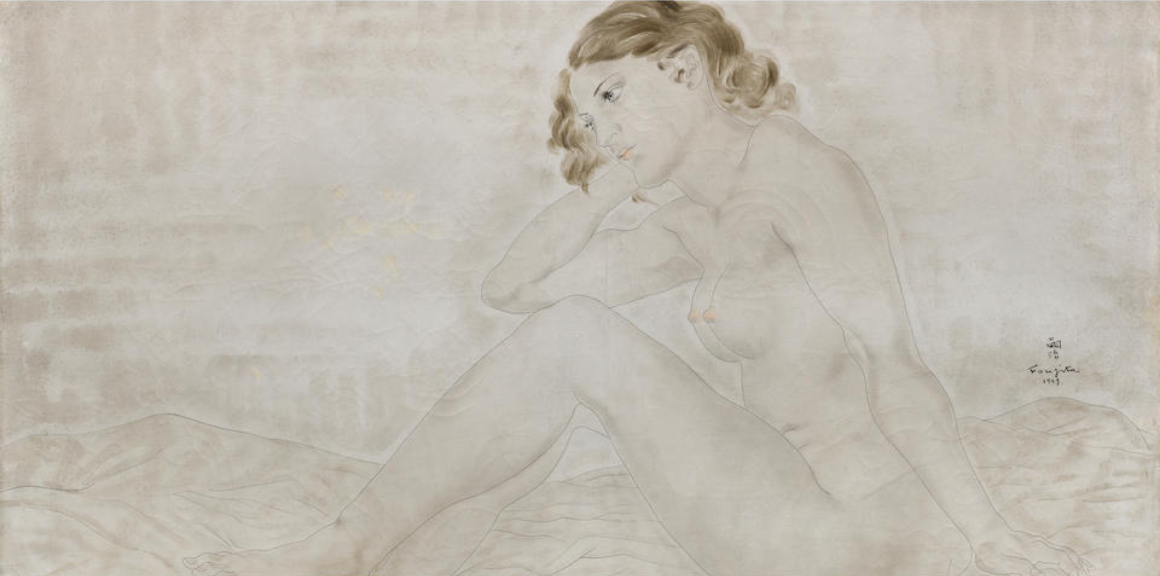 13 October: Christie's and Bonhams
Christie's has planned its London sales schedule to coincide with the opening of the next Frieze (12-16 October) with a fine sale of 20th and 21st century Art on 13 October. The session will be led by a David HOCKNEY canvas, Early Morning, Sainte-Maxime (1969) – a study described as 'masterful' in its treatment of light – which could exceed $10 million. Remember that a David Hockney work elicited one of the highest results at the start of this year when his Garrowby Hill (2017) fetched $18.8 million at Sotheby's London last March. Purchased from the Pace Gallery in New York in 2018, that superb hilly landscape was kept for just three years before being resold. The work presented by Christie's on October 13 has not appeared at auction for over 30 years.
The Christie's sale will include works by major Post-War and Contemporary artists who are all subject to strong demand. They include Yayoi Kusama, Kim Tschang-Yeul, Rashid Johnson, Stanley Whitney, Dana Schutz and Christina Quarles. The sale's strong selection of British art is complemented by European pieces, including works by Lucio Fontana, Luc Tuymans, Martial Raysse and AR Penck.
The day will be busy since Bonhams is also hosting a major sale of Post-War and Contemporary Art on 13 October. A month before the session begins, Bonhams has indicated that their sale will include works by Damien Hirst, Glenn Brown, Georg Baselitz, Banksy, Aboudia and Caroline Walker, in a very wide spectrum of prices ranging from less than $6,000 to more than $750,000.
14 October: Contemporary Art at Sotheby's
At the time of writing, only one lot has been advertized by Sotheby's for its major sale of Contemporary Art scheduled for 14 October. It is Gerhard RICHTER's 192 Farben, an oil on canvas measuring 2 x 1.5 meters, part of his "Color Charts" series. Its title indicates that it is composed of 192 colors and it was painted in 1966, a period when Richter treated color in autonomous modules to structure the painting in a vast frozen grid.
The best works in this series are generally owned by major public and private museums including the Pompidou Center and the Louis Vuitton Foundation in Paris, and the Philadelphia Museum and the MoMA. They are considered prestige works that mark an important stage in Richter's career, one of the 10 most successful artists on the global art auction market according to Artprice's provisional ranking for 2022. Richter's 192 Farben is therefore expected to fetch a high price of at least $15 million according to the estimate provided by Sotheby's. But it could exceed the 20 million threshold, especially since the works in this series are rare on the secondary market. Richter's current auction record still stands at $46 million since the sale of Abstraktes bild (1986) in February 2015 at Sotheby's in London.
Gerhard Richter, world ranking at auction. Copyright Artprice.com

21 October: two works by Renoir at Christie's New York
The star lots of Christie's sale on 21 October are two works by Pierre-Auguste RENOIR (1841-1919), both acquired at auction in 1995 and kept in the collection of Ann & Gordon Getty ever since. Place Pigalle (study) (1880), a typical Parisian scene from the end of the 19th century, treated with great liveliness and a bold framing reminiscent of a photographic snapshot. Sold for $633,000 in June 1995 at Christie's London under the title La Place Clichy, the work retains its value from 30 years ago according to Christie's estimate of $500,000 – $700,000.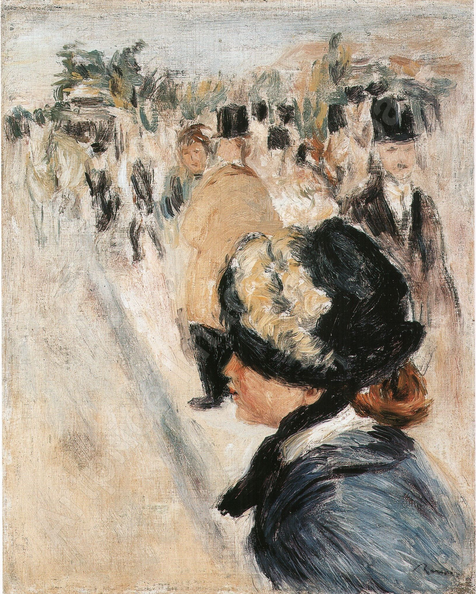 The second Renoir lot is a work titled Jeune fille (L'Eté), (c.1880). About fifteen years after its creation, this pastel was acquired by the famous Galerie Durand-Ruel in Paris. Over the following decades, it passed through the hands of several legendary dealers and collectors of Impressionism, including Julius Oehme and Hugo Reisinger of New York and Galerie Bernheim-Jeune of Paris. In 1917, the pastel was acquired by Rose Duhamel Vildrac, wife of the French poet and playwright, Charles Vildrac. Almost eighty years later, Ann and Gordon Getty acquired the work (then titled Woman in a Straw Hat, Femme au chapeau de paille), paying $950,000 (excl. fees) at Sotheby's London. Today, the delicate drawing is expected to fetch roughly the same price as it is carrying an estimate of $700,000 – $1 million.