KIAF 2011 – Overview
[27/09/2011]

 

The tenth KIAF having just ended, Artprice takes a retrospective look at one of the most constant Asian fairs, that of South Korea, the world's 13th market for Contemporary art.

The KIAF celebrated its 10th edition with 192 galleries of which 75 were foreign. Created in 2002, the KIAF rapidly became one of the most important Asian art fairs.
Although the large number of galleries makes it somewhat difficult to take in, the KIAF is nevertheless a quality fair thanks to a network of local galleries and high quality artists.

PYO had a monumental work by Ufan LEE (more than 4m²) next to a large Spinning painting by Damien HIRST (more than 1m in diameter) and a work by ZENG Fanzhi.
While Chinese artists were not particularly present, there was an abundance of Western artists.
Just next to the Pyo Gallery, we found the Kukje Gallery offering a space entirely dedicated to the English artist Julian OPIE.
Julian Opie is very popular in Asia with his works represented by more than five galleries in the region.
Alongside the numerous works by Opie, the Hyundai Gallery presented 9 sculpted numbers by Robert INDIANA and a few additional painted numbers on the gallery walls.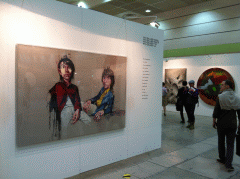 ©Artprice.com/Pyo Gallery
In the midst of the Korean galleries, some quality European galleries hoped to seduce with major names of Western art. Frankfurt's Die Gallery decided to adorn the walls of its stand with works by Pablo PICASSO (mainly drawings), Marc CHAGALL, Anselm KIEFER and André MASSON. Opposite the Die Gallery, Helsinki's Forsblum Gallery decided to play the diversity card with a monumental sculpture by Bernar VENET and a sculpture by the Chinese artist CHEN Wenling. Finland was well represented with Berlin's Taik Gallery dedicating its space to the new Finnish photography scene (Helsinski School), one of the rare stands totally devoted to photography.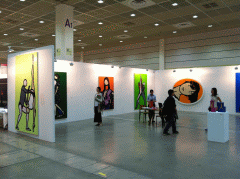 ©Artprice.com/Kukje Gallery In the second hall (the fair has two), certain major galleries like Leehwaik Gallery, Bhak Gallery and Johyun Gallery offered quality works next to more decorative art on offer at neighbouring galleries. For example the RHO Gallery offered a space dedicated to the artist Byung-Rock YOON and his large sculpted and painted apples. Yoon enjoys a certain success at auctions with results above $50,000 for large scale works. The stand at least had the advantage of being a very strong magnet for the fair's younger public.
At the Bhak gallery we found Lee Ufan again (present in more than a dozen galleries this year) and enormous portrait paintings by Young Wook HAN. Opposite these worrying but sincere faces by the Korean painter, the Artside gallery chose to exhibit family portraits by the Chinese artist ZHANG Xiaogang.
Columns Gallery had an abundant choice of work. A large Tracey EMIN neon work (For You) threw light onto a bear by Peter OPHEIM while a Ron ARAD armchair faced paintings by Marc QUINN and Jim DINE. Beside Columns, the Indonesian gallery VanessaArtLink offered an entire space to the artist Gusti Agung MANGU PUTRA and to the question of human rights.
While numerous galleries presented lithographs by Andy WARHOL (Insa, Juliana, Yeasung and Rainer Klomczak), the Leehwaik Gallery offered a Marilyn by Dong-Yoo KIM and some large works by NOH JUNG RAN (the Korean colour painter was also very prominent at Pyo).
A few metres further on, the Wellside Gallery presented a monograph by one of the most ubiquitous artists at the KIAF: Seo-Bo PARK. Present in more than six galleries, Seo-Bo Park has not recovered to the record prices he reached in 2007/2008 (more than five works sold above the $100,000 threshold), but enjoys strong demand on the primary market. We saw him again at the Johyun Gallery alongside Lee Ufan and a Damien Hirst Spiral painting, and at the Song Art Gallery alongside another artist who is also very popular in Korea and abroad: Nam June PAIK.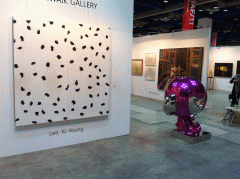 ©Artprice.com/Leehwaik Gallery
This year the KIAF opened a new space: Art Flash, dedicated to new media and large installations. The largest Korean galleries (from Pyo to Hyundai, including Kukje) all took advantage of the space to present installations by Contemporary Korean artists. This was an excellent initiative that gave exposure to the work of young artists like Yeon Doo JUNG and HAN Yuechuan. The country that produced Nam June Paik, the world's most sought-after video artist, continues to support innovative projects in less expensive artistic disciplines.