Flash news: van Dyck, Bronzino, Goya
[10/02/2023]
A van Dyck painting acquired for $600 and sold for $3 million
A painting by Anthonius VAN DYCK (1599-1641), rediscovered in an American barn in 2002 and authenticated in 2019 by American art historian Susan Barnes (co-author of the catalog raisonné of Van Dyck's paintings), sold for $3 million on January 26 at Sotheby's in New York (A study for Saint Jerome). Before it was recognized as an original work by the Dutch master, a certain Albert B. Roberts, an inspired collector, acquired the painting for the modest sum of 600 dollars.
The painting in question had all the necessary qualities to reach its high estimate of three million dollars: a traceable provenance (although somewhat tumultuous), in very good condition and a direct link with one of van Dyck's museum masterpieces. Probably painted between 1615 and 1618, this striking study of an elderly man represents a major discovery from the early period of Sir Anthony van Dyck, an artist second only to Sir Peter Paul Rubens in the hierarchy of 17th-century Flemish masters. It is one of only two large studies of living models known in van Dyck's œuvre, this one having been painted while the young artist was assisting Peter Paul Rubens (1577-1640) in his studio in Antwerp. The work served as a study for van Dyck's painting of Saint Jerome (1618-1620) currently kept at the Boijmans Van Beuningen Museum in Rotterdam. Considering there are usually no more than 10 van Dyck works sold publicly per year (and most years, far fewer), the Sotheby's sale on 26 January was a rare opportunity to obtain a work by the Flemish master. Van Dyck's auction record dates back to 2009 when a Self Portrait fetched $13.6 million at Sotheby's against a high estimate of around $5 million.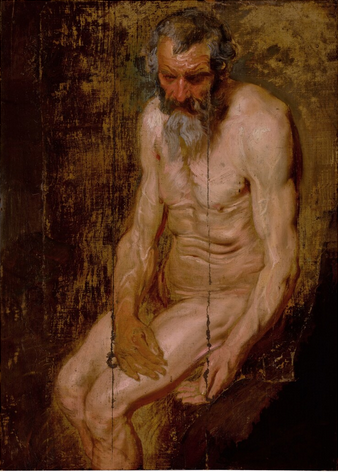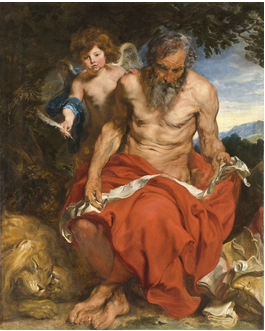 Anthony van Dyck: left, Study for St Jerome, sold for $3m at Sotheby's, January 2023. Right :St. Jerome, oil-on-canvas from the collection of the Boijmans Museum in Rotterdam
New record for Agnolo di Cosimo (aka Bronzino)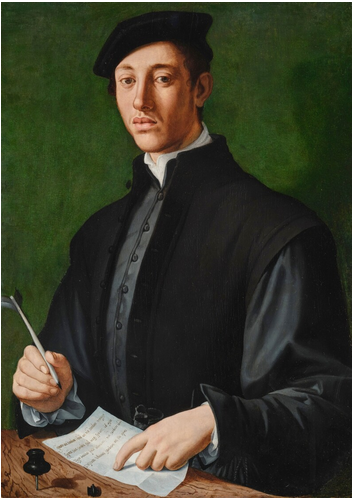 In early 2022, the German government finally restituted a Portrait of a young man (attributed to Jacopino del Conte) to its legitimate owners, the Hesselberger family. The latter subsequently consigned the painting to Sotheby's for sale, but, after authentication, Sotheby's announced the rediscovery of a captivating early self-portrait (circa 1527) by one of Italy's leading late Renaissance artists, Agnolo di Cosimo, known as BRONZINO (1503-1572). In remarkable condition with its provenance traced back to the 17th century, the newly-attributed Bronzino work fetched a new auction record for the Renaissance artist at Sotheby's recent Old Masters sale in New York. Works by Bronzino are substantially rarer than works by van Dyck, and several years can separate their auction appearances. In this case, a hot story coupled with extreme rarity, traceable provenance, artistic quality, good condition and the 'likelihood' of a self-portrait all combined to stimulate strong bidding: at $10.6 million, the final price was double its high estimate.
New record for Goya de Lucientes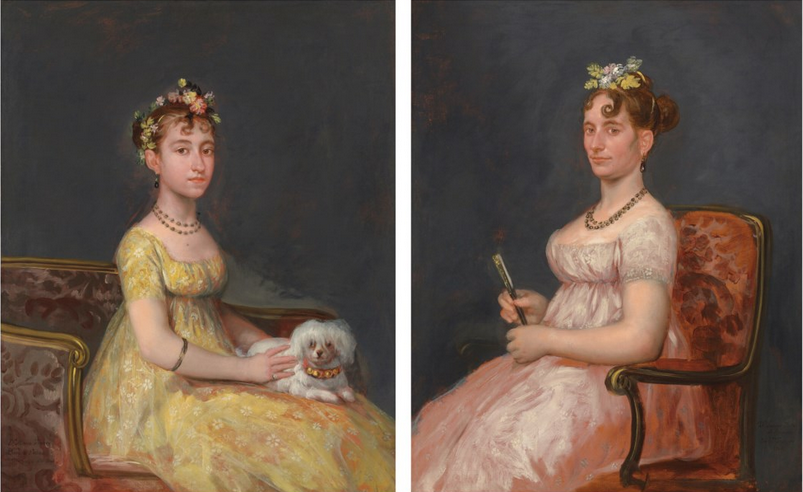 Two portraits, that of Doña María Vicenta Barruso Valdés, and another of her mother, both seated and looking out towards the viewer, sold together for $16.4 million on 25 January at Christie's. These two portraits by Spain's greatest artist of the late 18th and early 19th centuries appeared on the market for the first time in more than seventy years. Rare (Goya only made a handful of portrait pairs, and this is the only known pair representing two women) and dated 1805 (Goya's best period at the height of his career), the Barruso Valdés paintings mark the beginning of what might be considered a series of key portraits, all depicting wealthy ladies. A number of these works are today hanging in prestigious museums: Young woman wearing a mantilla and a basquiña at the National Gallery of Art in Washington, Young Woman with a Fan at the Louvre and Portrait of Señora Sabasa García at the National Gallery in Washington.
This very rare acquisition opportunity doubled GOYA's auction record, unchanged since one of his bullfighting scenes fetched over $7 million 30 years ago. The result was also the second-best result at Sotheby's Old Masters sale in New York behind the Peter Paul RUBENS painting which fetched nearly $27 million.