Christie's London: the first results
[07/03/2023]

On the evening of February 28, a session dedicated to Surrealist Art concluded Christie's first series of 20th and 21st century art sales of the year in London. The "20th/21st Century: London Evening Sale" session generated $155.38 million and was immediately followed by the 22nd edition of "The Art of the Surreal Evening Sale", which totaled $46.82 million. The combined total of these two sessions was $202.2 million and the sold-through rate was 89%. Seven artists set new auction records, including Michaela Yearwood-Dan, Óscar Domínguez, Tyler Hobbs and Caroline Walker.

The highest price was hammered for Pablo PICASSO's Femme dans un rocking-chair (Jacqueline) depicting his second wife and muse Jacqueline Roque. The painting fetched over $20.4 million just a few weeks before the 50th anniversary of Picasso's death, which Christie's has decided to commemorate throughout the year 2023.

Behind that top price there was $8.6 million for a canvas by Paul CÉZANNE painted in 1882-83: L'Aqueduc du canal de Verdon au nord d'Aix (The Verdon Canal Aqueduct north of Aix), a work kept in the same family collection for over a century. The third best result rewarded a Vincent van Gogh portrait of Gordina de Groot, also offered for sale for the first time in over a century. Painted in the small village of Nuenen in 1885, the canvas exceeded its high estimate to fetch $5.8 million from a bidder in the room.

The particularity of these "20th/21st Century" sessions is to mix the great classics of the 20th century with works by Contemporary and Ultra-Contemporary artists. So for example we saw works by Van Gogh and Renoir next to works by Shara HUGHES and LIU Ye. Enthusiasm for Hughes' work has not waned and her canvas Rough Terrain reached $762,000, while Liu Ye's The Goddess, a 2018 painting depicting the Chinese silent films star Ruan Lingyu, elicited enthusiastic bidding up to $3.7 million, against a high estimate of $1.4 million.
An NFT among classic works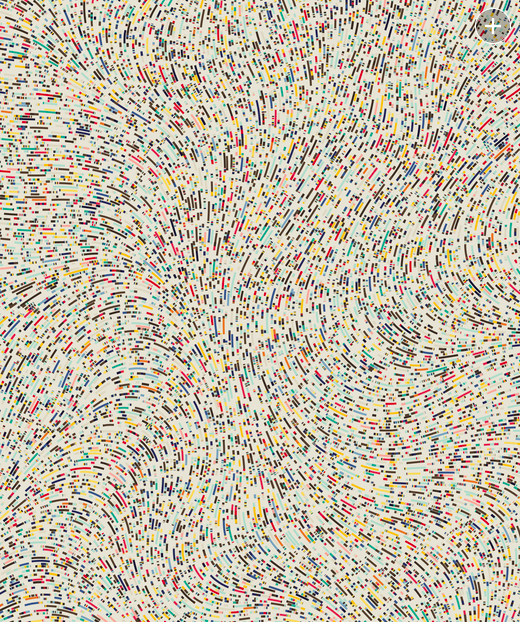 A significant inclusion… for its first big sale of the year, Christie's integrated an NFT among the art market's top selling signatures. The work, Fidenza #724 (see image) by Tyler HOBBS, is one of a series of 999 computer-generated images minted as individual NFTs. According to Christie's, "after a flurry of international bids", the NFT fetched an auction record for the artist at $442 000.
Christie's, and the bidders who pushed Tyler Hobbs' work to the highest level, are keen to prove that confidence has returned to the NFT niche, a niche that the auction house is also seeking to promote among the other major creative mediums by including this work among the great classics of art history.
New record for a drawing by Magritte
Once again René MAGRITTE dominated a Surrealist auction by attracting the two best results of the small sale (just 32 lots). First his Le retour, a gouache painting measuring 29.6 x 41.7cm which set a new record for the artist in the drawing medium when it fetched $7.4 million. His previous record in this drawing medium was hammered in 2015 at $6.7 million for Le Maître d'école (1955). Le Retour had already been sold at Christie's in 2004 for $1.8 million: its value therefore increased by 600% in less than 20 years.
A small Magritte canvas titled Souvenir de Voyage (40.1 x 30.2 cm) sold for two million above its estimate, reaching $6.7 million, and a drawing with collage carrying a high estimate of $423,000 sold at two and a half times that price at just over a million dollars.
The fifth most successful artist in the world by annual auction turnover with a total of $226.5 million in 2022, Magritte's work is already eliciting the highest bids again this year.
René Magritte, price index at auction (copyright Artprice.com)

Absolute record for Óscar Domínguez
Another important record to note: that of the Spanish Surrealist painter Oscar DOMINGUEZ with his most famous work on the auction market, his Machine à coudre electro-sexuelle1, a painting which has set the artist's auction record no less than three times:
First in 2008 when it sold for $2.9 million

Then in 2013 it sold for $3.3 million

And just recently in 2023 it fetched $5.5 million
The repeated sale of this same work illustrates the rise in prices for the best Surrealist paintings, and above all, its rapid inflation over the last decade!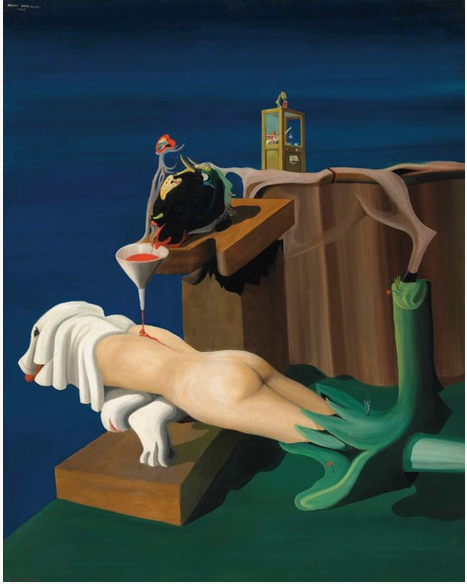 Oscar Dominguez, Machine à coudre électro-secuelle