Bonhams and Sotheby's, two auction houses determined to support African art
[10/01/2020]

The auction houses have not found it an easy task to bring Modern and Contemporary African art to the eyes of international collectors, but some of them have shown remarkable tenacity, giving the works time to find their audience. After several years of disappointment, demand is clearly on the ascent with their turnover from African art multiplied by five in just two years.
Bonhams, the pioneer…
When Bonhams' specialists in London refer to an "explosion of interest in Modern and Contemporary African art", they are speaking from experience. Historically, Bonhams was the first major auction house to have consistently entered this segment of the market. Between 2009 (the year they launched their dedicated African art sales) and 2014, Bonhams organized just one sale per year. In 2015, it accelerated to three sales per year, and then dropped back to two. In 2018, Bonhams was the first auction house to hammer a 7-digit (USD) result for an African artwork: a painting by the "father of Nigerian Modernism", Benedict Chukwukadibia ENWONWU (1921-1994).
A major artist – educated in Nigeria and then in the UK, made an officer of the National Order of the Republic of Senegal, decorated with the National Order of Nigerian Merit, critically acclaimed during his lifetime, and described as the most important artist on the African continent in 1949 by TIME magazine – Enwonwu's work fetched ridiculously low prices for many years. Twenty years ago, his paintings were only worth a few hundred dollars. Bonhams hammered his first 6-digit result in 2013, followed by a similar result at the dynamic auctioneer ArtHouse Contemporary in Lagos (Nigeria).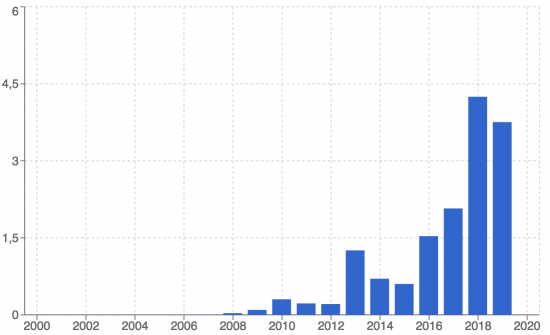 Ben Enwonwu – Turnover, chronological progression (copyright artprice.com)
Ben Enwonwu's recent million-plus record rewarded his best-known work, a portrait of Yoruba princess Ife Adetutu Ademiluyi, known as "Tutu" (1974), a canvas painted shortly after the end of the civil war in Nigeria and since reproduced thousands of times as it is so popular. Having disappeared for more than 30 years, the Nigerian "Mona Lisa" was found in a private home in London and it fetched four times its high estimate in February 2018, at over $1.6 million. The result was a particularly strong boost for the African art market as a whole.
Galvanized by its success, Bonhams decided to step up a gear in 2019 by taking its "Modern & Contemporary African Art" sales to New York. Six works sold above the $100,000 threshold during the New York auction on 2 May 2019; works by Ben Enwonwu and Irma STERN, Demas NWOKO, Skunder BOGHOSSIAN, PAPA IBRA TALL and Nelson MANDELA. The enthusiasm suggests that the New York market is now ready to absorb the best of Modern and Contemporary art from the African continent.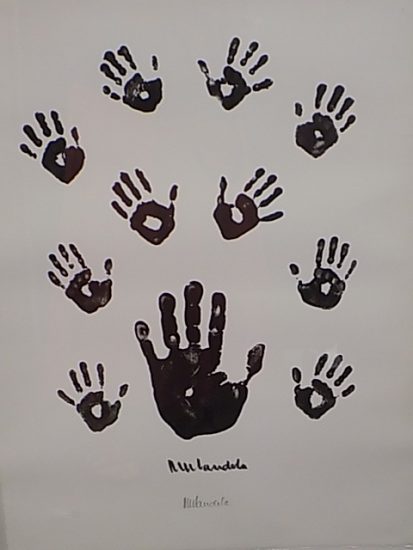 Nelson Mandela – Black and white left hand (Cannon & Cannon)
Additional thrust from Sotheby's
In 2017 Sotheby's recently decided to go down the same path as Bonhams by opening a department specializing in Modern and Contemporary African Art in London. Since its first session on 16 May 2017 (which sold 79% of the lots on offer and generated a total of $3.6 million), Sotheby's has hammered more than 60 new records for African artists. Its April 2019 sale generated $3 million, of which nearly half came from El ANATSUI's work Zebra Crossing 2. El Anatsui was the second African artist to be awarded a Golden Lion at the Venice Biennale, after Malick Sidibé in 2002. During that same sale, a record was set at $31,000 for the Senegalese artist Omar BA. Promoted by the Templon gallery (Paris) after having been represented by Bärtschi and Anne de Villepoix, Omar Ba's works have been present at major international exhibitions for several years thanks to strong support from his gallery. He is therefore now closely followed by international collectors and his work is now expected to appear in auctions.
The increasingly positive response from the market is part of a generalised effort to mitigate the under-representation of African artists in major Contemporary art fairs and exhibitions. The Venice Biennale is increasingly open to African countries with its last edition including Ghana for the first time. The Ghanaian pavilion was also one of the most noticed, and it proposed works by market stars like El Anatsui, Ibrahim MAHAMA, Lynette YIADOM-BOAKYE alongside works by artists unknown on the secondary market like Felicia Abban and Selasi Awusi Sosu. Exhibiting emerging artists alongside confirmed artists is an excellent technique for boosting the market values of the former. As works by Zanele Muholi and Henry Taylor were discovered in Venice, others by the same artists reached new heights in auction rooms.