Pop art blurred the lines between fine art and its commercial cousin — an astute business move, apparently, as prices at auction now spiral beyond the reach of many collectors.
Art which thrived on consumerism has itself become an object of consumption
The US has had an insatiable urge to consume since the 1950s, and in the art world, buyers seem to have an analogous appetite for Pop Art. Admittedly the movement's output seems purposely crafted for popularity. Some of the school's practitioners deliberately integrated the icons and symbols of contemporary America into their work. Others modelled their work on mass consumer products with messages as accessible as possible. Silk-screen prints of cult images circulated among a mass audience. Now the segment is seeing another boom in sales. No less than 1,365 US pop art works came up for auction in 2002.
The wealth of supply has still not, however, outstripped demand and prices have continued to rise. As speculators turned to Pop, the art that thrived on consumerism itself became an object of consumption. The deepening of the market is evident from the rising number of lots offered and falling numbers of no-sales. In 1999, 90% of the 1,912 lots appearing on the auction stand found a buyer. But everything made in the USA eventually finds its way abroad and art is no exception. Since 1997, volume sales of Pop Art in France have doubled. The UK market is steadily narrowing the gap with the US. And US sales have fallen by 25% since 1999. While the US market has been driven up by a succession of record sales, in Europe, pieces are far more accessible and potentially just as profitable.
American Pop Art : Price Growth Artprice Index base December 1992 = 100
Currency = EUR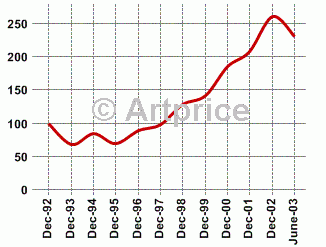 Pop art turns into dollars
The price of popular works are less democratic than the symbols they invoke. After a blip at the start of the 1990s, prices tripled between 1995 and June 2003. Inflation has paradoxically made the stars of Pop inaccessible to most of their fans. In 2002, 90% of the movement's paintings that came up for auction were knocked down at USD 10,000 or more, half for over USD 100,000. A scant half-century after their creation they are already viewed as major collectors' items, often commanding more than a million dollars at auction. Since the end of the 1980s major canvases by Roy LICHTENSTEIN, Jasper JOHNS, Robert RAUSCHENBERG and Andy WARHOL have all topped the million mark.
The priciest, Andy Warhol (see ranking), had his best moment in 1998 when Sotheby's New York sold an Orange Marilyn for more than USD 15.7 million. The canvas had been bought new on the primary market at Leo Castelli for just USD 2,500. The result was an 80% rise in Warhol's price level in 1998, triggering a wave of enthusiasm for all things Pop. The Pop Art segment index rose by 43% that year. Andy Warhol works tend to change hands rapidly, but major pieces are now becoming harder to find, their prices are rising at a faster rate than the second-string work and speculative interest is keen. Christie's for instance has sold three examples of Big Electric Chair, a 1967 series in an imposing 137×188 cm format, in the last 20 years. The first in 1986 went under the hammer for USD 85,000. A second in red and green sold for GBP 1.5 million (USD 2.36 million) in 1999. And on 13 November 2002 the buyer of the fuchsia piece doubled the bet, paying USD 4.5 million. Over 16 years the series thus generated a massive annual return of 28%.
Warhol ranks fourth in the world index of artists by lots sold, behind Picasso, Chagall and Miró, and has the eighteenth highest price at auction for any artist in the last 10 years. Surprisingly perhaps, rarity is not the sole determining factor in the price of an art work. It is often a combination of ample supply and heavy demand that drives an artist's value at auction. And prolific output frequently reflects an artist's fame.
Today, with a generalised rise in prices across the movement, records are falling continually under the hammers of American auctioneers. In 2002, five of the movement's artists beat previous highs: Roy LICHTENSTEIN (USD 6,500,000: Happy Tears), Tom WESSELMANN (USD 850,000: Great American Nude #44), Ed RUSCHA (USD 3,200,000: Talk about Space), Claes Thure OLDENBURG (USD 620,000: Light Switches (Hard Version)) et Robert INDIANA (550,000: The American Sweetheart). (see the TOP 1000 artists who beat their own records in 2002)
The Top 10 most expensive American Pop Art artistsRanking by highest hammer price at auctionRANKARTISTLOTSALE1Andy WARHOL (1928 – 1987)USD 15 750 000 : Orange Marilyn (1964)14/05/1998, Sotheby's (New-York)2Jasper JOHNS (1930)USD 11 000 000 : Two Flags (1973)08/11/1989, Sotheby's (New-York)3Robert RAUSCHENBERG (1925)USD 6 600 000 : Rebus (1955)30/04/1991, Sotheby's (New-York)4Roy LICHTENSTEIN (1923 – 1997)USD 6 500 000 : Happy Tears (1964)13/11/2002, Christie's (New-York)5Ed RUSCHA (1937)USD 3 200 000 : Talk about space (1963)14/05/2002, Christie's (New-York)6Tom WESSELMANN (1931)USD 850 000 : «Great American Nude #44» (1963)14/05/2002, Christie's (New-York)7Claes Thure OLDENBURG (1929 – 1997)USD 620 000 : Light Switches (Hard Version) (1964)11/11/2002, Phillips (New-York)8Jim DINE (1935)USD 600 000 : Hearts (1969)08/11/1989, Sotheby's (New-York)9Robert INDIANA (1928)USD 550 000 : «The American Sweetheart» (1959)14/05/2002, Christie's (New-York)10Ronald Brooks KITAJ (1932)USD 365 400 : Value, price and profit (1963)05/12/1991, Sotheby's (London)