JINGART
(30/05/2019 - 02/06/2019)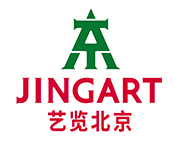 JINGART
Second Edition of JINGART Brings a Wide Spectrum of China and the World's Leading Exhibitors in Modern and Contemporary Art and Design
From May 30 to June 2, 2019, the second edition of JINGART will return to Beijing with an extraordinary breadth of artwork on view for collectors and art lovers of all levels. A stellar roster of 41 exhibitors will gather under the dome of Beijing Exhibition Center and features museum-quality works of art and design of different eras and genres.  
Launched in May 2018, JINGART is committed to combining the dynamic culture of Beijing with the international art market, in the hope of building a diverse and inclusive platform for local and international exhibitors. This year, exhibitors present works ranging from modern and contemporary art, design, furniture, decorative art, fine jewelry and many more.
2019 Exhibitors
41 exhibitors from 34 cities and regions will participate in this year's JINGART. Alongside 19 returning galleries, 22 new exhibitors including Artify Gallery (Hong Kong), Asia Art Center (Beijing), Beijing Commune (Beijing), Caissa Besseiche (Asia) Art Centre (Beijing), Galleria Continua (San Gimignano), EGG Gallery (Beijing), Feefan's Art (Beijing), Feng.J Haute Joaillerie (Shanghai), Barry Friedman Ltd.(New York), Gallery Kogure (Tokyo), Ciga Long Jewelry (Beijing), One Way Art Gallery (Beijing), Opera Gallery (Hong Kong), Ota Fine Arts (Tokyo), Pace Gallery (New York), Ping Art Space (Taipei), Enamel Shi (Shanghai), Soka Art (Beijing), Tong Gallery+Projects (Beijing), AC Cube (Chengdu), Botero In China (Shanghai), Jiang Jia Ban (Xiamen) will also take part in the fair. Their participation brings Beijing audiences a prime opportunity to immerse themselves into a rich collection of global art treasure. Highlights include:
Thematic Presentations of Modern and Contemporary Art
JINGART will feature carefully curated booths by exhibitors from China and abroad. David Zwirner will showcase a selection of blue-chip masterpieces including works by Josef Albers, Alice Neel, Francis Alÿs, Diana Thater and Stan Douglas. Pace Gallery will present recent works by Lee Kun-Yong, Richard Tuttle and Xiaoyu as well as works by Irving Penn from 1950s. Whitestone Gallery features accomplished Japanese artists including Yayoyi Kusama, Yoshitomo Nara, Jiro Yoshihara, Kazuo Shiraga, etc.
Soka Art exhibition highlights beautiful landscapes and still lifes by 20th-century master painters Zhou Bichu, Sha Qi, Liu Rongfu and Zhao Shou. Eslite Gallery presents paintings and drawings by Lalan, Sanyu and Hsia Yan, and sculptures by Hsiung Ping-Ming from 1900s.
The fair also features Contemporary Ink, highlighting artists who played pioneering roles in the realm. A Thousand Plateaus Art Space introduces Wang Chuan, an active figure in "85 New Wave Movement" and his recent abstract ink works. Artify Gallery brings four artists, Sarah Tse, Lin Ya Han, Kan Chi Hung and Evan Wu who depict binary opposites in their way through ink paintings.
Tina Keng Gallery will present abstract paintings and new ink art by Ava Hsueh, Chiang Yomei, and Peng Wei. ShanghART Gallery will present large-scale paintings by Chen Xiaoyun, He Wei and Yang Fudong, as well as recent works by Tang Maohong and Lin Aojie. Galleria Continua will exhibit well-known masters side by side emerging artists. HdM Gallery will present themed exhibition of "Black and White". Beijing Commune will feature young Chinese artists including Shang Yixin, Zhou Yilun, Ma Qiusha, Zhao Yao, Yang Xinguang.
EGG Gallery, Feefan's Art, Sokyo Gallery and Tong Gallery+Projects will emphasize on sculptures, initiating the conversation on the relationship between space and art. Highlighting "Mono-ha" and "Hyper-technique", Gallery Kogure displays a collective exhibition that emphasizes the the coexistence of two distinctive style of art in one exhibition. No.55 Art Space will create a conceptual space of "Mr. Shan's reading room", combining his art collection and daily life. It tends to form a spatial pattern that haunts the traditional spirit of Chinese.
Solo Presentation
Exhibitors at JINGART showcase ambitious solo exhibitions of outstanding artists. Hauser & Wirth presents a solo exhibition of Gutai master Takashi Matsutani, exploring his unique visual language of form and materials.  Galerie Perrotin features Korean artists Kim Chong Hak, who is known for depicting scenes of Seorak Mountain and flowers through means of vehement brushstrokes, vigorous compositions and vibrant colors.
Lin & Lin gallery showcases a solo by Xinjiang born artist Zhao Zhao, a significant figure among the young Post-80s generation of contemporary Chinese artists. Botero in Asia continues to spread the legacy of Master Fernando Botero by showing a collection of his paintings at JINGART.
Design and Decorative Arts
Highlights of 2019 JINGART also include diverse presentations of design and fine jewelry exhibitions. New York dealer Barry Friedman introduces to the Chinese market furniture, sculptures, and works on paper made by great masters who has been active in Paris from 1880 to 1940.
Focusing on design of contemporary era, Gallery All brings large-scale works by Human Since 1982, Anotherview, Zhipeng Tan, and Yan Lei. Additionally, Jiang Jia Ban brings a series of Buddha statues that fuses traditional Han style of making Buddha with elements of modern design. Enamel Shi will present a series of works that combine traditional craft with contemporary art.
Chinese jewelry designer Feng. J brings her recent haute joaillerie design to JINGART. Prominent jewelry designer Ciga Long will present his collection highlighting traditional Chinese aesthetics.
Partner Projects
2019 JINGART will present a series of crossover projects with brand partners. Supported by Porsche China, Cc Foundation presents the Porsche 'Young Artist of the Year' Nominee's exhibition. Iconic luggage company RIMOWA will present "GAS" by Guillermo Santomá; Hublot presents special exhibition "Hublot Loves Art", featuring artworks by renowned artists. NET-A-PORTER will curate special #IncredibleWomen# exhibition, exploring the realm of art and fashion. de Gournay will create a mysterious and beautiful space uniquely designed for JINGART VIP Lounge.
Location
Beijing Exhibition Center becomes the new venue for JINGART. The magnificent architecture, elegant interior design, and the layout of exhibition halls all echo those of Shanghai Exhibition Center and will contribute to space flexibility for all exhibitors as well as a comfortable experience for all visitors.
Full Exhibitor List
A THOUSAND PLATEAUS ART SPACE
GALLERY ALL
ARTIFY GALLERY LIMITED
ASIA ART CENTER
BEIJING COMMUNE
CAISSA BESSEICHE (ASIA) ART CENTRE
GALLERIA CONTINUA
GALERIE DUMONTEIL
EGG GALLERY
ESLITE GALLERY
FEEFAN'S ART
FENG.J HAUTE JOAILLERIE
BARRY FRIEDMAN LTD.
HAUSER & WIRTH
HdM GALLERY
HIVE CENTER FOR CONTEMPORARY ART
TINA KENG GALLERY
GALLERY KOGURE
LIN & LIN GALLERY
LINE GALLERY
CIGA LONG JEWELRY
MEBOSPACE
NO.55 ART SPACE
ONE WAY ART GALLERY
OPERA GALLERY
OTA FINE ARTS
PACE GALLERY
PÉKIN FINE ARTS
PERROTIN
PING ART SPACE
ShanghART GALLERY
ENAMEL SHI
SOKA ART
SOKYO GALLERY
TONG GALLERY+PROJECTS
TRIUMPH GALLERY
WHITESTONE GALLERY
DAVID ZWIRNER
Chengdu
Beijing, Los Angeles
Hong Kong
Taipei, Beijing
Beijing
Beijing
San Gimginano, Beijing, Les Moulins, Habana
Paris, Shanghai, New York
Beijing
Taipei
Beijing
Shanghai, Paris
New York
Zurich, London, New York, Los Angeles, Somerset, Hong Kong, Gstaad, St. Moritz
Beijing, London
Beijing, Shenzhen
Taipei, Beijing
Tokyo
Taipei, Beijing
Beijing, Shanghai
Changsha, Beijing, Chengdu, Shanghai, Wuhan
Beijing
Beijing
Beijing
Paris, Monaco, London, Geneva, New York, Miami, Aspen, Singapore, Hong Kong, Seoul, Dubai, Beirut, Zurich
Tokyo, Singapore, Shanghai
New York, London, Beijing, Hong Kong, Palo Alto, Seoul, Geneva
Beijing, Hong Kong
Paris, Hong Kong, New York, Seoul, Tokyo, Shanghai
Taipei, Beijing
Shanghai, Beijing, Singapore
Shanghai
Tainan, Taipei, Beijing
Kyoto
Beijing
Beijing
Tokyo, Karuizawa, Hong Kong, Taipei
New York, London, Hong Kong
Special Projects
AC CUBE
BOTERO IN CHINA
JIANG JIA BAN
Chengdu
Shanghai, Hong Kong
Xiamen
Fair Schedule (GMT+8):
Collectors Preview
May 30 Thursday   14:00 to 20:00
May 31   Friday    13:00 to 20:00
(by invitation only)
Public Day
June 1   Saturday   11:00 to 17:00
June 2   Sunday     11:00 to 17:00
ABOUT JINGART
Established in 2018, JINGART aims to combine the dynamic culture of Beijing with the international art market. Presenting the best quality art and design of different eras and genres, JINGART builds a diverse platform for local and international exhibitors, collectors, artists and art lovers. JINGART is managed by the team of ART021 Shanghai Contemporary Art Fair and is held in Beijing in May every year.
For more information about JINGART, please follow us on social platforms as below.
JINGART Website: http://www.jingart.com.cn/
JINGART Weibo: http://weibo.com/jingartbj
JINGART Wechat: JINGART-BJ
JINGART INSTAGRAM: JINGART_BJ