ART ÉLYSÉES–ART&DESIGN
(17/10/2019 - 21/10/2019)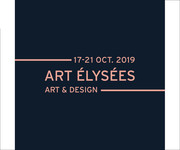 ART ÉLYSÉES–ART&DESIGN
PAVILLON, Avenue des Champs-Élysées,
Côté pair, Paris 8e
Place Franklin Roosevelt à la Place de la Concorde
75008
Paris
Francia
THE MODERN AND CONTEMPORARY ART FAIR, IN OCTOBER, ON THE CHAMPS-ÉLYSÉES AVENUE.
Art Élysées–Art & Design is one of the major events during the Parisian Art Week, which takes place every year in October. The fair contributes to the capital's artistic dynamism and activity. Art Élysées stands apart from other fairs by offering reliable assets, valuable works of art and an alternative to the current art market. Through its unique identity and strong stand on art, the fair is a key event for art aficionados and collectors.
The Art Élysées–Art & Design fair showcases an exceptional range of art. Art Élysées is the only fair to present 4 different sections, each under an ephemeral pavilion set up along the Avenue des Champs- Élysées. Both French and foreign galleries present a substantial selection of works in response to the market's current demands. During each edition the fair renews coherent dialogue between modern and contemporary art and 20th century design. Contemporary artists in constant motion can be found next to some of the greatest references that have marked art history of the 20th century. Effective and attractive business opportunities; Art Élysées is a key fair for buyers and art professionals.
8E AVENUE PAVILION
8e Avenue, the urban and contemporary art pavilion of the Art Élysées fair during the week of October dedicated to Art in Paris.
The Art Élysées - Art & Design organizers offer through this fourth pavilion, a young section open to present-day contemporary art, including urban art. As an ideal place for cultural and economic exchanges, Art Élysées is an ambitious event supported with enthusiasm and determination by an Artistic Committee, composed of professionals, which was initiated in order to guarantee a high quality selection.
With Art Élysées four pavilions, a synergy is conveyed and offers visitors of both events a large artistic range dating from the 20th till 21st century. Each of the four pavilions exhibit different art movements and all of them benefit from the same structure: a single aisle. The disposition of the fair ensures an enjoyable perspective for visitors as all the galleries are aligned along the aisle and each of them benefit from the same visibility. The works on show are hanged in a clear and lively way creating a convivial setting and a pleasant tour.
2019 DESIGN SECTION GALLERY LIST
2019 CONTEMPORARY URBAN ART SECTION GALLERY LIST
INFORMATION
PLACE
Pavilions
avenue des Champs-Élysées
Paris 8e from place Clemenceau to place de la Concorde
OPENING HOURS
Preview - Open to Press and Professionals (by invitation only)
Wednesday 16 October 2019
Trade Afternoon
2:00 PM to 6:00 PM
Vernissage
6:00 PM to 10:00 PM
Open to Public
Thursday 17 to Sunday 20 October 2019
11:00 AM to 8:00 PM
Monday 21 October 2019
11:00 AM to 8:00 PM
PRICE
Ticket : 20€ tarif plein
Catalogue : 20€
ART ÉLYSÉES-ART & DESIGN
PAVILLON 8E AVENUE