JUSTLX
(16/05/2019 - 19/05/2019)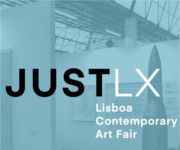 JUSTLX
Museu da Carris
Rua Primeiro de Maio 101
1300-472
Lisbon
Portogallo
The second edition of the fair JustLX – Lisbon Contemporary Art Fair secures international interest in this Portuguese event
The second edition of the fair JustLX - Lisbon Contemporary Art Fair will take place, once more, in the Museu de Carris from 16 to 19 May, and will count on the high patronage of the Presidency of the Portuguese Republic. With an important commitment to emerging artists, the fair will boast more than 50 exhibitors from different countries such as China, Colombia, Spain, France, Peru, Mexico, Portugal and Sweden. The extensive Portuguese representation stands out, with galleries like 111, Módulo, Monumental, and Salgadeiras, among others. Among the Spanish galleries Fúcares, Trinta, Gema Llamazares and Aurora Vigil-Escalera will be present.
Moreover, in the second edition of JUSTLX the internationalisation of the event has been consolidated with more than thirty foreign galleries, and an important French presence with galleries like Loo&Lou and Sebastien Adrien of París, as well as two galleries from Mexico, one from Perú and another from Miami.
More than 250 artists will be present at the fair under the artistic direction of Semíramis González (Spain), Daniel Silvo (Spain) and, commissioning the general programme, the curator Lourenço Egreja (Portugal).
"In this second edition we aim to consolidate the internationalisation of the exhibitors, committing to more European galleries coming from Sweden, Italy and France, but the interest in the Portuguese art market from Latin America is also important, with galleries from México and Peru and from Asia, with the participation of a gallery from Beijing", point out Semíramis González and Daniel Silvo. "We aim to present a young fair, with an emerging spirit and with the opportunity to start an art collection based on quality".
VISITOR INFORMATION
LOCATION
MUSEU DA CARRIS
Rua Primeiro de Maio 101
1300-472 Lisboa
DATES AND TIMES
Thursday, May 16, 2019    - 3 pm – 10 pm
Friday, May 17, 2019          - 1 pm – 10 pm
Saturday, May 18, 2019     - 12 pm – 10 pm
Sunday, May 19, 2019       - 12 pm – 6 pm
TICKETS
General ticket — 10 €
Ticket for students, pensioners and unemployed people — 5 €