Art Beijing
(30/04/2019 - 03/05/2019)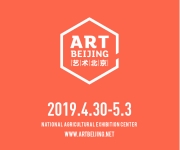 Art Beijing
Let us Meet at the Art Beijing 2019
From April 30 to May 3, the 14th Art Beijing will open at the National Agricultural Exhibition Center of Beijing as scheduled. After the explosive growth and adjustments of China's art market and through balancing between ideals and realities, Art Beijing will continue to go deep into the art market of China by carrying expectations and hopes. After years of exploration, Art Beijing has gradually built up four forms of art that include contemporary art, classic art, design art and public art.
【Art Beijing, Classic Beijing】
Based on the core philosophy of "Locally based and Asia-oriented", Art Beijing 2019 will see a total of some 190 selected exhibitors from 20 countries and regions. With an upgraded scale and modality, it will bring together important art forces at home and abroad to present a panorama of China's art market centering on Beijing.
Art Beijing shares weal and woe with numerous galleries in China's art market and relevant institutions. Art Beijing is firmly under the belief of working with different art forces to create a virtuous ecosphere that conforms to the development of art market in a an oriental country, without blindly following the development paces of the international art market.
The current problem of the art market in China is that there's a slight mismatch between the art works supplied and the demand that requires a more professional, rational and diversification within the current economic cycle. While being a professional art fair, Art Beijing starts from the local market demand to provide China's artwork consumers with high-quality works that are not only more colorful, but are at a higher level and reflect the oriental spirit. This mission and persistence are not the only issue that galleries and other business entities are thinking about, but is an issue that Art Beijing has been studying and have concerned ourselves about.
From the selection stage of galleries participating in the exhibition to the reviewing of the works, Art Beijing takes full account of the changes in the current art market demand and arranges them accordingly.
The Classic Beijing and Art Beijing that have no clear boundaries in terms of art presented will be situated in one hall and on one platform, which differentiates the artworks by their styles to give more levels and elements to the exhibition. As a fair with brand benefit, Art Beijing brings together not only institutional resources into the art circle, but also social-level resources. Beijing, being the center of art and culture, gives Art Beijing more diversified styles and features with its profound cultural foundation.
Special Program 1: Thematic Exhibition on "The Charm of Printmaking"-- Art Beijing Printmaking Nomination Exhibition
Printmaking is an important category of artistic creation that has always had an independent artistic value and important position in China's history of fine arts. The history of Printmaking goes back to ancient times.
Art Beijing 2019 will launch the Nomination Exhibition on "The Charm of Printmaking" jointly with the Printmaking Department of Central Academy of Fine Arts (CAFA), with the goal to allow the artistic charm and value of printmaking works to be popularized among and experienced by the public. The exhibition will enable the public to know the huge potential and advantages of the reproduction of printmaking works as well as bring more possibilities for the collection and consumption of art works. The Thematic Exhibition will see original printmaking works recently created by 30 active artists nominated by Wang Huaxiang, Deputy Dean of the School of Design and Director of the Printmaking Department, CAFA. The increase of printmaking works will trigger a more relaxing and colorful art collection.
Special Program 2: "Photo Beijing" Exhibition on In the Silence of Butterfly Effect Art Center
"Photo Beijing", a sub-brand of Art Beijing and has a history of 11 years, during which it has been adjusting its structure according to the development of image art and market changes and has become a brand that attracts a lot of attention and has last the longest in the contemporary image field. Art Beijing 2019 will work again with the photography institution Butterfly Effect Art Center to present possibilities brought by the constant change of technology for image art in a form of a thematic exhibition. At present, with the rapid popularization of image technology, contemporary photography artists show concerns and quality that are different from the mainstream images in a new context that reveal that everybody is a photographer. 10 artists active in this field in recent years will be invited to the thematic exhibition to present numerous patterns and styles of expression and discuss the possibility for the art of photography to enter life.
Special Program 3: "Art! World"
Beijing as the world's cultural and art exchange center hosts every country's cultural institutions who promote the culture and art of their country. The art and culture of Beijing has featured the gathering of cultural centers from different countries. Art Beijing works with Instituto Cervantes de Pekín, Danish Cultural Center Beijing Hungarian Cultural Institute, and Embassy of Mexico in China to present the thematic exhibition "Art! World" and a series of talks with an aim to facilitate the popularization and exchange of art and culture of all countries, allowing visitors to get close to the cutting-edge foreign culture and art and assume the mission of art education and dissemination.
【Public Art】Art Beijing ARTPARK - Fairyland
Fairyland, the theme of Art Beijing 2019 ARTPARK named after the art device of another cooperative art program between Art Intervention and NetEase FEVER that will go to the Burning Man Festival in the US this year. As its name implies, "Fairyland" means a fantastic scenario which is similar to the changes of the universe and the thinking and creation of art. An artist's personal subjective mind, which including feeling, experience, mind, will, concept, sub-consciousness and soul are the root and foundation for the generation and existence of all works. Fantastic works are also the presentation of such subjective spirit. In this digital era, immersive offline public domains provide sensual experience and real scenarios that cannot be replaced by cyber space. The huge mental and experience demand has also further inspired the artistic creativity, thus giving an unprecedented space and development opportunities to contemporary art. The future contents of art will not be limited to the traditional presentation modes of art galleries or museums. An Abundance of content will be contacted everywhere. "All realities are generated from your mind. The reality is the sum of constantly generated phenomena that we experience in the changes." How artists convert their subjective creation into works of more spiritual qualities of the times in the new scenario and public domains becomes a topic to be discussed at the 2019 ARTPARK. This year's Public Art will exhibit 17 artists' 21 pieces of public art works in different forms, which will demonstrate the forms of works to be presented in the future domains on different dimensions. The ontological thinking of "I think, therefore I am" drives the progress of civilization, and similarly "magically" generates the possibility of diversity. "Everything is a group of ideas". Practice is the "scenario" validating the presentation of realities.
【Design Beijing】
In addition to Halls 1 and 3 in the previous year, Hall 5 is used for Design Beijing, bringing the exhibition area to 8000 square meters. The Design Beijing has been committed to set up a platform for display and exchange of both art and design. "Art • Design • Life" has been the subject matter of Design Beijing. Design Beijing always tries to discover the possibilities among them, and attempts to break the boundary among them, thus allow art and design to return to life. This year's Design Beijing is themed "Design for Ourselves", with the focus of attention returning to the value of human beings, so as to discover and recommend more excellent designs that fit the people of China. "Design for Ourselves" involves care and expectation, self-awaking and self-expression. In the current period of profoundly changing art and art market, Design Beijing keeps adjusting its planning and business type to find a position between art and design to break through the inherent boundary as well as demonstrating the creativity of design in contemporary life from multiple perspectives including food, clothing, housing and transportation. Together with Art Beijing, a design exhibition that has the largest scale and most diversified contents in the early summer of Beijing.
In addition, in terms of the collector invitation and services, Art Beijing has specially customized a brand-new collector invitation and VIP guide plans based on the unique cultural and artistic environment in the city of Beijing and works with private art galleries, collection clubs, high-end brand customers and other institutions that offer satisfactory visitor experience and services for every collector who loves art.
Art Beijing is in its 14th year as of 2019. As an art fair serving the largest number of art institutions within China, Art Beijing will create an art matrix in Beijing through contemporary art, classic art, design art, public art as well as numerous thematic exhibitions all exploring a path fit for the development of China's art market in order to show an Art Beijing constantly progressing in attitude, quality and services.
【Art Beijing 2019】
Venue: National Agricultural Exhibition Center, Beijing (Halls 1, 3, 5 and 11)
VIP preview: April 30, 2019
Open to the public: May 1-3, 2019
More information available at: www.artbeijing.net