ARCOlisboa
(16/05/2019 - 19/05/2019)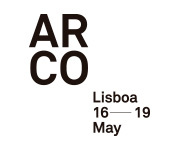 ARCOlisboa
Cordoaria Nacional
Avenida da Índia s/n
1300-342
Lisbon
Portogallo
ARCO and IFEMA are pleased to announce the second edition of ARCOlisboa, which will open to collectors and professionals on 15 May and to the general public between 16 and 19 May 2019. The official opening is scheduled for May 15, with an exclusive visit of the International Contemporary Art Fair for collectors and professionals.
The National Cordoaria will once again host this new edition of the fair and will again play a part in the contents selected by the Organizing Committee and the curators of the different sections.
In addition to the careful selection of galleries in the main section of the fair, which will continue to investigate Portuguese art and its connections with the international scene, there will once again be an Opening section dedicated to galleries with less than 7 years of experience, the projects by artists, and a special area dedicated to the publication of books by artists directed by Arts Libris .
One of the important new features of this edition is "Africa in Focus" proposal, with a selection of galleries and projects that offer an approach to the artistic creation of the African continent.
In addition to these contents, for the first time there will be an area featuring large sculptures outside the National Cordoaria , thus opening the contents of the fair to the city.
The debate spaces about art and collecting and the places for gathering and exchange will play a big role, making ARCOlisboa a unique space to see, buy, learn and talk about art.
ARCOlisboa will again have the support of the Municipal Chamber of Lisbon and Fundação EDP, as well as the support of all the local institutions and the main artistic agents of the city, who make the celebration of the fair possible every year.
Visit ARCOlisboa!
GENERAL INFORMATION
LOCATION
Cordoaria Nacional
Avenida da Índia s/n
1300-342 Lisbon
TIME SCHEDULE
15th of May
Preview: from 5:30 pm to 8 pm (by invitation only)
16th-17th of May: 2pm to 9 pm.
18th of May: noon to 9 pm
19th of May: from noon to 6 pm.
TICKET PRICE
General: 15 € (from Thursday to Sunday)
Students: 5 € (from Friday to Sunday)