Lausanne ART FAIR
(02/05/2019 - 05/05/2019)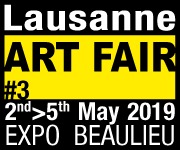 Lausanne ART FAIR
Expo Beaulieu - Lausanne
Avenue Bergières 10
1004
Lausanne VD
Svizzera
Lausanne ART FAIR, the third edition of the international contemporary art fair taking place at Expo Beaulieu Lausanne on May the 2nd, 3rd, 4th and 5th 2019.
Lausanne ART FAIR is shifting the boundaries of traditional contemporary art trade fairs by giving these cultural events back their warm, human side.
A VIP bar offers quality catering and a wonderful selection of wines, a jazzy ambiance, live performances, a happening zone reserved for children's creativity: there are this many reasons to discover art as a family.
It will showcase around 80 international galleries originating from the four corners of the world.
Art lovers and passionate collectors will find what they are looking for among the paintings, sculptures and photographs displayed.
In the magnificent Halles Sud of the Expo Beaulieu Lausanne, we invite you to discover a magnificent artistic landscape in the midst of sleek and expressive architecture that will help to show off the works and facilitate their purchase in a completely relaxed setting.
You will be able to wander along the large aisles and rest in the middle of many oases studded with sculptures.
Visitors and collectors will be able to revel in works by established artists or set off on a journey of discovery of the creations of the rising young international community, which will also be one of the unique features of this edition.
The atmosphere will be relaxed and conducive to the discovery of the stands tastefully arranged by high end galleries, selected by our exhibition curator.
During the last four days of the fair, artists, gallery owners and art lovers will meet at this event to form a dialogue and exchange ideas. All the works displayed will be offered for sale.
VISITOR INFORMATION
LOCATION
Expo Beaulieu - Lausanne
Avenue Bergières 10
1004 Lausanne, Suisse
HOURS
2nd, 3rd, 4th, 5th May 2019
Thursday: 6pm - 11pm (officiel fair preview from 7pm)
Friday: 4pm - 10pm
Saturday: 11am - 7pm
Sunday: 11am - 7pm