Per avere accesso a tutte le funzionalità del sito, é necessario attivare i cookies.
Affordable Art Fair NYC
(28/03/2019 - 31/03/2019)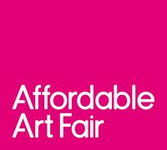 Affordable Art Fair NYC
AFFORDABLE ART FAIR NYC
28 - 31 MARCH 2019
Metropolitan Pavilion
Affordable Art Fair NYC will return to the Metropolitan Pavilion in March for its Spring edition, welcoming local, national and international exhibitors, to showcase original contemporary work from hundreds of contemporary artists. Browse our diverse and carefully curated selection of artworks ranging between $100 to $10,000, and discover the artworks that make you Art Happy!
Affordable Art Fair NYC is a fun and creative day out with family and friends. Taking place twice a year in March and September, visitors will enjoy the friendly and relaxed atmosphere filled with hands-on-workshops, kids activities and personal shopping experiences. Filled with 1000s of hand-picked original paintings, stunning sculptures, editioned prints and more, there is something to suit every taste and budget.
PLAN YOUR VISIT
2019 INFO COMING SOON