5 views of Tefaf
[13/03/2020]

The gallery owners below were interviewed on March 10, 2020. The next day, Tefaf Maastricht announced the premature closure of the fair, five days before the scheduled date. " In close consultation with the city of Maastricht, the health authorities, and MECC Maastricht, TEFAF has decided to shorten the fair and to close by the end of the day, March 11, 2020 at 7 pm.While the health advice of the authorities in the immediate region has not changed, we understand the situation in the Netherlands and neighboring countries is changing. We have also taken into account the growing concern of exhibitors, visitors and staff and the ever-growing difficulties regarding travel and transport."

Amidst the avalanche of fair cancellations, Holland's Tefaf in Maastricht stoods out is an island of resistance! In a very difficult context, the fair maintained its 33rd edition. Apart from Wildenstein & Co and Fergus McCaffrey from New York and the Parisian gallery Monbrison, all the usual galleries were present, including the American galleries.

The fair welcomed 28,500 visitors over the seven days. Despite the early closure, very good sales were concluded, the British Dickinson gallery for example sold La Paysanne devant la chaumière by Vincent Van Gogh for almost 15m€. The question of attendance was of course important. Known throughout the world as a fair of unparalleled quality, The Tefaf is also known to be a "supermarket" for representatives of American museums who are reputed to be good buyers, but many of whom declined the invitation… an attitude that was subsequently adopted by Asian collectors and Italian public.
Despite the uncertain climate, the exhibitors clearly chose to carry on 'as usual'. They paid particular attention to their stands and the quality of the works on offer. From the forest reconstructed from works by Ugo Rondinone at Kamel Mennour to the 8.5 tonnes of marble used to reconstruct a room in the Palace of Versailles at Christophe de Quénetain, there was plenty to interest visitors to the fair.

Artprice has selected 4 gallery owners to talk about their treasures on offer:

Galerie 19C
Beverly Hills, United States
Stand 384, 1st participation

For our Maastricht 2020 debut, we have brought 24 paintings to the fair. Our selection includes several of the most well-known 19th century European artists, such as Gustave COURBET, Camille Jean-Baptiste COROT, Honoré DAUMIER, Théodore ROUSSEAU, Eugène BOUDIN and Georges SEURAT, as well as artists who are not as widely known but who we are featuring with exceptional examples of their work. Probably the "star" out of our many star's is Gustave COURBET (1819-1877)'s La Vague, which is also our most expensive offering at 1.8 m$. Painted when Courbet was on the Normandy coast in 1869-70, it shows an approaching storm with a swelling wave and a spray of water crashing to the shore. It is dynamic and powerful and shows Courbet as the gutsy master of the painted surface.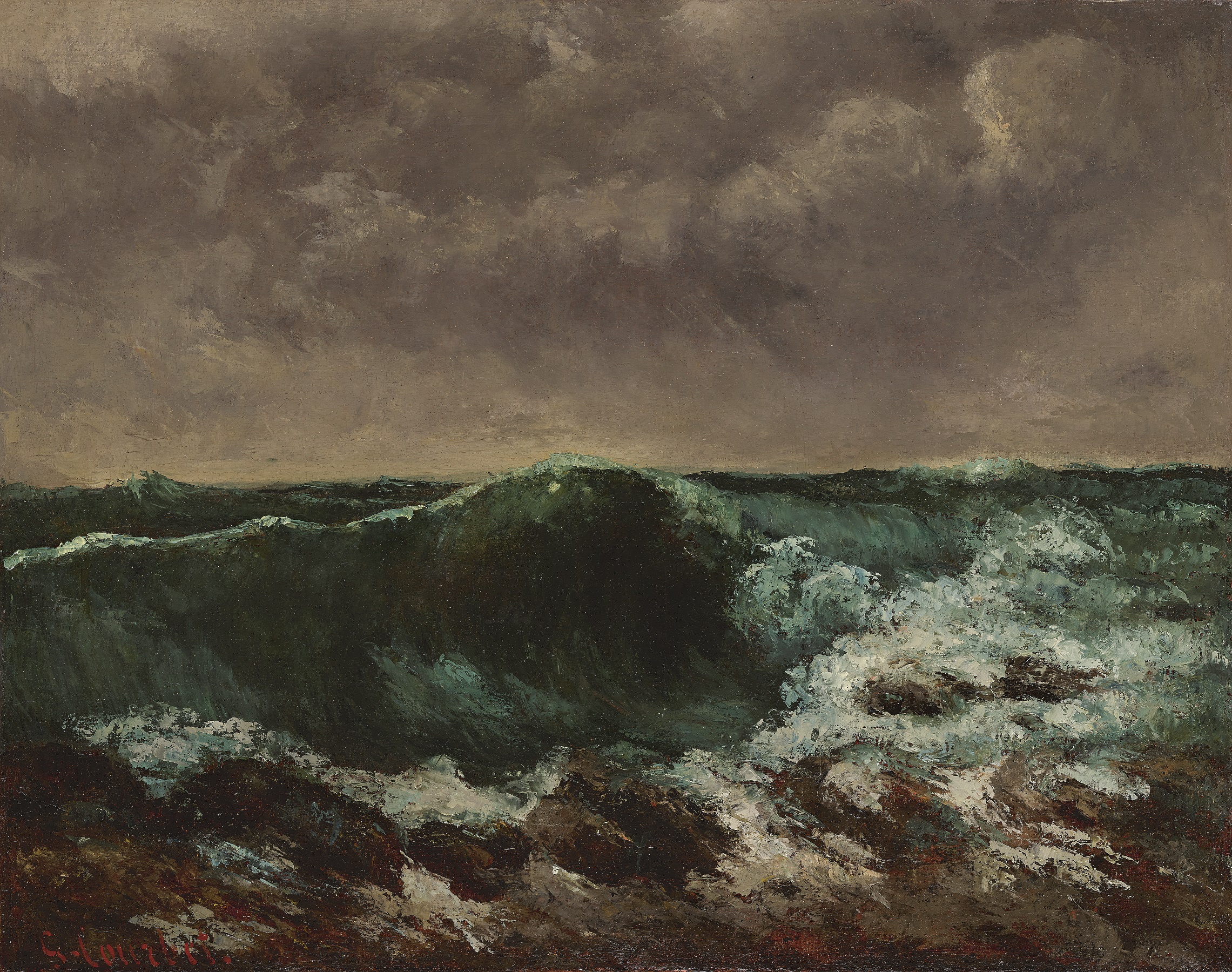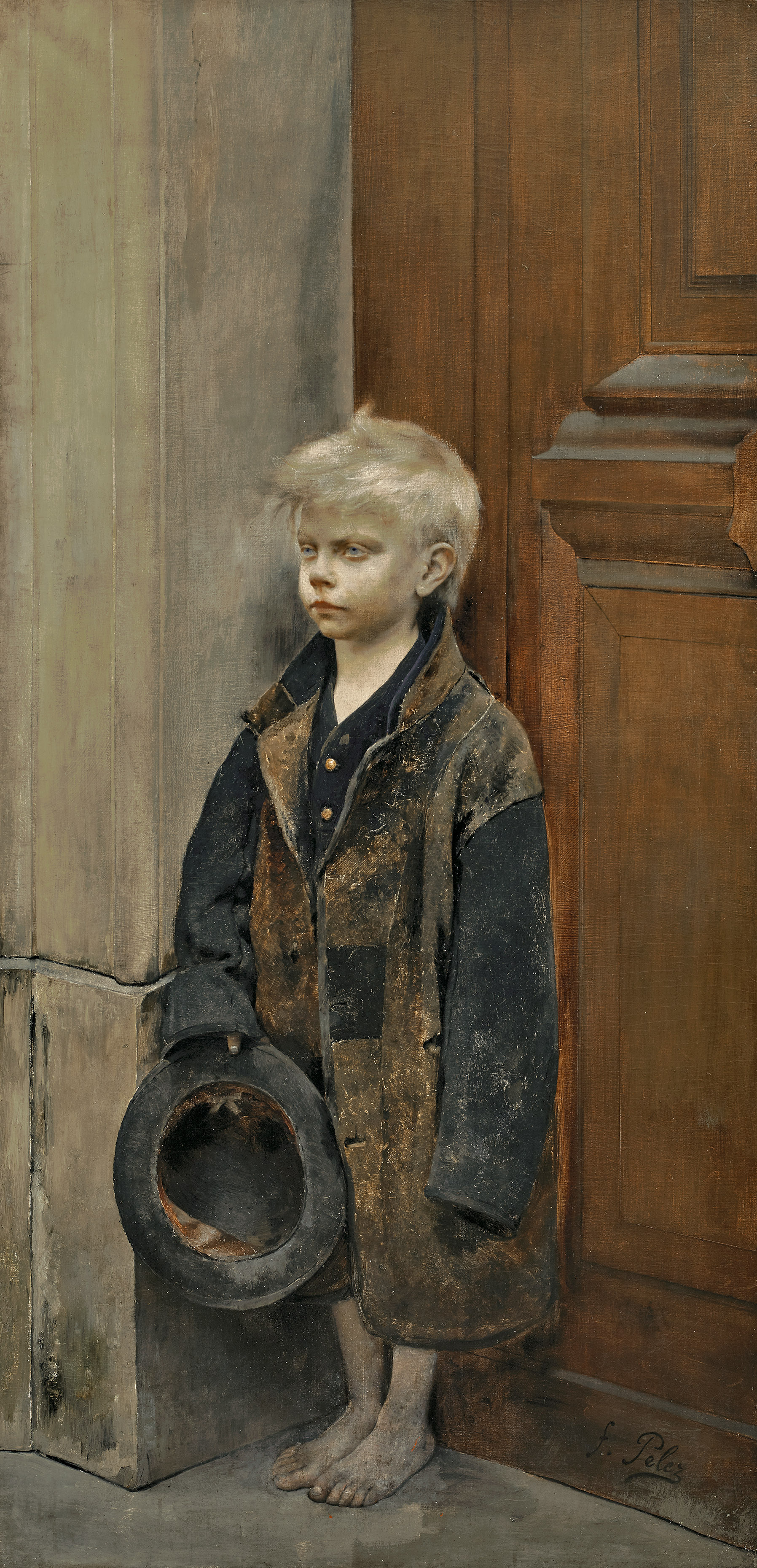 Gustave Courbet, La Vague, 1869/70,©galerie 19C                                          François Pelez, Petit Misère, ©galerie 19C
I would also like to point out another painting in our stand by an artist who is not well known but an artist who we feel deserves to have greater recognition, and this is Fernand PELEZ (1843-1913), a very interesting French Naturalist. His large scale painting of a young beggar boy titled Petit Misere, which was first shown at the Salon of 1886, and was also featured as the cover of the catalogue of the 1913 Pelez retrospective in Paris, is by far the most admired painting in our stand. At any given time there are approximately five people in front of this painting. While it is not sold yet, we have had serious enquiries. The price is 195,000$.
Tefaf Maastricht 2020 is a staggeringly beautiful fair – as I walk around each morning before the opening, I am constantly amazed by the quality of the art – it is like being in one of the great museums of the world. Gallery 19C is so happy to be here and honored to be a part of such an important event in the art world.
Galerie Utermann
Dortmund Germany
Stand 712,10th participation
There are actually two works which we consider to be the most important artworks : an early painting by Max Beckmann and a double-sided work by Paula Modersohn-Becker
Important about the Max BECKMANN (1884-1950) in it's early stage is that you can clearly see the influence french artists like Vincent van Gogh and the Fauves had on him. Yet he already has his very own way of painting. Already in 1914 objects like the letter upfront and the brown curtain in the back are central to the artist. Throughout his career Beckmann painted still lifes as metaphore for vanitas and memento mori. The works is around 1,1 m$.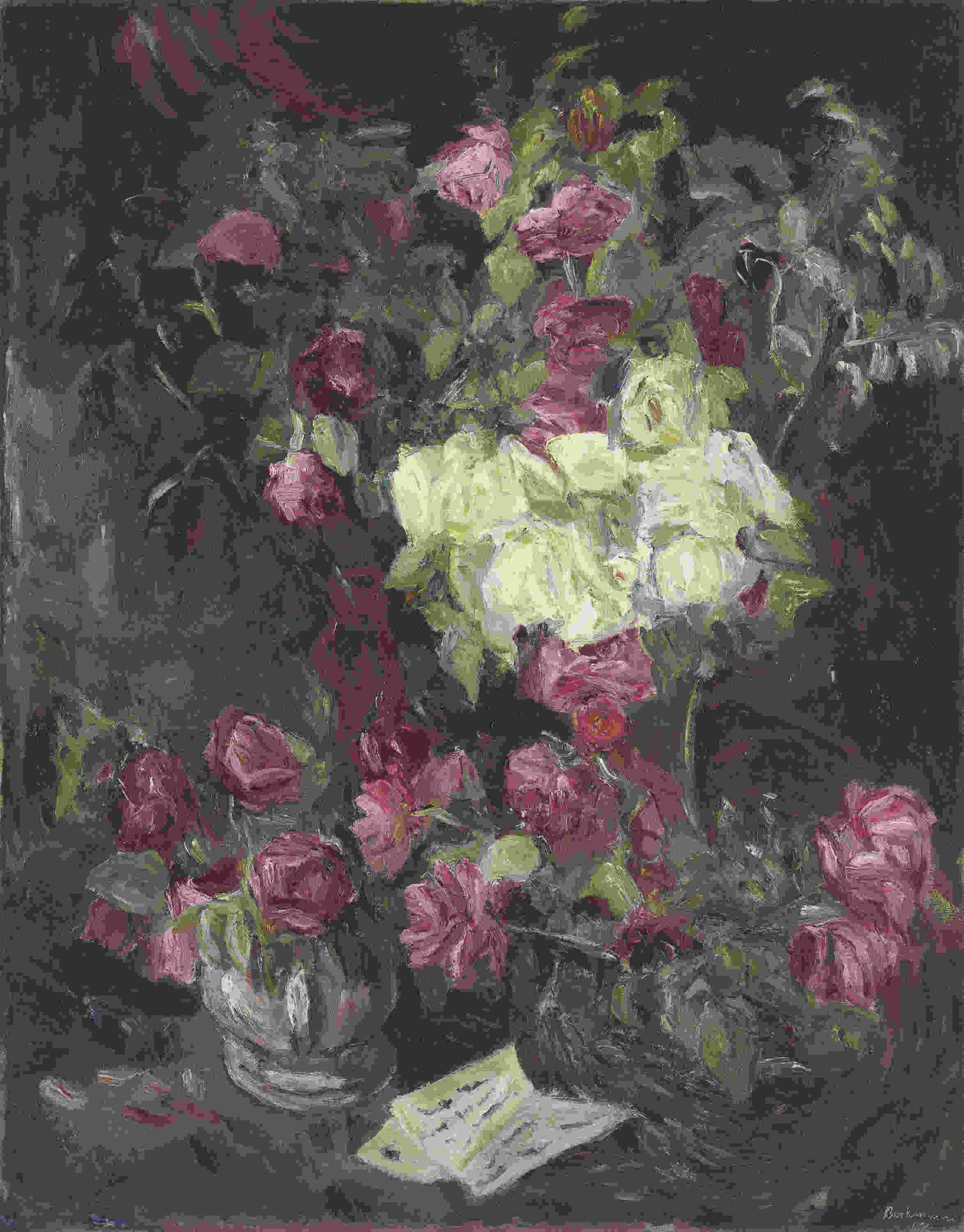 Max Beckmann,Stilleben mit roten Rosen, 1914 ,©Galerie Utermann
Paula MODERSOHN-BECKER (1876-1907) already in 1901 as a very young woman had her very unique style of painting and the use of color which is clearly visible in the present work. Shortly before painting this present work she was for a longer stay in Paris studying at the famous Academie Colarossi and the Ecole des beaux arts. Very unique about the work is the fact that it is a double sided work. The work is around 550 000$.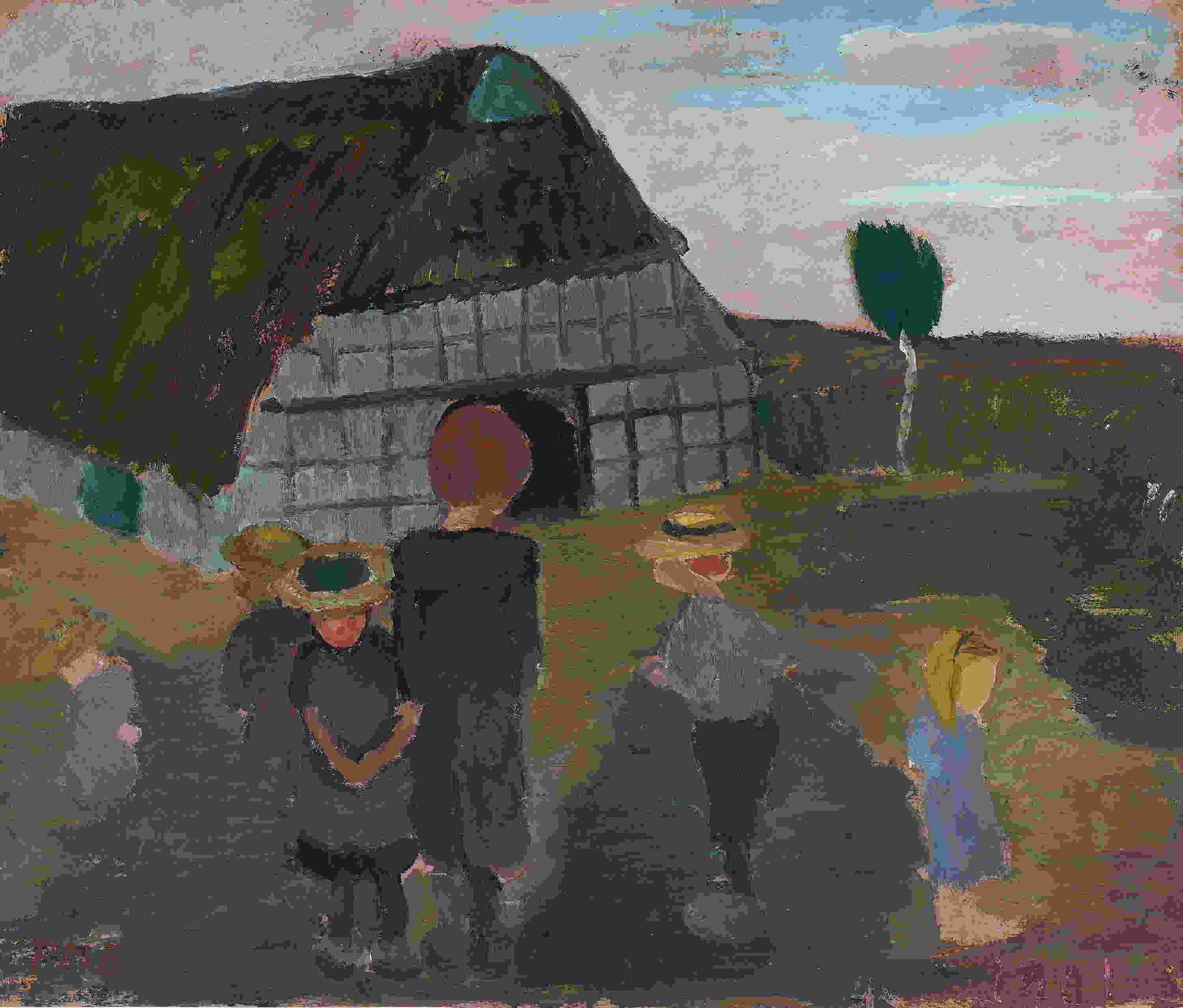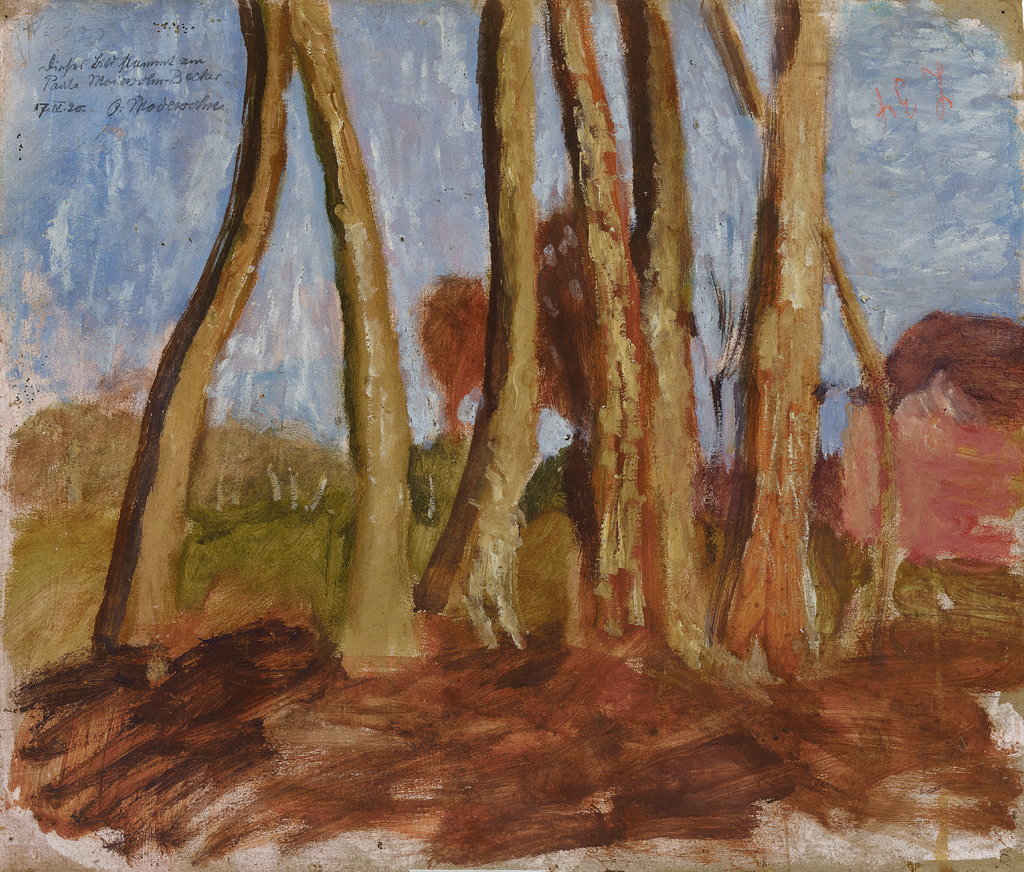 Paula Modersohn Becker,Kinder von Bauernhaus, 1901 Verso Birkenstämme und Haus ,©Galerie Utermann
For us the fair has been extremly succesfull regarding the given circumstances. We sold three important watercolours by Emil NOLDE (1867-1956) to Hongkong, Switzerland and Germany. Apart from that we found buyers for works by Max Beckmann, Christian ROHLFS and Fritz WINTER.
The fair brings more quality then ever and the organization did it's very best to make it run as smoothly as possible considering the outbreak of Corono.
Galerie Kamel Mennour
Paris, France
Stand 531, 2nd participation
For its 2nd participation, the Parisian gallery Kamel Mennour offers a highly 'romantic' stand with both historical and Contemporary works. Ugo RONDINONE's golden sun in bronze and gnarled and sinuous tree trunks are side-by-side with works by Latifa ECHAKHCH, Alicja KWADE, Hicham BERRADA, Tadashi KAWAMATA, Ufan LEE and ZAO Wou-Ki. This monumental landscape also includes older works by masters such as Victor HUGO, Odilon REDON and Eugène Anatole CARRIERE, creating a poetic dialogue between different eras. The whole forms a mental landscape that seems to reflect contradictions we all have to live with. The effect of this fanciful vision of nature is striking: art seems to stop the arrow of time, while paradoxically emphasizing our fundamentally ephemeral nature.
The gallery has indicated it is delighted to participate in the event and that it has welcomed lots of collectors. In the first days of the fair, it sold paintings from Lee Ufan's With Winds series as well as Ugo Rondinone's the sun at 12am, paintings by Latifa Echakhch and a small painting by Eugene Carrière.
Haboldt & Co.
Amsterdam, Netherlands
Stand 351, 33rd Participation
Haboldt Gallery decided to show one of the first-ever panoramic landscapes with Saint Christopher carrying Jesus, executed c. 1510-1520 by Joachim PATENIR (c.1480-1524) (and his workshop). Joachim Patinir is considered the greatest Dutch landscape painter of the 16th century and his paintings are extremely rare, with most of his works in museums. This panel painting stands out with its intense turquoise and azure blues that are characteristic of Patinir's landscapes. The work, which quickly found a new owner during the fair's opening, was priced at €650,000. We sold eight additional paintings during the preview and another in the following days.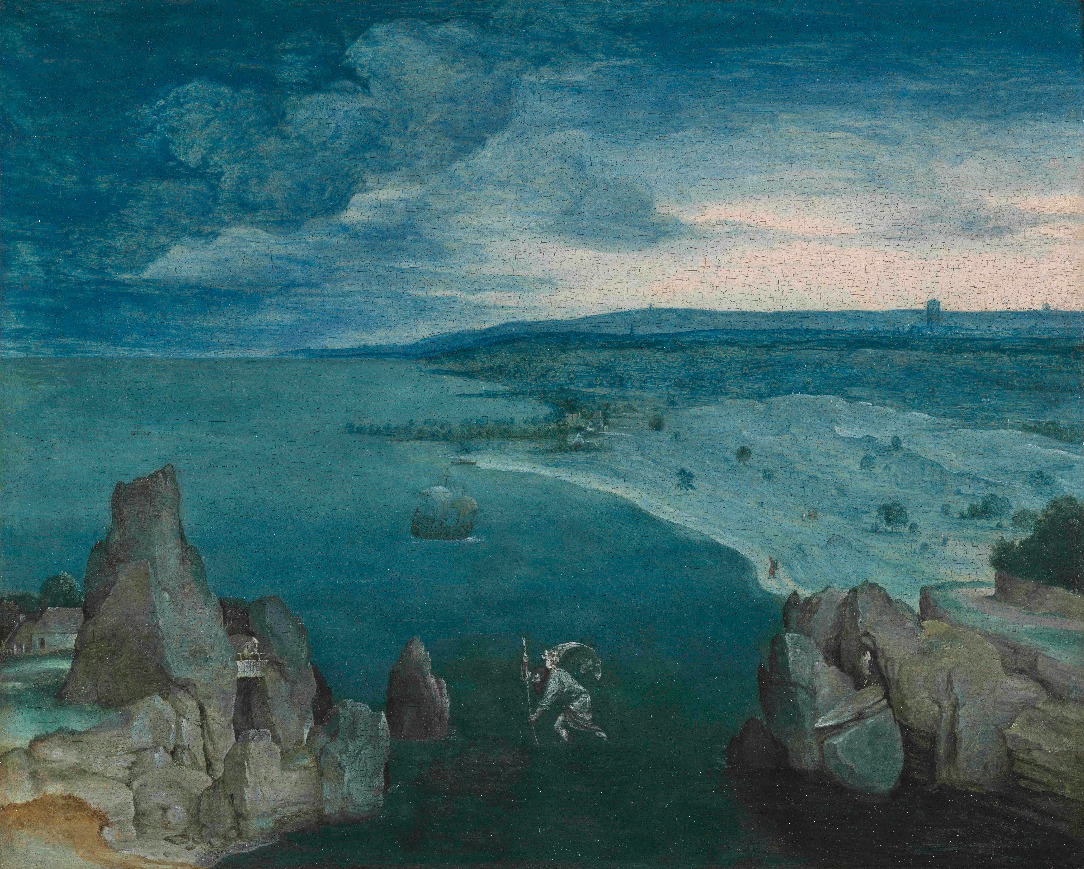 Joachim Patinir (and studio), c. 1510-20, Panoramic Landscape with Saint Christopher carrying the Christ Child,©Galerie Haboldt&Co
Present at the fair since its started 33 years ago, we are experiencing this edition of Tefaf as the most difficult edition because of the impact of COVID19. The contraction in the number of visitors is estimated at around 25 to 30%, and we regret the absence of American and Italian customers.
Brame & Lorenceau
Paris France
Stand 518, 23rd participation
A leader in gestural, lyrical and emotional painting, Hans HARTUNG (1904-1989) painted T 1948-22 upon his return from the Second World War. He is then consumed by an immense desire to get back to work: "I am pushed to sketch, to create certain forms by an emotional state, in order to try and transmit and provoke similar emotions in the viewer…". At that time, Hartung transcribes on canvas squaring off compositions which were first drawn on paper. Thus, the first initial draft gives way to a meticulous development work in order to obtain the most achieved balance possible, far from a simple overflow of colors. Each plot, each line is then validated by the artist without the force of the artwork going out. Thanks to the painter's struggle to maintain the harmony of his composition against chromatic and graphic elements specifically created to disturb this state of harmony, an impressive feeling of energy emerges from this work. The vigorously drawn black lines overlap colored backgrounds where he experiments with juxtaposition of tones. T1948-22 perfectly reflects the search for balance that Hartung undertakes between the liveliness of the line and solid colors illuminating the canvas. It is entirely representative of this decisive moment when the artist finally achieved his first recognition, both critical and public.
The 2020 edition seemed rather dynamic to us, especially during the two days of
opening. Even if some American museums were absent (MET, Chicago …) others
(Minneapolis, Dallas …) were present and active. We have also seen many
collectors of various nationalities and despite the announced drop in attendance, for the first two days we didn't really feel any difference from previous years. The atmosphere was good and the collectors active.