The rise and rise of old master drawings
[25/11/2002]

 

Sommaire :New York starts the party but Europe gets the girl
Beyond the signature, only high-quality drawings find a buyer
Record sales in 2000 and 2001
Prices soared in 1999 and 2000
Italian drawings yield more than the Northern school in 2002

Prices for antique drawings from the Italian Renaissance have gone through the roof with the Northern schools from the XVII century close behind. Prior to the Renaissance, drawings were seen as a sub-discipline used for preliminary studies in painting, sculpture and architecture. But such sketches were soon recognised as having their own expressive and financial value. Ever since, they have attracted well-informed enthusiasts to exceptional auctions.

New York starts the party but Europe gets the girl

The most spectacular auctions and the bulk of works on offer are now to be found in Europe. Only 36% of volume sales in old master drawings are now made in the US. In 2001 the figure was just 24%. Traditionally, drawing auctions kick off in late January in New York with prestigious sales at Sotheby's and Christie's. Paris becomes the focal point in March with the drawings fair, which brings with it a string of events in Parisian art galleries and museums. London is very busy with auctions in July and December and has a dominant 53% of the market by turnover and over a third by lots sold..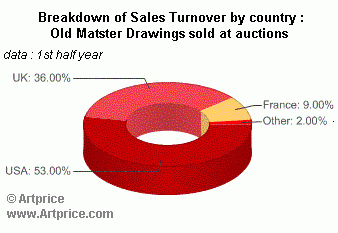 Throughout the year, Amsterdam — source of much of the work — regularly holds old master auctions which often include stunning drawings. These auctions are bursting at the seams with anonymous drawings or work by less renowned artists, waiting to be discovered and multiply in value, maybe. Away from the prestigious auctions, there are many fantastic drawings to be found for less than EUR1,000. In the last 10 years, almost 70% of drawings sold have found a buyer at less than EUR10,000
Beyond the signature, only high-quality drawings find a buyer
The artist's name is not the only determinant of a drawing's price. As well as the artist's reputation, there is the work's rarity. The technique used and the state of preservation of the painting are key to the sale price.
The most sought-after works by the XV and XVI Century masters are now in short supply. In ten years, only two drawings by LEONARDO DA VINCI (1452-1519) have been auctioned. Only one drawing by RAPHAEL (1483-1520) has exceeded the million-dollar mark. At the same time, Kornfeld in Germany sold a piece by the same artist in 1998 for less than USD4,000, Brustbild einer Madonna. The museum stars of Dutch primitivism are almost never found at auction. There have been no sightings of drawings by Pieter I BRUEGHEL (1525-1569) or Jan VAN EYCK(1356-1441) in 15 years, which is why prices for pieces by less renowned artists have shot up. For Italian Renaissance or Dutch primitive drawings, it is increasingly common to see stunning drawings by, or merely attributed to, less famous artists making top prices. La Figure couronnée de lauriers, credited to Lorenzo DI CREDI (Attrib.) (1459-1537) fetched USD1,836,000 at Piasa in Paris in March 2001.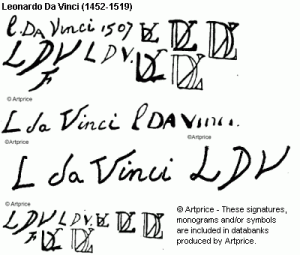 Drawings from the XVII Century seem more abundant, which makes this a livelier segment. Enthusiasts behave like stamp collectors choosing the best pieces according to state of preservation. This is particularly true for works by regular artists on the auction scene. Jan Jozefsz. VAN GOYEN was had over 80 lots at auction between 1992 and 2002 when his bought-in ratio was 38%. Works by Jacob Jordaens are greeted even more selectively. Out of 14 drawings on sale in the first half of 2002, 7 did not find a buyer. Then, when Dr Anton C.R. Dreesmann's collection was broken up at Christie's, London on 11 April, 3 drawings by Adriaen VAN DE VELDE all nearly doubled their high estimates. The disparate prices reached by these three works (all red chalk drawings in similar formats), illustrate how the artist's name is not the only factor behind the price of a drawing. They went for GBP2,200 (EUR3,589), GBP7,000 (EUR11,420) and GBP40,000 (EUR65,256).
Record sales in 2000 and 2001
Collectors can generally find as many drawings from the Italian school as the Northern school and prices are practically the same. And yet, the leading lights are the Italian artists from the XV and XVI century. MICHELANGELO(1475-1564) boasts the most expensive drawing ever sold at auction with a record USD11 million for The Risen Christ: Three-Quarter Nude/Study of the Same Figure on 4 July 2002 at Christie's London. The second highest was reached by LEONARDO DA VINCI (1452-1519). His Horse and Rider was sold for USD10.4 million in London in 2001.suite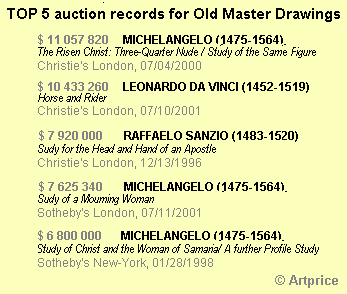 Northern school artists are still not commanding such prices. The highest hammer price was for The bulwark «De Rose» and the windmill «De Smeerpot», by REMBRANDT VAN RIJN (1606-1669), which fetched USD3.4 million at Christie's New York on 28 January 2000. In second place, Dordrecht from the End of the Papendrechtse Bank of the River Noord by Albert CUYP (1620-1691), fetching USD2.6 million at Christie's on 24 November 2001. The best auctions have been the most recent, due to soaring prices, which have swept all segments of the antique drawings market for the last four years.
Prices soared in 1999 and 2000
Generally, prices paid for antique drawings soared between 1999 and 2000. But the gains were most spectacular for the Northern school, whose work rose over 42% in value in 1999. This was first witnessed at the Amsterdam auctions on 9-10 November. Although Christie's and Sotheby's reserve their nicest pieces for New York, the Amsterdam autumn auctions offer a large number of lots often in the lower price range (EUR1,000-10,000). These 1999 auctions generated higher turnover on a smaller than usual number of sales. High estimates were often exceeded. Among others, a gouache by Cornelis TROOST fetched six times its low estimate, NLG310,000 (EUR140,672). This price surge in winter 1999 was confirmed in early 2000 by two superb records for Rembrandt drawings: USD3.4 and 2.3 million reached at the same auction in New York on 28 January.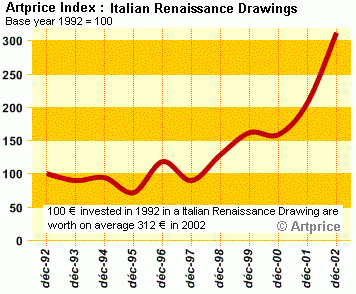 Italian drawings yield more than the Northern school in 2002
The price indices reflect the healthy position for old master drawings. After a fall in late 2000 and early 2001, correcting the very sharp rises of 1999, Northern school drawings are nearly 2% higher than in January 2002. But, at the moment, investors are reserving their greatest enthusiasm for Italian drawings from all periods. Drawings from the XVII century have risen by 13% so far in 2002. Prices for Renaissance drawings have exploded with a 30% price increase making this the fastest growing sector in the last five years. USD100 paid in 1997 for an Italian Renaissance drawing is now worth USD266. USD100 paid for a XVII century drawing would be worth only USD161 if the artist was from the Northern school and USD209 if he was Italian.