Painting vs sculpture, which category is the most competitive ?
[17/11/2020]

The most highly regarded living artist on the planet, Jeff Koons has taken contemporary sculpture to the peak of prices, but Contemporary painting has progressed faster than any other Art Market segment. Here is an excerpt from our latest report on 20 years of contemporary art at auction.


 
Painting… above all
The most expensive works of our time reflect the success Pop Art (and its heirs), of historical and current American Abstract Art, of iconic "Street artists", and of Chinese and Japanese painters who entered the market with the new millennium. Rewarded by the market's highest price levels, the works in these categories are generally large with powerful colors and a lot of energy. Corresponding to these criteria, the decisive figures of Contemporary painting form a relatively small group: there are eight whose works have elicited bids above the 20 million threshold (Basquiat, Wool, Fanzhi, Doig, Nara, Yifei, Kippenberger, Marshall) and 18 if we lower the bar to $10 million. Indeed, 7 or 8-digit results are as essential to the market as a whole (by pulling it up) as they are rare: they concern less than 1% of the results, whereas three-quarters of the market's works on canvas sell for less than $5,000.
Paintings account for 65% of the global Contemporary Art Market
In 20 years, painting has asserted itself as the principal locomotive of the Contemporary Art Market. But, not only in Contemporary Art… across the entire Art Market. The price curve for Contemporary painting shows the strongest increase in any medium and in any creative period. Accounting for $1.4 billion in 2019 (a record), painting as a medium represents the lion's share of the Contemporary Art Market, accounting for 65% of the turnover from sales of Contemporary artworks versus 52% in 2000.
.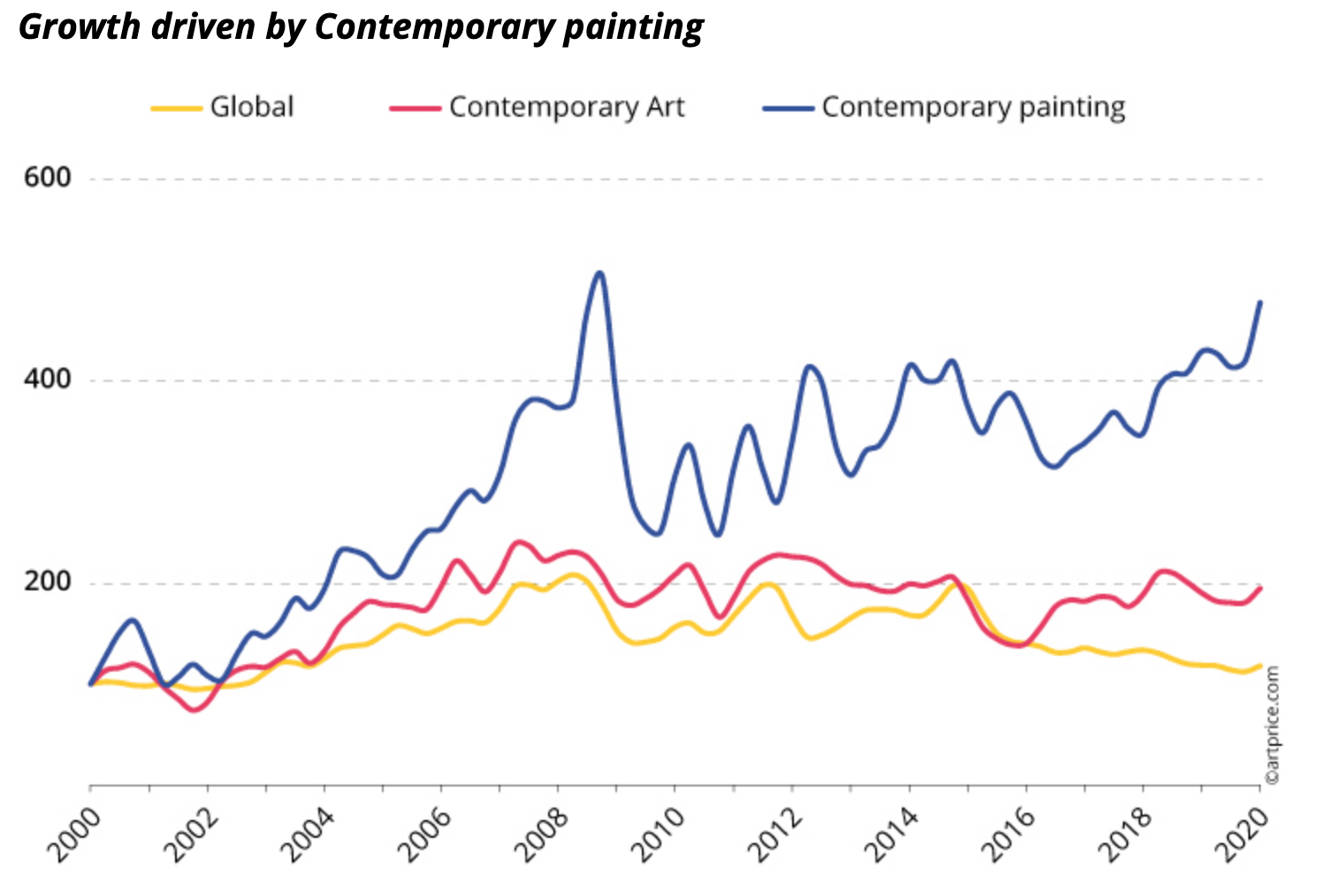 .
Sculpture: organization and subversion
The market for Contemporary sculpture has revealed powerful and often controversial works – sectioned animals by Damien Hirst, provocative installations by Maurizio Cattelan (featuring Hitler and Pope John Paul II), crucified frogs by Martin Kippenberger – are among the most subversive, the most memorable and the most popular. Other visual artists, including Koons and Kapoor, are known more for their technical prowess, with works requiring significant research and production resources.
The sculpture market has also developed laterally with editions available in a multitude of sizes and materials. This was notably the case with Takashi Murakami who, following in Andy Warhol's footsteps, set up his own factory – the Kaikai Kiki Co. – to produce his works. Today the company employs a hundred people who make unique works, limited series, derivative products, animated films and record covers, and it also supports a number of young Japanese artists.
In Japanese culture, there is no distinction between 'High' and 'Low' culture, and this is perfectly reflected in the productions from Murakami's workshop, whatever their format. It forms a whole, of which modern-day consumerism is an integral part, just as his mentor Andy Warhol had fully understood before him, and as Koons and Kaws understood subsequently… each in their own way.
Sculpture is the second largest category (medium) in Contemporary Art sales, representing 16% of the global market auction turnover from just 10% of its transactions. In 20 years, its turnover volume has grown 1,485% thanks to the phenomenal price growth of the big American favorites, Jeff Koons and Kaws, the British artists, Hirst and Gormley, the Germans artists, Martin Kippenberger and Thomas Schütte, the Japanese artists, Takashi Murakami and Yoshitomo Nara and the Italian artist, Maurizio Cattelan..
.
Sculpture: six impressive results
.
.
Koons number one for contemporary sculpture
Party balloons and giant hearts, a 15-ton dog covered with tens of thousands of plants, Koons' works are by no means 'easy' to build. Designed by him, they are studied by scientists and technicians before being constructed by the hundred or so assistants in his workshop.
For Bernard Blistène, Director of National Museum of Modern Art in Paris, "It is rewarding to understand Koons' projects, which, using totally ordinary and derisory objects, rediscover the emblematic and symbolic power of know-how combined with professional and technical skill". Indeed, these three elements are highly present in Jeff Koons works, which are always ambitious from this point of view. In search of excellence, the artist is obsessed with perfection and with details. The works he produces involve collaboration with top craftsmen and technicians. Among the first remarkable creations, his Equilibrium series (1985) was a real technical puzzle. To keep basketballs suspended in water tanks – a delicate balance defying the laws of physics – Koons consulted with the American Nobel Prize winner in physics, Richard P. Feynman.
Koons has expanded the methods used to create art and the ways it is distributed, astutely navigating between art, industry and business.
The creation of each sculpture is a challenge requiring several years of work, resulting in a particularly limited production of around 200 pieces in total. For the works in his Celebration series (Balloon Dogs, Hanging Hearts, Tulips, etc.) which he began in the mid-90s, Koons stretched the limits of sculptural creation. Behind the apparent simplicity of a giant aggregate of colored material, the sculpture Play-Doh (1994-2014), for example, required 20 years of work with various scientists, metallurgists and model makers. For this work of three by four meters, named after a famous brand of modeling clay, 27 painted aluminum sections were assembled with no other means of attachment than perfect interlocking with the help of gravity. He also sought to meticulously recreate the colors adopted by the Play-Doh brand in 1994, and had each piece entirety painted (including the non-visible sides). In all, five versions of it were made, each with its own unique color configuration.
The illusion is perfect. The color composition appears random… hastily thrown together. Play-Doh is nevertheless an extremely elaborate piece, with impeccable finishes, studied down to the slightest "imperfections" in the material. In May 2018, Christie's sold one of the five versions in New York for $22.8 million.
Jeff Koons auction records since 2000
Moreover about Jeff Koons… he is both the author and the subject of the most expensive Contemporary photograph ever sold. His The New Jeff Koons, a single print that passed through the Saatchi collection in London, fetched $9.4 million. Koons, as seen by Koons… at the age of his first artistic "revelation", thereby confirmed his status as a living "icon" via the photography market…
Extract from, "20 years of contemporary art at auction" by Artprice.
Click HERE to find out more.
PDF is for free download