Modern sculpture at a high
[06/12/2007]

 

In the modern period, prices for sculpture have been rising faster than those of painting, with the price index for sculpture reaching a new high in 2007, growth of 100% in 15 years!

It is no surprise that Pablo PICASSO, the most highly-priced painter is also the most expensive in three dimensions. Boosted by million-ticket sales, he still had top billing in last-November's New York sales with a 1941 Tête de Femme, Dora Maar in bronze, on the market for the first time. Dora Maar, the artist's companion and muse, has been the most coveted woman in modern art since the sculpture was auctioned for USD 26 million at Sotheby's.
This was the first time a Picasso sculpture had sold for more than USD 10 million, outclassing Henri MATISSE, his accomplice and rival. In effect, prior to the sales last autumn, Matisse's record stood at USD 12.75 million for La serpentine – La femme à la Stèle – L'araignée, auctioned at Sotheby's NY in May 2000.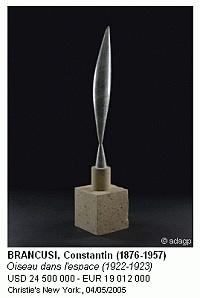 In addition to Matisse, Constantin BRANCUSI and Alberto GIACOMETTI could one day supplant Picasso's Dora Maar. Giacometti's record is impressive, with 64 million-ticket adjudications, of which four in the tens of millions. He has, however, never crossed the USD 20 million mark, peaking at USD 16.5 million for Homme qui chavire, a bronze which exists in six versions (Christie's NY, May 2007).
Constantin Brancusi, on the other hand, did achieve more than USD 20 million for a Oiseau dans l'espace in marble, estimated at between USD 8 million and 12 million, when the bidding soared to USD 24.5 million in May 2005 (Christie's NY). The piece combined two essential qualities enabling it to shatter the estimated range: it is emblematic of the work, since the artist focused on the bird theme for more than forty years, and it is a one-off piece as opposed to the numerous versions in bronze for which he is well known.
The rarity factor is, in effect, primordial in the field of sculpture and one-off works are greatly sought-after. Amedeo MODIGLIANI, for example, saw a woman's Tête in stone snapped up for GBP 1.3 million last winter (USD 2.55 million, Sotheby's, February 2007) whereas most of his bronzes, which are edited in several versions, are accessible for between USD 30,000 and 80,000.
In contrast to this flood of millions, you can find Cubist-influenced artists such as Henri LAURENS, Julio GONZALEZ, Alexander ARCHIPENKO and Jacques LIPCHITZ whose price levels are more moderate with records ranging between USD 1 million and 3 million.
If the auction results of these artists are more modest, the exceptional price appreciation of Julio Gonzalez, whose inventive iron sculptures were admired by Picasso, is worthy of note: his price index has risen by nearly 350% over the past decade.
Another metal adept, Pablo GARGALLO, has never reached the million mark but did set a new record last October during the sale of the Alice Tériade collection in Paris (Arcurial). Heralded on the catalogue cover, Masque d'Arlequin souriant III, a one-off piece, doubled its high-end estimate, selling for EUR 400,000 (more than USD 570,000). Before this hammer down, his best sale results had hovered around EUR 100,000 to 200,000.
At under USD 10,000, sculpture lovers can set their caps at Relief No.1 by Henry MOORE, measuring just 13 cm, acquired for USD 7,500 last May (William Doyle, NY), small bronzes by Jacques LIPCHITZ or even Salvador DALI pieces, cast during the artist's life and edited in anything from 350 to 1,000 examples.
Modest formats, early works, numerous versions or late castings are all factors which bring prices down.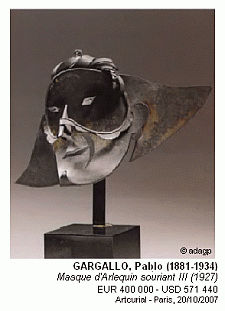 Pable Gargallo, for example, was 22 years old when he sculpted Figura femenina in alabaster. Showing far less maturity than the later works, the piece was accessible for just EUR 3,000 in December 2006. (Ansorena, Madrid).