Louise Bourgeois – Art as redemption
[08/11/2007]

 

Her oeuvre is celebrated in an exhibition at London's Tate Modern until 20 January 2008, which continues at the Paris Pompidou Centre from 5 March to 2 June 2008, before moving to the United States.

Louise bourgeois is one of the senior figures of contemporary art. At 96 years old, she continues to produce her introspective and cathartic work, which explores human relationships, their suffering and frustrations.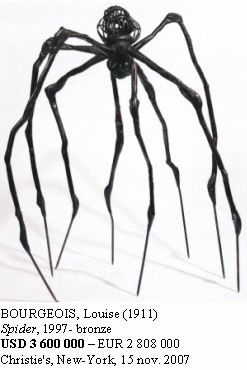 Fernand Léger, who taught the young woman during her sojourn at the Ecole des Beaux-Arts in Paris, had the right intuition in advising her to focus on sculpture. For three generations she has excelled in this medium, using wood, marble, bronze, rubber, fabric or a combination of heterogeneous materials.
These three-dimensional works are much sought after and can achieve more than USD 3 million, as did Spider, a monumental bronze which sold for USD 3.6 million at Christie's in 2006. This giant spider, in 6 numbered editions, had changed hands for USD 1 million less than a year earlier at the rival auction house (USD 2.7 million, Sotheby's NY).
Although no work has seen such heights since, three sculptures were auctioned for more than USD 1 million apiece at the May 2007 sales, testifying to increasingly strong price appreciation for the artist. In effect, these three million-ticket sales were achieved in two days (15 and 16 May, Sotheby's and Christie's NY), whereas it had taken four years to secure the previous three (between 2002 and 2006).
The demand is such that even small pieces rarely change hands for less than EUR 15,000. We might mention, for example, Eye, a 10cm aluminium sculpture edited in 25 examples, which pushed the bidding to GBP 11,000 (USD 21,600) during a sale at Sotheby's Olympia London in February 2007. In 2000, this same piece was accessible for USD 8,000 (Phillips NY, November 2000).
To increase the chances of acquiring a sculpture for less than EUR 15,000, the admirer must enquire about lower-profile sales than those organised by the majors Christie's, Sotheby's or Phillips. Some pieces are, in effect, sold in Europe such as Give or take II (ed. 30), a troubling work seemingly endowed with animal claws, which did not find a buyer at Villa Grisebach (Berlin) in December 2006 despite a low estimate of EUR 10,000. Yet, in 2002, the same work went for GBP 12,000, or more than EUR 19,000 at Sotheby's London… and the artist's price index registered a rise of more than 30% between these two sales.
The drawings sold for between USD 10,000 and 60,000 on average before September 2007, but their price level could take off. In effect, last September, a Femme maison, combining ink and gouache on paper measuring 31.1 x 23.5 cm, beat its high-end estimate by a factor of ten when the hammer came down at USD 300,000 (Christie's NY)! The announcement of the opening of the retrospective, which came just a month after this auction, no doubt had something to do with such buoyancy: prior to this sale no work on paper by Louise Bourgeois had reached the USD 100,000 level!
However, some Louise BOURGEOIS works remain affordable! She produces a large number of prints, which represent 47% of her sales and change hands for between USD 1,000 and 3,000 on average.