Kawsmania in the art market
[14/04/2020]

Brian Donelly, aka "Kaws", was born in New York in 1974. Now in his forties, the American artist started his career in graffiti and 'subvertising', the unlawful détournement of commercial advertisements. However, such was his style that the targets of his subvertising – brands like Marc Jacobs, Nike, Dior and the Disney Studios – offered him lucrative contracts that substantially boosted his visibility and basically turned Kaws himself into a brand…
The art of

global

inva

s

i

on
Using large-scale means, KAWS started producing T-shirts (via his own label Streetwear), serigraphs and Art Toys, (limited editions of figurines inspired by cartoon characters). But unlike most 'graffiti' artists, Kaws managed to place the regressive iconography of his Art Toys within the Contemporary art landscape, notably with his most emblematic creation, a hybrid of Mickey Mouse and the skull & bones symbol called The Companion. This hybrid figurine has been available for twenty years in all sizes (from a few centimeters to several tens of meters) and a variety of materials (woods, plastics, metals…) and has literally invaded the entire planet driven by large-scale production facilities. Nowadays, you'd be hard-pressed to find an art fair that doesn't offer them and his giant inflatable versions can be seen in lots of major cities all over the world. Ranging from very small to very large, there are models for all budgets, from a few dollars to a few million dollars…
During the lockdowns, Kaws' Companions have been exposed 'everywhere and simultaneously' thanks to an edition of works in augmented reality (AR). The launch of this project was planned a long time back for the month of March 2020, i.e. right at the start of the Western confinement periods… The timing could not have been better: his series of virtual works responded to an urgent need for remote "company", since the entire project was on screens.
To realise his project, Kaws partnered with the company Acute Art, which specializes in augmented reality. They offered 25 large Companions (1.8 metres tall) at $10,000 each and a number of smaller companions (45 cm tall) on a rental basis of $6.99 per week or 3 for $29.99 per month. A free version of the smaller format Companion has also been offered online since the confinement. The principle is simple: once the virtual figurine has been chosen and payment has been made, the image of the floating Companion can be embedded wherever you like in the mobile augmented reality environment and you can then interact with that environment on your mobile handset.
At the same time, Kaws and Acute Art launched an exhibition in augmented reality entitled Expanded Holiday, consisting of twelve monumental sculptures (Companions) floating virtually in various locations all over the world. These include in front of the Museum of Islamic Art in Doha, the Ferris wheel in Hong Kong, next to a bridge in London, the National Gallery of Victoria in Melbourne, Times Square in New York, the Louvre in Paris, as well as locations in Tokyo, Seoul, Taipei, Sao Paulo and Tanzania. This ambitious project made Kaws the only artist "exhibited" all over the world in March.
Explosive popularity
Kaws' augmented reality work has satisfied demand from his many fans worldwide. The artist is immensely popular… a fact that seems confirmed by the number of his detractors, but above all by his 2.8 million Instagram followers and the celebrity status of many of his collectors (Justin Bieber, Pharrell Williams, etc). It has also been confirmed by his remarkable success on the auction market. Today, Kaws is none other than the best-selling Contemporary artist of our time, with 963 results in 2019 (equivalent to an average of 2.5 works sold per day). No one does better. Not to mention the direct sales from the artist's website and through his gallery, Emmanuel Perrotin, the details of which are not communicated.
Kaws had been collaborating for 11 years with Emmanuel Perrotin, who has an unparalleled flair for anticipating cultural phenomena. The French gallery owner exhibited his work for the first time in 2008, the year Kaws made his auction debut. His best result that year was $8,750 for a Companion measuring over 120 cm from an edition of 100. The same piece today would cost around $100,000. Since then, Emmanuel Perrotin has shown Kaws' work almost everywhere – Paris, Tokyo, Hong Kong, Seoul, Shanghai, New York – and his prices have rocketed.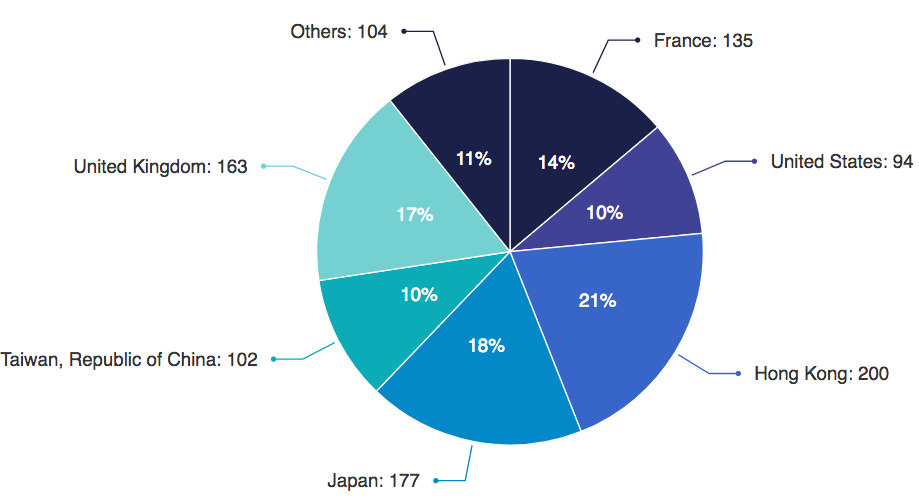 Kaws – Geographic distribution 2019-mars 2020 – Number of lots sold. © Artprice
A market

darling

…
With nearly a thousand lots sold, including several results above the million-dollar line, Kaws' works generated almost $109 million last year, three times more than in 2018, amidst what many refer to as 'Kawsmania'. In 2019, Asia accounted for 60% of his sales, compared with just 10% in the United States and 14% in France (remember his gallery owner is French). Buyers from Hong Kong, Japan, Taiwan and Korea are particularly fond of his regressive universe and their enthusiasm has made the American artist one of the leading figures of the global Contemporary art market. In terms of 2019 auction turnover, Kaws ranked third on the global Contemporary art podium behind Jean-Michel Basquiat and Jeff Koons.
Kaws' auction record dates back to 1 April 2019 when a canvas referencing the Simpsons and the Beatles – The Kaws Album (2005) – fetched $14.8 million at Sotheby's Hong Kong. Estimated at $1 million, the painting fetched almost 15 times that price, illustrating the intensity of his market. Nevertheless that result was hammered amidst the unprecedented buzz generated by an inflatable Companion measuring more than 30 metres long and floating in Hong Kong's Victoria Harbour. Two weeks later Phillips in New York confirmed the trend by selling Kaws' acrylic painting The Walk Home, inspired by SpongeBob, for $5.95 million against a high estimate of $800,000.
A new darling of the global art market, Kaws embodies the dominant American neo-pop aesthetic. An art described as Cool culture connected with commercial art, fashion, graffiti and cartoons, and delivered in an easy-to-digest iconography (flat shapes, clear lines, bright colours) already used by popular cultures. His Companion may be the figurehead of this trend… but Kaws already has one foot in the future. His recent project clearly anticipates one of the possible ways that art might be 'delivered' in years to come.
On April 11, the artist announced the sale of a small edition of prints, a silhouette of Snoopy. Each signed and numbered print (out of 25 plus 5 artist proofs) is sold for $ 1,200 for the benefit of the charity Free Arts NYC, which supports the most vulnerable young people in New York. A good deed and a very good deal, because one can not find a Kaws's limited edition print for such a low price at auction… There won't be print for everyone, and buyers on the rows will be drawn at comes out.