Hermann Nitsch : Paris/New-York
[07/05/2021]

With the creation and 'actions' of the Orgies & Mysteries Theatre in 1957, Hermann Nitsch caused a sensation in the Post-War art world (and beyond). The group put on powerful performances bringing together painting, architecture, opera, music and 'actions' for a 'total art' with a cathartic objective… a "celebration of purification and abreaction". Although symbolic and theatrical, the violence at the heart of his 'actions' was often criticized at the time. One cannot fully appreciate Nitsch's early work without knowing something about the origins of the movement that largely contributed to the birth of the Orgies & Mysteries Theatre: Viennese Actionism.

"There was no coincidence in the history of Viennese actionists. We focused on the human body… a body afflicted with cruelty and rabid violence. We are the result of a terrible history." Hermann Nitsch, Hermann, the doors of the forbidden, 2008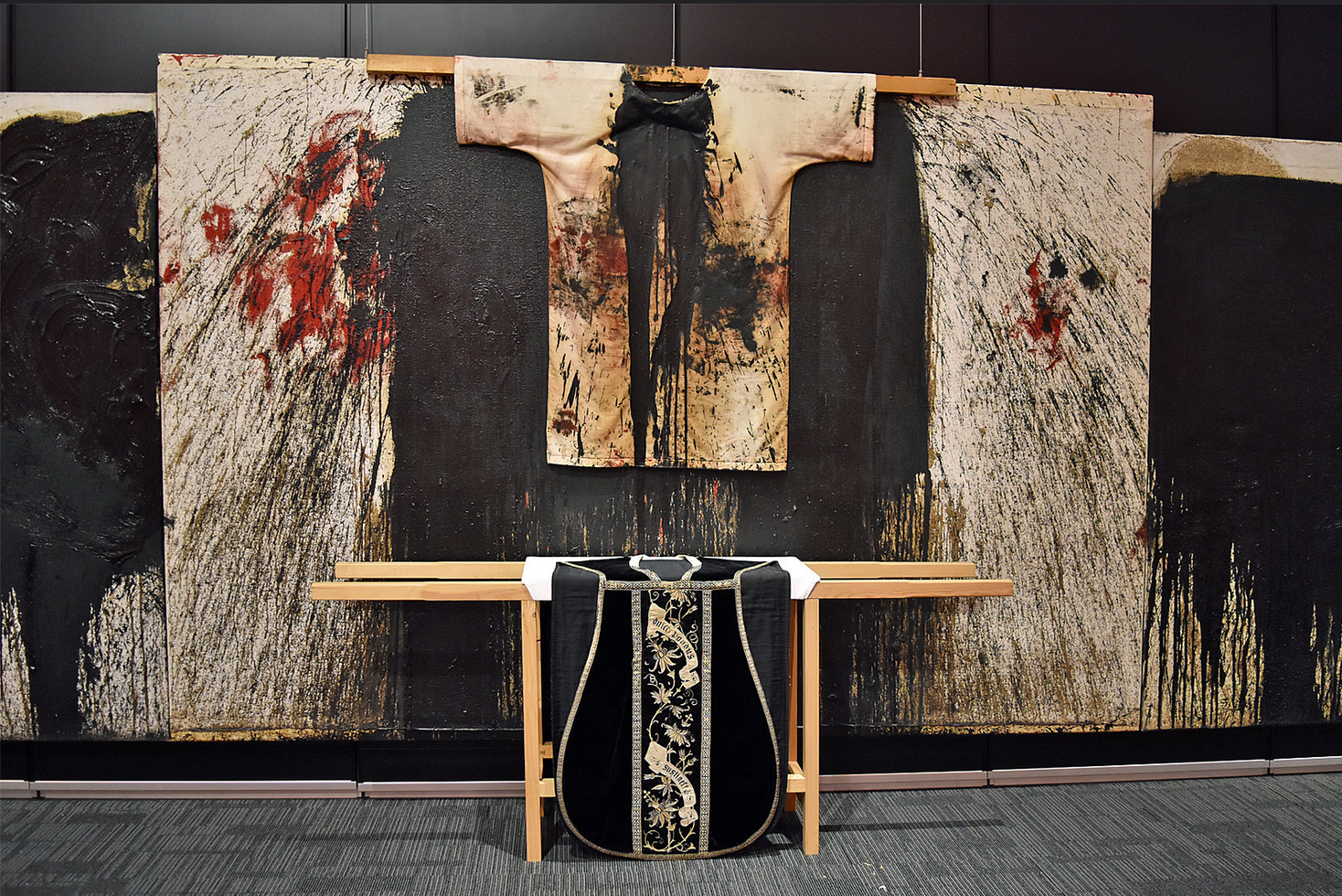 Mixed media by Hermann Nitsch (Austria) at Parkview Museum during Disturbing Narratives exhibition, 2019
From Viennese Actionism to a 'resurrection' in color
In her thesis on Nitsch, Bénédicte Maselli explains how much his work is above all concerned with memory: "a memory that is primarily 'historical' and linked to the trauma of the World War II. Like his Viennese 'actionist partners', he explored this collective memory via a highly radical visual language communicated through numerous 'actions', without any filters or nuance." Hermann NITSCH, Otto MÜHL, Günter BRUS and later Rudolf SCHWARZKOGLER thus gave birth to the most contested art form of the second half of the 20th century (performance art), "an art that would detonate the fascist stockpiles of dynamite without any shame or regret" explains Danièle Roussel in a book devoted to the movement.
Viennese Actionism was born in response to the trauma of war in the post-fascist context of Austrian society. It was in this context that Nitsch orchestrated his 'actions' (more than 100 performances given between 1960 and 1990) using the human body to "liberate oneself from fears and other unconscious anxieties" (Nathalie Heinich).
But aside from his interest in 'dark' psychology, history, drama, music and religions, in later years Nitsch also became interested in painting, developing a style that might even been described as 'solar' (in stark contrast with earlier works…) with a focus on color variations. The powerful canvases with big red splashes have given way to a profusion of yellows, pinks, oranges and purples, which, according to Eric Deuremaux, co-director of the RX gallery which represents the artist in Paris and New York, are "a tribute to nature and to Claude Monet, whose influence on the artist is unimaginable".
Nitsch began to radiate this new energy (in his own words, conveying a "glorious", "radiant" and "laughing" sensation of existence) at around the beginning of the new millenium. Color appears to be is the primary raison-être of these works and he applies it with his fingers. The traces of his hands on the canvas suggest a deliberate return to the primitive gestures of a some early form of art.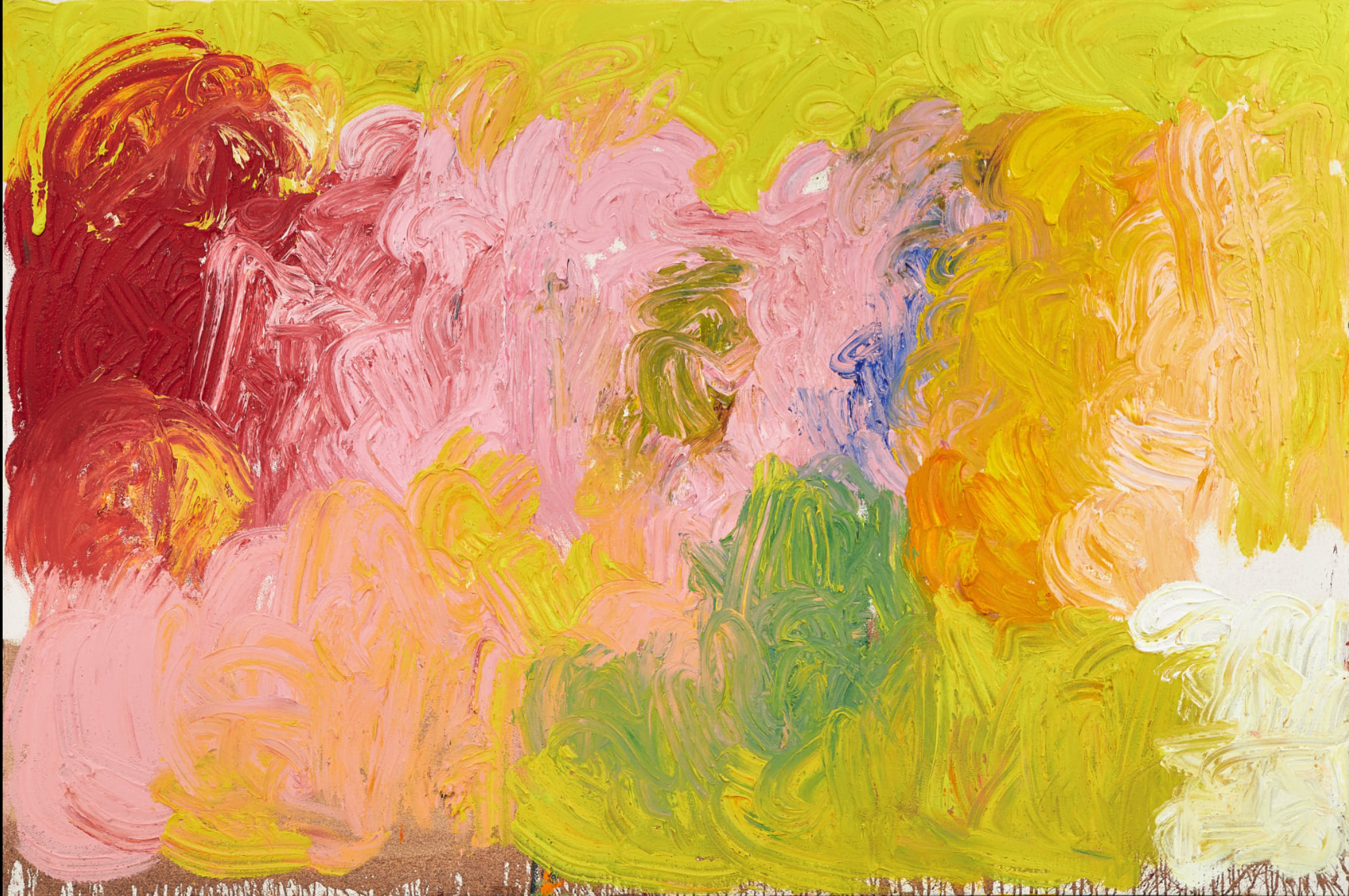 Hermann Nitsch, Untitled, 13-19, 2019 (detail), Acrylic 200x300cm © Courtesy Galerie RX and the artist

"I let myself be inspired by the splendor of color, it was my model. It was clear I was working on a cycle of resurrection" Hermann Nitsch
Market jolted out of slumber…
During its first Paris exhibition dedicated to Nitsch in 2018, the RX gallery sold almost nothing to French collectors. Nevertheless, the show managed to revive the interest of the art world, especially museum curators who had not seen Nitsch in Paris for 25 years. In 2020, RX decided to organize another Nitsch show, which this time, was highly successful. "The market appears to have caught up for lost time" said Eric Dereumaux.
Although the RX gallery sold two of Nitsch's 'action' films to the Pompidou Center (one dated 1965, the other dated 1988), it focused primarily on his recent large-scale bursts of color on canvas. The attention (and subsequent acquisitions) generated by the show has contributed to a revival of his auction market. While the Nitsch exhibition attracted its audience to the gallery, on June 24, 2020, Sotheby's Paris sold a canvas (Ölberg (1960) measuring approximately 100 x 150 cm for 10 times its mid-range estimate ($447,000). According to Dereumaux, the lateness of the markets appreciation is partly due to the fact that "Nitsch's 'actions' have until recently completely dominated his newsflow… so much so, that the Nitsch as a painter has been overlooked".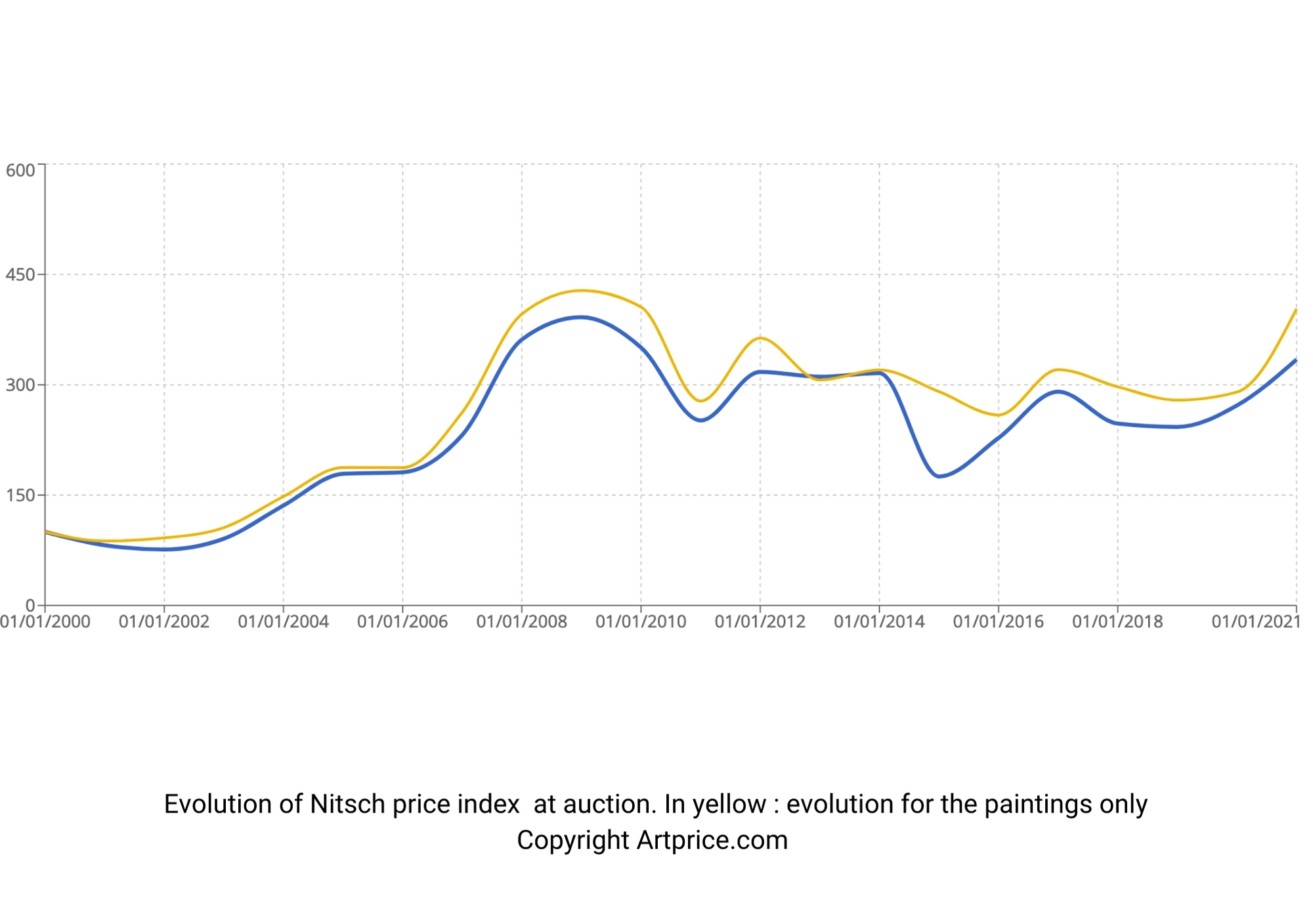 Last December an important 1961 painting sold for $581,000 against a high estimate of $97,000 (at Ketterer in Munich). This is currently Hermann Nitsch's auction record. In galleries his works from this period are usually offered between $180,000 and $300,000, but the prices are climbing fast for his major historical pieces, which are being very actively sought by certain collectors.
The market's agitation is of course boosted by the upside potential: despite his weight and importance in art history, the prices of Nitsch's works are currently no higher than those of a young international artist. Aware of this value potential, "some collectors have bought three or four canvases" confides Eric Dereumaux. Indeed, his recent canvases are a resounding success, especially since they can be acquired for around $60,000 in galleries which is substantially cheaper than his 'historical' works.
Nitsch's prices are rising quickly. His annual auction turnover reached a new high in 2020 with strong results in Germany, Austria, Italy and France. The American market could also be stimulated with a new exhibition of his paintings opening a few days ago in RX / Slag Gallery's new space in New York (in the heart of the Chelsea district) and echoing the latest RX exhibition of his work in Paris. Indeed, RX's efforts are quite clearly driving the rise of an essential artist, now ranked one of the top 400 most successful signatures in the world in terms of annual auction turnover.
Exhibitions
Hermann NITSCH l Galerie RX, New York. In partnership with SLAG gallery

April 29 – June 6
Hermann NITSCH l Galerie RX, Paris
April 29 – July 25