Henri CARTIER-BRESSON: photo-journalism gets its foot in the door of the auction world
[06/11/2002]

 

Some of the great photojournalists were able to transform their pictures into works of art. One such pioneer was Henri Cartier Bresson founder of the Magnum Photos press agency. Today, documentary photography is capturing market share in public auctions. Photojournalism at Auction 2002 takes place at the Drouot Hotel on 15 November, in the middle of Paris's Photography Month and the Paris Photo 2002 fair. 700 prints will be up for auction. But the first steps of documentary photography at auction have not been free of pitfalls.

As the photography market attracts more enthusiasts, documentary photographs have attained the status of art photography, making them a cultural and financial asset. Since 1997, the price of a Henri CARTIER-BRESSON photo has increased by 162%. In 2000, a contemporary print of Seville, Spain (1933) fetched USD80,000 (EUR92,104), more than three times the USD24,000 (EUR21,251) the seller had paid for it in 1994. Like many photojournalists, Cartier-Bresson achieved a record price in 2002.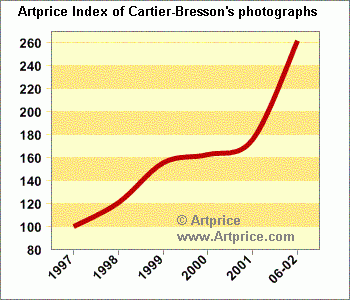 But the corollary of rising prices is that buyers are cruelly selective. So far this year, over half Cartier-Bresson's prints have been left unsold compared to only 9% in 1999. The success of photography sales in 1999 led to a much larger volume of works sold at auction in 2000. This liquidity has given enthusiasts a larger choice, which they use to filter out all but the best pictures. Rising no-sales ratios reflect this greater pickiness by investors who are still quick to drive up prices of top quality works. But such outstanding prints are already in short supply.
The danger for photographers is that their photos are sold or exploited by press agencies or groups without their agreement. This issue of royalties surfaced at Paris Photo 2000, when the New York Times came to the fair selling prints which they had dug out of their archives. A 1947 Cartier-Bresson print taken in the streets of New York was put up for auction at USD7,500 (EUR8,745). The photographer described this at the time as theft, pure and simple: He said "I gave up my copyright to a newspaper for one specific usage. I never sold the physical support, in other words the print. This print does not belong to the New York Times and it has no right to sell it". Similar conflicts haunt the auction world. Most Cartier-Bresson photos which go to auction are press photos and carry the Magnum stamp on the back of them. But on 30 May 2001, seven of his photos were put up for auction by Maître Beaussant-Lefèvre and this time they were not journalistic shots. The prints came from an exhibition organised by the Decorative Arts Museum in 1955. No one knows how they could have escaped from where they were kept. The sale of these seven photos will not go ahead. To assert journalists' rights, Cartier-Bresson founded in the mid-1960s the (ANJRPC) the National Association of Reporters, Journalists, Photographers and film-makers. Today Magnum is trying to round up thousands of photos archived over the decades in magazines to prevent their uncontrolled and piratical distribution. .
The prints, which are due to go under Thierry Maigret's hammer on 15 November should meet the market's expectations. According to expert Léon Herschitritt, the photos aim to be true works of art, developed from the original negative by the photographer himself or by a great printer under his supervision and following his instructions. Lovers of photography will find an abundance of prints selling for less than EUR1,000 during this marathon sale.