German expressionism back under the spotlight.
[21/01/2003]

 

Works by the Die Brücke and Der Blau Reiter groups have been spiralling in price since 1999 (up 25% over the year). After four years of steady increase, from a base of 100 in 1997 the price index for Expressionist works is now 28 points higher than the Artprice Global Index.. In these hard-to-better market conditions, Christie's is now organising its tenth auction of German and Austrian Art.

Behind the recent surge in prices is the increasingly short supply of Expressionist works. Collectors attracted by this style of brightly-coloured art had fewer than 1,600 lots to bid for in 2002, compared to over 2,400 in 1999. And as on the art market in general, investors have become increasingly selective in recent years. The bought-in ratio has risen from 26.7% in 1998 to almost 44% in 2002. Only high quality pieces now find a buyer, usually in the UK, which accounted for over half the Expressionists' turnover in 2002. Germany and Switzerland tend to offer lower quality works and prints (57% of German Expressionist works are auctioned in Germany).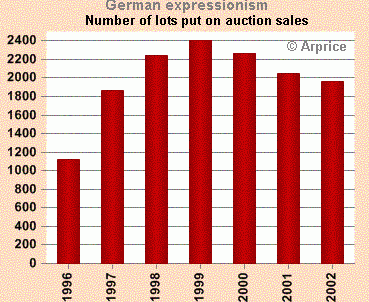 As prices have risen, records have tumbled. An Otto DIX painting, Portrait of Lawyer Dr Fritz Glaser, quadrupled its high estimate to fetch USD5.5 million when the Deyhle collection was broken up on 6 October 1999 at Sotheby's London. The same day The Waterfall: Women beneath a Waterfall (1912) fetched an unprecedented price for a Franz MARC at USD7.6 million. More records fell at the recent auction of the Beck collection, comprising major German and Austrian paintings, on 8 October 2002. Alexej VON JAWLENSKY's Nude Half Figure set a new auction high for the artist of USD2.2 million and August MACKE's Two Women in front of a Hat Shop (1913) went for USD3.9 million, also a new record.
An increasing number of major exhibitions and retrospectives on Expressionists, such as MoMA's "Masterworks of German Expressionism" and "Otto Dix" at the Musée National d'Art Moderne in Paris, is likely to whet the appetite of investors, fuelling prices in 2003.
To satisfy this growing appetite, Christie's is due to hold an auction of Expressionist works on 3 February. The menu includesHeinrich CAMPENDONK's cubofuturist-influenced Der blaue Mäher, which is expected to fetch USD0.8-1.1 million. Part of the Blau Reiter group, his works come up for auction only rarely and so frequently beat their estimates. Major works by artists of the Die Brucke group will also be included in the sale. One of the most important of these is Hermann Max PECHSTEIN's Sommer, a work recalling the summer of 1920 that Pechstein spent in the company of Erich Heckel and Ernst Ludwig Kirchner and estimated at USD1.2-1.6 million. Kirchner will be represented at the auction by a pair of primitive sculptures in wood entitled Mann und Frau, which are expected to sell for USD0.96-1.3 million. In total, 37 varied lots will be auctioned at Christie's sale. On the following day, collectors of Expressionist art will have the opportunity of buying works by Ernst Ludwig KIRCHNER and Emil NOLDE at Sotheby's.