Flash News
[11/07/2013]

 

Every fortnight, Artprice provides a short round up of art market news.

Daniel Templon Brussels: opening soon

Created 47 years ago, the Daniel Templon Gallery, which has staged some 400 exhibitions in Paris, will be opening its new premises in Rue Veydt, Brussels, in September 2013. The 220 m2 of this new hive of artistic activity will be hosting artists already represented by the Paris gallery. Here, art lovers in Brussels will be sure to find works by Jim DINE, Jan FABRE, Gérard GAROUSTE, Philippe COGNÉE, Jonathan MEESE and representatives of the art scene in China (YUE Minjun, MAO Yan, HE An) and India (Atul DODIYA, Jitish KALLAT, Sudarshan SHETTY).

To start with, the opening will feature an on-site installation by Japanese artist Chiharu SHIOTA (who was born in 1972, and lives and works in Berlin). In France, the artist created a sensation in 2012 with an impressive exhibition entitled Labyrinth of Memory at La Sucrière in Lyon. Her installation, taking up 1,700 m², was an amazing achievement that immersed visitors in a dense network of black thread (6,000 balls of acrylic) imprisoning several white dresses hanging in the space. The young Chiharu Shiota has no auction market yet (only her DVD Bathroom, 1999, has been sold in the sales rooms, for the equivalent of $5,160, Shinwa Art Auction, Japan, 15 May 2009) but her works are in increasing demand, and regularly feature in the major contemporary art fairs of Paris, Singapore, New York and Hong Kong.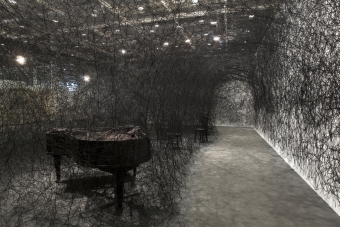 Chiharu Shiota, In Silence, 2013, Art Basel Unlimited 2013. Courtesy Galerie Daniel Templon, Paris. Photo Dirk Wetzel
Enrico Castellani: in the wake of Fontana and Manzoni
Enrico CASTELLANI helped to revolutionise 20th century art along with Lucio FONTANA and Piero MANZONI. While Manzoni laded the surface of his Achromes with plaster, kaolin and fabric and Fontana slashed his material with a lyrical gesture on the infinite, Castellani went behind the canvas to create an outward reflection of the surface. In 1959, his works began to take on relief through the meticulous positioning of nails behind the stretched canvas. Going beyond the rigour of the process, the works, punctuated by hollows and bumps, vibrated under the effect of light, establishing movement within the heart of the monochrome.
The soaring prices of Lucio Fontana (who achieved his first million dollars in 2001) and Manzoni (first million in 2003) have had an extraordinary lever effect on Castellani's rating, which finally topped the million-dollar mark this year. He owes his new record to Superficie bianca n. 34 (1966), which tripled its estimate on 25 June 2013 at a major contemporary art sale at Christie's London, when it fetched £1.6 million. The buyer thus paid the equivalent of $2.5 million (over $2.8 million with the buyer's premium) for this majestic piece from a highly-esteemed period.
This was no mean feat, because another work in the same vein, Superficie bianca n. 32 (dated 1966 and the same size) changed hands for under a million in 2010. In just three years, then, the price of an immaculate abstraction by Castellani has rocketed by 151%.
If object-paintings are beyond your budget, 30% of works are still affordable at auction for under $5,500. A few thermoformed plastic works or small formats on embossed paper can even be found for between $1,500 and $4,000 on average (sales in France and Italy).
Pierre Soulages: keeping pace
The highest-rated living French artist has reached new heights this year. At the age of 93, this monument of abstract art has consolidated his place in the high end market with unprecedented results, outstripping his total sale results for 2012 with two hammer strokes in 2013. While the hundred-odd works by Soulages scattered across various sales rooms (including 19 paintings) generated a total of $8.64 million during 2012, the London sales of February and March totted up $10.4 million: first with a 1961 painting knocked down for the equivalent of $4.5 million (£2.9 million), then with a work of 21 November 1959, which soared to $5.8 million at Sotheby's (£3.8 million, 26 June 2013). Including the buyer's premium, this new record is not far off $7 million. Interestingly enough, works of this quality could be bought for less than $200,000 in the late Nineties (Peinture, 13 Avril 1957, sold for £110,000, i.e. nearly $182,000, 25 June 1997, Christie's London).
In the sales catalogue, to encourage prices to rise to this level in the auction rooms, Sotheby's stressed the resonances between the French artist's work and that of the American artist Franz Kline, citing the art critic Sam Hunter. There is no denying that the two artists' ratings kept pace with each other since 2006: Pierre SOULAGES has registered 15 million-plus sales since then and Franz KLINE 25, after achieving his first million in 1989.