Ceramic creations on the Contemporary art auction market
[11/04/2023]

Artists who produce artworks in ceramics – either as their primary activity or as a sideline to work in other mediums – are more numerous than one might expect. Indeed, the outer limits of this art form are being pushed further and further back. Historically associated with the great art of sculpting statues, then relegated to the 'arts & crafts' category (in the West at least), ceramics as an art medium was reborn under the hands of Modern (like Picasso in Vallauris and Fernand Léger in Biot) and Contemporary artists. Today, collectors and art market professionals are increasingly aware of ceramic techniques thanks to various publications focusing on contemporary creation, and all sorts of biennials and exhibitions that highlight one of the oldest and earliest cultural practices dating back to prehistoric idols.

A little over a year ago (late 2021 to early 2022), the Musée d'Art Moderne de la Ville de Paris retraced the creative history of ceramics from the neolithic era to the present day in an exhibition entitled Les Flammes. L'âge de la céramique. The show invited visitors to rethink existing categories and traditional hierarchies. Today, another important event is being prepared, this time in Brussels: the first edition of the Ceramic Brussels fair will be hosted alongside the BRAFA from 25 to 28 January 2024 at Tour & Taxis. The guest of honor at the fair will be Johan Creten, an artist who quite deliberately revises our relationship to ceramics in contemporary creation, and the whole event will be an opportunity to discover the breadth of its current applications.

Artprice takes a quick look at the auction market for ceramic art, with a couple of ideas about some of the essential artists working in this medium.
An essential but nevertheless marginal category on the market
The list of 20th century artists who worked with ceramics is much longer than one might imagine. Pablo PICASSO is the most obvious example and he created the most expensive Western ceramic sculpture ever sold at auction, a Gray Owl (Le hibou gris, 1953) that fetched $2.4 million dollars. Another Fernand Léger with his famous mural ceramics, but there was also Paul Gauguin, Raoul Dufy, Edouard Vuillard, Georges Rouault, Salvador Dali, not to mention Marcel Duchamp, Meret Oppenheim, Roy Lichtenstein, Lucio Fontana and Michel Barcelo.
As regards the ceramic works created by Contemporary artists (born after 1945 according to Artprice's classification), auction records have not been revised for about ten years… a very long time for the segment. During this period, the only artists whose ceramic works have exceeded the $500,000 threshold are Juan MUÑOZ and AI Weiwei, and their records in this category date back to 2011 and 2014 respectively. A whole decade without any new auction price peaks would appear to suggest a lack of demand, but, above all, it reflects a lack of supply… a supply which substantially diminished throughout the decade; the annual volume of ceramic lots sold at auction having shrunk to less than half what it was a decade earlier. In recent years, only about one hundred ceramic works signed by contemporary artists have sold annually at auction, which makes it an extremely marginal category, even rarer than contemporary works in the "textile/tapestry" category, whose transaction volume is six times higher.
Auction records for Contemporary works of ceramic art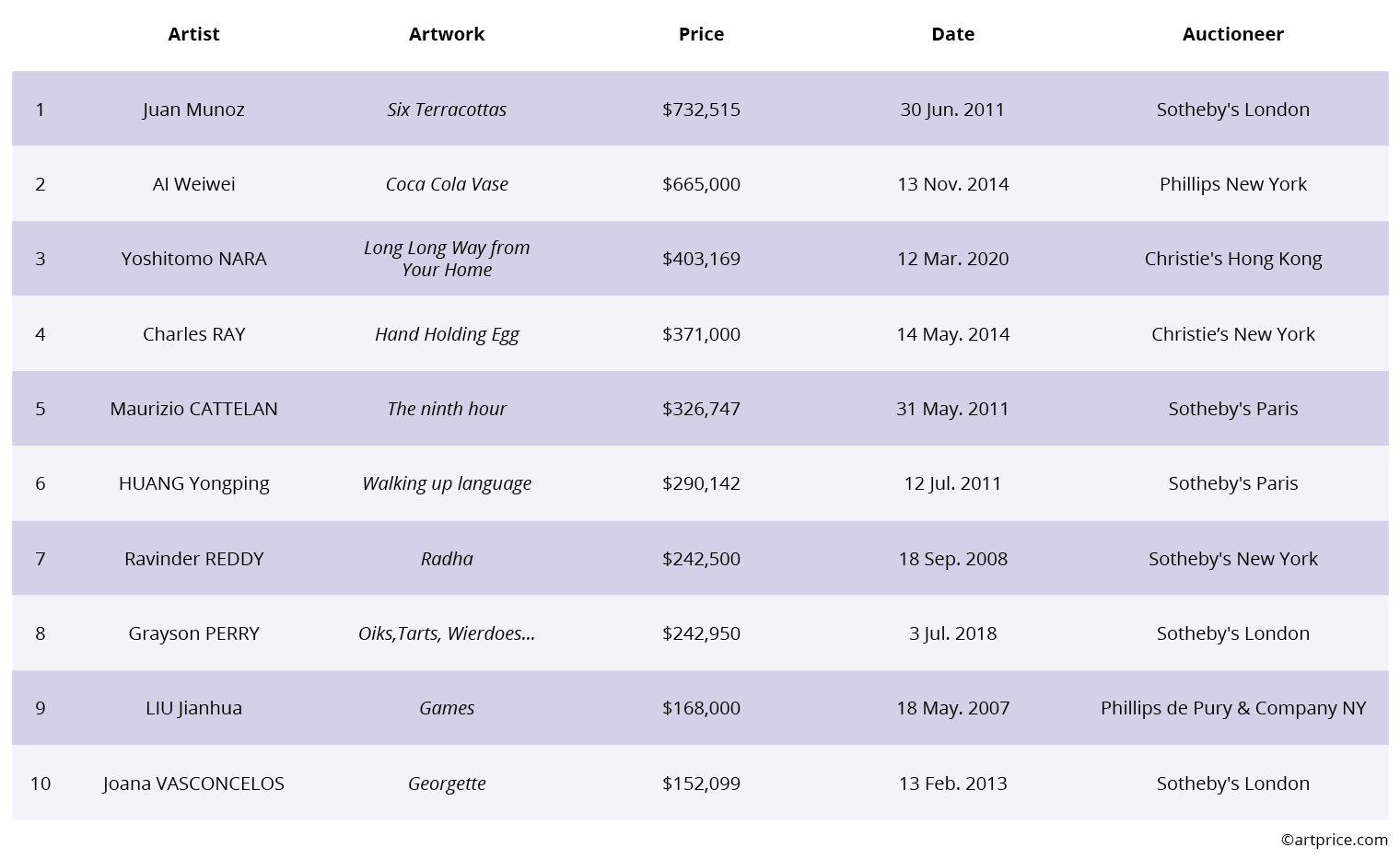 Although his work enjoys international demand, none of Belgian artist Johan CRETEN's ceramic works (his dominant medium) have been offered at auction since 2014. Another key creator from the same generation, American artist Sterling RUBY sold his last ceramic at auction 10 years ago ($31,000 for Ceramic – Yellow, Black, Orange). At that time, auction demand for his works was strong (all mediums combined), but it has since lost momentum. Works by the British artist, Grayson PERRY, are more frequently presented at auction, but they are seldom important pieces. His recently auctioned ceramics are minor pieces worth between $250 and $1,500.
The apparent lack of fizz in the ceramics market does not however mean that current production is at a standstill. In fact, on the contrary, several artists (often under 50) have emerged with a strong desire to rekindling the ceramics flame. Some of these are Roberto Lugo (American) whose works fetch between $1,500 and $5,000 in the United States; the Ukrainian Zhana KADYROVA (represented by Continua) whose ceramics are accessible for under $10,000 at auction; the formidable Japanese ceramist Takuro KUWATA whose creations trade for less than $1,500; the British artist Matthew CHAMBERS whose striking sandstones in interlocking turned shapes are accessible for under $4,000 at auction; the 'committed' American artist Theaster GATES who is much talked about and whose ceramics are now expected at auction, and the African artist Simphiwe MBUNYUZA whose works have already been presented by several international galleries but whose auction market has not yet kicked off. In sum, a generation of artists from various different backgrounds demonstrating the breadth of cultural values and the multiple artistic possibilities of resolutely contemporary ceramics.