As the auction market resumes its activities, Artprice takes a look at some of the best works for sale in New York
[14/09/2021]

Asian art week begins today at Christie's with no less than six separate online sales for this traditional week of Asian Art auctions in New York. The sales will be offering a wide range of lots from the entire Asian continent… from a Tang dynasty silver "rhino" dish to Huanghuali furniture. The first sale is devoted to Japanese prints and presents a fine selection of masters from the 18th to the 20th century, including works by Kitagawa Utamaro, Katsushika Hokusai, Utagawa Kuniyoshi and Kawase Hasui … all iconic and relatively affordable with most estimated under $5,000, such as this print by Utagawa Hiroshige.

.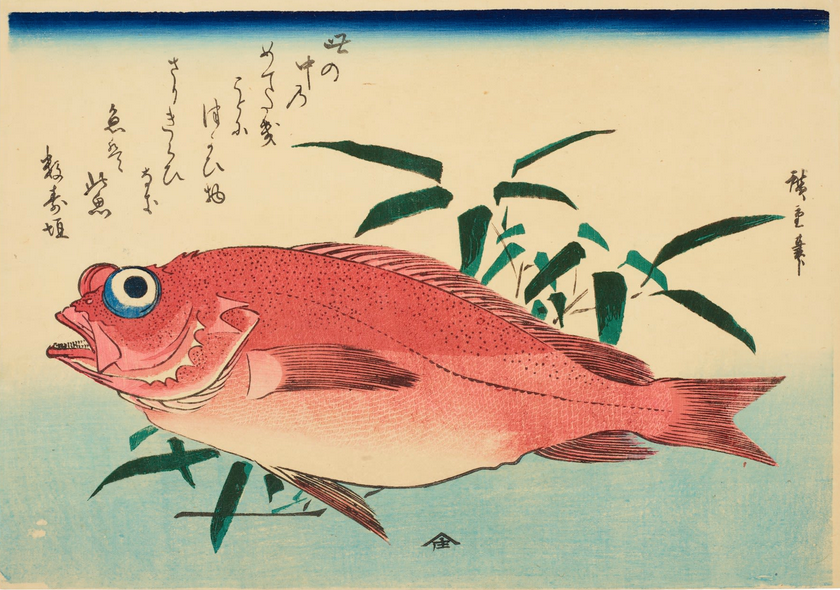 Utagawa Hiroshige (1797–1858)
Medetai, sasa (Goggle-eyed Sea Bream and bamboo leaves), circa 1840-42
$2,000 – $3,000
Francis Newton Souza
The following week, the bidding will rise much higher for the Modern and Contemporary Asian Art session. Among the flagship lots in the sale is a 1962 painting by Francis Newton SOUZA (an Indian British citizen) called The Cardinal, which could fetch over $350,000.
When he painted this portrait in the early 1960s Souza was already recognized among his Contemporaries – including Francis Bacon – as one of the leading figures of what Geeta Kapur described as the "new tradition of the grotesque" in Post-War British art. Never previously offered publicly, The Cardinal could well exceed its high estimate, especially as the price of Souza's paintings is currently ascending (see graph). Remember that Souza is one of the rare artists of Indian origin whose canvases sell for millions of dollars.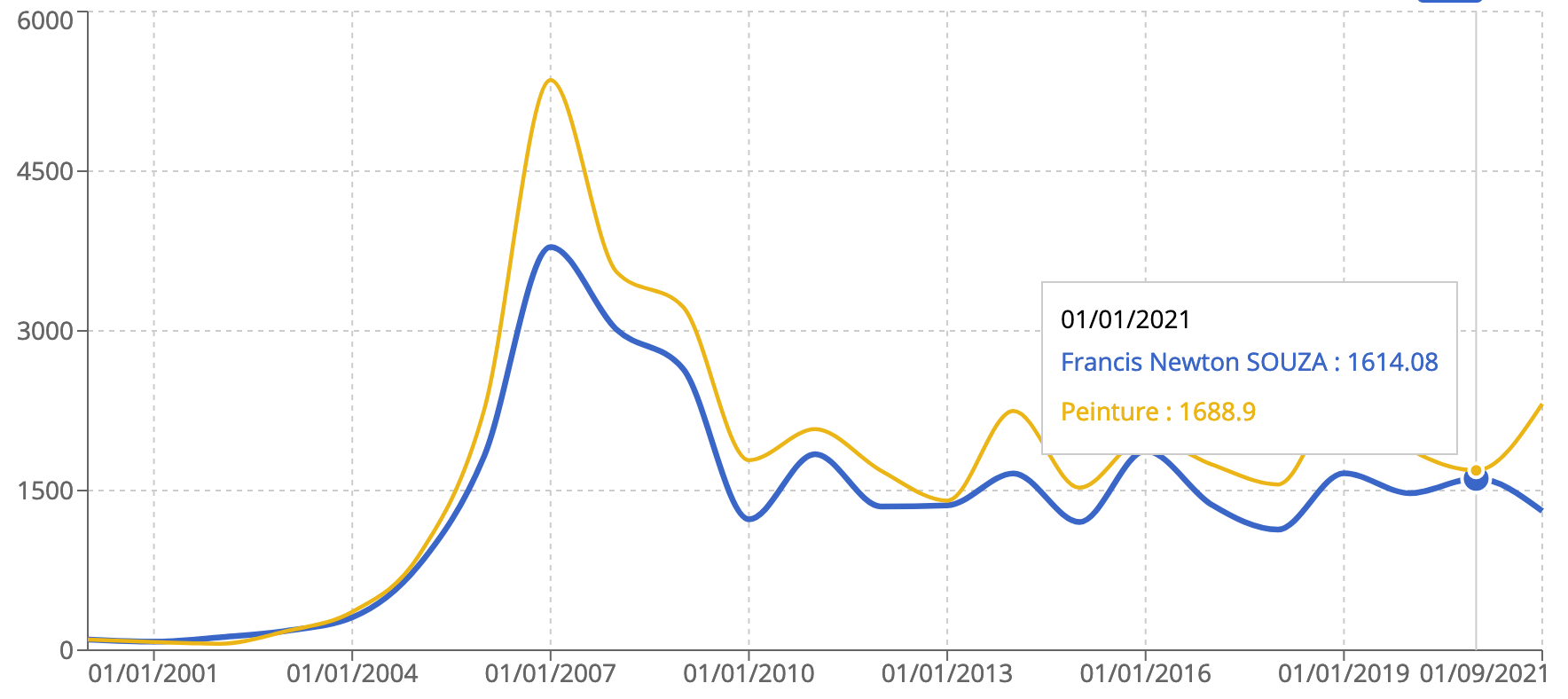 The re-ascending value of Souza's paintings (copyright Artprice.com)

Akbar Padamsee
The largest lot in Christie's Modern and Contemporary Art sale is 2.5 meter canvas – Mirror Image – painted in 2005 by Akbar PADAMSEE, a Contemporary Indian artist who died a little over a year and a half ago and who was hailed during his lifetime as a true pioneer of Indian painting, along with Raza, Souza and MF Hussain.
The canvas expresses the idea of the mirror image, which came to Padamsee while he was working on a series of engravings. Conscious that the image engraved on the plate was a mirror image of the final print, an image representing a slightly different and unfamiliar reality, he decided to explore the possibilities of this schism as a device in his painting. In the case of the lot proposed by Christie's, it is a diptych evoking a landscape through a very constructed pictorial device where the areas of shadow, light and the intensity of the colors summon natural elements in a space that is somehow supernatural.
The work – carrying a high estimate of $800,000 – has already been through Sotheby's in 2007 (New York) when it sold for $480,000 (incl. fees). But since 2007, the value of Padamsee's works has risen substantially with 4 works crossing the million-dollar threshold, the last dating back to 2018 (Seated nude, 1956, Pundole's Mumbai).
Jehangir Sabavala
Among the other leading Indian painters offered in this sale, Jehangir SABAVALA is regularly included in New York catalogs. Trained in Bombay before going to Europe to complete his apprenticeship in London, then to Paris where he took lessons from André Lhote and studied at the Julian Academy and the Grande Chaumière, Sabavala is a staple of "Asia week". A year ago, Christie's already sold an important work by Sabavala (created later than the one to be presented on September 22) also representing a group of characters. Entitled The Peasants (1981), its value soared last year to just under one million dollars ($966,000). This is Sabavala's current auction record. His works sell at auctions from Mumbai to New York.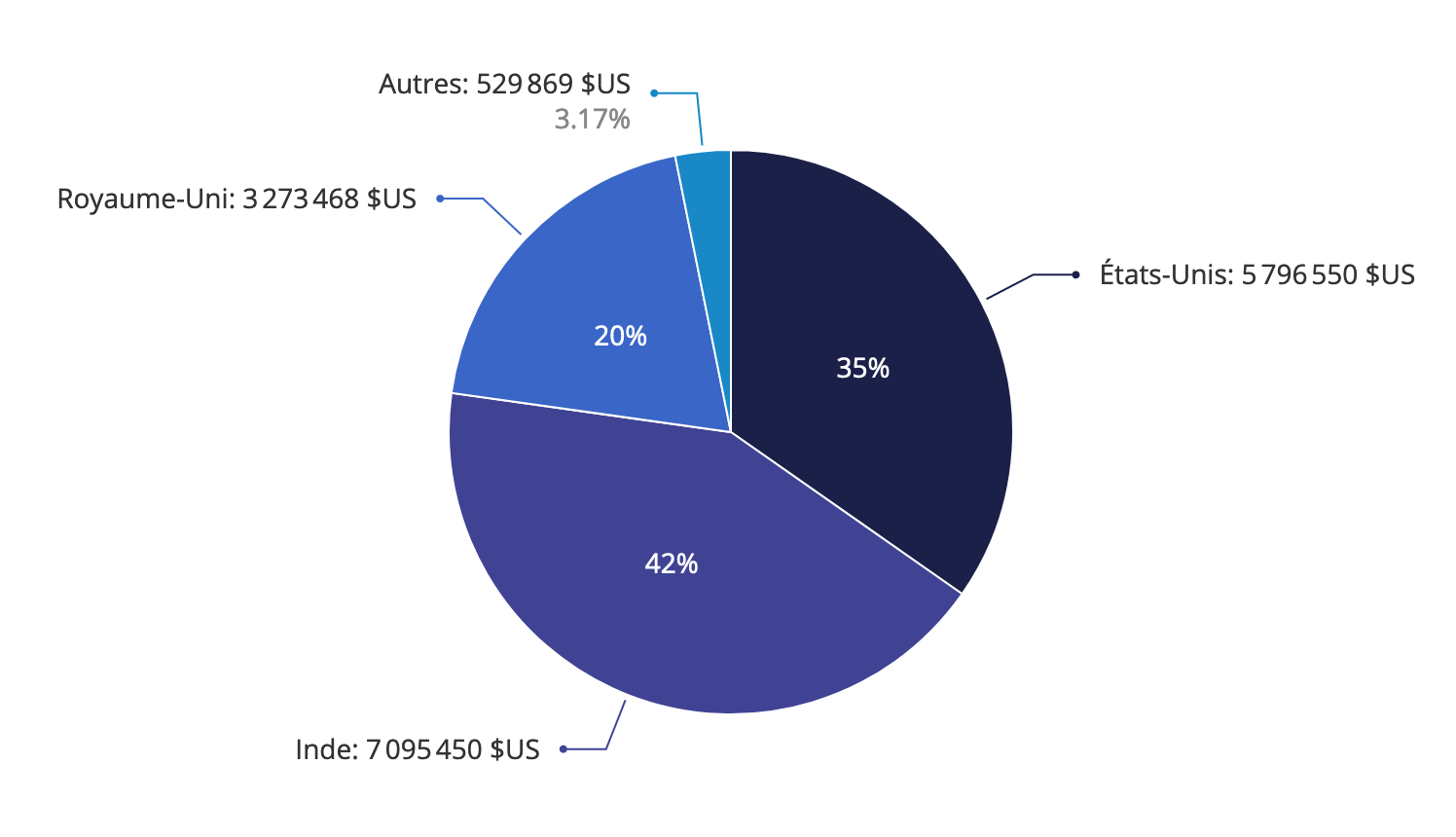 Geographic distribution of Jehangir Sabavala's auction turnover (copyright Artprice.com)

Sotheby's has chosen a different path…
Unlike its rival, Sotheby's is offering only three sessions this year dedicated to Asian art. These will be live sales offering selections of Indian and Southeast Asian art objects, but no Modern and Contemporary Asian art. Its New York branch is however hosting around twenty online sales in September focusing on a variety of other themes. From Daumier to Olitski (currently underway) includes works on paper by Jean Dubuffet, Joan Miró and Giacometti.  An Impressionist and Modern Art sale starting 17 September will offer "an exciting selection of paintings, works on paper, and sculptures from notable artists of the 19th and 20th centuries". Starting 22 September, A Life Among Artists will propose Contemporary photographs by Matthew Barney, Thomas Struth and Marina Abramović. Starting on 24 September, Public Intervention: Art of the Street will be offering works by Keith Haring and Kenny Scharf among other artists. In short, Sotheby's post-summer auction programme has plenty to satisfy collectors of all stripes.
.