Art Market History : 30 June 1939. Lucerne
[31/08/2021]

Before entering politics, Adolf Hitler had artistic inclinations. Having twice failed to get into Vienna's Academy of Fine Arts, he had a strong opinion on the nature of art and its role in society. As of 1933 he was free to excise from German cultural institutions works of art considered incompatible with his own ideals. This process involved the seizure of so-called "degenerate" art collections in museums, many of which were destroyed. However a lot of works were actually sold, either privately, or publicly, as in the case of the auction hosted in June 1939 by the Fischer Gallery in Lucerne. Since the war, the works offered in that sale have shed light on the confiscations that affected German national museums and galleries (which have never recovered their collections, nor been compensated) and they have also informed many of the highly publicised cases of recovery and/or research into the spoliations of Jewish property which continue to make headlines more than 80 years later.
"Entartete Kunst"
After Adolf Hitler took power on 30 January 1933, many German museum directors were dismissed from their posts: their 'error' was having acquisition and exhibition policies geared towards Modern Art. Many works were transferred to hidden repositories. Permanent loans and donations were returned and empty spaces on the museum walls were replaced by less offensive landscapes and still lifes.
The Nazi propaganda machine was quick to include Fine Arts domain among its priorities. It wanted to demonstrate German superiority in painting and sculpture. At the beginning of 1937, Joseph Goebbels asked the president of the Academy of Fine Arts, Adolf Ziegler, to organize a traveling exhibition of the art they considered modern, degenerate or subversive, and the show had to be organized quickly because they wanted to present it at the same time as the Große Deutsche Kunstausstellung ("Great German Art Exhibition") intended to show a more classical and "racially pure" type of art advocated by the Nazi regime. Some 1,100 works of art from 30 museums were selected and transferred to Munich, and the exhibition, which attracted record attendance, opened on 10 July 1937. Jewish and Communist artists, the pioneers of Abstraction, and, most particularly the Expressionists of the Die Brücke movement, were all exhibited as the most "repugnant" artists of the twentieth century. Among them were works by Ernst Ludwig KIRCHNER, Wilhelm LEHMBRUCK and Kurt SCHWITTERS. The museography was very strange indeed: the first room presented works considered blasphemous; next were sculptures deemed insulting to women, soldiers or farmers in Germany, all accompanied by derogatory slogans painted above the picture rails. In another space, artworks created by people suffering from mental illnesses were presented alongside works created by representatives of the avant-garde in order to highlight the perversity of those artists. The exhibition was subsequently sent on a journey through Germany, to bolster the inhabitants of Leipzig, Weimar, Halle and Salzburg in their conviction that the Jews and Bolsheviks were hell-bent on their downfall.
At that point, confiscation was imminent. Goebbels wanted to empty the repositories and reserves of museums where Modern Art had been sequestered. The Ziegler delegation visited around 100 museums in the fall of 1937 and seized 20,000 works by more than 1,400 artists, which were then transferred to Berlin and stored in the Victoria warehouse on Köpenicker Strasse. On 31 May 1938, the Law on the confiscation of degenerate art was enacted. Those works not selected for sale were simply burned on 20 March 1939 in the courtyard of the Berlin fire station. Works by German artists were sold cheaply during a short period to international buyers via renowned art dealers such as Hildebrand Gurlitt and Karl Haberstock in Berlin or Fritz Carl Valentien in Stuttgart. Others were taken to Switzerland to be auctioned.
The wartime art market in Switzerland
The National Socialist regime in Germany had a considerable impact on all cultural activities, as well as on the art market. With Hitler's rise to power, many German artists and art collectors found refuge in Switzerland. The small State benefited from its neutrality and the excellent international relations it enjoyed. Surrounded by the Third Reich, fascist Italy and occupied France, it played a central role in the circulation and transaction of artworks. Switzerland became a safe haven… a temporary or permanent repository of endangered works of art; but it also became a hub where the sale of artworks of greater or lesser value could be negotiated.
As a result of the war and the policies of the Nazi régime, millions of people were forced to abandon their homes. They included people of all social levels and they were all in urgent need of cash. Julius Freund, a great Jewish entrepreneur, had for example sent his art collection to Switzerland in 1933. He fled Germany in 1939 and emigrated to the United Kingdom where he died in 1941. His property in Germany having been seized, his wife quickly found herself destitute and was forced to sell part of her collection via the Fischer Gallery on 21 March 1942. The Nazi regime sold looted works of art in Switzerland in order to obtain foreign currency and collectors and dealers sought to profit from the sales forced upon their owners by the demands of wartime.
Esther Tisa Francini, a Swiss art provenance researcher and art market specialist, has suggested that the auction system rocketed, so to speak, after the War, as result of a paradigm that essentially occurred under the national-socialist regime. Previously, collectors mainly bought and sold through dealers, gallery owners or were represented at auctions. However, during the war and even before it, the Fischer auction house (among others) hosted Emigrantenauktionen ("Emigrant auctions"), so that refugees who had arrived in Switzerland with valuable works could sell them on the "free" market. This sales channel was seen as being more direct and rapid in those troubled times especially as Switzerland was in certain cases just the first step in a definitive emigration from Europe. So they (the emigrants) stopped selling their art in the traditional way, via dealers and intermediaries, and turned to auction houses, like those of Theodor Fischer, who subsequently found themselves in a strong position to accommodate the growing post-war art market.
Fischer, who already dominated the Swiss market, knew how to exploit these conditions, to the point that in 1946, the US Office of Strategic Services' Art Looting Intelligence Unit (ALIU) described him as the focal point in all looted art transactions in Switzerland, and recipient of the greatest number of looted paintings located to date.
The Lucerne sale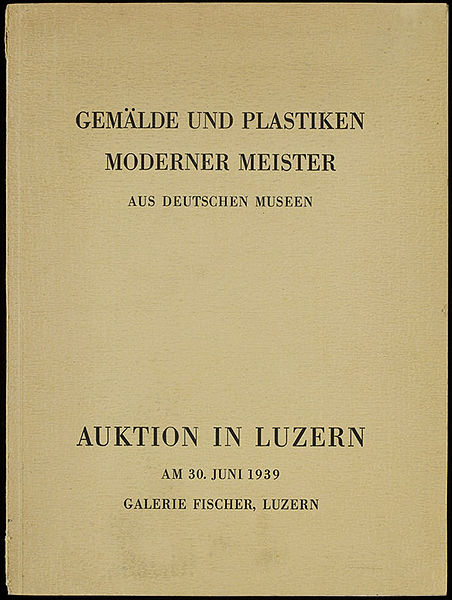 In 1937, the exhibition of "Degenerate Art" had a considerable international impact, and for good reason, the vilified artists were famous in New York and London. Indeed, it was precisely this fact that gave the Nazi's the idea of selling the works abroad in order to obtain foreign currency and support the war effort. Göring and Goebbels – who noted in his diary "we might as well make money from this trash" – used the Fischer sale on 30 June 1939 (in the lounges of Lucerne's Grand Hôtel) as a "test" to explore the future potential of other international sales. In the end, there was only one big sale because the outbreak of war prevented any further initiatives.
The sale was widely publicized and exhibitions were held in Zurich and Lucerne. The audience of 350 guests included, for example, Pierre Matisse (son of Henri MATISSE and himself a dealer in New York) accompanied by collector Joseph Pulitzer Jr. and the Swiss collector Emil Bührle. The city of Basel obtained a Sonderkredit, a special envelope from the municipality, as did the delegation from the Liège Museum who arrived with 5 million Belgian francs (nearly $1 million in today's money), a considerable contribution from Belgian museums and patrons. One of the reasons for the purchase by Belgian and Swiss public institutions was to keep these European works in Europe and in public hands rather than allowing them to be destroyed by the Germans or disappear into private American collections. However, lots of specialists who were expected actually chose to boycott the sale, fearing – rightly – that its profits would end up in the Reich's coffers.
The auction catalogue modestly announces "Masters of Modernity in German Museums", and the term "degenerate art" was conveniently removed from the accompanying texts. It lists 109 paintings and 16 sculptures by 39 artists. The Beaux-Arts magazine could not help but note the contemptuous attitude of the auctioneer towards the works. When lot 95 appeared, Hermann Max PECHSTEIN's L'Homme à la pipe / Der Raucher he sneered "This must be a portrait of the artist". He seemed delighted as certain lots failed to sell, observing "Nobody wants that kind of thing", or "This lady doesn't please the audience!"
Pulitzer and Pierre Matisse won the bidding for a work by Henri Matisse, Three bathers with a turtle, for just over $2,000. Pulitzer subsequently donated the work to the St. Louis Art Museum in 1964 where it still hangs. Lot 35, Aus Tahiti by Paul GAUGUIN was acquired by the Liège museum for the current equivalent of $12,000, along with a dozen other gems. Thirty-eight lots remained unsold including lot 49, Tropisches Bad, an almost square canvas painted in 1913 by Carl HOFER. The work was recovered by the dealer Bernhard A. Böhmer in 1940 and it resurfaced at Ketterer Kunst in Munich in 2020 where it fetched $60,600, suggesting an upward trend (Artprice Indicator®). Lot 64, Oskar KOKOSCHKA's Notre-Dame in Bordeaux was sold a few weeks later to Karl Buchholz. It is now one of the jewels in Bordeaux's Museum of Fine Arts. A total of 87 works were auctioned for a profit of 542,650 Swiss francs, of which 518,327 Swiss francs for the Third Reich (more than $3 million$ in today's money). The results were well below the estimated turnover. The remaining works were sent back to Germany. No compensation was offered to the museums from whence the works had been taken.

The Fischer sale is today seen as a symbol of the ideological battle waged by the National Socialist dictatorship against pre-1933 German art. It established – under questionable circumstances – the very first international auction results for works by the German avant-garde. The debate between collaboration with the Nazi regime and the rescue of irreplaceable works of Modern art continues to rage even today.