An exceptional Rembrandt expected to fetch $20 million
[16/06/2020]

It's time to break with old customs and innovate! The disruption to the global art market's calendar caused by the coronavirus pandemic has prompted Sotheby's to adapt the format of its summer sales. Apart from the decision to organise a live Evening Sale open to "telephone, online, in the room, and in advance bidding", Sotheby's has abandoned the classic art historical segmentation (by period or by style) and plans to conduct an exceptional "one-off" sale offering approximately 500 works from four major collection areas: Old Masters, Impressionist & Modern art, Modern & Post-War British art and Contemporary art. The objective of the sale is clearly to attract all of the world's top collectors, whatever their field of predilection.

Since the all-time record sale of a Leonardo da Vinci painting (Salvator Mundi) for $450 million during a Contemporary art sale at Christie's in 2017, the decompartmentalization of artistic genres and periods no longer shocks the market. For Sotheby's experts, collectors – particularly new generation collectors – are "perhaps less concerned with traditional art market categories and instead are looking to acquire works that are beautiful and important, regardless of where or when they were made".

The highlight of this new format sale on July 28 is an extremely rare painting by REMBRANDT (1606-1669) that could fetch $15 million. Measuring just 15 x 20 cm, it is one of the three self-portraits by the Flemish master still in private hands. Dated 1632, it portrays the young artist when he was just 26, dressed formally with a felt hat and a large white collar. According to George Gordon, Co-Chairman of Old Masters at Sotheby's, the work would have been painted quickly, almost certainly within a day, at a time when the reputation of Rembrandt's studio was growing. The speed of execution can be deduced from analysis of the signature: "… he laid in the background first, but when he signed it upon completion, the background was still wet, so the signature is impressed into it by his brush", according to the Sotheby's expert.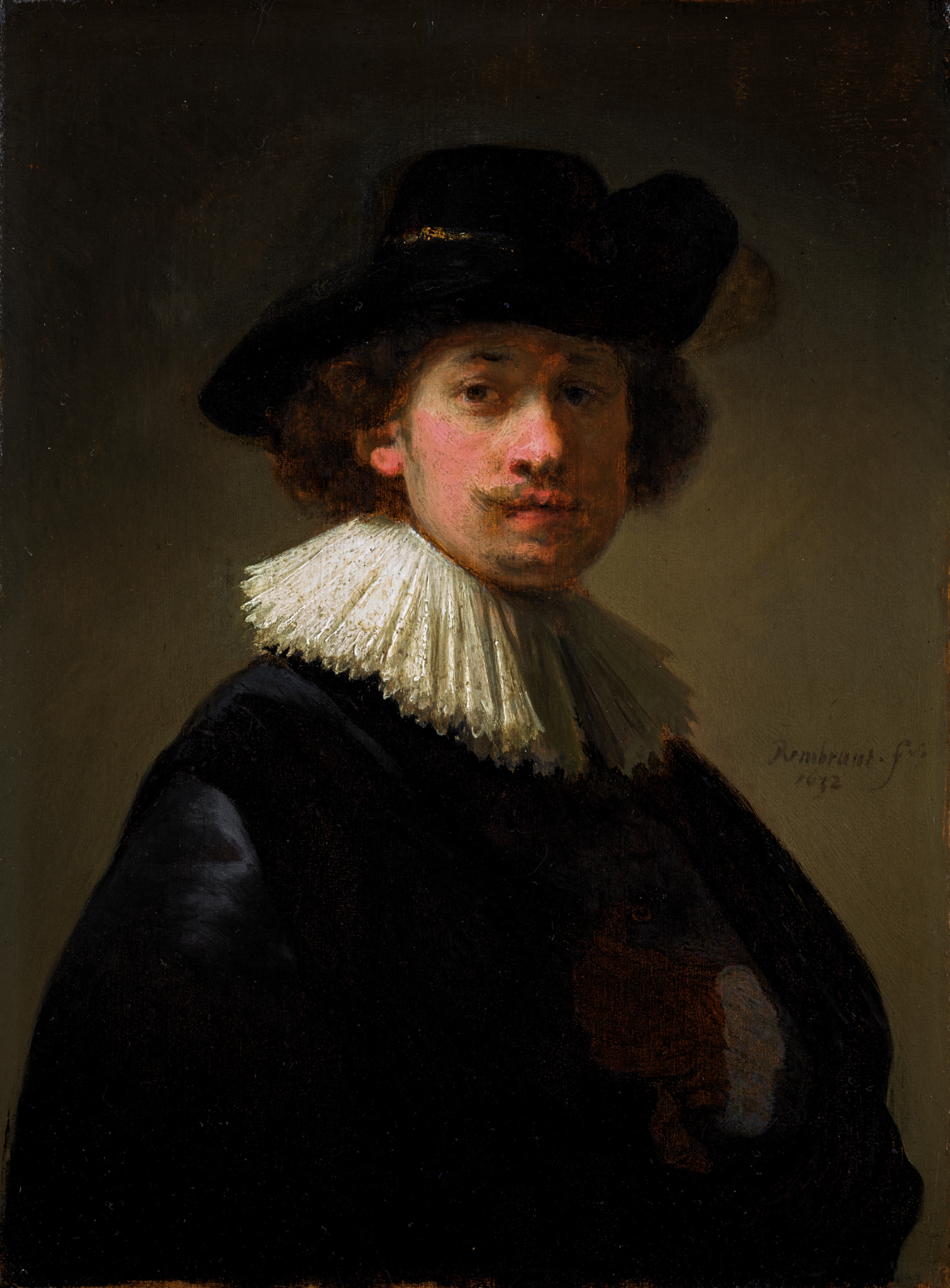 Rembrandt Harmensz. van Rijn, Self-portrait, half-length, wearing a ruff and a black hat (1632)
This self-portrait has changed hands several times. It was acquired by the current seller in 2005 from the Dutch art dealer Robert Christiaan Noortman (Noortman Master Paintings). It's the first time it has been put up for auction since 1970 when it sold at Sotheby's London for just £650 to Parisian collector JO Legenhoek. The painting was not definitively attributed to Rembrandt until the mid-1990s.
Although Rembrandt was not fond of his image, Rembrandt made many self-portraits (around 80) which depict the artist between the ages of 22 and 63 via a variety of different mediums and techniques. Of these, his etchings regularly come up for sale, but works on canvas are extremely rare and only one painted self-portrait has been auctioned over the past 30 years.
.
A single self-portrait sold in 30 years:
Self-Portrait with shaded Eyes (1634), sold for $11.4 million in 2003.

Rembrandt's current auction record:
Portrait of a man with arms akimbo (1658), sold for $33.2 million in 2009.

.
If the self-portrait offered on July 28 by Sotheby's sells within its estimated price range, it would become Rembrandt's top-selling self-portrait at a public sale. Mr. Gordon is confident because "collectors are completely open to new digital transaction methods". It is true that the results posted during the lockdowns have been encouraging. "In the past two months, we have organized two online sales dedicated to Old Masters. The first doubled its overall estimate and the second tripled it". Rembrandt's precious painting therefore has every chance of becoming an important milestone in 2020's art auctions.