Sol Lewitt's first result above $1 million
[02/05/2023]

In February 2023 a work by Sol Lewitt fetched over a million dollars at auction, a threshold never before reached by the American artist who died in 2007 after half a century of demanding conceptual creation. A minimalist sculpture in large dimensions (more than 3×3 meters), the piece was offered by Sotheby's as part of its New York sale dedicated to the extraordinary collection of sculptures collected by Sherry and Joel Mallin. Among them: 1 x 2 Half Off (1991) was typical of "Lewitt's Structures" – a term the artist used to describe his sculptures – based on simple geometrical elements; in this case, a number of contiguous cube skeletons.

Acquired for $1.6 million including fees, 1 x 2 Half Off (1991) has taken Sol Lewitt's auction prices into a new ballpark. But this result for one of his major pieces is less surprising than the fact that an American artist of his caliber with such unanimous institutional recognition – his works have long been integrated into collections of the National Gallery of Art in Washington, the Tate Gallery in London and the Dia Art Foundation among others – took so long to reach this price level, fifteen years after his death, especially when you consider that certain young artists get there (and beyond) after just a few years of production.

 Evolution of Sol Lewitt's auction record (copyright Artprice.com)

Lewitt was a very prolific artist, capable of producing hundreds of artworks a year, and auction exchanges of his works have doubled over the last ten years. Regarding his sculptures, the offer is not dense (between 5 and 25 per year) compared with his prints (between 130 and 180), but it is roughly equivalent to the transaction volume on works by Carl André, the primary representative of American Minimalist art, whose best works have exceeded $1 million since 2006. One could argue that the atypical positioning of Conceptual art – with which Lewitt was closely associated – has been a disadvantage from an art market perspective, acting as a brake on his prices.
Conceptual art and the art market
In Conceptual art, the artistic dimension is less  about the realization of a work than about the concept behind it. Although Conceptual art as a movement is associated with the 1960s and 70s, its origins go back to Marcel Duchamp's 1917 "ready-made" Fountain, an industrially produced object whose 'artistic' status derives from the intellectual choice and sensitivity of the artist, the museum and/or the viewer. After Duchamp, other artists moved away from making material works in favor of presenting ideas, some completely foregoing the material and presenting only the concept. This naturally made it almost difficult or impossible to show or market their 'works'. In 1969, Lawrence Weiner, for example, declared The piece need not be built (Declaration of Intent), and typed 24 descriptions of works, of which only a few were ever physically realized (Statements, 1968).
In Sol Lewitt's early definition of Conceptual Art, he declared that …all of the planning and decisions are made beforehand and the execution is a perfunctory affair. Between 1968 and 2007 Lewitt wrote schematic instructions for 1,200 Wall Drawings that clearly relegate the realization of the wall drawings to a third party.
So… when on 8 June 2022 Sotheby's offered a wall drawing by Lewitt (Wall Drawing #960), it was not the material work that was offered, but the possibility of creating the original by appropriating its 'certificate of authenticity', its 'proof of legitimacy'. The auction house clearly stated in its catalog that The work of art is the certificate of authenticity and that the successful buyer will be responsible for having the wall drawing made at his own expense, Sotheby's being happy to connect the successful purchaser with Sol LeWitt's estate in order to facilitate the realization of the work. The certificate sold for $245,700, a somewhat tepid result compared with the mid-range estimate of $300,000.
Wall Drawing #960 (2001), variable dimensions, Sotheby's New York, 8 June 2022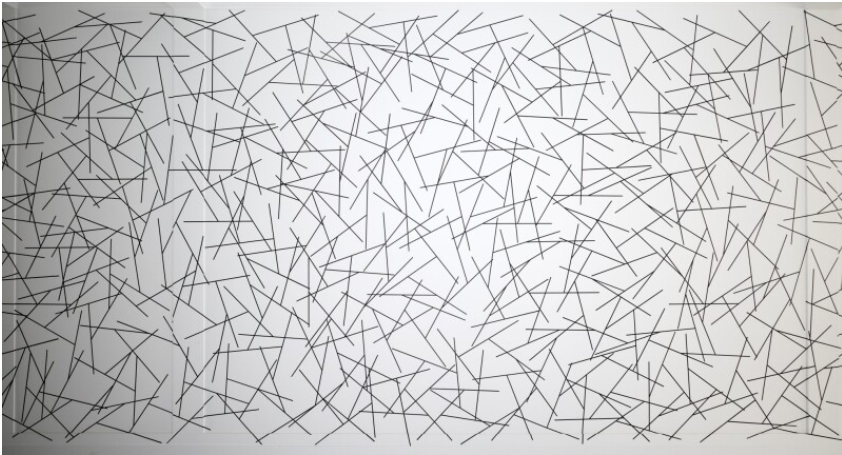 For this type of work, the certificate is therefore the only tangible object exchanged during the sale. The material realization is not part of the transaction, which includes the possibility of recreating the work according to the instructions of the artist, and of reselling the certificate. While the auction houses have accepted this early form of dematerialisation and have occasionally sold these certificates, they have not managed to inflate their prices, and Lewitt's Wall Drawings remain undervalued considering his importance in 20th century American art and his international notoriety.
The idea takes precedence over the result…
Sol LeWitt is an essential American artist, whose work helped to establish both Minimalism and Conceptualism: a practice based on his intellectual constructs, from which he derived formal instructions that his assistants followed to create the works.
In his seminal 1967 essay, Paragraphs on Conceptual Art, Lewitt said When an artist uses a conceptual art form, it means that all the planning and decisions are made in advance and the execution is a superficial affair. The idea becomes a machine that creates art,"
Born in 1928 in Hartford, Connecticut, Sol Lewitt studied art and graphic design in New York, and worked in I.M. Pei's architecture firm and then as a receptionist at the Museum of Modern Art (MoMA) where he met artists Robert Ryman, Dan Flavin and Robert Mangold. It was at this time that he developed a conceptual artistic practice, setting up a system of certificates of authenticity accompanied by precise protocols allowing assistants, collectors or museum employees to execute the mural works themselves. But while Lewitt was indeed a major force behind the notion that the concept is more essential than the hand that executes it – we would be entirely mistaken to believe that Lewitt's practice was only cerebral. Lewitt was in fact a prolific visual artist who worked six or seven days a week in his studio and drew all the plans for the wall drawings that he gave to his assistants, and all the plans for the manufacture of his structures, as well as making preparatory gouaches.
Geographical concentration of the lots sold since 2020 (copyright Artprice.com)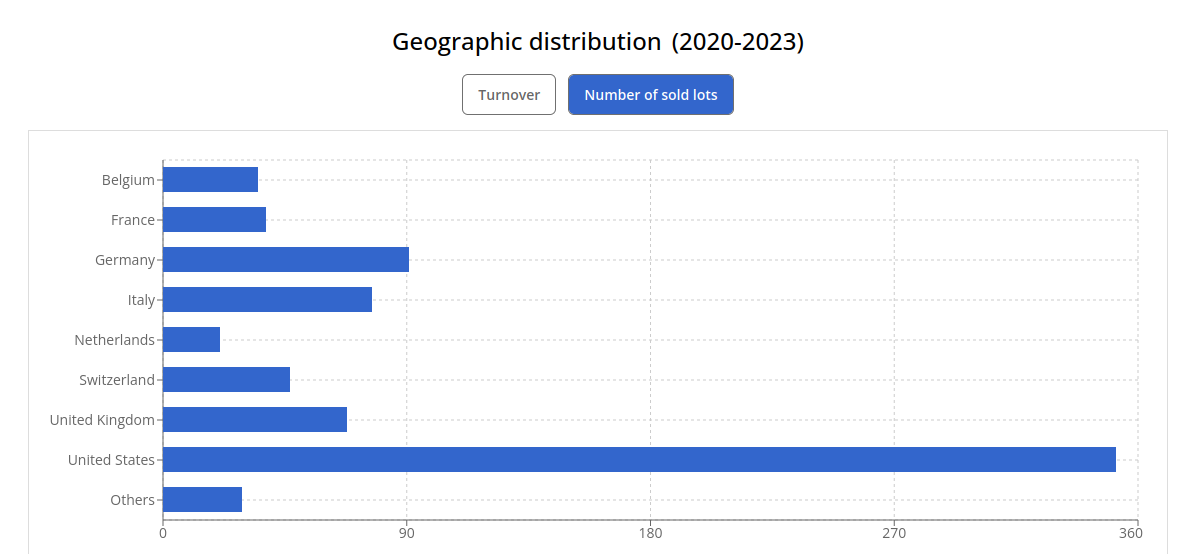 Sol Lewitt – key market data
Price index: +9.2% in 2022
Global ranking: 427th place with an annual auction turnover of $3.3 million in 2022.
47% of his annual auction turnover was hammered in the USA, but the artist is also in demand in Germany, Belgium, France, Italy, the Netherlands and Switzerland
Record for a sculpture: $1,633,000 for 1 x 2 Half Off (1991), last February at Sotheby's New York.
Record for a painting: $394,000 for Lines In Four Directions (1982), an oil-on-wood of (121.9 x 121.9 x 5 cm) sold at Sotheby's New York in 2016
Record for a drawing: $749,000 for Wavy Brushstroke (1995), huge gouache on cardboard (152.4 x 471.2 cm) sold by the Gagosian Gallery, New York.